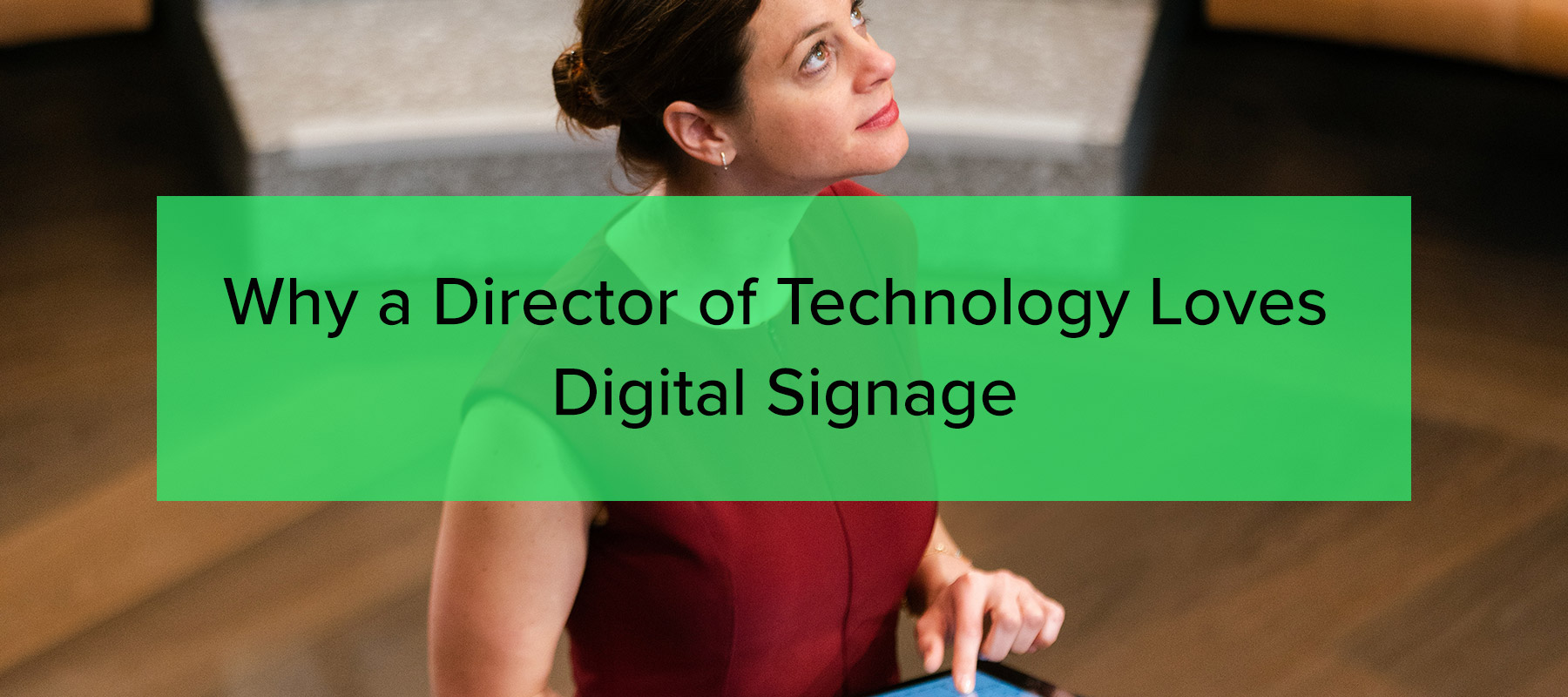 Not only can digital signage centralize district-wide communication, it can literally be a lifeline for a school district in emergency situations. But what about improving the daily lives of students and educators? It's true, digital signage has the potential to accomplish all these feats and it's not hard to get started! In this post, we'll go over how and why any school district director of technology will love the benefits of digital signage.
The Future is Here

Plenty of technology is at our disposal to improve the lives of those we serve. Yet, most organizations rarely take advantage of this fact and often stick to older, cumbersome methods simply due to 'business as usual' internal processes. In the educational setting, this takes on the form of static signs, cork bulletin boards and roll cart television setups.
As George School's Director of Technology Michael Hodgin says, "In the past, in the student union area, they had bulletin boards for posters...With digital signage, you can make the modifications from anywhere without printing flyers and walking around to put them up in places."
For directors of technology, digital signage makes a school district technologically savvy. Parents and students feel that their school district is in the upper echelon of districts around the country and that they are a part of a school system that isn't behind the times. This reinforces a confidence in the education curriculum, administration and even the local government.
More importantly, when a student walks into their school building and a welcome message is greeting them from their principal, the week's events are clearly visible on large displays, and their cafeteria menus make food look appetizing - the entire school experience is transformed into a welcoming future, a future that we all expect to live in at this moment.
Well, then - let's give them that future now!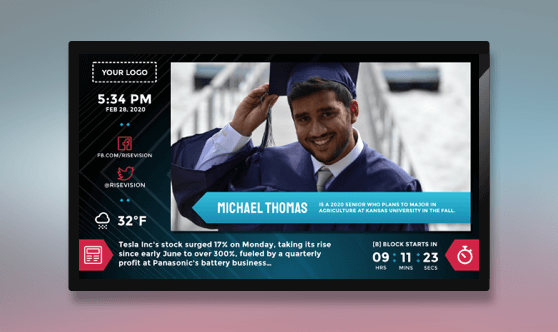 Showcase student achievements and keep the student body informed with this digital signage template.
Centralized Messaging & Control
The beauty of cloud-based digital signage is that district-wide communication can be controlled from a single online account. That means all events, campaigns and messaging can be broadcasted to every digital display without having to send content to individual campuses for uploading and scheduling. This provides an enormous amount of time savings and makes communication much easier and more effective.
Let's jump into some examples. We'll start with a simple one.
Most school districts will have the same holiday breaks across all campuses. From one account, the same winter break notice can be broadcasted to all displays in the district on a specified schedule. The schedule can be unique to each display or shown at the exact same time across the district.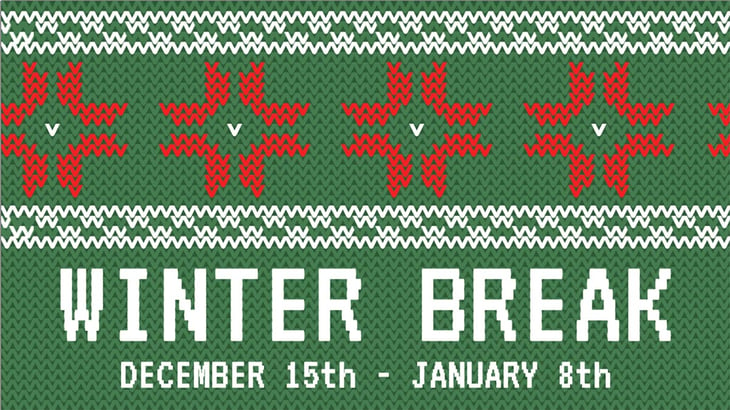 Get started with this Winter Break digital signage template here.
With relative ease, all students and staff across the district get the same winter break information at once. There's no wondering whether or not the other schools in the district have put up their winter break notice yet.
An important thing to remember is: students may not follow campus social media or choose not to read emails sent by the school. Digital signage is omnipresent throughout campus. Messaging becomes hard to ignore when it's clearly visible throughout the school day.
Let's look at a couple more examples.
For certain school districts, High School football games are some of the most important events during the fall semester. Broadcasting the upcoming big game to multiple schools around town is a great way to get the community excited for Friday night.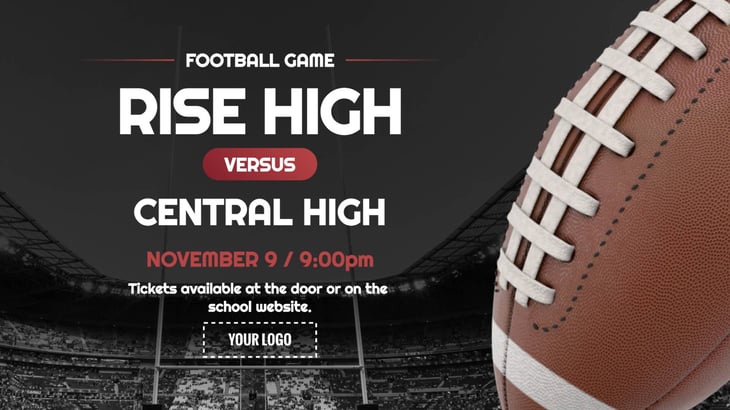 Get started with this Football Game announcement digital signage template here.
And of course, weather information is going to be the same for all schools in a district.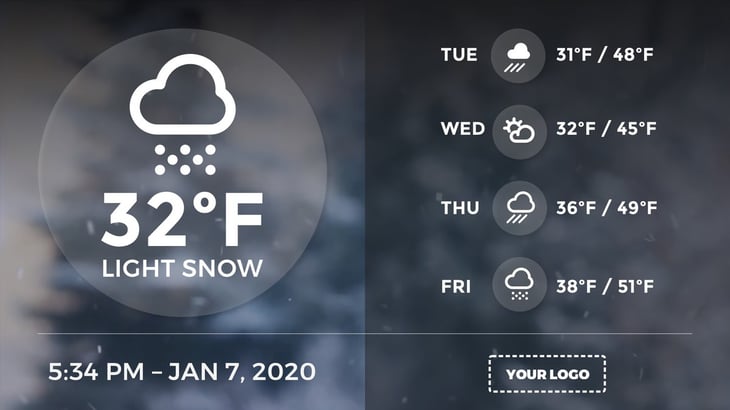 Get started with this Weather Outlook digital signage template here.
Whatever message you need to broadcast, digital signage is generally the fastest and easiest way to get it in front of an entire district fast.
Reinforce District Level Initiatives
Many school districts are adding social and emotional learning curriculums and inclusiveness campaigns as a way to improve student well-being and academic achievement. Digital signage complements the rollout of these initiatives by helping to reinforce the required messaging to all campuses within a district.
Stephon Walsh of Lincoln Christian points out: "I love how the students and staff look forward to seeing what's on the screens every day," Walsh says. "It's a really cool way to share information and it makes people feel more a part of the school community when they see themselves or their achievements on the screens."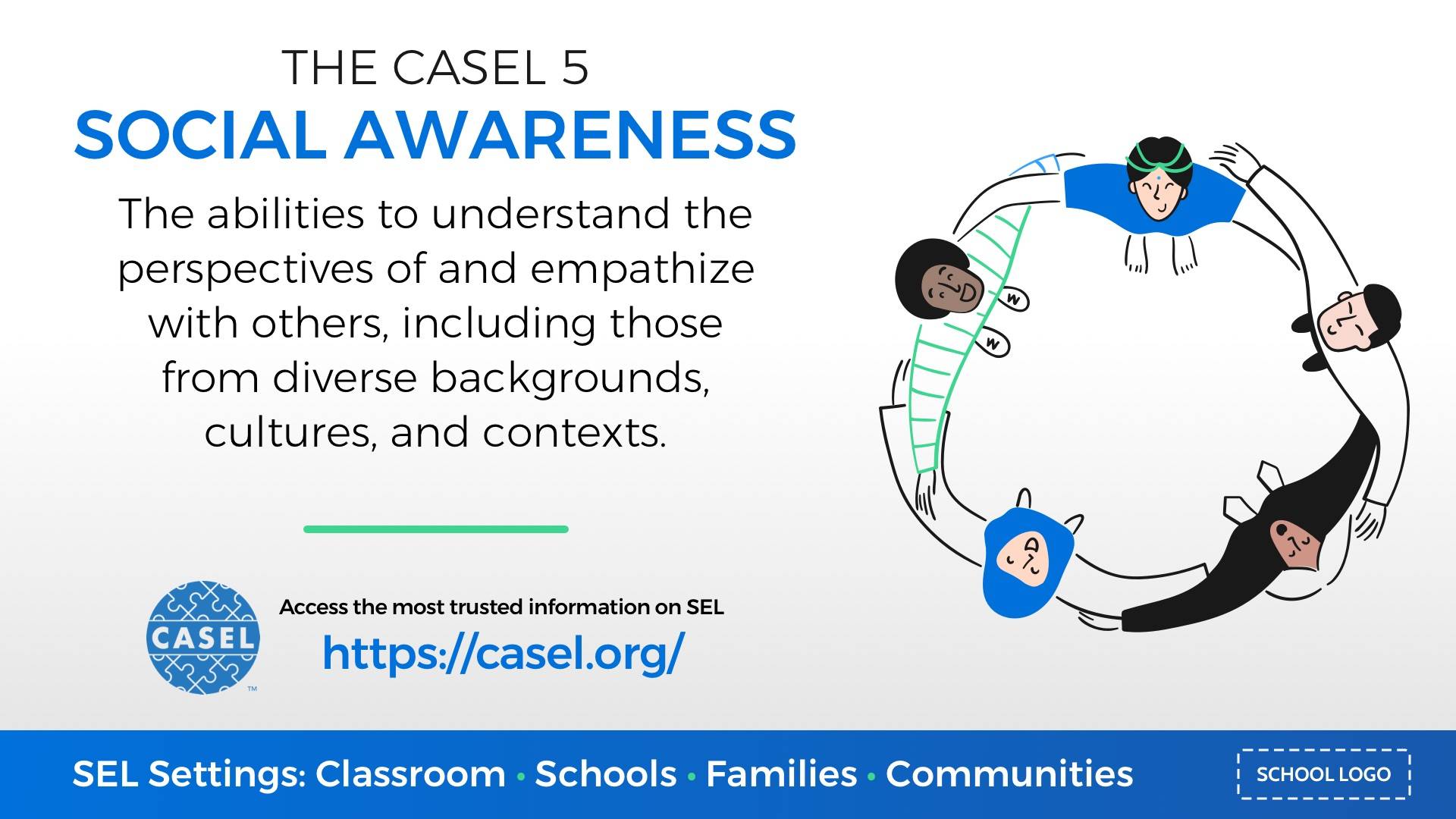 Get started with this social awareness digital signage template here.
Using cloud-based digital signage, every campus can receive a tailored campaign designed to communicate to any age group, staff role, and even parents. This allows communications and IT departments to segment their campaigns, thereby ensuring effective messaging to the intended audience.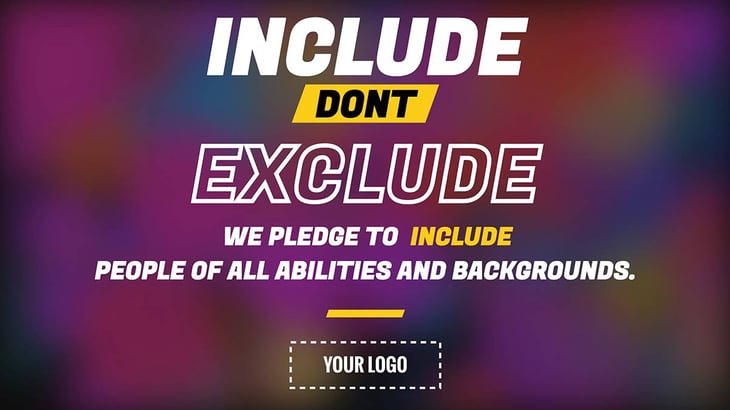 Get started with this inclusiveness-themed digital signage template here.
Influence Better Behavior
Influencing better student behavior is one of the most difficult challenges that many school districts face. Schools are places where we want students to thrive and not places where they are distracted, get bullied, and head off on the wrong path in life.
We all know we can't force people to behave a certain way, but we can nudge, influence, and teach by example. It turns out digital signage is a great tool for these exact things.
One of the easiest techniques is to communicate "nudge reminders" (aka "nudging"). Nudging simply increases positive behavior by displaying simple reminders around campus. For instance, one way to keep COVID cases down in schools is to provide a digital signage campaign reminding students of the benefits of social distancing, covering their cough, and staying home if they suspect they're ill.
Get started with this Social Distancing digital signage template here.
Bullying is a serious issue that all school districts want to reduce. And when it's tempting to launch a campaign that emphasizes "STOP BULLYING", we know that the word "STOP" and the brute force approach a campaign like this would have, will probably have little effect.
Instead, consider focusing on having students say positive remarks about each other as a way to shift the campus from a bullying environment to a friendlier environment. Sometimes, it's more about changing the energy of the campus than using more traditional authoritarian approaches to bring about change.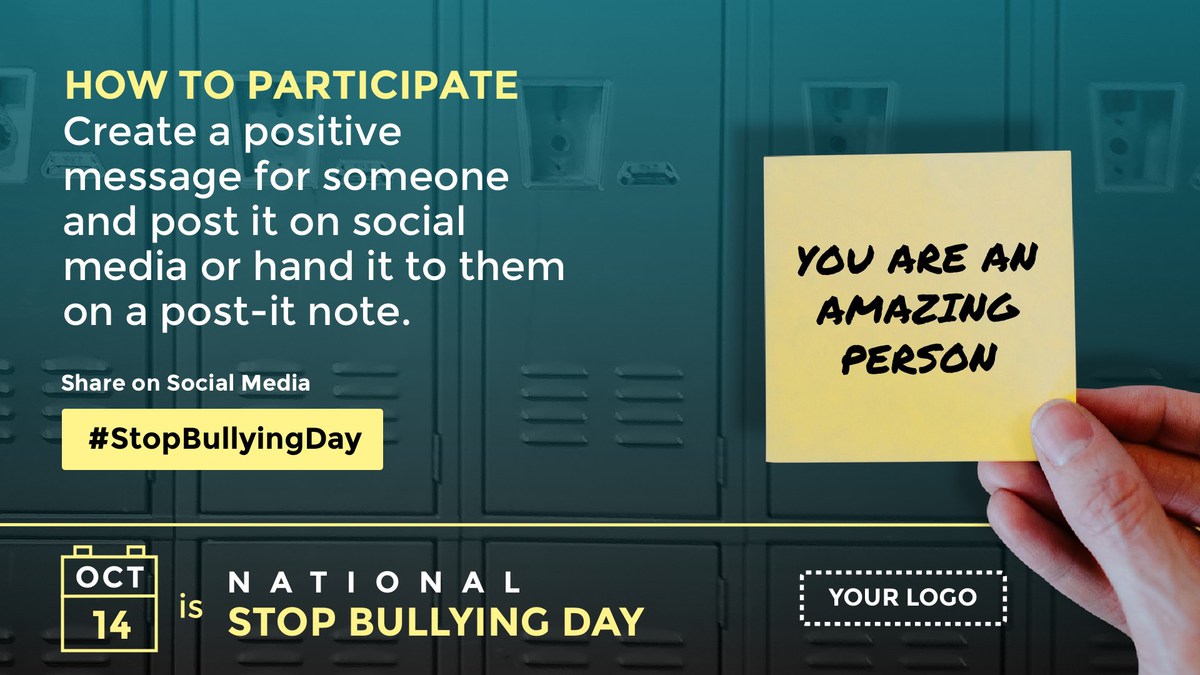 Get started with this National Stop Bullying Day digital signage template here.
Emergency Notifications
The most important use case for district-wide digital signage is to provide emergency notifications instantly across the district. Whether it's an incoming tornado, an earthquake that just rocked the local community, or any other natural disaster, having centrally controlled digital signage to communicate to all campuses is a must in this day and age.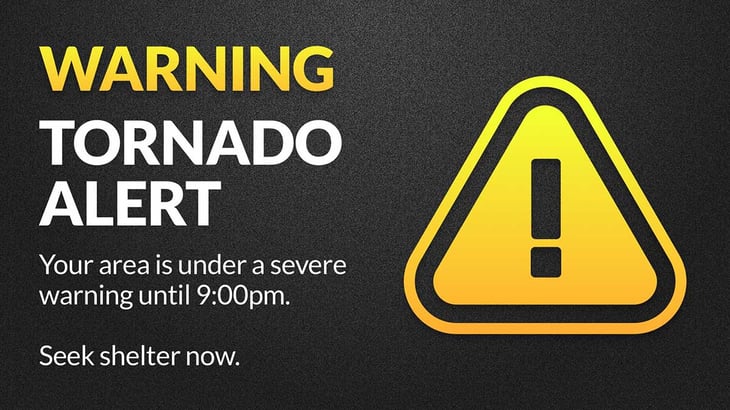 Get started with this Tornado Alert digital signage template here.
An enormous benefit of digital signage is its ability to integrate with other emergency notification systems and CAP alerts. For instance, Rise Vision has an integration with PunchAlert - a popular CAP Alert technology. With one emergency broadcast, PunchAlert will activate emergency notifications to all channels on a school district's emergency communications network. That means emergency notices can be broadcasted to all digital signage in a district instantly. When you need to communicate to everyone in a district in seconds, this is one of the best tools available to do the job.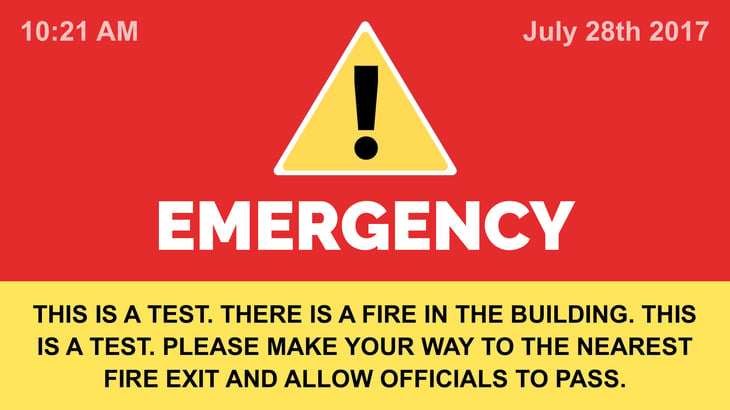 Rise Vision also integrates with these other emergency notification providers:
A Few More Template Suggestions
Here are a few more templates that are easy to configure and that many of our customers find useful.
Google Slides Full Screen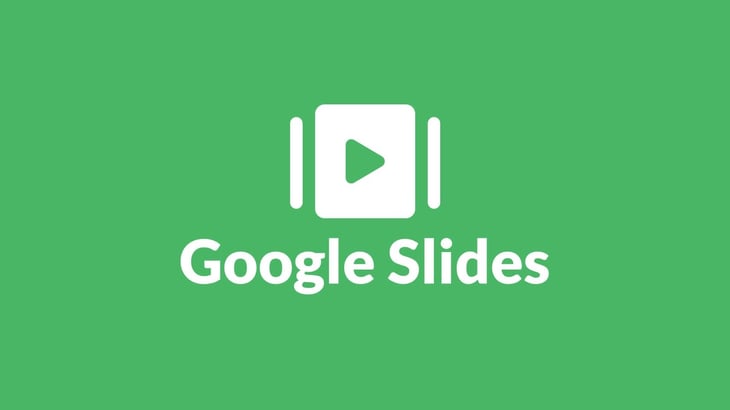 Get started with this digital signage template here.
We have created this easy-to-use Google Slides template so educators can display presentations quickly and easily. Simply add the template and customize it with a link to your own slides presentation (including a logo if you want) and you're ready to roll.
Zoned Flyer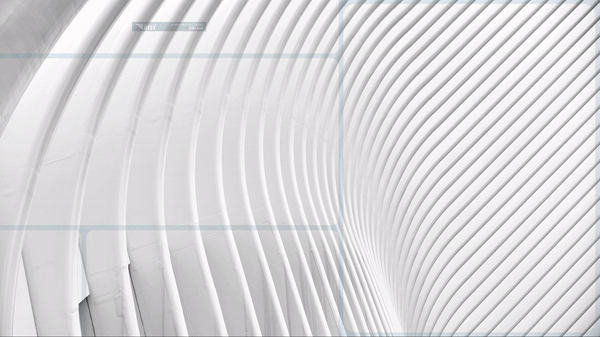 Get started with this zoned flyer digital signage template here.
Say goodbye to the copy machine, because this zoned template features the perfect spot for you to share as many 8.5 x 11 inch flyers as you'd like! We know it can be tedious typing all of your announcements out, so we've provided a space to simply upload an existing flyer right onto a template.
Video Full Screen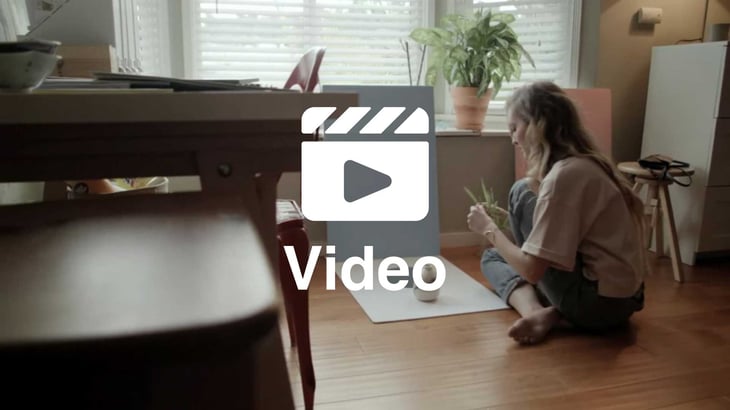 Get started with this digital signage template here.
We all know how fundamental and important videos can be to convey your message, that's why we created this simple to use full-screen video template. Add the template and personalize it with one or several of your videos.
We Love the Results Digital Signage Creates and We Think You Will Too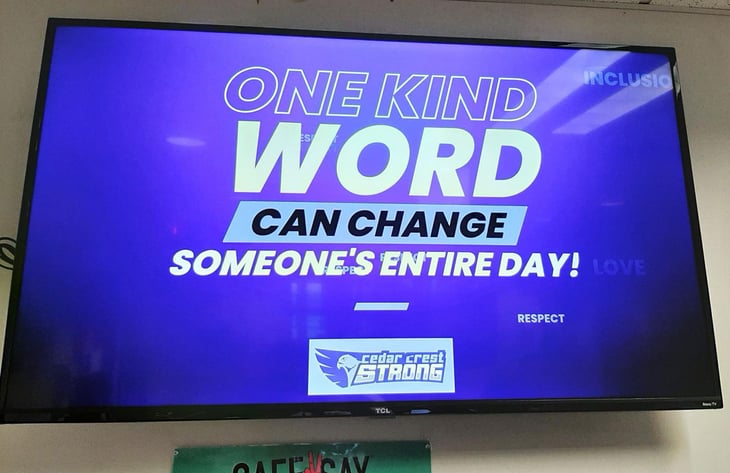 After implementing Rise Vision, Jason Murray of Cornwall-Lebanon School District said: "There's been a change in culture for us. Students are being recognized for all of the positive things they do and that has changed the whole culture of our student body. It's really improved how everyone is feeling, especially after everything we've gone through in the last year and a half."
And this is why we do what we do. Nothing makes our day better than improving a school experience with our software.
We love our customers being successful at their job and we love making schools better than they were yesterday. We'd be thrilled to be a part of your school district's journey to improve communication, drive awareness campaigns and showcase achievements. If you'd like to try Rise Vision, then please start a free trial on us by clicking this link.