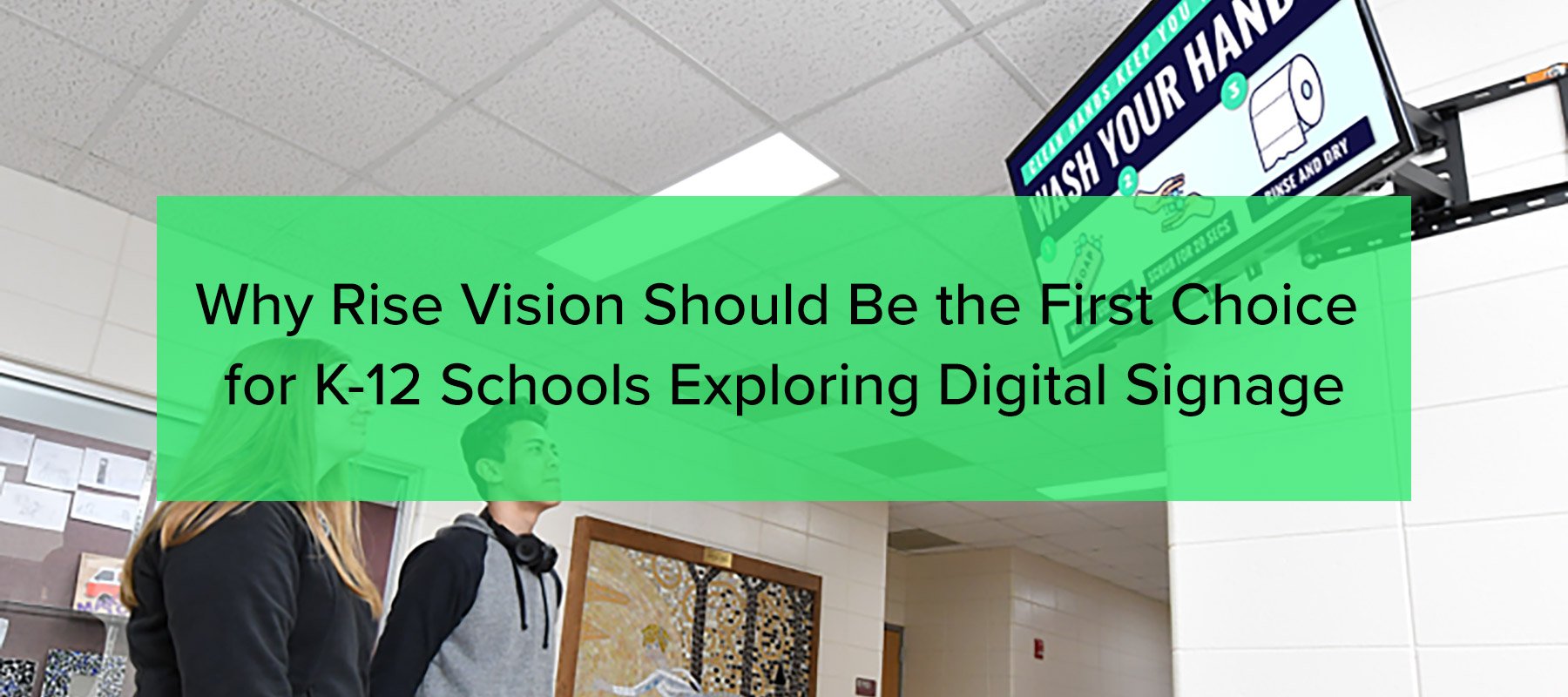 Schools are increasingly switching to digital signage in an effort to communicate with staff and students more effectively. They're right to do so, but the choice of which tool to choose isn't always easy. In this post we'll lay out why digital signage is a good idea for schools, and what you should be looking for in a digital signage solution. Then, we'll see how some of the most popular digital signage tools on the market stack up against Rise Vision.
First, what exactly does 'digital signage' refer to?
What is Digital Signage?
Digital signage is any signage system that uses digital methods. If you're using monitors, rather than physical signs, you're using digital signage.
However, the term usually refers to signage with a centralized control system, typically software that allows users to design, schedule and alter displays from a computer.
If you'd like a more in-depth examination of what digital signage is and what it's capable of, check out this post.
Why Digital Signage For Schools?
Schools need signage to pass on information about scheduling and events, to help with wayfinding, to coordinate the use of campus resources, to reinforce academic goals and to seek to positively influence behavior.
Digital signage attracts about 4X the attention traditional static signage does, so more students will see your messaging. It's proven to increase retention and improve engagement, so students (and staff) aren't just looking at it — they're taking it in, and even talking about it. In certain situations, it can produce dramatic increases in the ability of signage to modify behavior too.
Centralized digital signage makes control and management of school digital signage easier and more efficient, letting school and district teams communicate better and faster. Many of our customers use the tool just fifteen minutes a day!
What Do Schools Need From a Digital Signage Solution?
Digital signage is everywhere now, from fast food restaurants to doctors' offices. However, schools have specific needs from digital signage.
Easy to use
School communication teams average one to two people. They often have other 'hats to wear' in the school, so the digital signage tool they use has to be easy and fast to use.
Adaptable
Every school is different. So is every day. Sometimes things happen fast or without warning, so digital signage tools have to be adaptable to keep up.
Permissioned
Tools need permissioned access, so every user doesn't have administrator privileges. Someone is in charge and there's a cohesive vision.
Interface With Your Stack
The digital signage tool a school uses must interface with the communication tools they're already using. You shouldn't need to be able to code to hook it up to Google Workspace or the school's Twitter account.
Many schools already have computers and wall-mounted monitors or TVs. You shouldn't have to buy a lot of new hardware to get started with your digital signage tool. It should work with what you already have.
Budget Friendly
Digital signage solutions don't have to be inexpensive to be good, if they're paying for themselves in quality and usefulness. But they shouldn't involve big upfront costs or bloated subscription packages, hidden fees or confusing pricing structures. You should be able to sign up and go, and scaling your requirements should be easy too.
How Does Rise Vision Compare?
Rise Vision vs PowerPoint/Slides
PowerPoint and Google Slides, along with the less-used Apple Keynote, are most organizations' first digital signage tools. It's not uncommon for schools to make their signage in Slides and then walk the halls uploading it to screens from a thumb drive. What these tools have going for them is that they're already in use. Schools are already paying for them and staff already know how to use them. So there's no need to learn or pay for any new software.
Those are the pros. The cons are more significant. These tools don't make it easy to create compelling signage. And they don't offer schools the ability to push signage out to screens from a central control point. There isn't a scheduling tool built in either.
We see many clients making the change from presentation software when they've proven the value of digital signage and simultaneously realized the shortcomings of these types of tools. They have a place, but you're likely to outgrow them fast.
By contrast, Rise Vision offers centralized control, scheduling, and a large and ever-growing template library that allows its users to quickly and easily create appropriate content.
There's no comparison chart here because there's no comparison. Any real digital signage solution is better. However, Rise Vision scores over competitors when you're moving to your first digital signage solution because it's so easy to use. (You don't have to discard your existing slideshows: Rise Vision has templates for displaying content from Slides and PowerPoint.)
Rise Vision vs OptiSigns
OptiSigns is a versatile, business-focused digital signage tool. It's adaptable, letting its users turn any screen into a digital sign. And it comes with a suite of impressive features. There's even a template library with over 500 templates. (We have slightly more.)
Where it falls down is ease of use, training, and shortage of school-specific templates. OptiSigns is mainly for small and medium businesses, and its template library reflects that, with 64 menu templates, 30+ health and medical, 90+ office and professional services, and so on. Rise Vision caters to business and we're proud of our associations with our business clients, but our template library showcases a tighter focus on K-12 schools' needs.
In addition, there's significantly less training and support, and a smaller range of devices can be used to control the tool.
Here's the breakdown:
Rise Vision comes out on top with a focus on K-12, better training, mobile access, and lower prices for small and large-scale users.
Rise Vision vs Yodeck
Yodeck is a digital signage solution for businesses, with clients including Ford, Vice Media, and Adidas. There's some provision for schools, but the main focus is on an adult audience, with little provision for younger viewers. It's another solution that works with any monitor, though it does require a Yodeck player, built on the Raspberry Pi minicomputer. Compare this with Rise Vision's player options, which are more varied, though they also include a Raspberry Pi-based unit. The two approaches are different: Yodeck's focus is more on providing a simplified out-of-the-box experience, while our view of players is about helping schools maximize the effectiveness of the hardware they already have.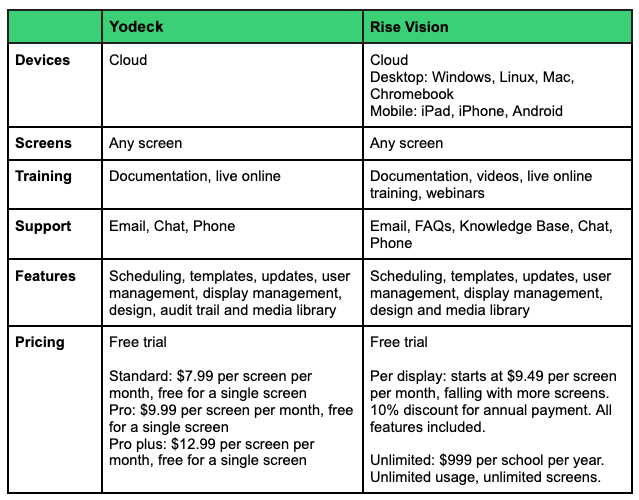 Yodeck scores over Rise Vision if you're its target audience: a tech-savvy, well-funded company looking for easy, versatile digital signage. For schools, the picture's the opposite. Yodeck has a slightly steeper learning curve and supports fewer types of devices. It's compatible with a narrower range of players, and users pay for many features that matter to Penn State or Ford, but not to a K-12 school: custom user roles, audit logs and player storage encryption matter less than a focused template library.
Vivi vs. Rise Vision
Vivi is a screen sharing and communication app designed specifically for schools. They have educational content designed to teach school staff how to use their app, and claim a quarter-million individual users.
The trouble with Vivi from a digital signage perspective is that digital signage isn't really what they do. Vivi exists for in-classroom educational functions, mainly screen sharing and casting; it's a tool to digitize education, with its signage functionality mainly oriented toward the front of the classroom. In fact, Vivi only started offering signage at all in 2018, and its signage is tightly integrated with its other offerings.
On Vivi's website, user categories and feature sets are matched up; digital signage is for IT staff, which reflects a relatively restrictive approach requiring more technical skill than a small school team might be able to muster.
Here's how the two tools stack up: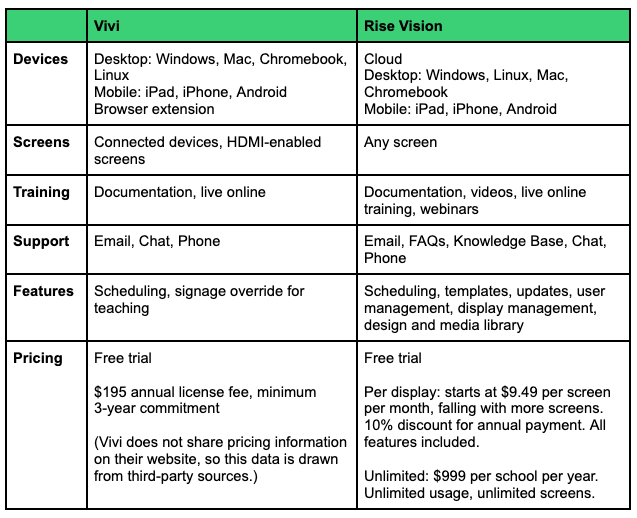 Vivi's digital signage requires converting existing slideshows and other content into movies before they can be displayed, and while it can handle most common image types, it requires that images be 1920X1080.
Vivi is a fantastic tool if you're a tech-savvy school looking for a global solution to digitize education. If that's you, the relatively restrictive approach its signage takes might be a good trade-off against its other features. But if you're a school with a small IT team or just a single person managing content for digital signage, it's not such a great fit. And if you're looking for a way to segue into using digital signage one step at a time, Rise Vision might suit your needs better.
Four Winds Interactive vs Rise Vision
Four Winds Interactive (styled FWi) is a dedicated education digital signage solution, oriented chiefly toward universities, as well as toward a diverse range of businesses including healthcare and airports. It's best used by larger communities of over 200, and the company website's 'Industries' section doesn't list K-12 schools.
The list of tools in the FWi arsenal is impressive, including application authoring software for digital signage and an integration tool to draw data from third-party systems. If this sounds like it requires fairly significant IT chops, we'd tend to agree with you. It's also the kind of provision you'd want if you were integrating digital signage into a sales and marketing or corporate communications technology stack. Colleges and businesses are in that position, K12 schools mostly aren't.
FWi is a highly versatile tool, but it draws its versatility from letting you customize the tool itself. You can tailor your subscription package to suit your needs, customize the software itself (not merely the content it displays), and automate processes. That's one approach to versatility.
Rise Vision's approach is a little different, and tends to suit K-12 schools better. Most schools have busy IT staff and one or two people working on communications. There's no time or interest for tailoring software. The solution has to work now, with the hardware already available, and allow schools to quickly create content and respond to changing circumstances.
Here's how the stats compare: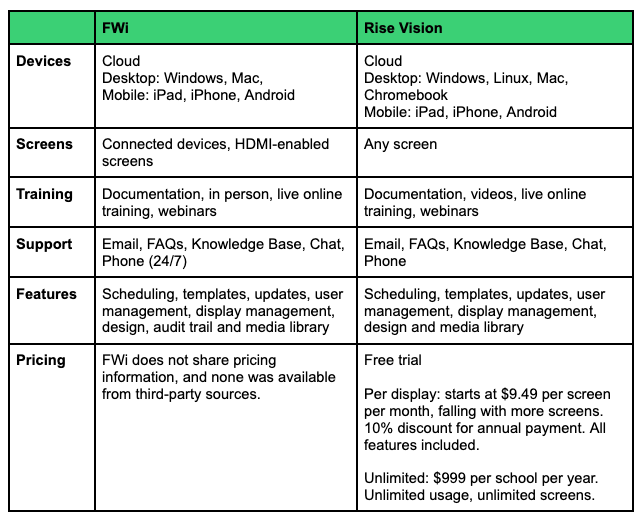 FWi is a great tool, but it's not an ideal fit for the needs of most K-12 schools. Rise Vision's feature set, focused on ease of use and functional versatility out of the box, is usually closer to what schools need.
Conclusion
The best software for digital signage in schools is as agnostic as possible when it comes to devices, players, and screens. That way, schools can use the hardware they already have. Many digital signage tools, chasing performance or efficiency, opt to tie users to certain devices or players. Rise Vision doesn't. It works on all commonly available operating systems, a wide variety of players, and any screens.
Schools need software that lets you create content quickly, and the best solution we've ever found for that is customizable templates. Most schools don't have the time to acquire graphic design skills, but they still want their content to look good.
Finally, the real deal breaker for most schools we talk to is ease of use. School teams don't want customized software or world-beating features. They want something that they can use right now, which means a shallow, short learning curve. That's the concept Rise Vision's interface is built around. If you've used a computer, you can use Rise Vision today.