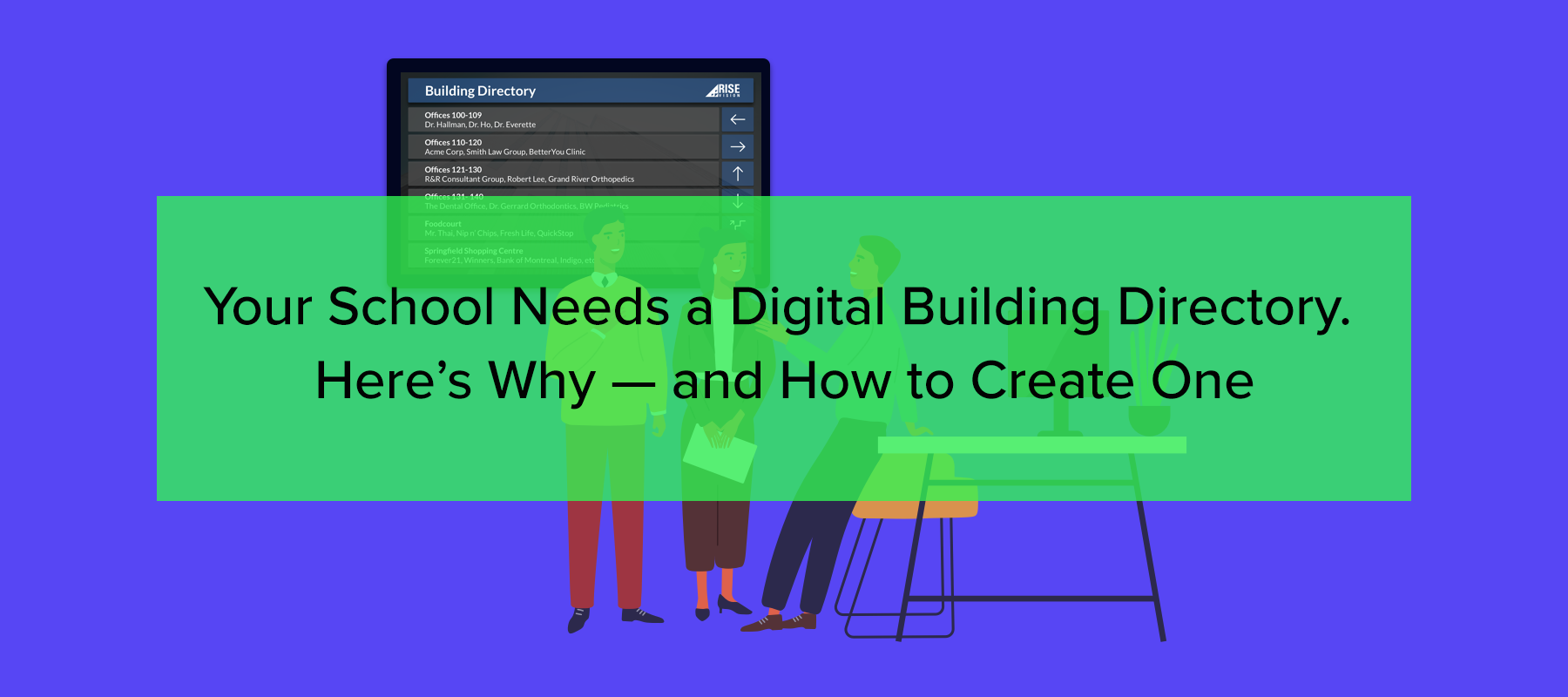 Digital directories can help make school buildings more navigable for everyone: parents, staff, and students. From visiting contractors to students whose whole school day changes when they move up a grade, wayfinding is one of the most common and important asks in a school — and digital signage can be the answer.
In this post, we'll look at how to build a digital building directory, and why they're so effective. We'll begin with a closer look at just what they are.
What is a digital building directory?
A digital building directory is a system of digital signage used to show users the layout of buildings and campuses. It doesn't have to be a single screen, and users can be staff, students, visitors, or others. Some use touchscreens, others are simply displays. Some use graphics and even video, others are purely text-based.
What they all have in common is that they let users orient themselves quickly and efficiently. They're particularly well-suited for visitors who want to navigate from one specific place to another. That's why they're extensively used at locations like bus stops, and it's also why they're a good choice for newcomers to school campuses trying to find the science lab.
Digital building directories answer a need that can arise suddenly — imagine a student familiar with their usual routine of classroom, cafeteria, and gym, but who needs to visit the school nurse for the first time. It's class time so the corridors are deserted. If the person staffing the front office happens to be busy, this student could be cooling her heels or wandering the halls for a while. Or she could follow a couple of simple digital signs. For contractors, new and substitute staff, and for students who just went up a grade, it's the same story — just all day.
Because of their accuracy, versatility, and ease of use, digital directories are the perfect tool to help people find their destinations. They leave users free to manage their own navigation and access information on their own terms.
How do digital building directories work?
Digital building directories rely on the following components:
Display
Display choices are wide and varied. You can build a digital building directory using flatscreen TVs as your main displays, or leverage the power of enterprise-grade interactive displays from major suppliers like LG and Samsung. These are the screens that will show your content and, in the case of touchscreens, permit interactivity. (You can use QR codes and other tools to allow some interaction with non-touchscreen displays too.)
Media players
Media players receive content from your digital signage software and play it through your displays. Depending on your needs, players range from inexpensive tools like Amazon Fire Sticks and Raspberry Pis to specialized tools designed for maximum performance in challenging circumstances.
Digital signage software
The tool that lets you design, manage, and deploy your digital building directory and all your other digital signage. Digital signage software for schools should be easy to pick up and simple to adjust. Planning and scheduling should be built in and the software should be as player-agnostic as possible, so you can choose what best matches your school's needs.
Content
Generally speaking, content is anything you choose to display through your digital signage installation. For digital building directories, your content will be based on an accurate understanding of where everything relevant around your campus is located. It's important that this is understood in terms of your users' needs — for instance, what's wheelchair access like?
It's also important that it's displayed in ways they find easy to use. A page of 9-point text on a screen 10 feet off the floor probably won't work too well. Look for digital signage software that makes content design and display easy through an extensive library of purpose-built templates like this wayfinding template: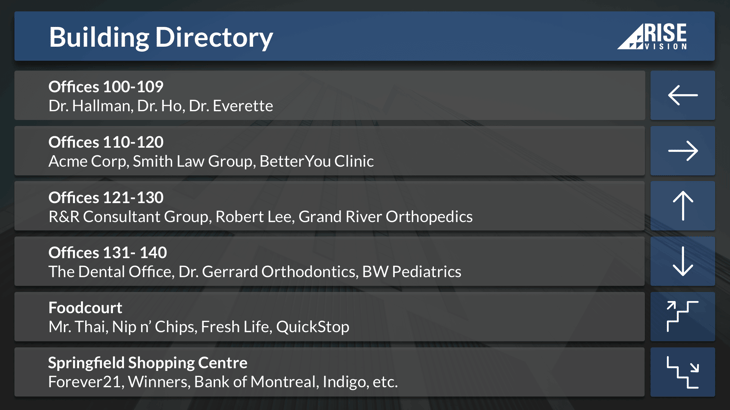 It's wise to check that the displays you're considering are up to the task when deployed in conjunction with your chosen player and digital signage software. All the elements have to work together.
Benefits of digital building directories
Digital building directories offer schools benefits that other forms of wayfinding struggle to match, including:
Real-time information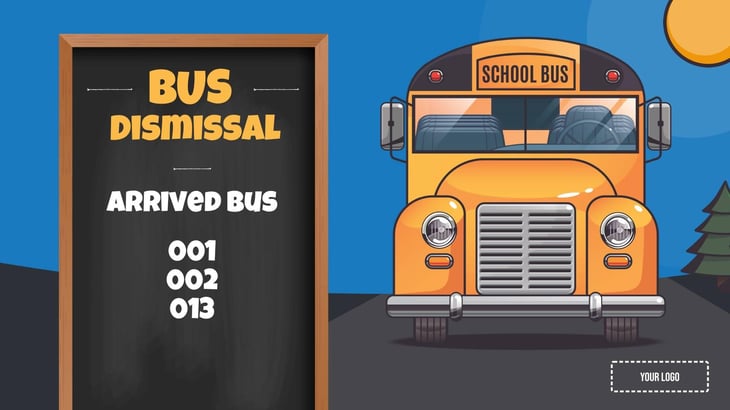 Get started with this bus announcement digital signage template here.
If something changes — a building is closed, or a bus between two campuses is delayed — that information can be on digital signs immediately. When staff, students and visitors look at digital building directories, they know they're getting today's information, not yesterday's. When staff need to update signage it takes a couple of clicks, not a couple of hours.
Customizable for different audiences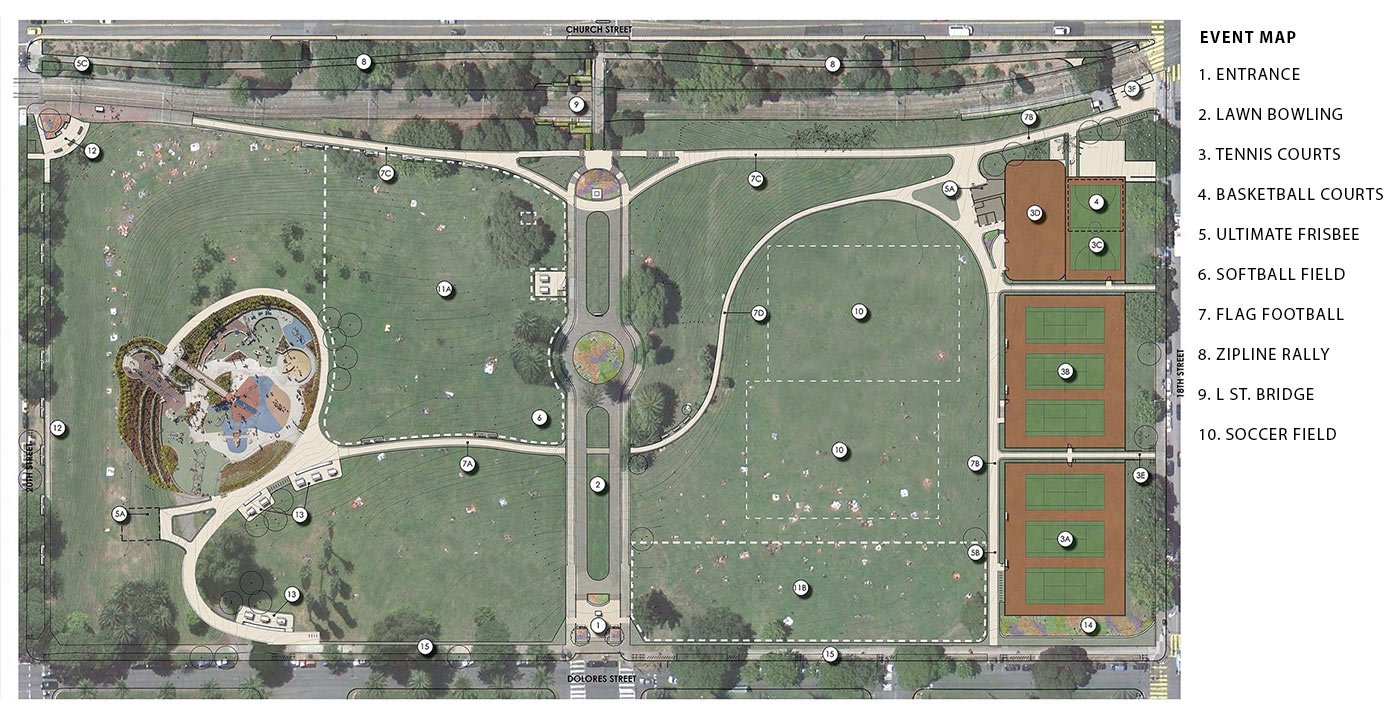 Different groups of users need different information. Instead of a set of signs or a confusing map that users have to navigate through to find the one piece of information they need, you can put it front and center. Show different groups of students partial directories, giving the locations they need to find. You can also display basic information like the route to the auditorium, cafeteria and bathrooms to groups on PTA nights or sporting events.
Appealing
Digital signage captures many more views, compared with traditional static signage. People now expect digital rather than static signage and are looking for it, intensifying the 'ad blindness' effect that causes us to disregard paper and card notices. Static signage usually has to be displayed within reach so it can be changed, limiting the options for using wall space and cutting down the number of locations where signage is likely to be deployed. By contrast, digital signage displays can be placed higher up on walls.
It's also much easier to produce digital signage to a professional standard. All this is true for digital signage generally, but it's doubly true of the complex, information-rich signs required to help people navigate buildings and campuses successfully.
Versatile
Digital building directories can show a wide range of location and wayfinding information. The same displays can show embedded social media content, weather and transportation news, and related information.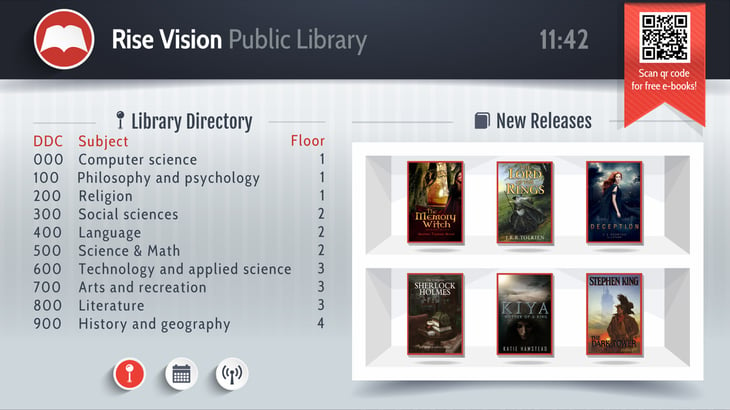 It's possible to adapt quickly and easily to different audiences, and to show those audiences a broader range of information — all accurate, all in real time, and all clearly visible and visually appealing.
How do I create a digital building directory with Rise Vision?
The core of your digital building directory is your software solution, so let's start there. Schools need solutions that can adapt and grow with them, ideally without requiring massive initial investments. That's one reason Rise Vision is relatively inexpensive to get off the ground, device- and operating system-agnostic, and why we're constantly working to make it even easier to use. (It's common for schools and districts to reach the point where they're ready to go all in on digital signage across their campuses, and some even start from that position; for those institutions, there's our flat-fee Unlimited License.)
We'd strongly recommend looking for a digital signage solution that's easy to use day-to-day and has a short learning curve, too. Most will offer a free trial to check: here's a link to ours.
When you're building a digital building directory with Rise Vision, there are templates to help.
Sign up for the free trial (no strings) and open the editor.
Start at the Add Presentation screen:

Then look for a template. We'd recommend starting with this zoned directory template: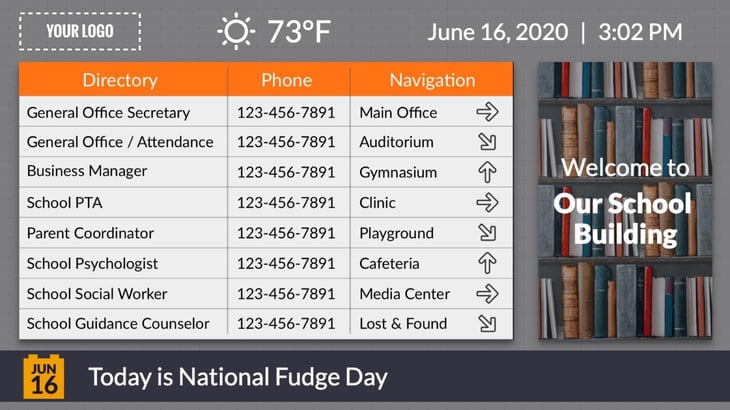 Get started with this zoned directory template here.
Select it: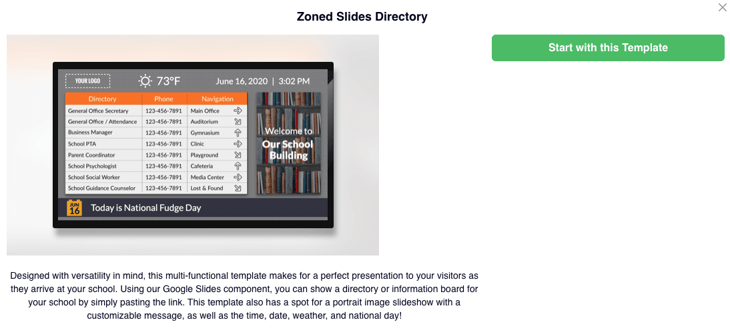 You can easily add information specific to your school; the template is already configured to display information like which National Day it is (Fajita Day, at the time of writing) as well as outside temperature and other useful facts.

The editor is simple to use, letting you add your school or district's branding and colors quickly and easily.
There's a tutorial built into the template. You can plug existing Slides presentations into this template, or use it to list wayfinding information. Hit publish and you've started your school building directory.
From there, you can use other templates to add maps, directions and wayfinding to other digital signage. Most digital signage displays are large enough that you can address multiple needs in the same slide.
Conclusion
Digital building directories can be extremely effective tools to improve navigation, orientation and wayfinding in schools, in both single-campus and multi-campus institutions. When timetables and schedules can change, even people who've been navigating the school easily for years can suddenly find themselves needing to know the way to a specific room — with no idea how to get there.
Digital signage has a proven record of attracting attention and engagement. It's also easy and quick to update, and can be managed remotely, changed manually if needed, and scheduled. The same screens that show news, sports, or student club information during the day can switch to building directory signage in the evening for parents, or signpost the same classrooms when the school building is in use for adult education and community activities.
Digital building directories can be built fairly rapidly, and the gains they offer schools are well worth the effort.
Image Credit: School sporting event