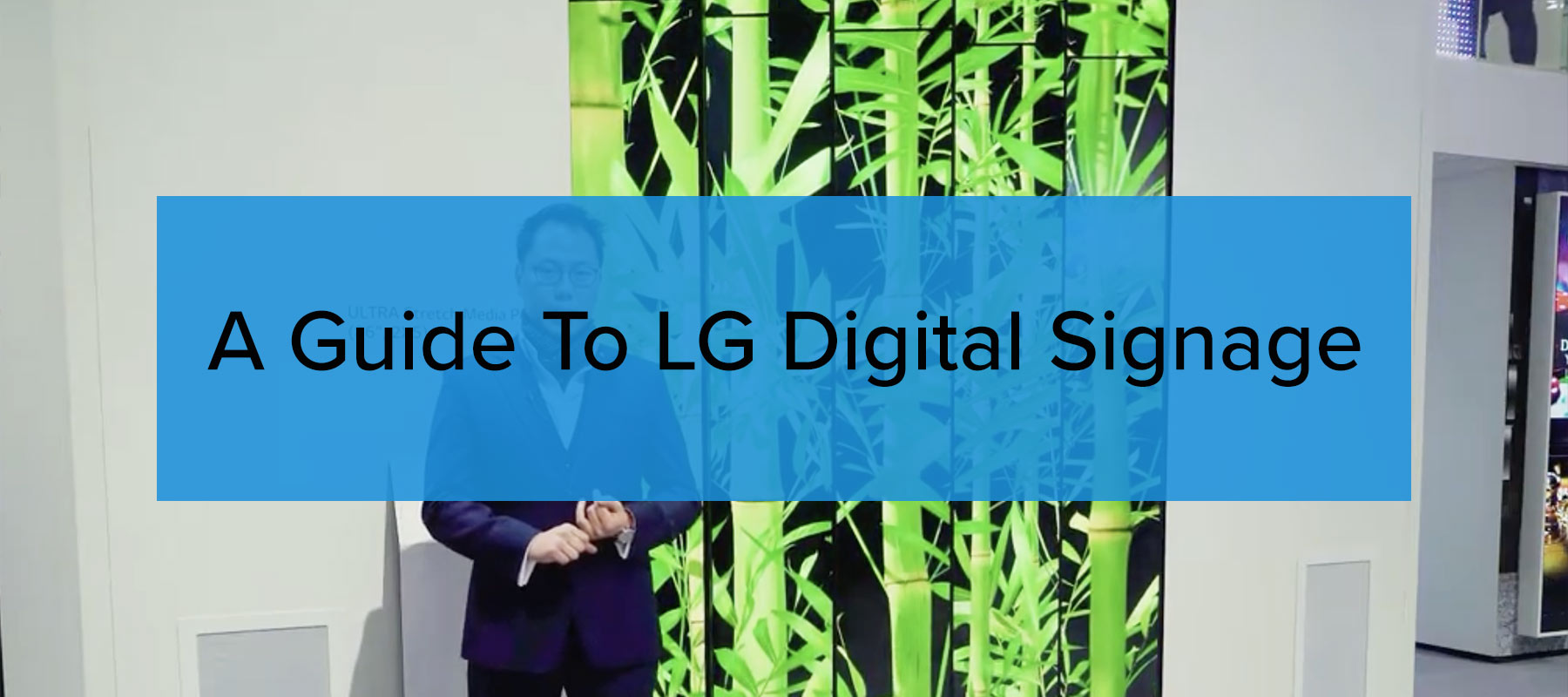 LG offers digital signage displays that are explicitly designed to be as widely accessible as possible, while maintaining a focus on commercial applications; the company offers its own guides to using its products in education, retail, manufacturing, and other commercial environments.
LG is a great choice for digital signage installations in schools. Schools and districts can build effective, versatile and durable digital signage installations around LG displays.
In this post, we'll look at the range of LG displays, and talk about how to build your digital signage system with LG.
The LG Range of Displays for Digital Signage
LG offers a range of displays designed specifically for digital signage, including touchscreen displays for interactive use, stretched displays for full-wall and extended displays, and LED backlit displays.
LG Stretched Displays for Digital Signage
LG offers two stretched displays for digital signage, designed for full-wall use. They're 86" and 88" screens, but those numbers are highly misleading, as we'll see. For illustrative purposes, we'll discuss the most extreme example, the IPS UHD Ultra Stretch Digital Display: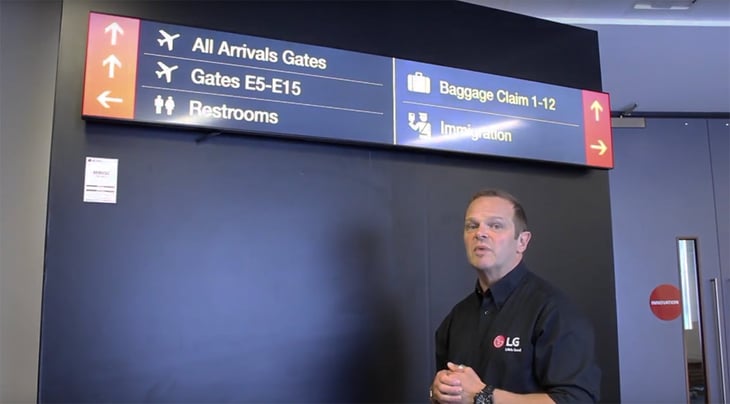 This display is exactly as 'disproportionate' as it looks, at least compared to the TV screens we're used to seeing. Its pixel count is more illuminating than the screen measurement: it's 3,840x600 pixels, a 58:9 aspect ratio that makes it an ideal fit for corridors, the fronts of assembly halls, or gyms. The screen comes with a multi-screen mode with 4PBP (Picture-By-Picture) functionality, allowing the screen to be split up to show multiple images on a single display.
The IPS UHD Ultra Stretch is designed to be dust-resistant and qualifies for IP5X Dustproof Certification, an important consideration because dust in the electronics is a major cause of performance degradation and failure; a dustproof display is likely to function optimally for much longer. It can also be deployed to show a tiled view: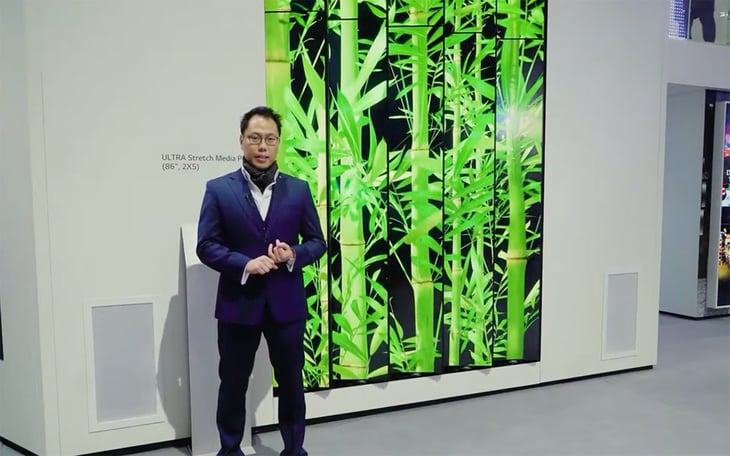 Many LG displays use the company's SOC (System-On-Chip) technology. To use Rise Vision on such displays, you'll need a separate media player.
LG Touchscreens for Digital Signage
LG offers touchscreens designed for point-of-sale and other commercial uses, in a range that includes eight displays. We'll use one to illustrate general truths about the range, though to get specifics, we'd recommend checking LG's own site.
The TR3BF-B Series IR Multi-Touch Point UHD IPS Digital Display is a multitouch display, allowing multiple users to interact simultaneously — in this case, up to 20 touches and up to 10 pens, with a palm erasure feature.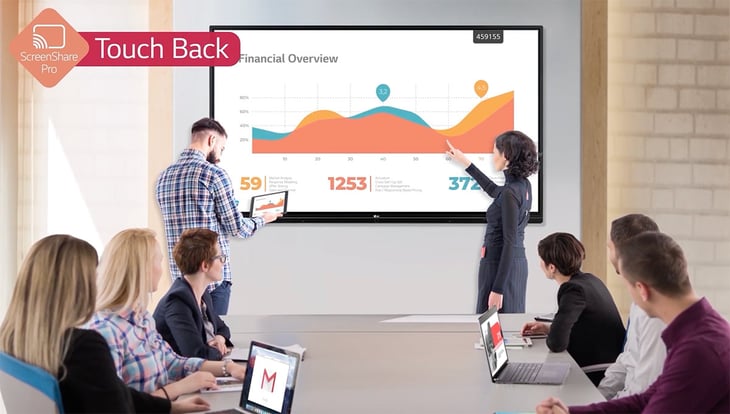 There's 3,840 x 2,160-pixel resolution on a 65" screen, and the display comes with Android OS and Chrome web browser built in. It also supports Air Class, letting up to 30 students participate in voting, answering quizzes and exams, and sharing project materials on mobile devices. Unlike some touchscreen solutions which are chiefly marketed toward commercial users, the IR is an education tool 'out of the box.' If you're looking for a way to put digital signage right at the heart of your classroom strategy — literally and metaphorically front and center — this could be a good choice.
LG LED-Backlit Displays for Digital Signage
LED-backlit displays are brighter than conventional flatscreen TVs, meaning they show up better against natural light and give clearer colors. They're also more likely to be chosen for smaller installations. We'll look at one of the most powerful choices from LG's range of four main product lines, to illustrate the main points of their offering.
First up is the 65" UH7F-H Series IPS UHD Slim Digital Display, with webOS version 4.1, IP5x dustproofing certification, non-glare coating, and built-in speakers.
It's a large screen, but at 39.9mm, a shallow one. It can be mounted high thanks to a mounting system permitting a tilt of up to 30° from the vertical. A USB plugin allows connection to external sensors such as GPIO (General Purpose Input/Output, a kind of all-purpose access point for third-party hardware), NFC/RFID (Near Field Communication/Radio Frequency ID), temperature sensors, and more. There's even a built-in leveler tool to help you mount it correctly.
While many of LG's players come with the company's SOC (System-On-Chip) signage system built in, you're not stuck with it. If you prefer, you can install your own preferred system on an external media player, meaning Rise Vision is fully compatible with all LG displays.
LG Flatscreen TVs for Digital Signage
We often see schools opt for flatscreen TVs as their digital signage displays, which is why it's time to discuss LG's flatscreen TV offerings.
LG's TV range is wider than its range of dedicated digital signage displays, with 170 main product lines in Ultra HD TVs alone, and variations like screen size within lines. Our example for this section will be the LG B1, a 65" Class 4K Smart OLED TV.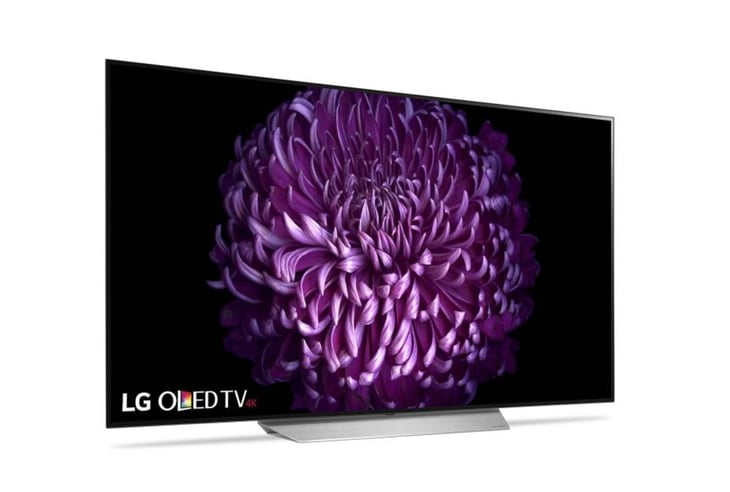 Source
It comes with wall-mounting, a display featuring millions of self-lit pixels and AI image adjustment from Dolby. There's surround sound support and control over things like motion smoothing via Filmmaker Mode. Unlike their dedicated digital signage solutions, LG's TV range includes pricing information, and the B1 is listed on the company's site at $2,299.99.
Showing Your Content on Your LG Display
Most LG displays are compatible with external players. LG's onboard player system is hardwired and new software can't be installed on it, but displays that have it can also show content from external players based on popular operating systems like Windows, Linux, or Android. Rise Vision can be installed on many external players, or you can purchase a player with Rise Vision preinstalled (recommended).
LG offers support over the web, a YouTube channel, online chat, email, and phone on 800-243-0000, Monday-Sunday 8AM–9PM EST. Rise Vision offers support through our help center or by email so you're never left trying to sort out your system on your own!
Before Designing an LG Digital Signage System: Ask An Expert
LG offers some impressive digital signage displays. There's cutting-edge image quality and functionality, with features designed to improve durability and effectiveness. But before you start building a digital signage system around them, you should talk it through with experts.
Some of our educator clients want to build their digital signage systems using the hardware they already have, expanding one purchase at a time. They're often not pivoting to a digital signage-oriented teaching or communications strategy all at once either, for a number of reasons. These can include financial restraints, concerns about value and more.
Others have decided on digital signage: they're all in. What they're looking for is reliability, versatility and a short learning curve. We often find both groups end up purchasing our popular Unlimited License, allowing them as many displays, devices, and presentations as they want for a single flat fee.
We work with schools every day to help them set up and make the most of their digital signage solutions. That might include helping you match displays to purpose, or helping you decide the right match between players and displays. Based on our years spent working with schools like yours, we can help you design the right system for your needs.
Why Choose Rise Vision as Your Digital Signage Solution Provider?
We've been providing digital signage content management and scheduling software to schools and districts since 1992. Things were very different back then — we helped pioneer some of those changes, including cloud-based digital signage management, scalability, and user experience. One of the things we're most proud of is that non-technical staff in schools can start using Rise Vision extremely quickly and easily, typically in one to two hours. Rise Vision offers:
Lower Cost
Digital signage solutions can quickly become expensive. Businesses can offset those costs against higher revenues, with digital signage installations more than paying for themselves. But schools are communicating with staff and students, not paying customers; with some exceptions, most schools can't directly affect revenue that way. There's also usually not much slack in the budget, so you need a solution that's inexpensive to start using and grows with your needs. Rise Vision offers several affordable ways to get started using digital signage — including a free trial — and a popular Unlimited License that lets you show as much content, on as many displays, as you want for a single flat fee.
Cloud-Based
Rise Vision is a cloud-based tool that lets you manage, schedule, create and amend content on the fly from any device, anywhere. You can use, alter, style, populate and display one of over 500 readymade templates in literally minutes, using our powerful and easy-to-use content editor. Get updates and patches automatically so you're always up-to-date and secure. Install the app or use the web-based portal to manage content for your classroom, school, or district.
Easy to Use
The last thing anyone on a school's staff wants is something new to learn. We know that the closer to zero learning curve we can get, the more useful Rise Vision is to schools. We have clients who run a whole school's digital signage in just 15 minutes a week. Most of our users say they had usable signage within an hour or two of using Rise Vision for the very first time.
Templates Make Life Easy
We have clients who were spending 16 hours a week creating and managing their digital signage. Others found themselves relying on Google Slides — quicker, but restrictive, and not great to look at.
We've cut those hours down to minutes with a library of easy-to-use templates for occasions ranging from weather warnings to health reminders, to school culture, and more. Now you can create digital signage for your school rapidly and easily.
How Do You Get Started With LG Digital Signage?
Improve school communication in three easy steps:
1. Pick a template
Pick from over 500 templates to improve communication and create a positive school culture.
2. Activate your display
Activate displays in your hallways, cafeteria, library, gym, classrooms, and more.
3. Keep it interesting
Add new templates from our weekly recommendations to keep your community engaged.