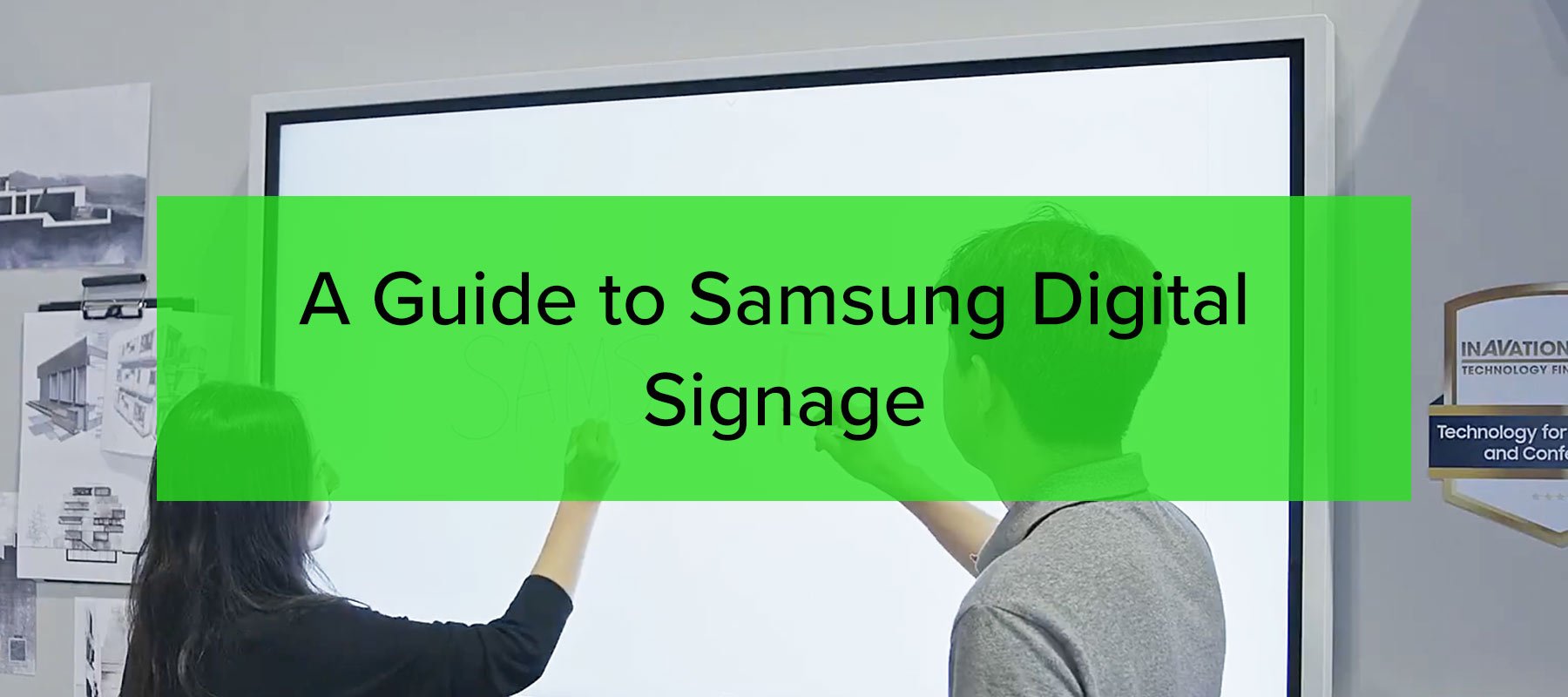 Samsung has been in the digital signage space since the beginning and is now the world's largest single purveyor of digital signage screens. With roots in the electronics industry as far back as the 1930s, Samsung has the size, reach and expertise to create an impressive array of digital signage displays. You'll find everything from cutting-edge displays that take up whole walls to flatscreen TVs, with or without streaming functionality built in. The company has over 30% of global TV market share, so there's a good chance your organization already has a Samsung screen or two.
In recent years, the display market has become more complex. Even as enterprises have moved toward multiscreen, outdoor, and high-usage displays, we've seen touchscreens proliferate and high-quality flatscreen TVs have found their way into homes and businesses. (There's a reasonable chance you're one of the increasing number of people who use them as computer monitors, and you're reading this on a flatscreen TV right now.)
Samsung has advanced into each of these markets and holds dominant positions in all of them. Let's start by looking at Samsung's high-usage displays.
Samsung High-Usage Displays for Digital Signage
There's no technical definition for a high-usage display. When we use the term, we're talking about displays that will be on, and displaying content to an audience, nearly all the time. Obviously, the demands placed on such displays are higher, in terms of uptime and durability. But along with those demands come higher expectations in terms of image quality, accuracy, screen visibility and brightness, and so on. After all, businesses wouldn't be showing content almost 24/7 if the content and the audience weren't mission-critical. When that's the case, the display can't just be working all the time — it has to look excellent all the time.
We'll take one display as an example. This is Samsung's standalone Neo QP85A-8K QLED (Quantum Liquid Emitting Diode) 8k digital signage display: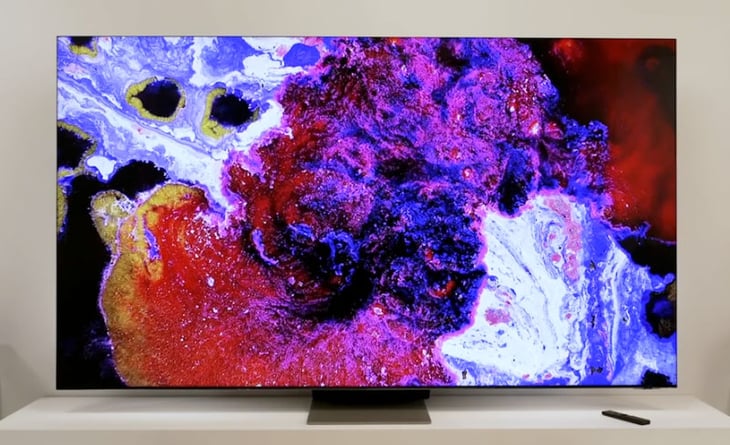 It comes in three sizes, 65", 75" and 85", with 8k definition. That crystal-clear definition is backed by AI upscaling technology that enhances lower-quality images automatically as they're presented to the display. It's thin — just 17.4mm — and light, and it's rated to run for 16 hours a day, seven days a week. There's a built-in player, audio via a digital audio optical port, and an array of features that include real-time picture refinement and a quantum image correction chip that relies on 16 neural networks to dynamically improve images.
In other words, we're a long way from a TV screen. That's true of specs, features — and price. Samsung doesn't list pricing for this part of its range at all, instead asking you to contact them for a quote; CompSource lists the QP85A for $7,843.99. These aren't displays for organizations that are working towards setting up digital signage; they're for businesses and institutions with deep pockets, ready to make significant cash investments. Some schools fit that description, it's true; but in our experience, not that many. Rise Vision works with these displays, but we don't anticipate many of our educational clients buying this type of equipment. It's simply too big an investment.
Samsung Touchscreen Displays for Digital Signage
Touchscreen displays are making their way into more businesses, with key user types being fast food and takeout, other retail stores, wayfinding in large institutions, and point of sale. However, they're uniquely useful for some schools, letting students interact directly with digital signage content. Schools have similar use cases to businesses — wayfinding, food orders — though they're less commonly used in schools.
Samsung has been a touchscreen pioneer, leading with its Kiosk order-and-payment range. These are most likely to be useful to schools in very technology-forward districts, where they can be used in cafeterias, libraries and other environments where they can let students self-serve and cut down on unnecessary staff efforts.
Again, we'll select from the range to illustrate what Samsung's offering looks like.
Samsung's flagship touchscreen product is the Kiosk KM24A: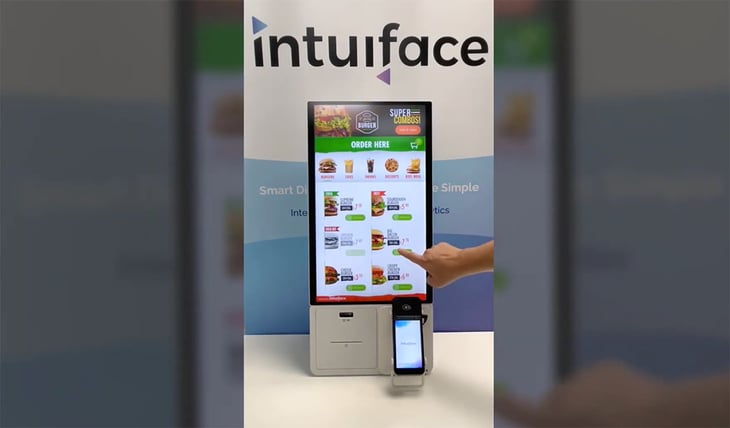 It's part of a set of hardware that includes a floor stand, and the touchscreen surface is doped with Zinc Pyrithione, a biocidal with 99% efficacy against bacteria (though not, as Samsung is careful to point out, all viruses, including Covid-19) — but that's not the interesting part. A dashboard and remote management deliver centralized control of fleets of Samsung screens, including performance management and assessment.
Samsung's website offers success stories, carefully chosen to showcase a variety of business types as well as different geographical locations. However powerful a tool for businesses Samsung's touchscreen technology may be, though, it's hard to imagine any but the best-endowed of school districts choosing them over a fleet of Samsung's low-cost, reliable tablets — or of flatscreen TVs that students can interact with via QR codes.
Another interactive display tool offered by Samsung probably has wider applicability in schools than the Kiosk: Samsung Flips are digital whiteboards, giving teachers and students the benefits of a whiteboard, video display and digital signage on one screen.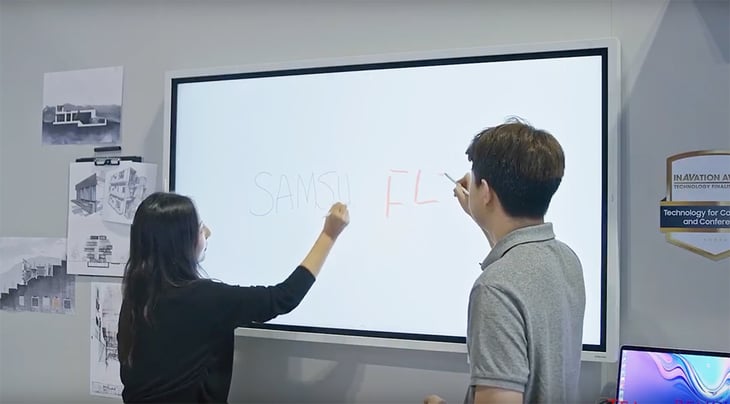 Available in large sizes including this 85" WM85B Flip Pro, they can be used to display information, show media, teach, and learn. Samsung's interactive touchscreen displays integrate securely with your existing systems and allow seamless communication between devices; they're also a great match for Rise Vision. As with the rest of its flagship range, Samsung offers no pricing information on its website; however, based on its own direct sales pages, you should expect to pay between $2,000 and $5,000 per screen.
Which brings us to the most-used of Samsung's digital signage offerings: the company's range of smart TVs.
Smart TVs For Digital Signage From Samsung
Samsung's range of smart TVs are among its most recognizable products. They're also the first port of call for many schools and districts looking for signage solutions powerful enough to support frequent use, but affordable enough to be deployed immediately. Rather than a major capital expense, space can be found relatively easily in budgets for smart TVs.
Samsung's Pro TVs come in screen sizes from 43" to 75", with brilliant Crystal UHD 4k picture quality — 4X clearer than full HD, and with more accurate colors — and a built-in player. Designed for near-constant use, these are reliable, good-looking and high-fidelity digital signage displays. Expect to pay between $594 (55" screen) and $1282 (75" screen) for Samsung Pro TV displays.
Showing Content to Samsung Displays
Samsung's digital signage solutions don't require a particular digital signage media player. They work well with Rise Vision via players based on Windows, Android, Linux, Chrome, or other solutions such as the lightweight Fire Stick. However, newer Samsung displays, based on SoC (System-on-Chip) technology, require an external media player to use Rise Vision with them.
As a global provider, Samsung has well-developed user support. There's extensive documentation for individual products, a YouTube channel dedicated to support, and a support page including chat and email, a knowledge base and a phone number. Pair that with Rise Vision's own well-regarded and responsive customer support, and you're in safe hands when you're setting up and if something goes awry.
Before Designing a Samsung Digital Signage System: Ask An Expert
Samsung's digital signage solutions are powerful, adaptable and offer impressive image quality and performance. But before you start assembling a digital signage system with Samsung displays at its core, talk it through with the experts: Us.
For example, Samsung's retail-level TV offerings might be suitable for occasional use, but aren't ideal for the backbone of a high-usage professional installation. Which combination of display type and media player is best for your institution? Most Samsung displays have built-in players, but you still might be better off with external players. Based on our experience working with schools like yours, we can help you design the right system for your needs.
Why Choose Rise Vision as Your Digital Signage Solution Provider?
Rise Vision has been supplying digital signage content management and scheduling software to schools since 1992, pioneering cloud-based digital signage and delivering scalability, ease of entry, and industry-leading user experience to schools and districts across the country.
Lower Cost
Digital signage solutions can be expensive. Facing constrained budgets, schools need digital signage solutions that are inexpensive. Rise Vision offers several low-cost pricing models, including a popular Unlimited License that lets users deploy as many players and displays as they want for a single fixed fee.
Cloud-Based
Rise Vision lives in the cloud. You can manage your schedule and create content on the fly from almost any device, using one of over 500 readymade templates and our powerful, easy-to-use content editor. Updates and patches are downloaded automatically, and Rise Vision is compatible with every operating system commonly used for digital signage players, including Android, Chrome, Windows and Linux. Install the app and you're ready to go, or use the web-based portal to manage content for your classroom, school, or district.
Easy to Use
Too many digital signage solutions are difficult to use, requiring graphic design or computing skills that many school staff don't have. Even where that's not the case, a long learning curve eats into time — and that's always in short supply in schools! You need something you can pick up and use straight away. Rise Vision is that solution. We have clients who run a whole school's digital signage in just 15 minutes a week, and most agree that they had usable signage schedules within an hour or two of using Rise Vision for the very first time.
Templates Make Life Easy
We've worked with thousands of customers over the past three decades, and we've learned that the key to making digital signage can be summed up in one word: templates. Some of our customers were once stuck spending up to 16 hours a week creating content and managing their digital signage schedules. Others were stuck with simple Google Slides that didn't look great.
We've cut those hours down to minutes for our clients, and freed them — and you! — to create visually stunning, attention-grabbing digital signage easily and quickly, using a library of easy-to-use templates.
When you start with a template for every occasion, and add a powerful, intuitive template editor that lets you style, brand, and rearrange templates in literally seconds, you can create free signage rapidly and easily. Whether you need a calendar of upcoming events or a live video feed, Rise Vision's template library will let you style, schedule and display your content in minutes, not hours.
How Do You Get Started With Samsung Digital Signage?
Improve school communication in three easy steps:
1. Pick a template
Pick from over 500 templates to improve communication and create a positive school culture.
2. Activate your display
Activate displays in your hallways, cafeteria, library, gym, classrooms, and more.
3. Keep it interesting
Add new templates from our weekly recommendations to keep your community engaged.