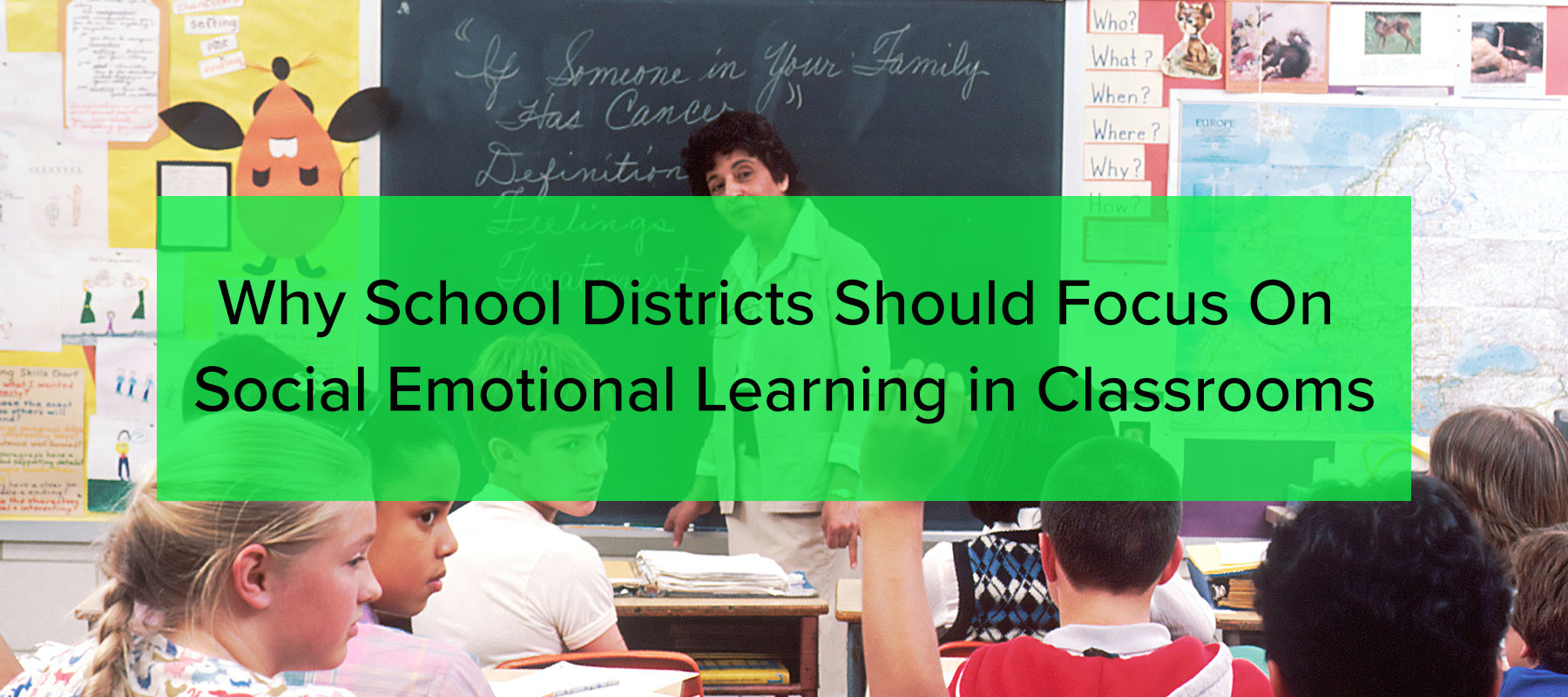 Social and Emotional Learning (SEL) is one of the most effective interventions that can be made in students' lives across all school districts. It improves outcomes across the board, including academic outcomes; saves districts money; releases teacher time from behavior management to focus on subject-matter pedagogy; and improves students' perceptions of school.
However, where should schools be addressing SEL? Classroom time is already at a premium. Teachers are already struggling with workloads. And students are often overscheduled and stressed. The option of throwing money at the problem is often unrealistic for schools and districts alike.
In this post, we'll talk about using time in existing lessons, and the school's existing networks of screens and displays, to address SEL objectives and materials in a structured way — without adding significantly to the burden on teachers or timetables.
First, let's look at how things stand now.
When do classroom teachers address SEL?
Schools struggle to implement SEL, despite being aware of its benefits. In large part, this is because SEL is not a discrete subject but an underlying competency. Thus, there is no direct test for SEL outcomes and no home in the curriculum belonging solely to SEL.
The standardized tests used in American schools militate against the more holistic approach to education suggested by a focus on SEL.
Standardized tests are there to deliver like-for-like test scores. Whether in Illinois or Alabama, the scores can be compared because the same test was taken. However, this approach has led to a focus on what can be tested.
Common Core has exacerbated the effect in some ways. Despite the early promise and a welcome focus on critical thinking skills as opposed to rote memorization, teachers and other education professionals criticize common core for excessive focus on math and English skills. This can be to the detriment of the arts, sciences, social studies, and humanities; its effects on standardized test scores have also been disappointing.
These points aren't to disparage Common Core or standardized testing, only to point out that they create an environment in which anything that isn't 'on the test' has to be squeezed in some other way.
Yet, getting SEL implemented in schools is crucial. It may not be tested directly, but it has beneficial effects on test scores — and not just at the time. A 2016 meta-analysis of studies by CASEL found that SEL implementations were associated with an 11% increase in test scores across the board, while a 2017 meta-analysis found gains of 33 percentage points in academic attainment — suggesting that SEL interventions were better as academic interventions than many tools explicitly designed for the purpose. This contradicts what most principals expected to find.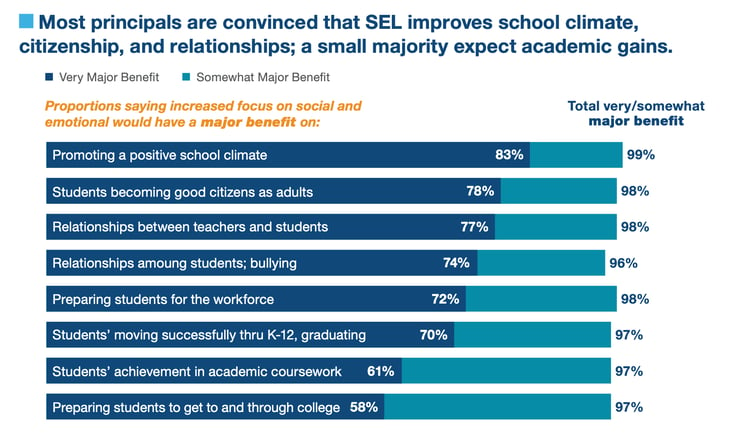 ---
Download the entire collection of FREE Social and Emotional Learning posters!
- 8 landscape-oriented posters
- 8 portrait-oriented posters
- available in high-resolution PDF formats
---
The effects were both more profound and more long-lasting. 'New research,' says CASEL's Joseph A Durlak and Joseph L Mahoney, 'suggests that SEL programs may affect central executive cognitive functions, such as inhibitory control, planning, and set-shifting that are the result of building greater cognitive-affect regulation in prefrontal areas of the cortex.'
In other words, SEL makes the brain itself better at learning and self-management. The trouble is, that's hard to test directly. Schools and teachers are busy with the demands of a closely assessed, prescribed curriculum. Principals report lack of teacher time and lack of dedicated funds as the two biggest obstacles to SEL instruction: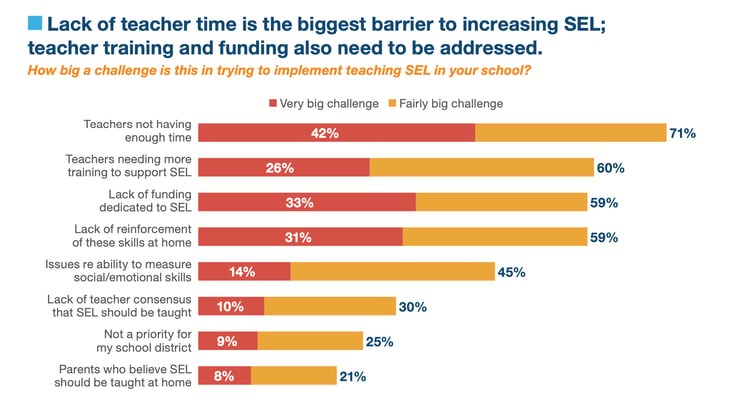 Where and how should schools implement SEL?
How should we deliver SEL?
The most effective SEL programs are formal, structured programs of instruction — unsurprisingly, since that's the approach that works best for most other subjects too.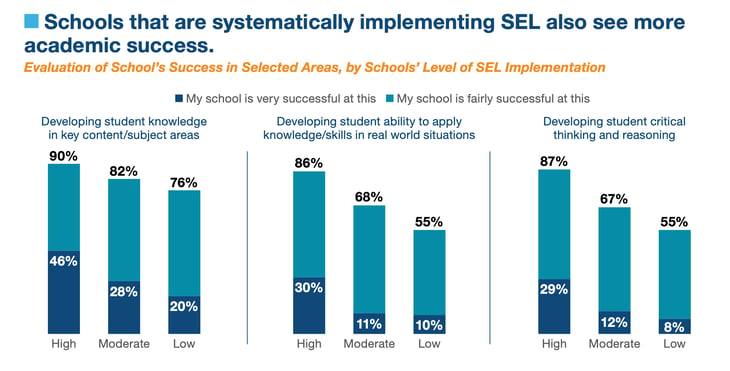 CASEL offers resources for SEL education, free to use and distribute without profit, for the district, school, and state. The organization recommends using the schoolwide resources to create a common language, structure, and goals between service-learning including:
Service-learning
Family programs
PBIS and other behavior support programs
School safety
Substance-use
Anti-bullying programs
Other related initiatives, for example in the community, mental health or mentoring and tutoring spheres.
Thus, it's not necessarily saying schools need to find four hours of classroom time a week to teach SEL like an academic subject.
---
Download the entire collection of FREE Social and Emotional Learning posters!
- 8 landscape-oriented posters
- 8 portrait-oriented posters
- available in high-resolution PDF formats
---
Building SEL into existing lesson objectives
Many existing lesson plans could be modified to address SEL themes and concepts during the lesson. Learning objectives are introduced at the beginning of class; SEL objectives can be introduced at the same time and addressed during plenaries and evaluations at the lesson's end.
Humanities, arts, languages, and sciences all offer opportunities to address SEL concepts and themes side-by-side with the more academic material. For example, an English class reading To Kill a Mockingbird will have plenty of emotional responses to discuss; they can also address SEL material more deeply by pondering the emotional responses and motivations of the book's characters, something they'll already be doing in class anyway. Working SEL objectives in by adding a structured review of emotional responses improves, rather than distracts from, the academic consideration of the text.
Math seems like it would be a more difficult ask, but math lessons are the most highly structured and least subjectively emotional of any lessons. In a math class students may not be conceptually engaged in an emotional response, but the difficulty, counterintuitive nature, and attendant frustration of learning, say, algebra, offers an ideal opportunity to address SEL material around self-regulation, for example.
Ambient messaging and priming to increase efficacy
Priming is a psychological term for a technique in which the introduction of one stimulus influences how people respond to a subsequent stimulus. Priming works by activating an association or representation in memory just before another stimulus or task is introduced,' in the words of Kendra Cherry, MS.
It works below the level of conscious awareness and determines how we interpret instructions, see ourselves, and the frame of reference within which we understand and react to the world around us.
Priming has been shown to alter the way individuals behave. '​​For example,' Cherice Chan and Dillon Murphy write in Psychology In Action, 'when exposed to positive personality traits (e.g., "adventurous", "independent") or negative traits (e.g., "reckless", "conceited") before reading an ambiguous paragraph about a theoretical person, participants rated and characterized the theoretical person as more positive or more negative, respectively.'
In other words, we can take cues about how to read ambivalent inputs from the materials we're primed by.
How can schools take advantage of this? We can clearly display messaging that encourages positive, mindful interactions and decision-making. When we do so, we're reminding students of something they already know, of course. But we're also priming them to read ambivalent circumstances — a shove in the hallway, a throwaway remark, criticism from a teacher — more positively.
The effects of priming are still open to debate, and some studies undoubtedly overstate the potency of priming. But that it changes our frame of reference and thus our behavior is pretty certain. If we're to leverage the effect of priming to reinforce sparse, often-disconnected SEL provision in schools and seek to encourage positive behaviors among students, we should do so using digital signage where possible.
Digital signage is significantly more effective than static signage at attracting attention; it's also far better at sinking into people's memories, emerging in conversation or thought unbidden later.
In one study, 83% of participants recalled a digital sign they had seen; 47% recalled three; 20% had had a conversation about one. Instead of consumers recalling advertising material, students recall messaging that reinforces self-management or helps them maintain positive social relationships with peers.
Digital signage in school public areas can easily be switched to SEL-focused messaging during high-traffic, high-stress times and places — like the hallways just before the first period. It can also be displayed on 'between use' digital displays, such as classroom digital displays when they aren't being used directly for subject matter teaching. Consistent messaging displayed across multiple locations during the day is more likely to be remembered and acted upon.
---
Download the entire collection of FREE Social and Emotional Learning posters!
- 8 landscape-oriented posters
- 8 portrait-oriented posters
- available in high-resolution PDF formats
---
Nudge to remind and reassure
Nudging is an approach that seeks to use small interventions to divert the course of behavior. We've seen it in 'nudge economics,' where minor acts of encouragement seek to influence the most impactful behaviors. One example is that of junior doctors at a hospital where compliance with handwashing protocols was low. Handwashing is one of the most impactful things medical personnel can do to reduce the spread of disease and surgical infection — a little like how SEL is one of the most impactful interventions educators can make. Yet, pressed for time and busily concentrating on the tasks they were being assessed on, junior doctors commonly skipped it.
Rather than harangue them, offer them rewards or begin supervising basins, the hospital tried mounting signs near basins reminding busy doctors of the importance of washing their hands. Static signs had little effect, likely because of 'ad blindness' — they just fade into the wallpaper. But digital signs had a significant effect. 'Nudging' doctors to better behavior reminded them of what they already knew they should be doing, and bumped handwashing up their list of priorities and shifted compliance from 7.6% to 49%.
Does that mean it works in schools? It does, say Mette Trier Damgaard and Helena Skyt Nielsen in Economics of Education Review, but it has to be done right. In education, say the authors, 'behavioural barriers (e.g. lack of self-control, limited attention and social norms) likely influence choices.'
While nudging often has positive effects,' they continue, 'the greatest effects often arise for individuals affected most by the behavioural barrier targeted by the intervention.' In other words, nudging works best when it reminds people who just need reminding — or reassures people who just need reassurance. 'If nudges pressurise individuals, or in situations where the choice architect has an insufficient understanding of behavioural mechanisms,' the authors continue, nudging is often ineffective. ('Choice architect' means the person or group that designs the 'choice architecture,' defined as 'the design of the environment in which people make choices.')
A focus on the classroom
Here's how CASEL conceives of SEL:
Schools and districts have a part to play in every layer of CASEL's concentric circle, from the most diffuse at the community level to the most focused and controllable element: classroom instruction and climate.
Unlike in the halls, students are (supposedly!) paying attention in classrooms. They're in the same place for a long period of time, meaning messaging can be more complex and sophisticated. By contrast, when you have just a few seconds of partial attention, you can nudge or prime but have little opportunity to actually impart new information.
In the classroom, by contrast, schools have the opportunity to communicate with students directly via digital displays that aren't currently in use. These displays can be coordinated centrally, meaning they add precisely nothing to teachers' already difficult workloads. Alternatively, they can be used for plenaries, additional or cross-curricular learning, or to support pastoral and health classes.
---
Download the entire collection of FREE Social and Emotional Learning posters!
- 8 landscape-oriented posters
- 8 portrait-oriented posters
- available in high-resolution PDF formats
---
Conclusion
SEL is effective at improving school outcomes, including both academic and long-term personal successes. It improves students' attitudes to their time in school and their lives afterward. However, finding ways to implement SEL in schools is difficult, with pressure on teacher work capacity, classroom time and student attention all already high.
Digital signage in classrooms can communicate directly with students, delivering SEL messaging across existent displays from centrally-controlled, age and time-appropriate libraries of content. It can also be used to support classes with an SEL focus, such as health classes. Encouraging students to refocus on positive attitudes and outcomes, and priming them to regard interactions more positively, can be an ongoing endeavor across campus and even extend to the family and community.