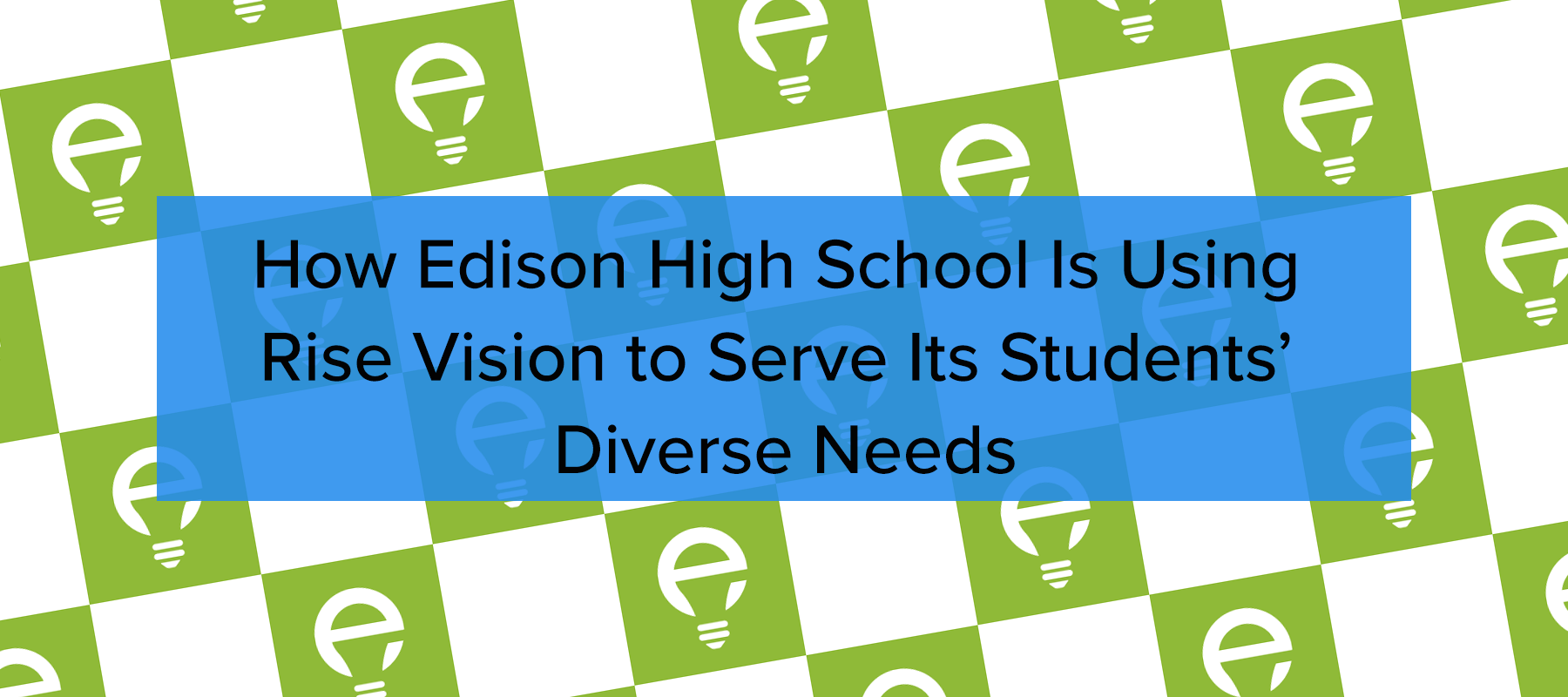 Edison High School is a small school for students with learning differences. Classes are small, the student body is diverse, and the challenges are unique.
Many parents choose Edison for their children because it's one of the few schools in the United States that specifically caters to students with learning differences. Some students are on the autism spectrum, others have attention or sensory issues. There are students who have dyslexia, dysgraphia, or dyscalculia, as well as nonverbal learning and visual perception disorders.
Edison's Director of Educational Technology, Dr. Troy Spetter, is meeting the school's challenges with the help of a complete digital signage solution from Rise Vision.
New students are referred by a support network including counselors, parents and teachers, and medical professionals. The average class has nine students. However, being a smaller school does pose some challenges. Edison is able to combat these by sharing its two-site campus with another, much larger school. This means students can get the support they need, but also have exposure to sports and cultural events, clubs, and social interactions on a much larger scale.
The school's student body currently numbers about 110. While the school does have plans to grow slightly, they are maintaining their low-class size by incrementally admitting more students and hiring additional faculty. It's even more important at Edison than at other schools to maintain a positive, supportive environment for learning and personal development, and larger class sizes would make this task more difficult.
Because the school's students have a range of sensory, intellectual, and personal requirements, it's also important to present information in multiple, highly-accessible ways. Unlike more mainstream institutions, Edison's students may struggle to read or have difficulty with visually-presented information. This is an additional hurdle to the usual range of preferred learning styles.
Replacing paper planners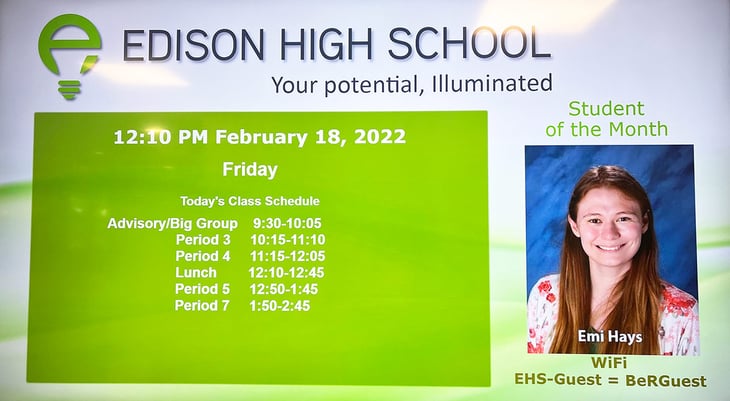 ---
Download the entire Edison High School Case Study PDF:
---
Edison used to issue paper planners to its students to keep track of their schedules. It still does, but hardly any students use them anymore for schedules. 'We're largely using our Rise Vision boards as a scheduling board because our schedules are so complicated,' says Dr. Troy Spetter.
The paper planners were used as a default, but there were few options for customizations or changes, and multiple issues impinged on students' ability to track scheduling easily. The school uses a rotating schedule with different classes every day, and they can shift throughout the day.
Edison shares its campus with another, much larger school. When their partner school's schedule changes, Edison's must change too, sometimes at short notice. Occasionally, the larger school's sports team might have a game or win an important championship. When that happens, the schedule for both schools will change to accommodate it, moving classes around for Edison students. A centrally-controlled digital schedule allows Edison to inform its students of schedule changes quickly.
Additionally, the learning differences that Edison's students have sometimes mean that typical whole-school alerts aren't that effective either. 'Students aren't always paying attention to bell schedules and things,' says Dr. Spetter, 'so it definitely helps for them to be able to see, "oh, wait, I'm out of class. Where am I meant to go now? How long do I have to get there?"'
Currently, Edison High School has three boards running Rise Vision displays, of which two are located in main public areas and are typically fully devoted to scheduling information.
Dr. Spetter thinks this type of implementation is likely to become more common across the education system. Paper planners were never in heavy use because previous generations of students had repeating schedules they could quickly learn. However, says Dr. Spetter, 'The days of a consistent schedule, and students coming in and knowing what to do each day, I believe are gone in education.'
When scheduling changes rapidly there has to be a way to quickly disseminate the new schedule, and digital signages and signs offer a broader spectrum of information types than traditional methods. It's also much more accessible and 'far less intrusive than voice-overhead announcements,' Dr. Spetter says. 'I don't think you can operate without some form of digital signage.'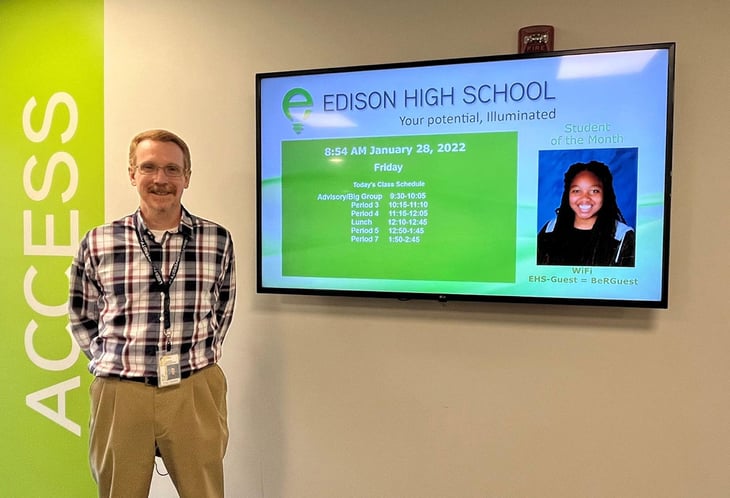 Rise Vision allows Dr. Spetter to easily match Edison High School's color accents, keeping a consistent look and feel throughout campus.
---
Download the entire Edison High School Case Study PDF:
---
Affirming students
While the main use to which Edison puts their signage is as scheduling boards, their two main screens allocate only two-thirds of their screen area to scheduling.
The rest is taken up by a photo rotation chosen by teachers at Edison, showcasing student achievements. Each month, a monthly topic is selected, and then teachers elect 'students of the month' whose achievements relate to the topic.
As with many other schools, this is achievement in its widest sense. It can be academic or sporting, but it can also be personal achievement such as learning a new skill or making progress in overcoming something that has always been a problem for that student.
The goal, says Dr. Spetter, is 'affirmation': building a positive sense of self-worth and self-efficacy in students. When individuals have been told they have a difference they'll never be able to overcome, their sense of their own ability to meet challenges and make progress in their lives can be undermined. Yet, when we lack this sense, it often causes that very inability: we get stuck because we feel we lack the power to 'un-stick' ourselves. For students at Edison, celebrating their successes displays them in front of their world as people who can solve their problems, learn and grow.
Tailored content for visitors
Currently, of the three screens Edison uses, two are fully engaged in student-oriented messaging. We've discussed those. The third is located near the school president's office, where visitors, including donors, may be waiting or passing by en route to a meeting with senior school staff. This screen is used to display schedules when no visitors are expected. Content can be tailored to visitors' interests.
'If a visitor is interested in our long-term development plans,' Dr. Spetter says, 'we may put up plans for new and future projects.'
Edison High School is currently making relatively light use of their Rise Vision implementation, but that could change soon as the school seeks to find ways to better leverage Rise Vision features.
---
Download the entire Edison High School Case Study PDF:
---
The view ahead: expanding digital signage usage at Edison
Dr. Spetter and his team have determined that their next focus will be on using the boards they already have during public and other events, when they're currently turned off.
In addition, the school's Safety and Security Committee is looking at ways to improve emergency response effectiveness and preparation using digital signage, probably including several more screens.
Expanding the team
Historically, digital signage solutions have been relatively difficult to use. People accustomed to technology might not find them hard to use, but most actual users found a steep learning curve necessitating training and support.
That's on Dr. Spetter's mind because he's currently the only person at Edison who manages Rise Vision. As the school expands its usage of the tool, new staff members will need to learn how to use it.
Dr. Spetter isn't worried, though. He says using Rise Vision is 'super easy — I mean it doesn't really require training anymore, people can just log in and figure it out for themselves.'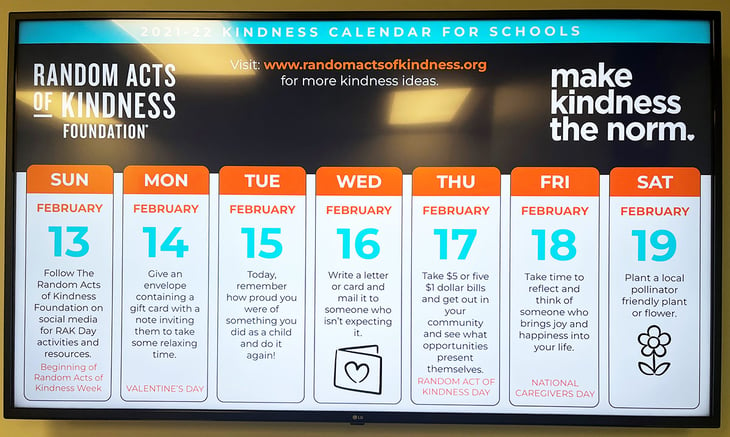 Edison High School goes the extra mile by using digital signage to bring positive messaging and thoughtful reminders for everyone that walks by.
About Dr. Troy Spetter
I have been Edison's Director of Educational Technology since June 2018. During the three years since then, we've moved away from relying on dated infrastructure and toward web-enabled services, cloud-connected collaboration systems, single sign-on implementation, and a totally new security and backup model.
I see my role as orchestrating the school's technology, training and security within the context of a greater vision for Edison and its students. I'm proud to say that Edison has long been rated in the top 10% of educational technology environments in the USA, but I think we can do better. We're already working on it!
Would you like to see your school featured on our blog or as a case study?
So would we! It could take just a few minutes of your time. Click here and let's chat! Interested in seeing how other schools have used Rise Vision to inspire students? Here are a few more stories to check out:
---
Download the entire Edison High School Case Study PDF:
---