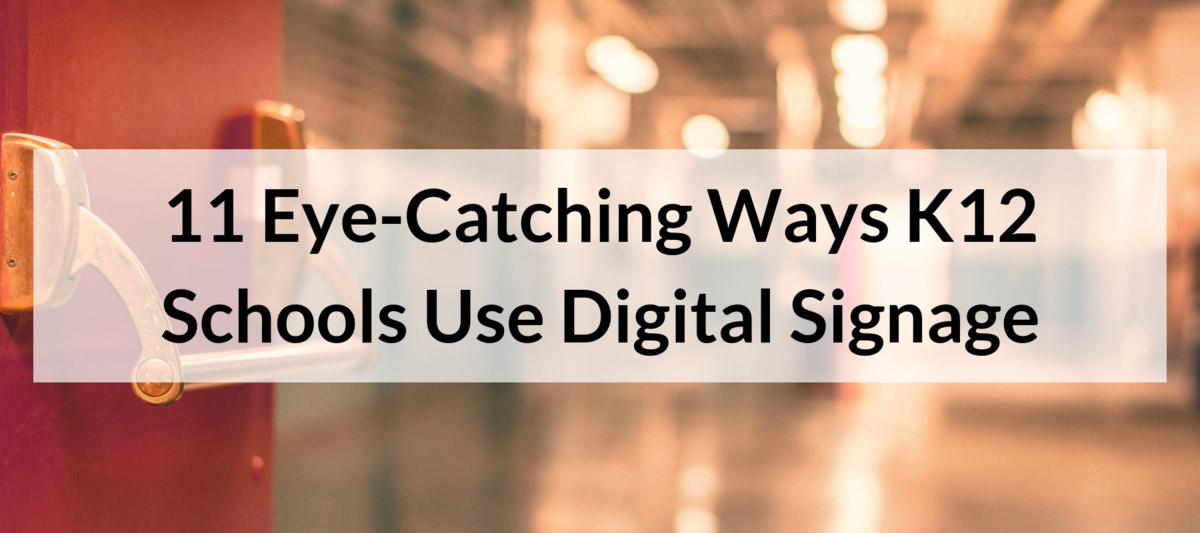 You have a TV. You have a media player. You've signed up for a free digital signage CMS account. Now what?
Digital signage sounds easy on paper but what do you actually do with it?
Here's the good news: there are literally hundreds of ways to capitalize on digital signage.
Some schools stream sporting events; others use it for gamification to get more engagement from their students. The possibilities are endless.
Whatever you want to do with your digital signage - impress your students, faculty, and parents - it should be quick and easy.
Here are 11 ideas, examples, and templates to have your digital signage up and running in less than five minutes.
If you've never used a template, we have a video that will help (see below).
What's the Weather?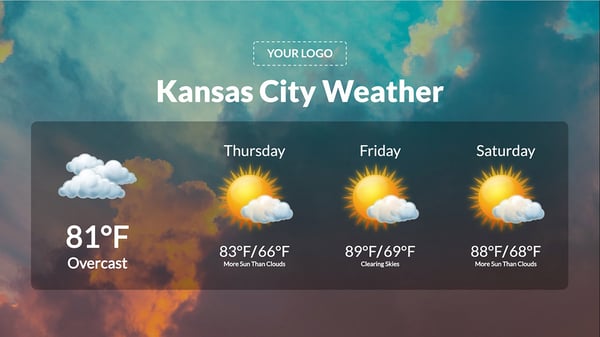 One of the top presentations on K12 displays is the weather. Imagine passing through the halls as you're leaving school. Do you need a jacket? An umbrella? It's hard to resist taking a peek at the screen to get the forecast.
You could add a weather script to the presentation but we have a template to make it easier. The template can be fully customized. You can add your school's logo and branding, and a background image of your campus.
Upcoming Sporting Events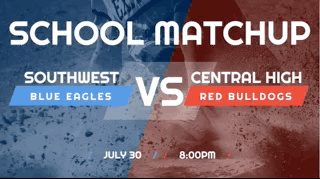 Do you have a big varsity game happening soon? You want students to know about it! A photo is nice, but pictures can get lost in the background as students hurry past displays. If you really want to impress your audience and catch their eye, animation is amazing.
The School Matchup template lets you quickly swap out your school's images and messaging for a presentation that turns heads and builds awareness for an upcoming event.
School Calendar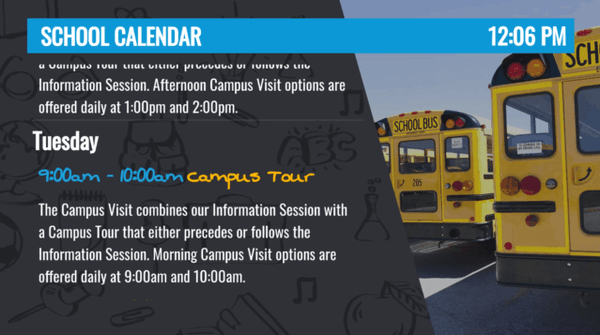 Sporting events are not the only event going on at your school. Put the spotlight on all school activities by integrating your Google Calendar into digital signage.
Once the calendar widget is added to your digital signage, you can update your Google Calendar and it will automatically update on your digital signage.
Student of the Week / Month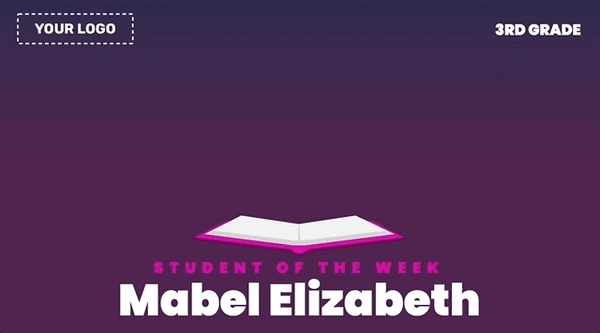 All of your students are special but recognizing someone every week (or month) boosts school spirit. It makes students feel like they have accomplished something worth celebrating.
The Student of the Week templates makes it easy for schools to visually recognize the outstanding accomplishments of its students. It also builds awareness about what the student has done so everyone can congratulate them.
Campus Alerts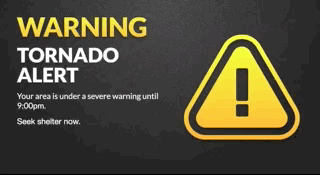 If a student or teacher sees an alert on your digital signage, they know it's urgent. In addition to letting schools integrate their CAP system into their digital signage, we have several alert templates to make sure your message communicates the urgency of the situation.
You can see all the templates and learn more about how CAP works here.
School Breakfast Menu or Lunch Menu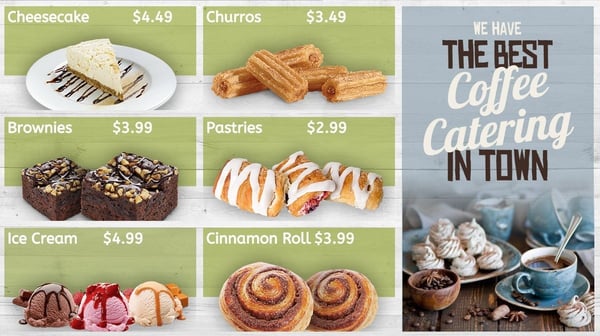 Students don't want to think about food when they're trying to decide what to get--they want to see it!
Using digital signage to show your school breakfast or lunch is an easy way to visually communicate your school's cafeteria items.
The menus can be scheduled to change at different times of the day, so your staff doesn't have to do a thing! The menus will change on their own depending on what time it is.
Read more about creating a digital signage menu for your K12 school here.
School Directories
Back-to-school night can be overwhelming for faculty and parents. Lighten the load for your staff by using your displays to show wayfinding maps of your campus.
If you'd like to add a map of your school to your digital signage, check out our post here.
Promote Good Habits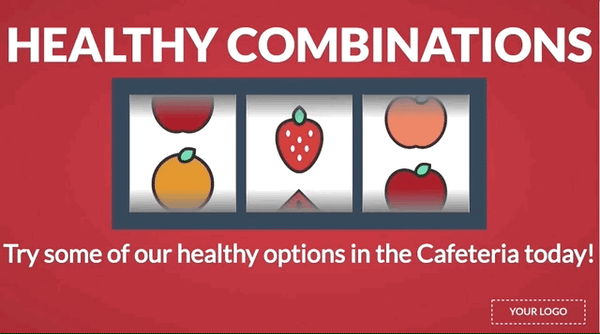 Whether you want to promote healthy habits for your students (like washing hands, eating healthy, or saying no to vaping) or build awareness about a school activity (e.g. Mental Health Awareness Month), Rise has dozens of templates to help you out.
Make Your Administration Office Shine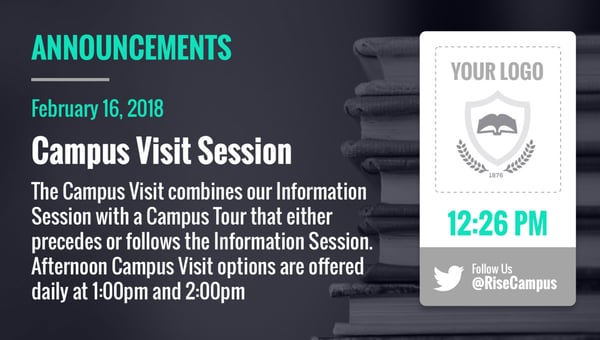 Having an administration office that impresses parents will give them confidence in what you are doing for their children. Having a display in the front office that shows announcements and upcoming events are some of the ways that schools use digital signage in their office.
We have over 20 more ideas for schools here.
Get Social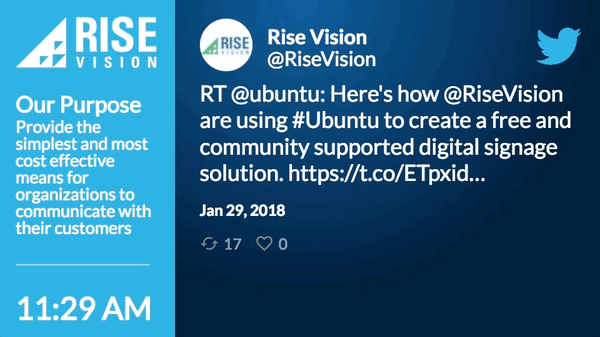 Your school probably has a presence on Twitter, Facebook, and Instagram; it's how you keep your the community informed. Our social templates made it easy to extend your social communications to your digital signage. See how!
'Tis the Season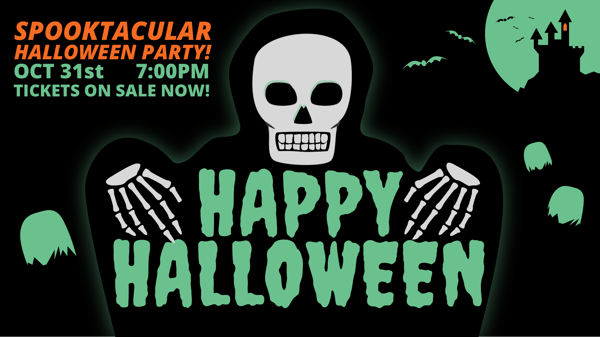 Every school wants to fresh content throughout the year but they struggle to find the time to do it. Rise Vision helps solve this problem with multiple templates for every major holiday (from Christmas and Mother's Day to the Fourth of July and Canada Day, and everything in between. We've got you covered!

We're continually adding more templates to make your life easier and make your displays look great. Not seeing something you need. Leave a suggestion here.