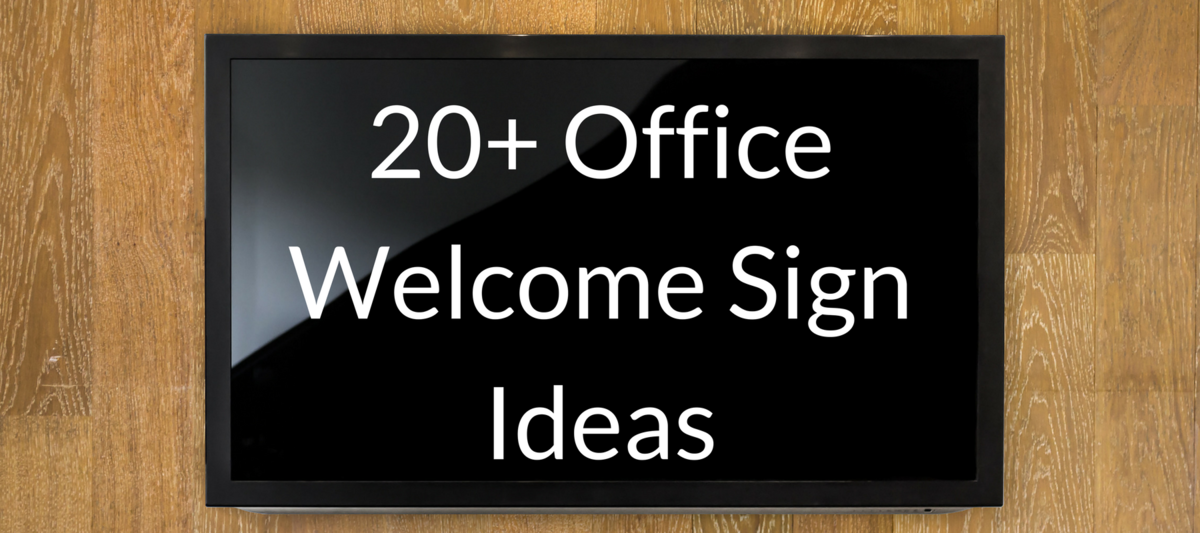 You've made the plunge: you've bought a brand new display that will be a cornerstone of your office. Now what?! In theory, the purchase was a good idea, but putting digital signage on it that is professional and eye-catching takes a lot of time and energy. Digital signage doesn't have to be a time investment--you can have professional signage in less than five minutes! Not convinced? Take a look below at over 20 creative welcome sign ideas that work for businesses, schools, and non-profits; these designs are part of the 100+ digital signage templates that available when you sign-up.
Welcome
Every office will have different things they want to display, and it's based entirely on their viewers; but no matter the type of office, there needs to be a welcome message. What goes on that welcome sign will be different for everyone, but it should have a few key components:
Logo / Branding
Time / Date
A message / title
A photo
All of these components can be quickly incorporated into the template below (which works in both landscape and portrait mode.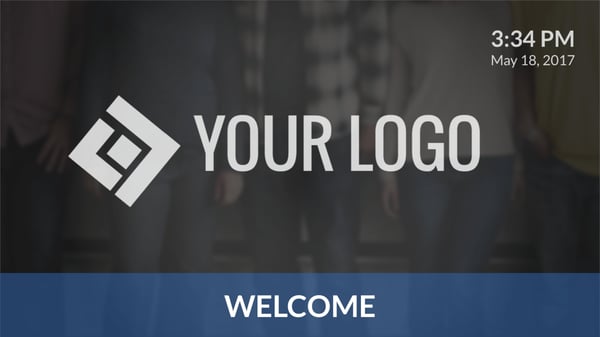 Hours / Schedules / Calendar
In addition to a welcome message, every business or school will also want digital signage that tells viewers their hours. The below example lets you show your hours for a holiday (Labor Day here, but you can rotate it for any holiday). This post shows you even more ideas for displaying hours and calendars on your digital signage.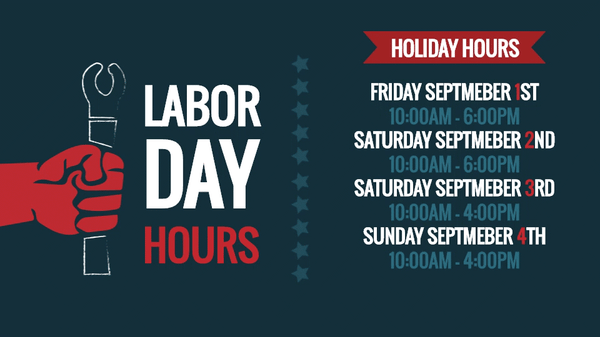 Announcements
Most businesses and schools will also want to be displaying announcements of upcoming events. Below are three different announcement digital signage ideas. There are several more in our template library.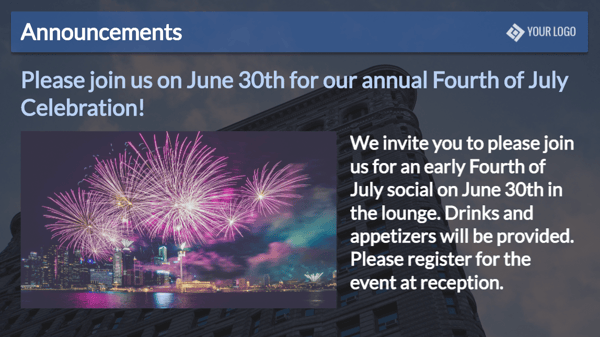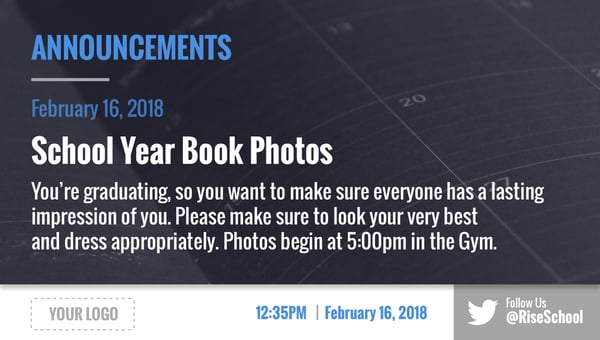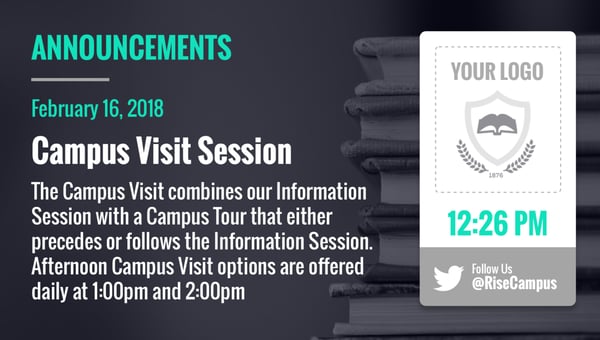 Weather and News
Some of your digital signage will stay the same throughout the year, but you should also include signage that changes weekly (and even daily); otherwise, viewers will begin to tune out. Showing news and weather (such as in the below examples) is one way to keep your digital signage always fresh and up-to-date with new content.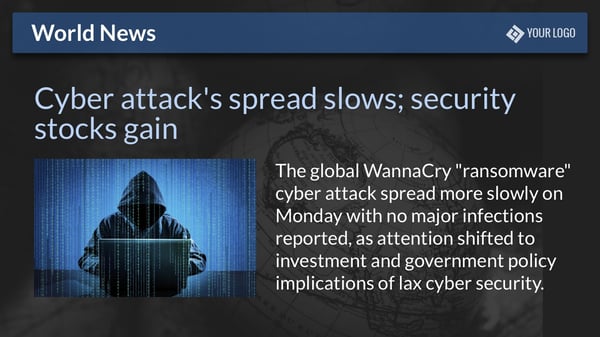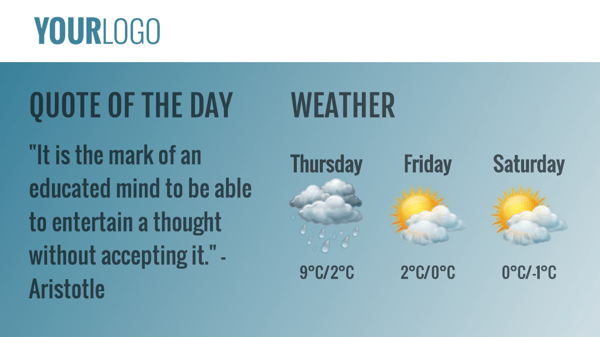 Social Message
News and weather is one way to keep your signage always up-to-date. Social media is another. Our recently released Twitter widget and templates are perfect for this. Twitter not your thing? Check out some of our other social media templates here. If you are running your digital signage in portrait mode, Twitter's long feed perfectly fits this space (see example below)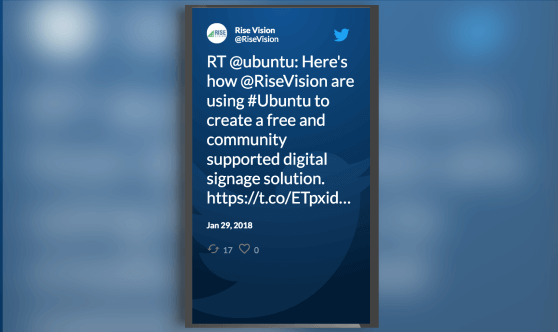 Videos and Livestreams
Adding a live stream video to your display can be one of the most impactful ways to get eyeballs when they walk into your building. Find your own live stream on YouTube or use one of the 11 in this post.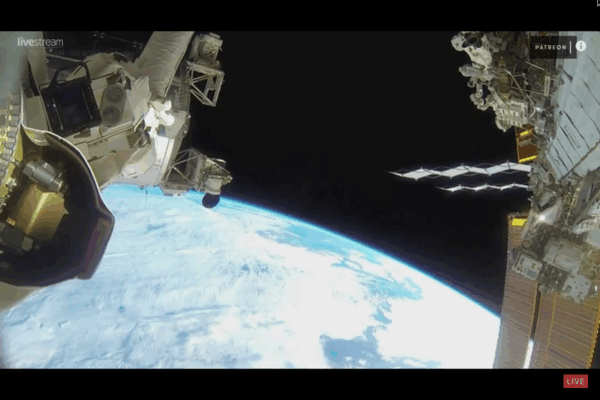 Seasonal
There are dozens of seasonal events (like March Madness and the Olympics) and holidays throughout the year. There are professional templates for all of them! From Thanksgiving and Christmas to Valentine's Day and Earth Day: we have you covered!
Staff Bios
Highlighting staff is a great way to put a personal face on your office. Knowing fun facts will make your office more inviting and the staff more approachable. Below is one way you can quickly achieve this.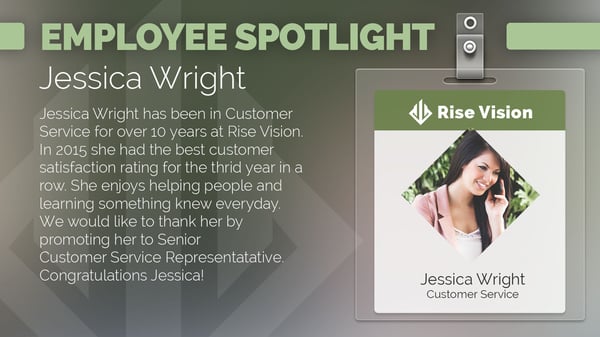 Quotes
Quotes give viewers motivation, inspiration, and smiles--they're perfect additions to welcome displays. You can even find an RSS quote stream, which is explained here; this allows you to have quotes that are always changing with zero work on your part. Below are three examples (including one in portrait mode).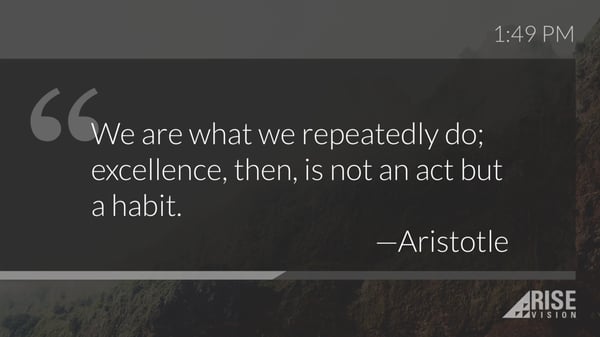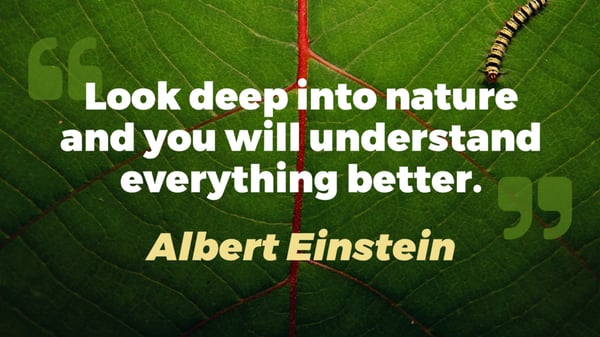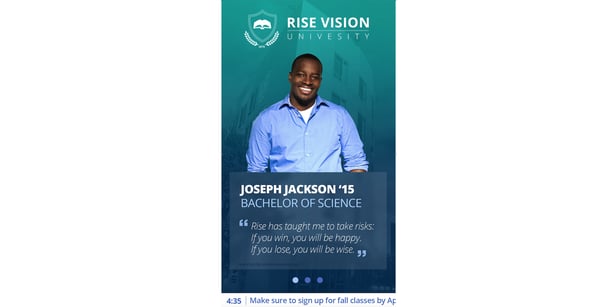 Rules and Procedures
Every business or school has rules, and digital signage makes these rules more noticeable. From telling viewers they can't smoke on the premises to reminding viewers what to do if they see something suspicious, you'll find it in our template library.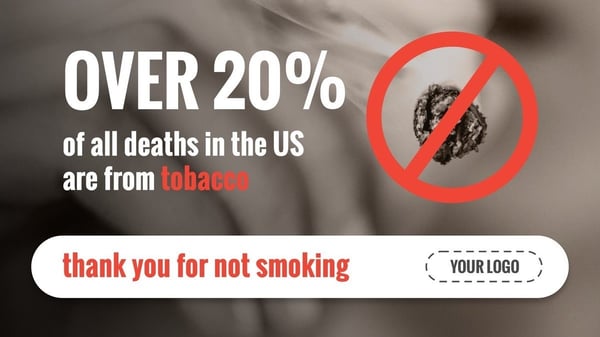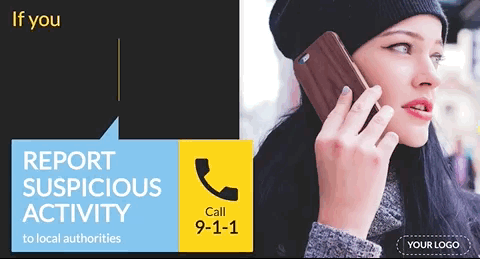 Job Announcements
Are you hiring? Use your digital display to promote the job announcement with the template below.
Values
Your business or school has a set of core values. It's something your audience should know, and your welcome display is one of the best places to show it. Check out the examples below (available in both landscape and portrait) or visit our template library to see several other versions.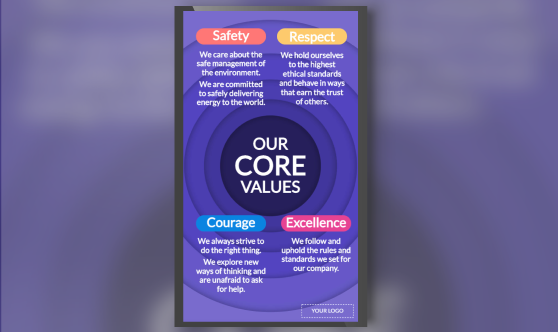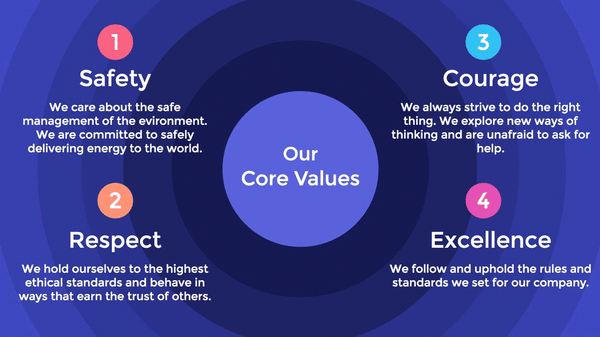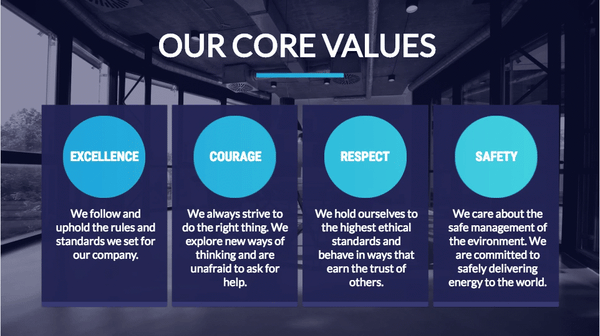 Do you have an idea for something else you'd like to see? We'd love to hear from you! You can make suggestions here. Looking for even more digital signage inspiration? Check out this post on 101 digital signage content ideas.