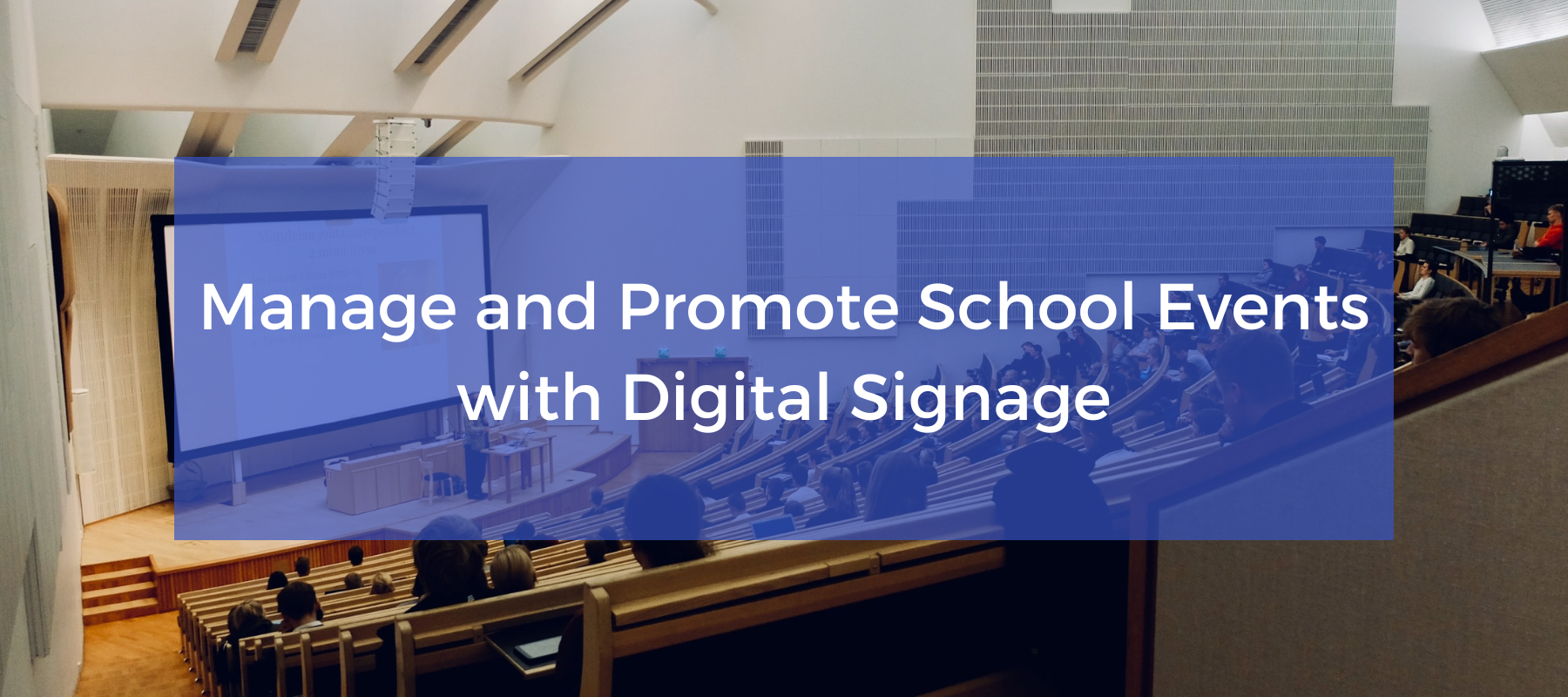 School events are an opportunity to bring the entire school community together and provide a space for learning and connection. With digital signage, schools can easily manage and promote their events with engaging visuals that capture attention, deliver important messaging quickly and efficiently, and maximize the impact of their event marketing efforts.
This article will cover how schools can use digital signage in various places in order to manage, integrate, and promote their events, including tips on choosing a digital signage system. By leveraging digital signage technology, schools can take their events to the next level and ensure they are engaging, entertaining, and informative for all involved.
Managing Events
School digital signage can be an invaluable tool for event management, enabling you to quickly and easily communicate information about your event and engage with attendees. With digital signage, you can display all sorts of content, from simple text announcements to interactive maps or slideshows showcasing the highlights of your event. You can even provide live streaming of events taking place in real time.
Here are some tips for using digital signage to manage events:
Prepare your content in advance

: Before the event, create any visuals and slideshows you'll need for your digital signage displays. This will allow you to quickly populate the screens with relevant content during the event.

Create interactive content

: Interactive content is a great way to

engage attendees

,

so consider incorporating some into your event's digital signage displays. For example, you could create a poll or survey that attendees can answer via the display.

Utilize analytics

: Many digital signage solutions come with analytics tools that allow you to track how users interact with your content. This can be useful for understanding the success of your event and making improvements for next time.

Integrate with other systems

: If you have other systems in place for your events, such as registration or ticketing, consider integrating these with your digital signage to simplify and streamline the process of getting attendees to where they need to be.
Integrating Events
Integrating events with digital signage offers an effective way to create engaging experiences for attendees. By combining both physical and digital elements, event planners are able to better reach their target audience by connecting them with the content they're interested in.
When integrating digital signage with events, there are several key steps to consider in order to ensure the most effective results:
Select an appropriate

digital signage software

that is capable of handling the amount of content and features you need for your event.

Define a budget and set realistic expectations

for the digital signage solution.

Consider the target audience of your event

and have content ready to display that resonates with them.

Consider the hardware

you'll need to successfully deliver your digital signage content. You may need to invest in additional hardware like

Fire Sticks

, displays, or sound systems depending on the size and scope of your event.
Digital signage helps to engage the audience, personalize the experience, and create an overall better event for attendees. With some planning and proper implementation, you can easily take advantage of this powerful technology to make your next school event truly memorable.
Promoting Events
Digital signage is a great way to promote events and increase their visibility. It provides an easy-to-use platform for creating effective, eye-catching visuals that can be used to attract attention and generate interest in upcoming events.
With digital signage, you can display information about the event in a variety of ways, from static images to dynamic videos and animations. You can also use free electronic signage to promote ticket sales, show schedules, and other information related to the event. This makes it easy for people to find out more about them and make plans to attend.
You can easily update content on your digital signage in real-time as the event progresses or changes are made to provide up-to-date information. Or you can use your digital signage to help track event attendance figures, allowing you to make better decisions about future events and promotions.
The best part is, these are all cost-effective, as the initial setup costs are minimal and ongoing maintenance is easy.
Choosing the Best Sign for Your School Event
Digital signs are a great way to help promote and advertise upcoming school events. They can be seen from almost anywhere, making them ideal for catching the attention of your peers and community.
However, there are some digital signs that may be more suitable for your school event than others. Here are some examples to help you choose the right signage for you.
Banners
Digital signage banners are an effective tool for schools to spread the word about their events. With a combination of eye-catching visuals and strategically-crafted messaging, digital signage banners can help bring in more attendees and boost ticket sales.
LED Signs or Electronic Digital Signs
LED or electronic digital signs are a great way to share information with students, faculty, and parents. They can be used both indoors and outdoors, making them a versatile medium for promoting activities, providing event updates, and sharing important messages.
LED signs are highly visible due to their bright colors and clear graphics, allowing them to grab attention quickly. They can be used for a variety of school events, including sports tournaments, homecoming dances, and graduation ceremonies. With their easy-to-change content, LED signs are an excellent choice for constantly updating information on the fly.
Billboards
Digital billboards provide a dynamic and versatile way to advertise school activities and programs, both in the school environment as well as in the wider community. With digital billboard advertising, schools can easily create attractive visuals that will draw attention from passersby or visitors to the school grounds.
By utilizing images, videos, and other creative multimedia tools, schools can effectively reach a broad audience and create excitement around upcoming events.
Floor Graphics
Digital floor graphics can be used to create an eye-catching visual display that is sure to draw attention while providing essential information. They are easy to install, remove, and reuse, making them a versatile option for any type of event.
They can also be customized to feature a variety of logos and images, as well as text and slogans. Digital floor graphics are highly durable and can resist wear and tear from traffic.
Wall Murals and Wraps
Digital wall murals and wraps are perfect for school events as they can be used to create an unforgettable atmosphere, provide a fun backdrop, or simply add some pizzazz to the event. They can also be customized to fit any theme or idea you may have in mind.
Whether it's a sports theme, a magical fairy-tale theme, or anything else you can dream up, digital wall murals and wraps are the perfect way to bring your vision to life. They come in all shapes and sizes, so you're sure to find something that fits your needs perfectly. Plus, they're easy to install — no special tools or expertise are needed!
Yard Signs
Digital yard signs are an effective way to promote school events and activities. Using them allows for greater visibility, as they can be seen from a greater distance than traditional paper or cardboard signs.
Digital yard signs can also be updated easily, so any changes or updates to the event information can be quickly communicated to your audience. Additionally, they can be programmed with animation or sound, making them even more eye-catching and memorable.
Changeable Message Signs
Changeable message signs allow schools to quickly and easily share important information with students, faculty, and visitors alike. They offer a wide range of customization options for displaying text as well as graphics such as logos or images.
They can also be programmed to show different messages at different times remotely, providing an effective way to get the message out about upcoming school events, such as sports games, assemblies, and other special occasions.