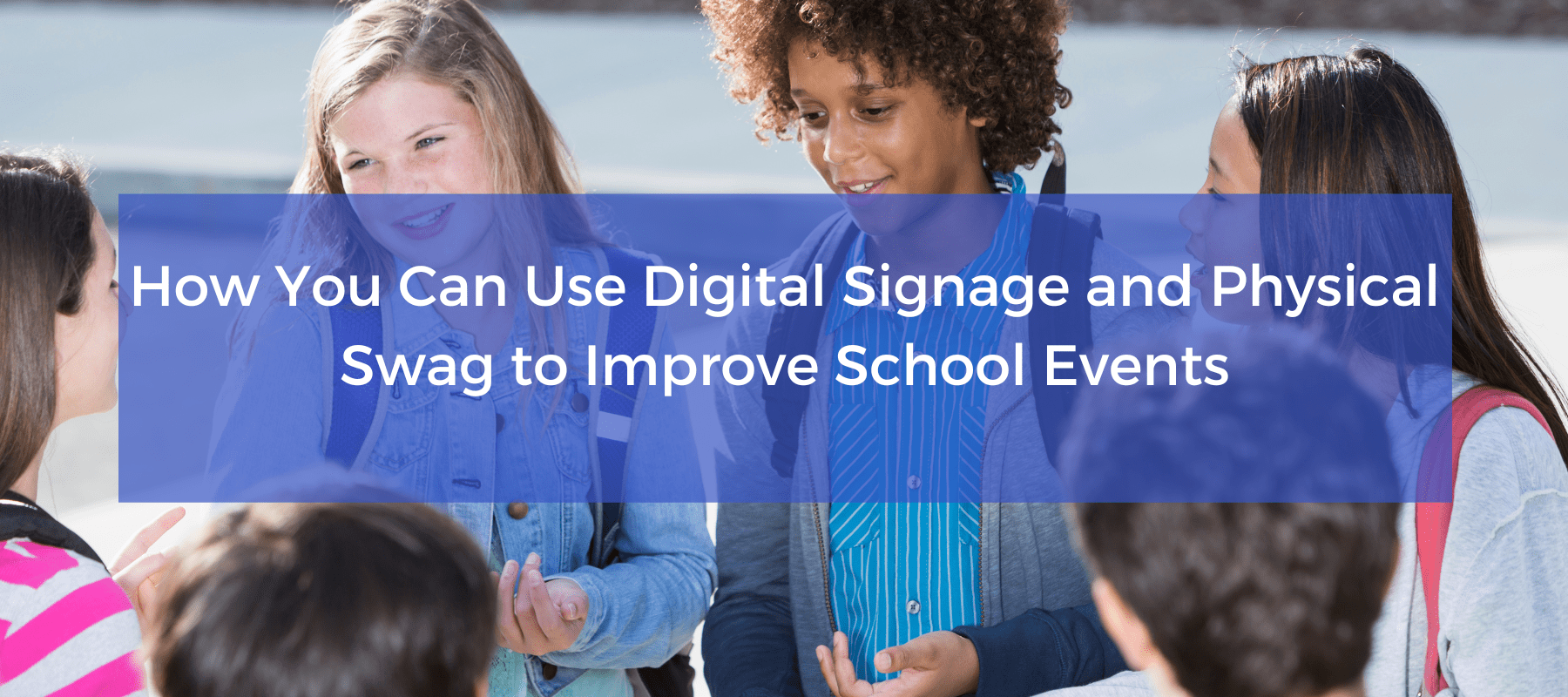 Getting students involved in extracurricular activities and other school events is integral to creating a healthy learning environment. You want to provide an opportunity for your students to pick up soft skills and enjoy themselves outside a traditional classroom.
However, it can be tough to share event information with as many students as possible without being creative. Students are often distracted, so it's up to you to elevate your communications strategy and increase turnout and student engagement at school events.
If you don't have digital signage installed at your school, you should start there!
Digital signage is a crucial part of school communication strategy and allows you to engage with your students in new, captivating ways. Digital signage providers like Rise Vision enable you to create engaging templates and content that can be shared with students wherever they are on school grounds.
When used with tried and tested methods like branded swag, word of mouth, and physical signage, you can guarantee that school events will attract more engaged students who are excited to get involved.
Why Do You Need Digital Signage for School Events?
Digital signage gives you a flexible way to communicate important information with students. It's useful when trying to generate awareness, showcase student achievements, and encourage the creation of student-led content.
Here are a few of our favorite reasons for using digital signage when trying to improve school events.
Generate Awareness and Get Students Talking
The simple act of having your event messaging on repeat across various displays on campus can significantly increase how many students are aware of all scheduled events. Giving your students more touchpoints with your event promotions and reminders makes it easier for them to remember key information.
If you want to get this up and running immediately, feel free to use this fun and engaging event reminder template on displays around the school to increase the visibility of upcoming events.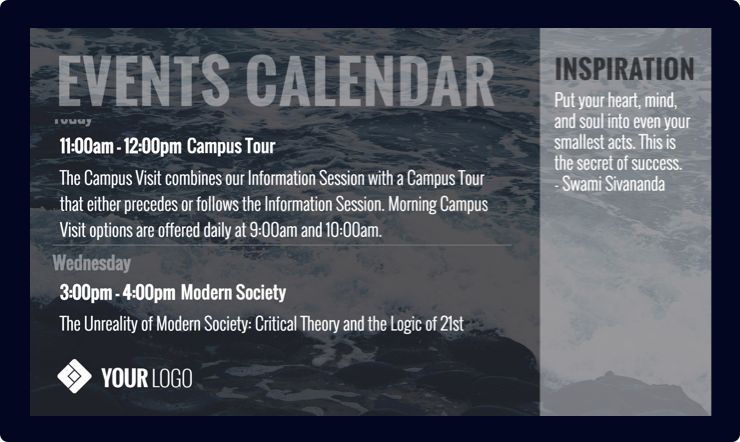 Make Event Management a Breeze
Imagine printing out event itineraries for every student and hoping they don't lose them! Even if students have been at a school for years, they might not be aware of all the rooms, floors, or buildings on campus, leading to anxiety and confusion.
Digital signage helps students orient themselves on campus which makes it easier to find event locations. You can display relevant information on various displays at your event and school to ensure students are always aware of what is happening.
Improve Event Accessibility with Audio, Video, and Text
Platforms like TikTok and Instagram have made accessibility something that students expect and appreciate. Digital signage is a great way to create multimedia content that improves accessibility through captions, visuals, and sounds letting students know what's happening.
You can use displays during speeches or other speaking engagements to ensure everyone can see and hear what is said. You can also go the extra mile and make sure your events have live transcription that you can broadcast through your digital signage.
Create Excitement with Unique, School-branded Templates
We know that working in education is challenging. Finding time to do design work or pick up new skills on the side is even more challenging. That's why we provide as many templates as possible to help you quickly put together creatives for various school events.
Our editor is easy to use and lets you add even more customized elements to existing templates if you want to spice them up.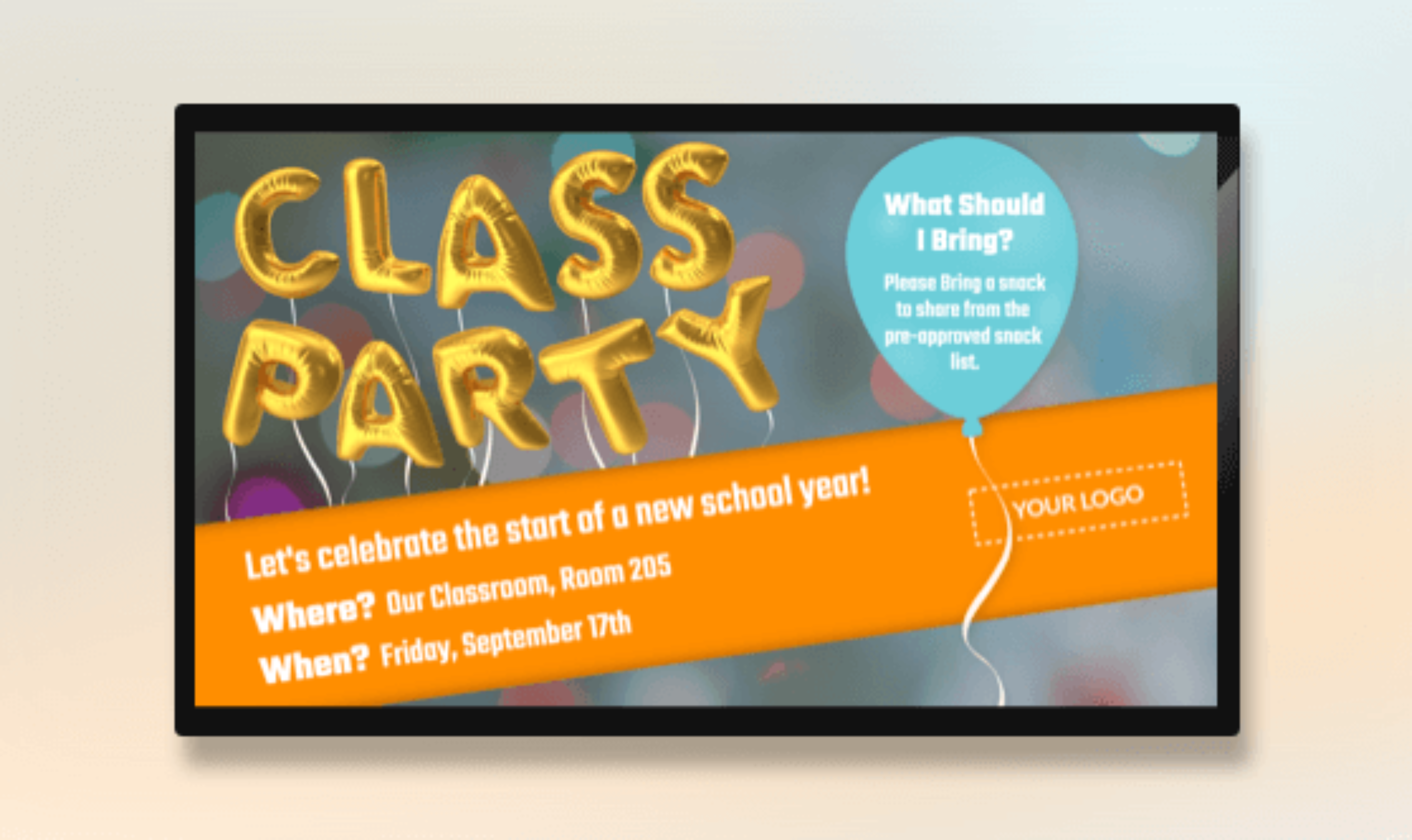 These templates are also great for letting students engage with your announcements in a familiar way. Gone are the days of filling out paper forms and lining up to enter an event. Now they can scan a QR code, get a text message, or even a push notification which is more native to how they prefer to receive information.
How Can I Incorporate Branded Swag and Giveaways to Improve Events?
Digital communications are essential, but it's equally important to supplement your campaigns with physical giveaways. Cool branded swag is a great way to encourage student participation while giving them tangible memories of school events.
Students Love Stickers and Other Goodies
Everyone loves getting free stuff. It's even better when that free stuff lets you feel like you are an integral part of your school community.
One way to allow students to rep their school pride and express themselves is through personal item customization. They walk around with their backpacks, water bottles, and laptops all day, so why not help them showcase their school pride with custom stickers, backpack patches, or even car magnets for their parents.
These items can be bundled and handed out to your students as part of their event-day experience. Many students will also likely take these home to share with their families, extending the event experience beyond school grounds.
Create Unique Giveaway Experiences with Digital Signage
One of the best ways to encourage student participation in activities is through giveaways or raffles. Giveaways are a great way to get students excited about specific events and encourage them to share with their friends.
You can turn giveaways into a memorable experience by using your digital signage. You can create custom templates and use them to create a school-wide scavenger hunt that takes place over a couple of days. Or maybe you're doing a charity drive and want to keep school spirit up by tracking donation progress. Why not throw up a bar chart tracking donations so students can be proud of the good they are doing as a collective?
Leave a long-lasting impression with take-home items
Most branded swag has a long shelf life. Just think about all the branded items lying around your home and how long they stick around.
Allowing students to keep a piece of their personal history ensures positive memories that last well beyond their time at school. You want to ensure that your swag is of good quality so your students can keep these mementos for as long as they wish.
Custom branded swag is a great way to get a good return on your investment and keep students excited about any future events you end up putting together.
Conclusion
You want to create the best learning environment for your students, and throwing great school events is a big part of that experience. These events offer a way for students to engage with each other and explore their unique interests.
Students are often distracted, so it's important to be creative with your communications campaign to get their attention. With Rise Vision's digital signage and templates for any situation, creating engaging communications has never been easier. Throw in a couple of giveaways and exciting physical swag, and you've built yourself an excellent little hype machine that ensures as many students as possible show up ready for your events.