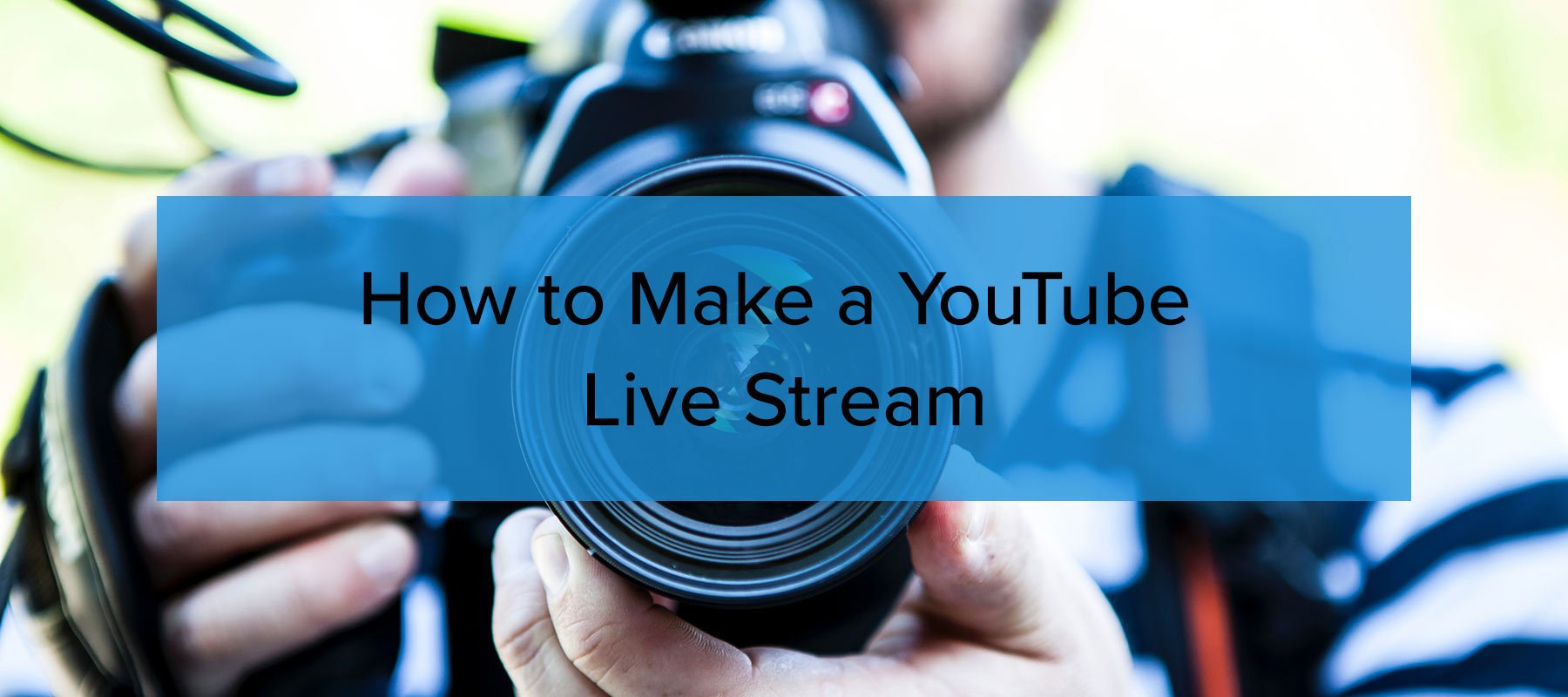 YouTube live streaming lets you broadcast directly via YouTube to subscribers, in real-time. Using Rise Vision software, it also lets you broadcast live across your digital signage.
Why live stream?
Live streaming lets you talk to people directly. It allows you to show time-limited events in real-time, not after they're over. You can use live streaming to:
Show sports events as they happen
Address people who can't meet face-to-face. That might be in a nursing home or a school, or even a workplace.
Teach a class or a segment of a class remotely.
And a ton more. Remember you're not restricted to a camera. You can share your screen live on YouTube too. This is often used to live stream video games, but can also be used to share over-the-shoulder writing, graphics, coding or other lessons.
If you want to stream content to your digital signage that's already being shown on YouTube, we have a guide to doing that here. We'll go back over the basics of that later in this post. But what if you want to stream your own content? Then you'll need to make a YouTube live stream of your own.
What you need to make a live stream
You'll need to have your YouTube channel, your streaming software and your recording equipment (if you're using any) ready and set up correctly to successfully live stream. It's also possible to stream without any additional software or hardware — see Streaming without an encoder.
YouTube channel requirements
For your YouTube channel, you'll need:
A verified YouTube account
Set up a YouTube account, if you don't already have one, by clicking the Sign Up link in the top right corner of the YouTube screen.

If YouTube thinks you already have an account it will offer you a Sign In link instead. If you have an account but you want to set up a new one, click on Sign In and you'll be given the option to create a new account.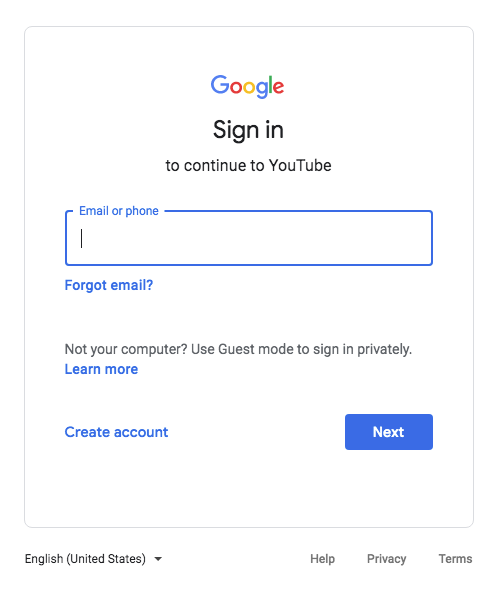 Get your YouTube account verified by submitting a phone number to YouTube here. They'll send a code to your phone which you then enter on YouTube to verify your account.
Once your account is verified you will be able to post videos over 15 minutes, add custom thumbnail images and live stream.
No live streaming restrictions in the last 90 days
These can result from copyright complaints or other alleged breaches of YouTube T&C: see the full list here. Though it's unlikely any of this will be applicable, it's best to be aware of it.
To live stream to mobile you will need a minimum of 1,000 subscribers in addition to the above requirements.
Encoders: Streaming software
To feed your live footage into YouTube, you'll need to encode it into a format YouTube can understand and handle. Think of this as translating it into a language YouTube speaks. Encoders fall into two categories. One is hardware, standalone pieces of equipment that you'd plug a camera, microphone or another source into. The other is software encoders running on a PC.
You can download encoders from the web. Here are three options to consider: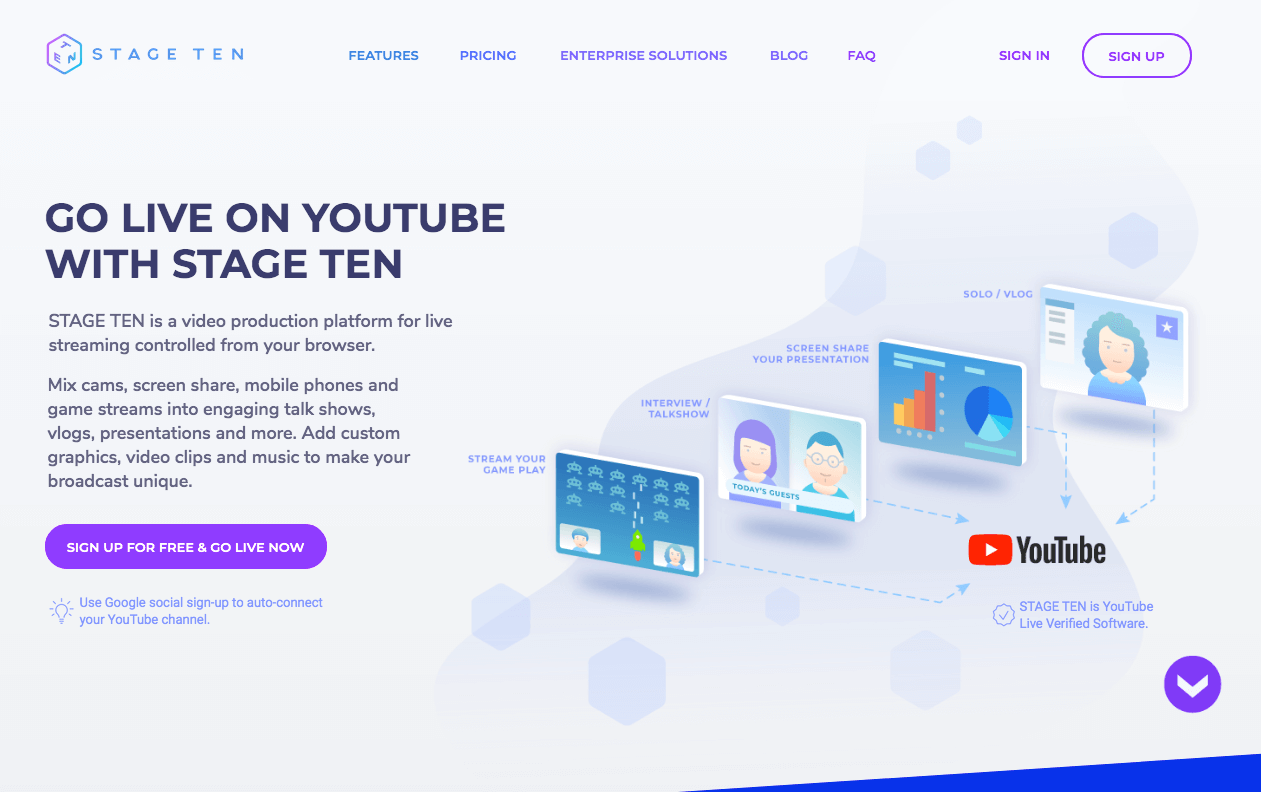 A video production platform that does a lot more than just encoding, Stage Ten might be a good choice if you're planning to do a lot of more complex live streaming.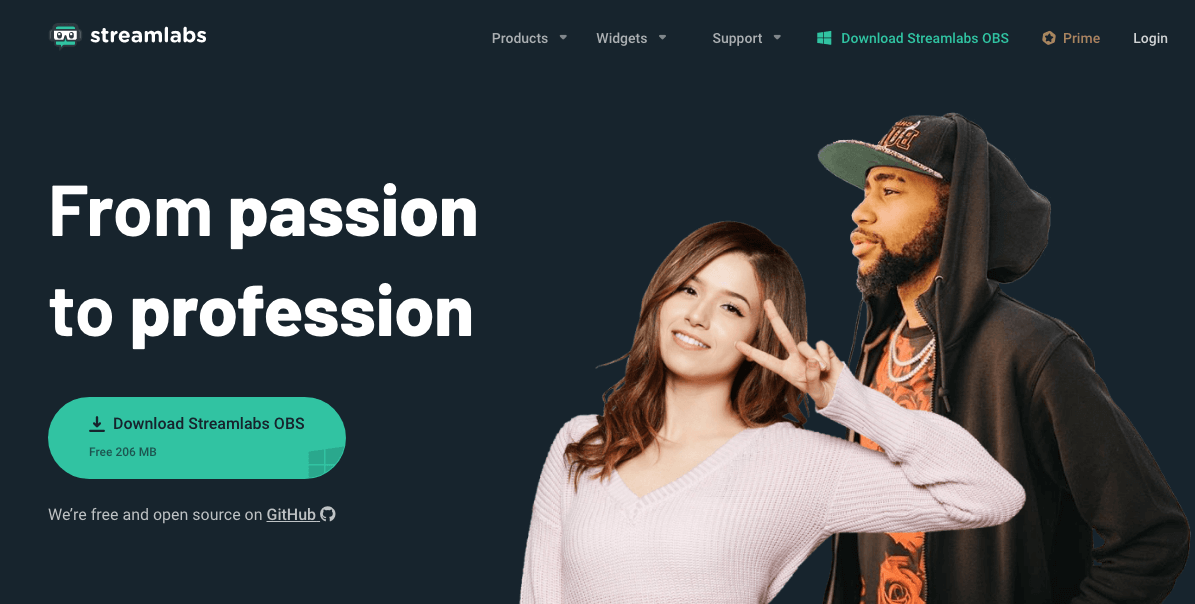 Free and open-source, Streamlabs is the leading streaming software provider and is probably best if you're happy with your encoder doing a lot of the work for you. The downside is, if you're an AV whiz you could probably do better yourself. The upside is, if you just want to live stream quickly, Streamlabs will have you up and running in minutes at most.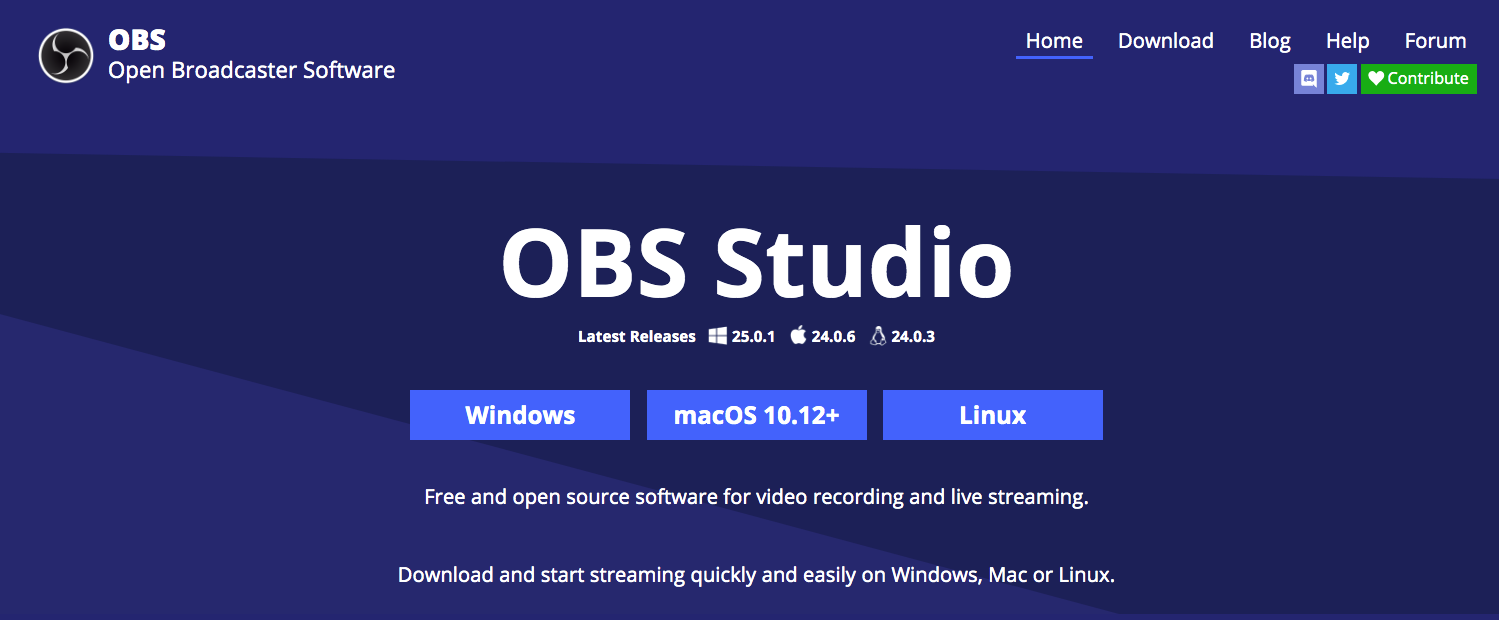 Free and open-source again, OBS Studio is compatible with most desktop OSs and easy to set up. It's easy and simple to set up multiple scenes, so if you want to have footage from more than one camera, you can switch between them on the fly. Again, this is something for the more advanced user.
YouTube Stream Key
Whichever encoder you use, you'll need your YouTube stream key. Find it by going to your creator studio, clicking the icon in the upper right corner and click Live Streaming. Go to the bottom of that page and find the Encoder Setup section.

Copy and paste your stream key into your encoder. You might need your server URL too.
Streaming without an encoder
You don't always need an encoder. There are ways around it. You can live stream direct to YouTube from your webcam or mobile device.
Live streaming from your webcam
To live stream direct from your webcam instantly, click the camera icon in the top right corner of your YouTube screen and select Go Live.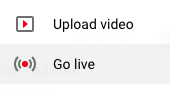 From the options at the top of the next screen, select Webcam.

Enter a title, description and privacy setting for your live stream. Click Save and your webcam will take a thumbnail for the stream. Click Go Live and you're streaming. When you're done, click End Stream at the bottom of the screen.
Create a live stream from your mobile device
Streaming from mobile can be a great way to get decent footage of events — including games, conferences, interviews and more — on the air quickly. Many mobile devices will give a pretty good result; not comparable with the best professional equipment, obviously, but watchable and engaging.
To stream from mobile you will need a YouTube channel with over 1,000 subscribers. If that's you and you still want to stream live from mobile, here's how.
For Android, make sure you have Android 50 or above and the latest version of the Android YouTube app. For iPhones, make sure you have iOS 8 or above and the latest version of the YouTube app.
Whichever OS you have, the basic instructions are the same: tap the camera button and grant permission to the YouTube app to access camera, mic and storage. Then tap Go Live.
How to make a live stream
If you're making a live stream with an encoder, you'll need to follow the encoder's instructions to get your initial recording. This also depends on the equipment you're using. You can live stream with a mobile phone, a single microphone, a computer screen share or a full lighting and sound rig.
Once you have all that set up, here's how to get your live stream up on YouTube.
Open YouTube and click the camera icon, then select Go Live. That will take you to the Live control room, where you can set up and manage your streams. Click Stream at the top. Enter a title, description and privacy setting for your stream. Public is best for embedding in Rise Vision's software.
You'll see options for monetization (ads in your live stream) which isn't likely to be relevant for digital signage users, as well as the option to create a custom thumbnail and to schedule your live stream. You can schedule your stream in YouTube and then schedule the embed in Rise Vision so the stream shows up on your signage just before it starts, or advertise the upcoming stream with a thumbnail.
Start your encoder, then go back to the Live dashboard and wait for the preview to show. This will show you how your live stream will look. Here, you want to make one final check that you're OK with the look and sound before you continue. If you're using multiple mics, cameras or other sources, check them for looks, sound and levels (loudness especially!) before you go live.
Click Go live and your stream will start.
How to embed your live stream in your digital signage
Once your live stream is running, you'll want your audience to be able to see it. If you're reaching out to them via their own devices, there's no problem — all they have to do is go to your YouTube channel and watch. But if you want to build YouTube live streaming into your regular digital signage schedule, here's how to do that.
Go to the presentation you want to embed the live stream in and click on Add Widget. You're looking for the Web Page Widget. When you find it, click on it and add the URL of your live stream to it in the presentation.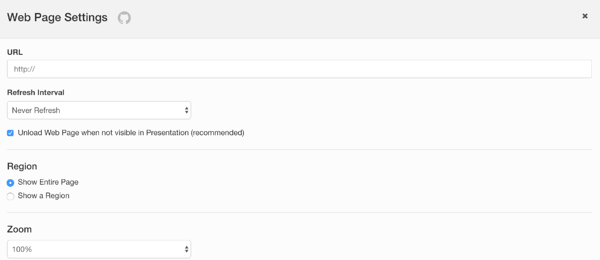 Next, add this text to the URL of your live stream:
?autoplay=1
This will make your live stream autoplay in embed without you having to start it manually.
Your YouTube live stream will appear in your presentation.
Live streaming from YouTube is designed to be relatively simple, but it can offer you an exciting and engaging way to communicate with your audience. Rise Vision is designed to be easy to use with YouTube and other major content platforms — to learn more, start your free trial with us.