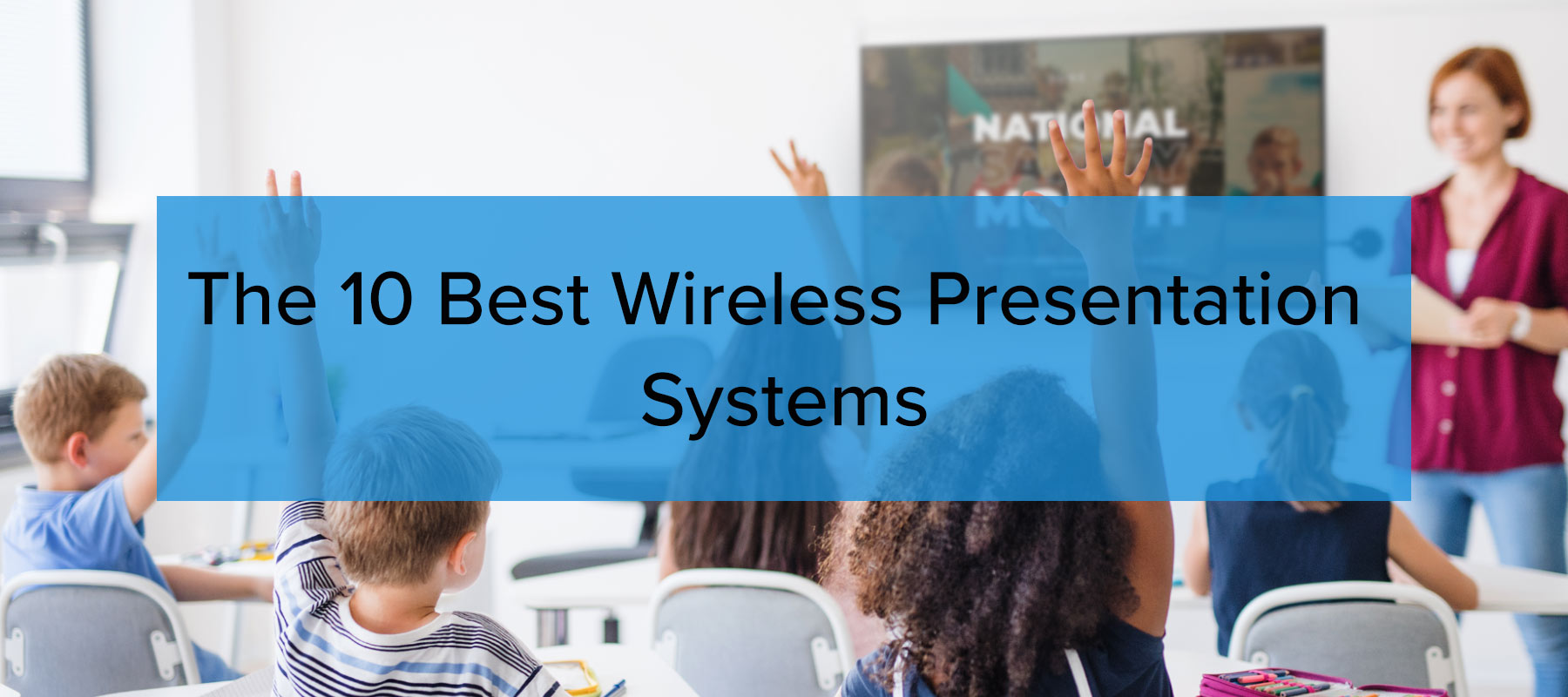 Wireless presentation tools are loved in business settings for making meetings faster and more informative. In education, though, they're truly transformative, moving teachers away from the whiteboard and giving students more input and control. Even quite simple systems can make lessons vastly more efficient, which is why they're gradually finding their way into more and more schools and higher education institutions. But they often leave the screen blank when no one's actually presenting; a missed opportunity. Rise Vision has developed a solution, in the form of a fully device-agnostic web player that can display your Rise Vision signage and alerts when you're not presenting.
The Rise Vision web player
Rise Vision's new web player works app-free across any wireless presentation system, allowing a school or university to use its Rise Vision content library as the default display across all its screens. Those displays can show content specific to the location, time of year or time of day — defaulting to lab safety messages in the chem building, for instance. And they can draw on a growing education-specific library of over 425 templates to build appropriate content for their students, then control them centrally from their Rise Vision dashboard. Rise Vision web player is fully device-agnostic, app-free and works with these wireless presentation tools — and many others. We'll start with our favorite (and partner), Airtame.

What is Airtame?
Airtame is a hardware device for wireless screen sharing. Hook it up to screens or projectors and connect to your local network wirelessly or by ethernet, and you and your guests will be able to present. It's centrally managed remotely, so one IT person can control the whole system from their laptop wherever they are. Airtame works with any device and operating system, and when screens aren't being used for presentations, they can be used for digital signage.
How does Airtame work with Rise Vision web player?
When those screens are in digital signage mode, in between presentations, you can use Rise Vision's dynamic digital signage and alerts. Airtame users get access to Rise Vision's content thanks to a partnership between the two companies. 'Partnering with Rise Vision will help us leverage their extensive library of professional content. The combination of the Airtame Cloud platform – supported by our display hardware – and Rise Vision's digital signage templates will enable effective communication within schools. We believe the school community can achieve a lot more through this collaboration,' says Orri Gudmundsson, Chief Commercial Officer, Airtame.
Standout features:
Airtame's most impressive features include:
Device-agnostic screen sharing via the Airtame app, Miracast, Google Cast, and Airplay. Use any device, including emergency substitutes.

Support for touchback via Miracast from Windows and Android devices, when connected to an Interactive Flat Panel.
Pricing
The Airtame 2 is $399, with a 30-day free trial. There's also the $119 Airtame PoE adapter that both powers your Airtame and connects it to your Ethernet. Airtame Cloud licenses give you access to enhanced capabilities for your Airtame 2. Here's how they're priced:
Lite
Free

Firmware updates

Global device management

Unlimited users

Unlimited devices

User roles and access delegation

Screen orientation control

Branded images and custom backgrounds

Moderator mode

Public website URL
Plus
$10 per user per month (billed annually)

Everything in the Lite plan

Real-time screen overview

Welcome screen with meeting room scheduling

Meeting room overview

Looped content with digital signage playlists

Scheduled content allowing you to plan digital signage by days of the week and times of day

Integration with scheduling and content apps including Google Calendar, Outlook Calendar, Dropbox, Youtube, Microsoft OneDrive and more
Custom
For larger deployments (20+ seats)

Custom pricing via sales

Everything in Plus

Dedicated training webinar

Designated customer success team for onboarding and activation
The bottom line
We love Airtame — that's why we chose to partner with them. In the words of our Head of Revenue, Shea Darlison, 'we're thrilled to partner with Airtame to help schools get the most out of their investment in classroom displays.' Schools can get 50% off the first year's cost for each Rise Vision license they buy to use with an Airtame Cloud license. This offer is open for all Airtame Cloud licenses purchased by K-12 and higher education institutions from May 1st, 2021 until August 31st, 2021. Claim yours by contacting Airtame or your local resellers to purchase your Airtame Cloud license. Then go to https://www.risevision.com/airtame to submit the proof of purchase and receive the discounted Rise Vision licenses.
AirSquirrels comes in three parts: Ditto is a device-agnostic screen-mirroring and digital signage tool. Reflector 4 is AirPlay, Google Cast and Miracast receiver software. And AirParrot is advanced mirroring and screen sharing for Mac and PC.
Ditto lets you take any screen and turn it into a wireless meeting collaboration tool. What it doesn't do is play well with others. You can't use Rise Vision or any other third-party player through AirSquirrels Ditto, and you can't play web content through it. Its inbuilt signage lacks support for full-size videos, templates and scheduling, so it's also very static.
How does AirSquirrels work?
AirSquirrels offers both screen sharing and collaboration, and digital signage. The tools AirSquirrel offers are more oriented to the enterprise than Rise Vision, and take less account of schools' requirements.
Standout features:
Ditto offers its users:
Cross-platform wireless screen mirroring from iPhones, Macs, Android devices, Chromebooks and Windows devices

Device agnostic single-app screen mirroring lets you cast just a particular application to public screens
Pricing
Ditto is priced at $150 per receiver per year or $15.99 per month per receiver.
The bottom line
Ditto is a solid solution if you're looking for an all-in-one tool that covers most of the bases of a dedicated screen-casting tool and a dedicated digital signage tool.
Solstice is a meeting collaboration tool, built for local and remote teams. It lets users share content to room displays nearby and to remote locations using any of several major video conferencing services. Software-based and cloud-enabled, Solstice lets you start sharing your screen in just a few seconds.
How does Mersive Solstice work with Rise Vision web player?
Solstice already controls screens to facilitate sharing and collaboration, so it makes sense that they also offer digital signage. There's native digital signage built-in, and partnerships with multiple digital signage companies. Rise Vision users can use the Rise Vision web player just the way you would with any other presentation tool to run digital signage from your Rise Vision dashboard to screens controlled by Solstice.
Standout features:
Solstice brings its users:
Uniquely easy to present in other locations. When they say, 'make any room a Zoom,' they're not kidding

Device-agnostic content sharing via the Solstice app, AirPlay, Miracast, a web browser, or the HDMI-in port
Pricing
Mersive Solstice pricing is custom via their sales team.
The bottom line
Mersive Solstice is a winner for large, distributed organizations, or ones that need collaboration tools for a network of partners. But for smaller organizations, it's overpowered.
4. ScreenBeamWhat is ScreenBeam?
ScreenBeam is an app-free, contactless wireless presentation tool that integrates quickly and easily into any meeting space or Unified Communication system. Unusually for the niche, ScreenBeam deliberately eschews all applications and contact points — dongles, boxes and so forth — to allow standards-based wireless connections from any device. Only the ScreenBeam wireless receiver is required.
How does ScreenBeam work with Rise Vision web player?
ScreenBeam can display static digital signage or you can push digital signage to it from another source. The Rise Vision web player can function as a source, allowing the two systems to connect seamlessly.
Standout features:
ScreenBeam lets you:
Pipe apps up to the big screen easily. Everything from Skype for the Classroom to OneNote and FluidMath can be moved onto the main screen to allow collaboration and teaching

Do native screen mirroring without downloading or installing an app at all.
Pricing
ScreenBeam pricing is custom, via their sales team.
The bottom line
ScreenBeam is one of the most powerful and versatile tools for K-12 and higher education institutions, as well as businesses, to facilitate collaboration. Its app-less functionality makes using it uniquely quick and easy to connect to.
What is ViewSonic?
ViewSonic offers a range of visual tools, from high-end gaming monitors to large-venue projectors. But one of its areas of focus is wireless presentations in schools. For this, ViewSonic has the ViewSync receiver, allowing rapid wireless connectivity to a range of screens from laptops, tablets, and smartphones.
How does ViewSonic work with RiseVision web player?
ViewSonic offers presentation via a receiver with a USB backchannel that lets the host annotate what's displayed on the screen and assume full mouse and keyboard control. It's built for presentations in a lecture, meeting or classroom environment, but can also be used as a digital signage receiver when not presenting. Rise Vision's web player can play your Rise Vision signage playlists and alerts through your ViewSonic receiver.
Pricing
ViewSonic's ViewSync 3 receiver is $39.99. To use it, you'll also need the ViewMirroring Android app or the ViewMedia Android/iOS app.
The bottom line
ViewSonic is a great choice if you have a relatively small number of screens and you want a versatile, plug-and-play presentation solution; paired with Rise Vision's web player and digital signage dashboard, you'll get everything you need to run a full suite of presentations, signage and alerts.
WePresent is a simple, fully configurable app-based presentation toolkit designed specifically for BYOD (Bring Your Own Device) environments, and can be optimized for the needs of schools, businesses, government and universities.
How does WePresent work?
WePresent relies on its MirrorOp app plus a three-device suite of boxes, designed to suit different needs (see Pricing for details). When you use WePresent, students and teachers can connect to the WePresent box from any device. You can share multiple device screens on one screen, and teachers can preview student content, set polls and quizzes, and ask silent questions through the WePresent system too.
Unfortunately, Barco doesn't work with Rise Vision's web player or most other third-party players, meaning you're stuck with the Barco feature set — admittedly impressive, but incomplete.
Standout features
WePresent comes with:
Support for native Airplay and Chromecast

BYOD-friendly with teacher controls to manage, annotate, queue and share content from students
Pricing
MirrorOp is free to download for Mac, Windows, Android, iOS and Chromebook. There are three hardware options:
WiPG-1000
Not available in Canada, Mexico or the United States

Entry-level

64 simultaneous connections

Airplay support

Fixed screen layout (up to 4)

On-screen moderation

Central management
WiPG-1600W
Available globally

All features available with WiPG-1000, plus smart upgrades

Whiteboard and annotation features

Airplay support

1-to-many distribution (up to 4)

Video streaming

USB document/content player
WiCS-2100
All features of WiPG-1600W, plus upgrades

Dynamic screen layout (up to 4)

On-screen user preview and moderation

Education pack with student monitor

Eco standby mode
Pricing for all WePresent hardware is custom through the Barco sales team.
The bottom line
WePresent is a full-featured presentation system that works great for schools and universities. It's the kind of tool that's likely to get bought at the school or district rather than department or classroom level, but it's well-supported and effective for teaching and learning. It also plays great with your existing Rise Vision library of signage and alerts.
What is WolfVision?
WolfVision provides wireless presentation tools as part of a suite of business and education tools that includes visualizers, document cameras and more, all aimed at tying together the classroom and digital environments. At its most advanced the WolfVision suite includes onscreen multisource annotations, multiscreen sharing, and drag and drop distribution across student screens. Presentation is just a part of this.
How does WolfVision work?
WolfVision's suite of tools includes a range of receivers able to do duty as presentation receivers and multi-app remote meeting tools, collaboration solutions and more.
However, WolfVision has no built-in digital signage solution. They allow digital signage providers access to their tool through their API, but not directly, so it doesn't work with the Rise Vision web player.
Standout features
WolfVision is distinguished by:
App-free, dongle-free, wireless sharing and presentation via its Cynap range of receivers

Easy configuration, but endless customization via powerful API access
Pricing
WolfVision's pricing is custom via their sales team, though their tools are also sold by authorized resellers.
8. Startech

What is the Startech WIFI2HDVGA?
Startech's WIFI2HDVGA is a simple, effective tool for sharing from Windows and Mac computers and laptops to big screens.
How does the Startech WIFI2HDVGA work?
Startech's simple presentation and collaboration tool is one of the most lightweight solutions on this list. But that's its appeal. If you need something that will plug and play into whatever system you're currently using, Startech has you covered. What it doesn't have, as most presentation tools don't, is native digital signage. Rise Vision has you covered there, with scheduled signage playlists and real time alerts — but Startech isn't compatible with third-party players, so if you choose the stripped-down approach your options are limited.
Standout features
Startech delivers:
Quick, efficient screen sharing switching between computers

Wireless display mode that lets users mirror any screencast-enabled device app-free
Pricing
Startech's pricing is transparent: each unit is $185.99 USD, and is also available from a reseller network.

What is the Polycom Pano?
The Pano is part of Polycom's wider collaboration and presentation ecosystem, allowing users to connect any device and present up to four screens simultaneously. You can annotate in real-time and connect to virtually any display through a standard HDMI output, or select touch displays for a fully interactive experience.
How does the Polycom Pano work?
Pano is a powerful collaboration tool, especially when it's embedded in the wider Polycom ecosystem. But its focus is the meeting, the presentation, the huddle — not the times in between. It lacks digital signage functionality, and isn't compatible with third-party players.
Standout features
Pano gives users:
Device-agnostic access, though with relatively poor support for Linux

Security-conscious design including secure boot and encrypted content
Pricing
Polycom's Pano is best used as part of a wider strategic investment, and it's one that's better suited to businesses than to education. Pano's pricing is custom through the Polycom sales team.