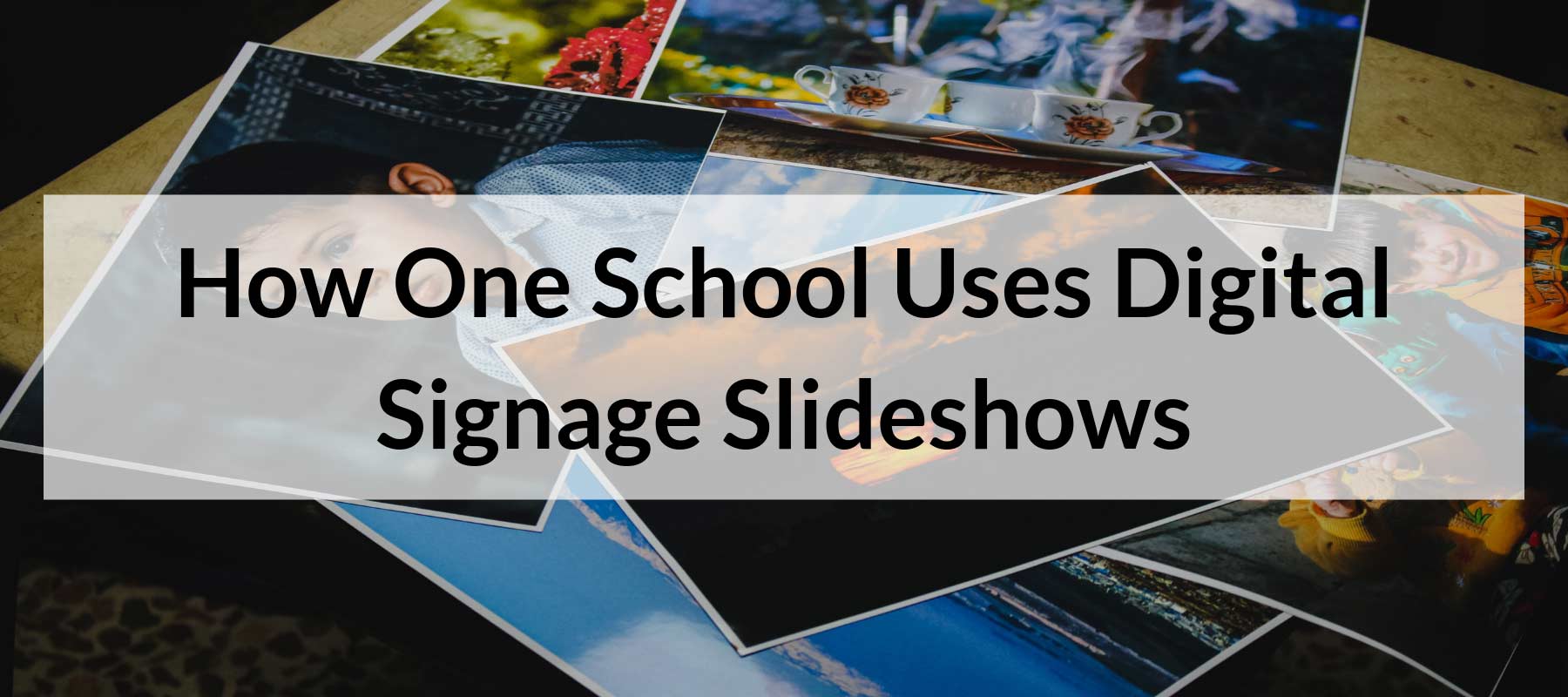 There are many reasons why schools use digital signage: campus alerts, menu boards, maps, and school calendars are just a few. What nearly every school uses digital signage for in some capacity, however, is photos. National Presbyterian School has found a simple solution to get up-to-date photos onto their digital signage. They use Rise Vision and school photo content management solution (CMS) Vidigami together to create a slideshow for their display.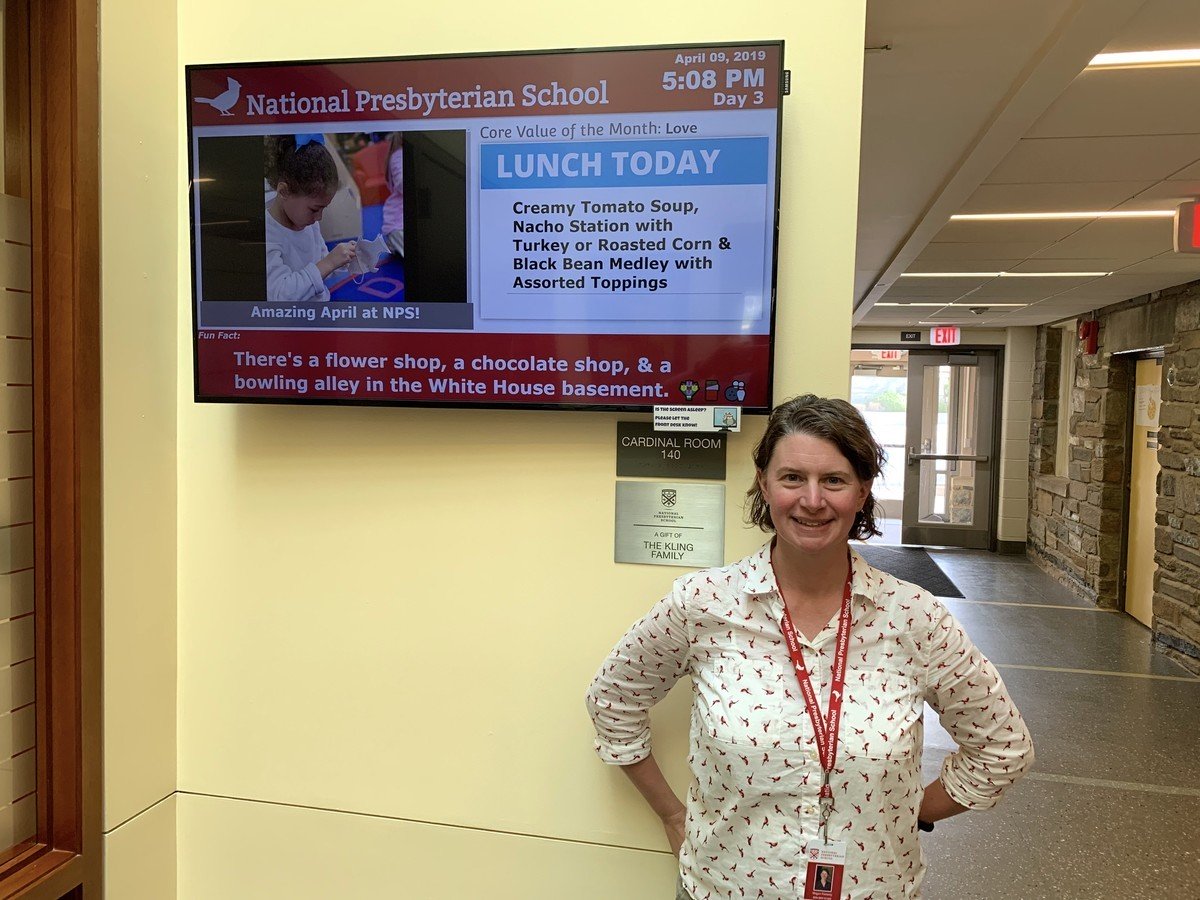 | | | |
| --- | --- | --- |
| # of Displays: 1 | # of Students: 300+ | Location: Washington DC |
"We love our Rise Vision digital signage! Adding it to our lobby was a major upgrade in keeping our students, parents, and faculty informed about school happenings such as birthdays, the lunch menu, and the Core Value of the Month. It also provides a space to showcase the beautiful photography our teachers take of everyday learning in the classrooms."

Megan Finnerty - Director of Communications

Continue reading to see how National Presbyterian School:
Used Rise Vision to reduce the time and cost of digital signage.
Implemented Vidigami to engage parents and streamline how they shared photos.
Embedded Vidigami into Rise Vision to make it easier to show pictures/slideshows on their digital signage.
A Simpler Approach to Digital Signage for Education
Megan Finnerty is like many small school administrators: she has many roles. Her official title is Director of Communications and the bulk of her responsibility is to ensure that the school's communications reach all appropriate social networks. That means at any given moment, she might be drafting the weekly school newsletter, posting a Tweet, or updating the school's Facebook page.
The school using a straightforward web-based slide system on its digital signage screens for several years. It was a TV on a wall connected to a cable feeding from a room behind it that housed a CPU. It was inconvenient to maintain, and as a result, was not updated as often as it should have been. When the school did renovations, it made sense to find a simpler solution to their digital signage.
National Presbyterian found Rise Vision and finally had something that would give them the ability to make changes quickly.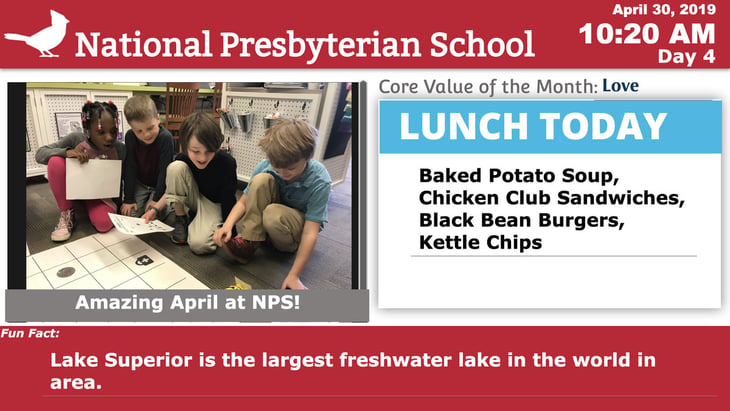 There are two people in total who work on the digital signage: Finnerty, and the school's registrar/receptionist.
Finnerty is also in charge of getting pictures onto multiple channels as well as their digital signage so it is not surprising that a tool to help her update to all locations at once is valuable. Once she had the digital signage running, she learned that the photo management software they were implementing, Vidigami, could be used alongside it.
Why Vidigami?
Photos are a lifeline of National Presbyterian School. They help parents stay connected to the classrooms by giving them glimpses of their young children's daily school activities while maintaining the privacy parents expect. They can also help motivate and encourage students, who love seeing their faces on the monitor!

Vidigami is a photo-management system just for schools. It lets your school community (parents, students, teachers--whoever you decide) upload, download, and share photos in a private space. You can also create photo slideshows that are more robust than free solutions like Google Slides. You can read more about the benefits of Vidigami in this post.
At National Presbyterian School, teachers are regularly uploading photos to Vidigami. It's a great addition to the school and parents love it!
Tips for creating a digital slideshow on your display:
Highlight everyone. Vidigami makes it easy to organize photos for clubs, classrooms, and sports teams. That means you can quickly add new photos to your digital signage and have content that everyone will get excited about.
Change it often. It is so easy to change photos often; you can be sure that your display is always fresh with content. Encourage faculty to upload pictures and have clear instructions about how easy it is.
Get students involved. Letting students play a role in the process makes them feel encouraged. They know that they are contributing to something that plays a meaningful role on the campus.
For Finnerty, however, it is more than an excellent tool for faculty and parents; it's a great tool for saving her time.
Taking just a few minutes to initially set up Rise Vision, she looks through the Weekly Uploads in Vidigami one to two times a week and selects photos for the display. Once she shares the photos in the Vidigami playlist she created, the display will automatically update
The previous method for sharing photos was cumbersome and antiquated.& That process was further complicated on their old digital signage. With Rise Vision and Vidigami, Finnerty can be confident that the monitor always looks great and she is now free to spend more time on other projects.
If you would like to use Vidigami and Rise Vision together, check out this article.
Mission Accomplished
Saving time is nice, but for Finnerty, the real reward is the feedback. Parents, children, and staff tell her how much they love the digital signage.
The lobby display shows the daily lunch menu, birthdays, Core Value of the Month, fun facts, and, of course, the Vidigami slideshow. A schedule makes sure the right content shows during different times of the day.
Teachers are especially thankful that people see the photos. In the past, there was a general feeling that they would take "all these pictures, but nobody sees them!" With Vidigami and Rise Vision, Finnerty can easily show all classrooms on the display, so everyone feels included.
Would you like to see your school featured on our blog? So would we! It's a great way to share what you are doing with faculty, parents, and colleagues. It only takes a few minutes of your time. Click here and let's chat!
Interested in seeing how other schools have used Rise Vision to inspire students? Here are a few more stories to check out: