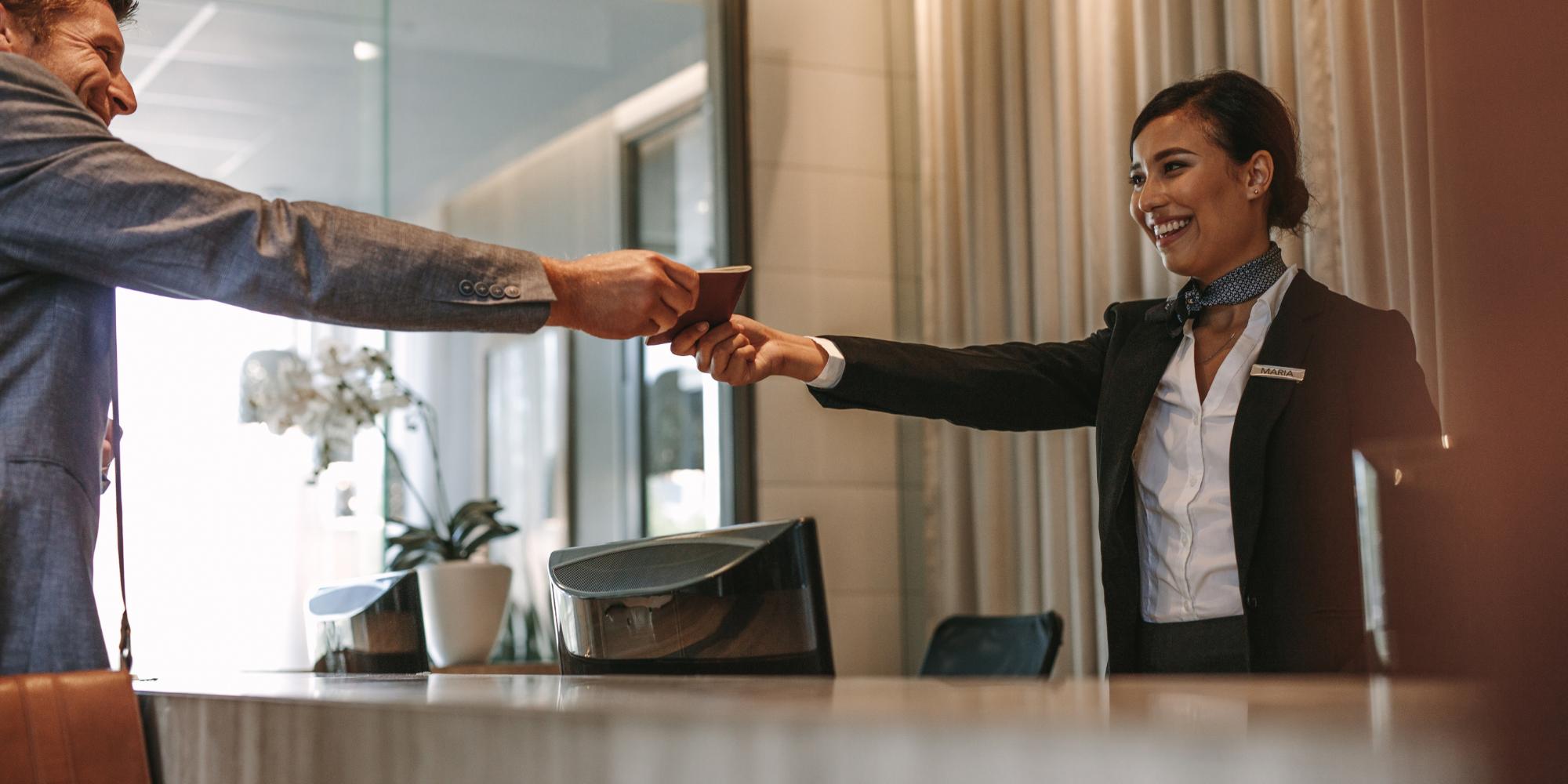 The hospitality industry revolves around creating good customer experiences. From that stems efforts to improve customer service, enhance amenities, and streamline check-in and check-out processes, among others.
A hotel thrives on the satisfaction of its guests, which is why many hoteliers are beginning to explore tech-driven solutions to improve the guest experience. Cloud digital signage software is one of the technologies making waves in the hospitality industry.
What is Hotel Digital Signage?
Digital signage is a powerful communications tool that many industries are beginning to take advantage of in today's high-tech world. When applied in a hotel setting, they can be used to transform the guest experience.
From facilitating self-check-ins to providing information about the hotel's amenities and services, digital signage makes a guest's stay engaging, informative, and refreshing.
Hotel digital signage comes in many forms. They can be large LED displays in lobbies and hallways or smaller flat-panel installations inside every room. Some hotels may even provide guests with tablets they can use to book transportation or request room service.
5 Uses of Hotel Digital Signage
The benefits of digital signage for the hospitality industry are too numerous to ignore. Hoteliers are adopting it to help facilitate 5 general areas of hotel performance.
Engage Guests
We live in a high-tech world where new inventions are being made every day. Even in the hospitality industry, guests are expecting you to adopt new technologies to help them engage with your business.
A digital concierge, a touch-screen check-in system, or LED wall art — all of these are new and welcome technologies that guests are waiting to experience in your hotel.
Improve Communication
Making communication easy for hotel guests can go a long way in creating a comfortable and stress-free stay. Digital signage can be used to deliver information quickly and effectively, whether important hotel updates, emergency alerts, or hotel rules and schedules.
Improve Guest Experience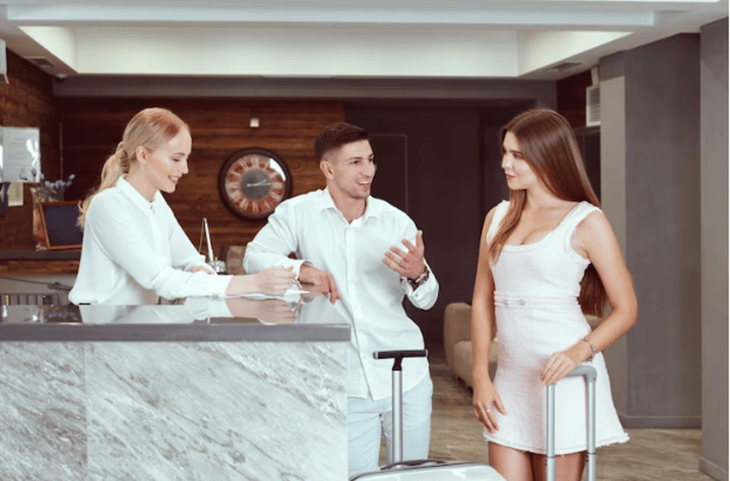 Digital signage creates a smooth experience for guests from the moment they check in to when they leave. It allows them to access information, place orders, navigate the amenities, and overall pave their own journey during their stay. This personalized experience boosts guest satisfaction and loyalty — and encourages them to keep coming back for more.
Market the Hotel
Hotels can upsell their amenities and services by displaying them on digital signs. Through dynamic content on screens, they can introduce exclusive offers, seasonal promotions, limited-time discounts, and events, reaching their target market and influencing their purchasing decisions.
Streamline Operations
Employee-facing hotel digital signage can help staff streamline operations and serve customers better. For example, the screens can inform workers of booking information and housekeeping requests in real-time, allowing them to act fast and cater to their guests' every need.
Hotel Digital Signage Ideas
Digital signage finds a range of applications in the hospitality industry. And it's safe to say that your options as to how to utilize and take advantage of it are limitless.
Here are a couple of ideas to help you get started incorporating digital signage in your hotel.
Welcome Message
Whether your guests have a positive or negative experience in your hotel can be determined within the first 10 minutes of their arrival. That's why hotel welcomings are often grand and well put-together.
You can use your digital signs to give your guests a warm welcome, complete with their names and a personalized message. And if you don't have information about your guests just yet, it will only take a couple of minutes for you to type in their names and deploy them onto your screens.
Announcements and Information
You might not notice it, but your hotel staff spends a lot of time answering questions from guests. They're asked for directions to the hotel's amenities, recommendations of nearby restaurants or shopping malls, and sometimes even the weather forecast for a particular day.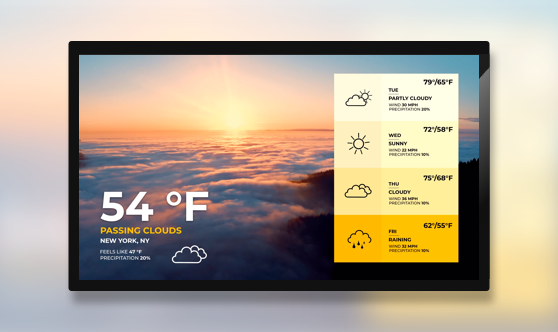 This full screen video template shows the local weather including a forecast for the coming days.
Digital signage allows you to share all this information and more, saving your staff significant time that they can better use attending to guests or managing queues.
Automated Check-in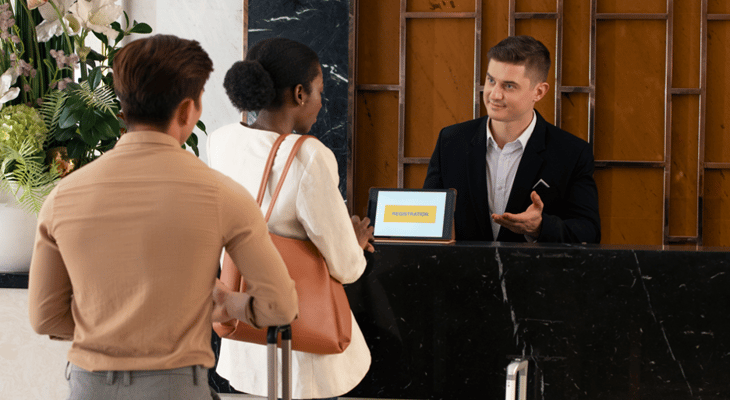 Checking into a hotel is often a tedious and time-consuming process that guests often wish they could skip. Especially after a long journey, the only thing they want to do is to settle in their hotel rooms — not wait in line at the front desk.
To make the check-in process faster and easier for your guests, you can use digital signage to automate it. According to a recent study, 55% of travelers say they're more likely to stay at a hotel with a self-check-in kiosk. This led to 51% of hotels offering or planning to offer it to streamline and improve the guest experience.
Customer Reviews
Customer reviews can make or break a business in the hospitality industry, which is why hoteliers pay attention to what previous guests have to say about them on platforms like TripAdvisor and Google.
Displaying positive customer feedback on your digital screens can reassure your guests of what they can expect during their stay. It also reinforces that they made a good decision choosing your hotel to accommodate them during their trip.
Digital Concierge
The concierge is one of the most crucial aspects of your hotel. It's where guests can get the information they seek, whether about hotel amenities or local activities and establishments. To reduce queues and make the hotel concierge more efficient, hotels are looking into providing virtual or digital concierge displays in their lobbies.
Providing them with answers to what they're looking for, a digital concierge gives your guests the ability to access information swiftly and take charge of their itineraries.
Digital Menu Board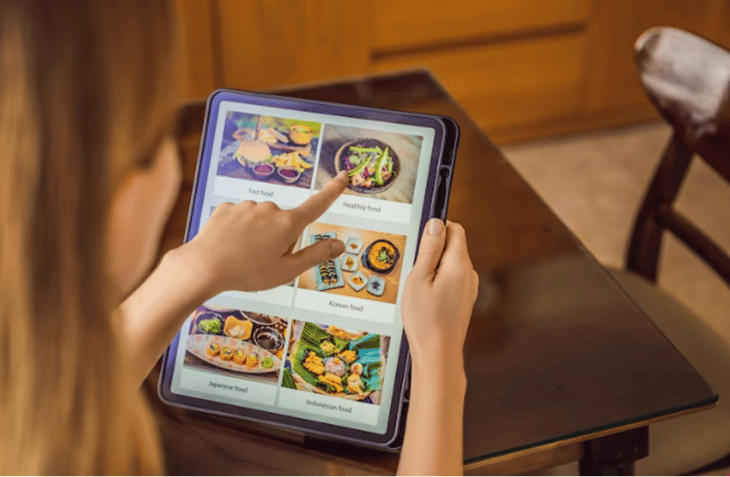 While printed menus have their own special appeal, you may want to enhance your guests' hotel dining experience with a digital menu board. A digital display allows you to showcase your menu items, complemented by motion graphics and images of your special dishes.
Digital menu boards make it easy for your guests to identify their options and speed up the ordering process. You can also opt to use self-service interactive kiosks that your guests can use to order and pay without having to wait for a waiter to assist them.
Digital Wall Art
Digital signs don't have to be filled with information or text to communicate a message. They can also be used as dynamic pieces of art to enhance your hotel's ambiance and aesthetic. Large LED installations work best for this purpose, allowing you to display picturesque digital wall art that will elevate any area in your hotel that needs a touch of decor.
Emergency Alerts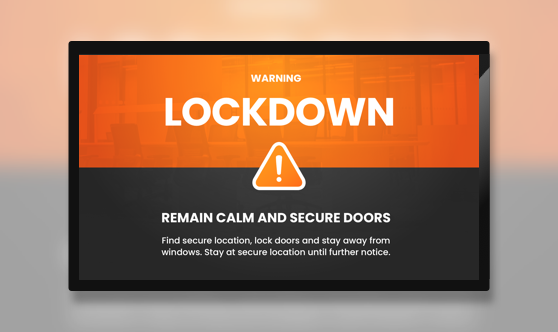 Use emergency alert templates to ensure your guests are kept safe in the event of an emergency situation.
In case of emergencies, you need a way to alert guests as fast and as efficiently as possible. Having staff ring the emergency alarm or knock on every single room just won't cut it in such a time-sensitive situation.
Digital signs help you relay emergency information fast. With a flick of a switch, you can override your digital signage network to broadcast emergency alerts and get your guests to safety.
Employee Recognition
In private employee areas in your hotel, you can use digital signs to improve employee morale and foster a healthy work culture. Recognize top-performing staff in your digital signage, or create profiles of each employee to show on the screen. You can also deploy birthday greetings or congratulatory messages to celebrate your employees' milestones.
Events and Celebrations
Have an exclusive hotel event or celebration that you want your guests to participate in? Broadcasting well-designed and eye-catching content on your digital screens is an effective way to send invites and provide them with all the event details, including time, venue, and theme.
With their wide reach, digital signs save you time having to knock on doors and catch your guests in the hotel lobby — not to mention reducing the tedious and wasteful task of printing out event flyers and posters.
Hotel Room Digital Signage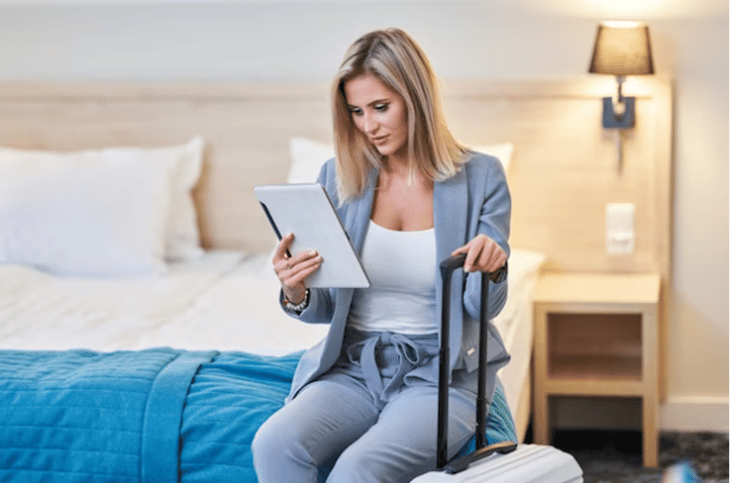 The guest experience doesn't only include instances when they communicate with staff members or walk around common areas in the hotel. Even in their private suites, there should be elements that make things easy and convenient for them.
Consider placing touch-screen displays or tablets in each room, with features that allow guests to contact hotel staff, order room service, book amenities, or customize the room temperature and lighting. This will eliminate the hassle of having to call the front desk for anything they may need during their stay.
Live Streams or Playlists
In key areas in your hotel, digital signs that broadcast fun content will be welcome sources of entertainment for your guests. You can place them in your hotel lobby, in cafes or restaurants, or right by your pool area.
As to what you should play, consider a playlist of travel blogs or videos of tourist attractions in your city. You can also stream videos from YouTube or Vimeo or play a whole movie from Netflix or other online streaming platforms.
Maps and Wayfinding
Most of your hotel guests are likely tourists who are unfamiliar with the area. Help them find their way around not just your hotel but also nearby establishments with wayfinding digital signage.
An interactive map can be very helpful in helping guests navigate their way to popular tourist attractions, while a self-help directory can provide them with important information about the establishment's location, transport options, operating hours, contact information, and other pertinent details.
Property Highlights
Your hotel may have so much more to offer than just a place for people to stay. Use your digital signs to direct your guests to your hotel's property highlights. Show beautiful images of your pool area, gym, banquet halls, restaurant, or spa center, and entice your guests to enjoy these amenities while they're checked in.
You can make these DOOH advertisements even more informative by providing important details about each facility, including their phone numbers, services, and operating hours.
Social Media Wall
You can bring your social media presence to your physical establishment with a social media wall. From displaying your Instagram feed to sharing user-generated content from your social accounts, your signs can help you build social proof and market your hotel without much effort from your end.
Don't forget to provide your social media handles or a neat QR code in your display so your guests can find you online and leave a good review.
Special Offers and Discounts
Hotel guests are not one to shy away from opportunities to save money. Use your digital signage to inform them of your ongoing deals, combo offers, discounts, or membership opportunities. They're likely to avail of these on the spot or even book another stay to enjoy the exclusive offers another time.
Travel and Flight Information
Guests do expect their hotels to help them keep track of their flight schedules and travel itineraries. Instead of having your front desk staff provide this information personally, you can make it easier for your guests to retrieve important travel details with your digital signs.
Show flight updates from the airport, train departure and arrival schedules, and directions to the nearest transport stations. Making this information readily available can help your guests plan out their itineraries and make the most out of their visit.
Improve Guest Experience with Hotel Digital Signage
With hotels unexempted from the digital revolution, digital signage is your key to further improving the guest experience. There are many ways you can incorporate digital signs into your hotel, each serving an important purpose that will help you stand out.
Start enhancing guest experiences in your hotel with digital signage. Book a free demo to learn more about our software solution or try our digital signage software for free.