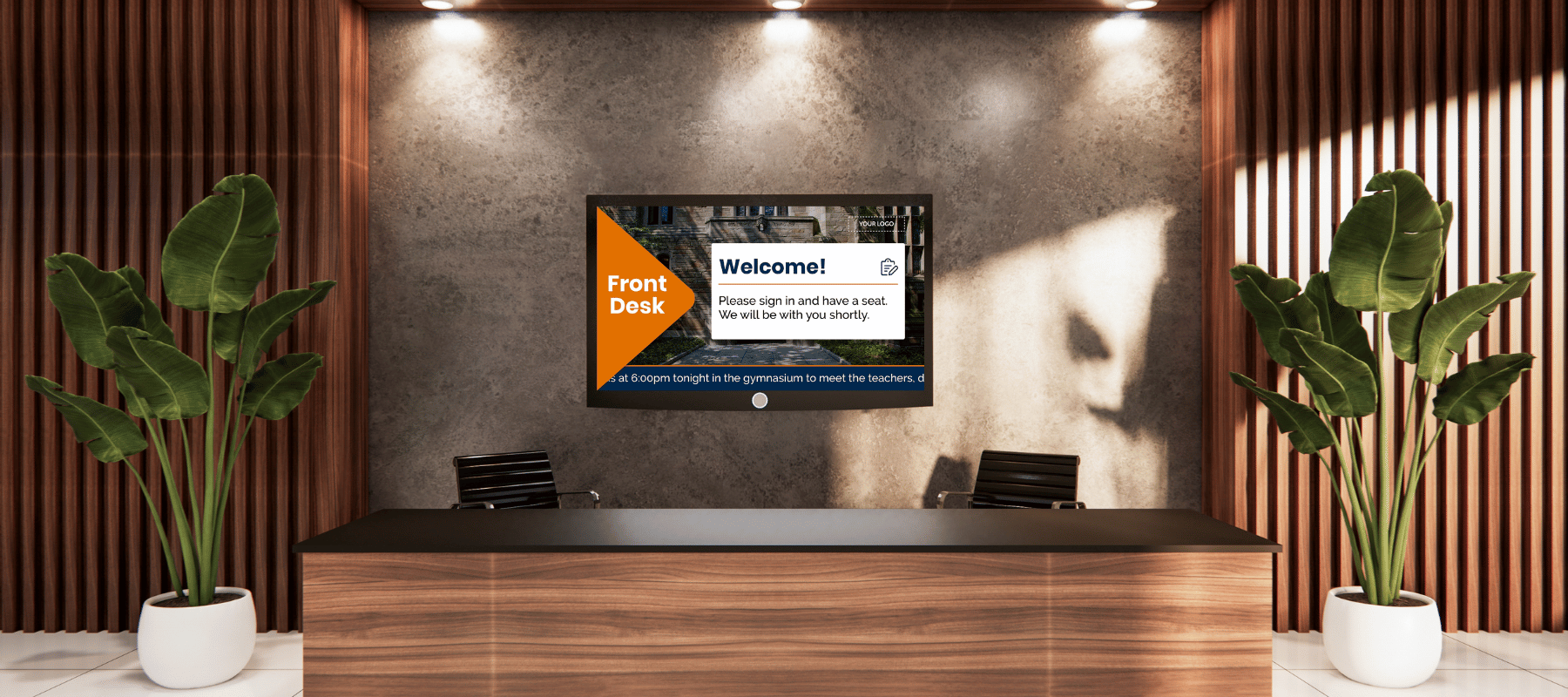 A person's experience with your company starts the moment they walk into your office building's lobby. What they see, from the reception area to your office signs, can make a big impact on how they feel walking in and how they perceive your company moving forward.
For employees, a good lobby environment can start their day right and motivate them to get to work. For clients and investors, it can shape their decision to close the deal with you. Hence the importance of making a strong first impression with digital lobby signage.
If you're looking into setting up a digital lobby sign, you've come to the right place. In this article, we tell you everything you need to know and consider to launch a digital sign that will shape experiences and maximize the benefits for your company.
Things You Need to Set Up Digital Lobby Signage
Digital lobby signs are good investments because they don't require a large upfront cost and are easy to install. To get started, you only need three components: a digital signage screen or monitor, display software, and a media player.
Display Screen/ Monitor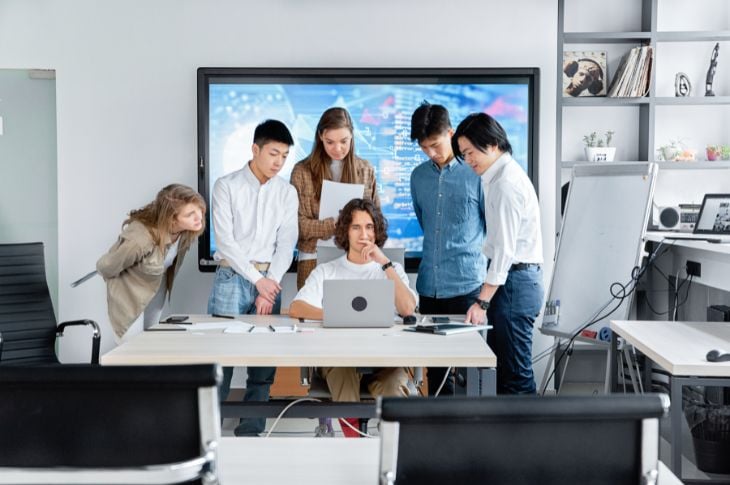 The display screen is what flashes the content in your lobby. You can either use a professional display made specifically for digital signage applications or a TV screen. The latter is a more economical solution, especially if you're just getting started on exploring what digital signage can do for you.
Either way, when choosing a display screen for your lobby, make sure to consider the following factors:
Size

- Find a screen that is large enough to be visible and readable to guests. The screen size should be relative to where you plan on placing it and adequate considering the distance between the screen and the viewer.

Resolution

- For your screen to display high-quality content, it needs to have at least a

4K resolution

, which can yield clearer images, vibrant colors, and smoother transitions.

WiFi connectivity

- A screen that can support Wi-Fi connectivity will allow you to connect the screen to your content management system to update and change content remotely.



Display Software
A display software functions as your content management system where you will design, deploy, and update content as needed. When in the market for a software solution, maximize your investment by opting for one with multiple display features, such as:
Templates

Custom graphics

Automated news, weather, etc.

Social media integration
Ultimately, find powerful, secure, and user-friendly software with features that will support your intended content.
Digital Signage Player
A digital signage player delivers the content from your software to your screen. They can come as a small plug-and-play device or require wired connections to your monitor.
But for digital lobby screens, you might not need media players made specifically for digital signage. You can get away with common market options like the Amazon Firestick and Google Chromecast.
Things to Consider When Setting Up Digital Lobby Signage
Before you go ahead and purchase the three components that will make up your digital lobby signage, you first have to make these vital considerations.
Costs
Digital signage is the most affordable way to level up your marketing and communications strategies. While it comes with an upfront cost, it's cheaper to sustain compared to traditional signage solutions, like posters or printouts.
You can even make it more economical by repurposing an old TV as a digital display screen, especially if you're only looking to place it in your building's lobby. That said, for the application you're intending, you don't need to go all-out with your digital signage.
Most likely, you don't need cutting-edge installations or 10 screens that display content simultaneously. For a lobby, you could do with two or three TV screens that can support and deliver your content effectively.
Make sure that you're not purchasing more than you need. This ties into knowing your goals and purpose for your digital lobby sign so you can choose components that support them – and not excessively more.
Content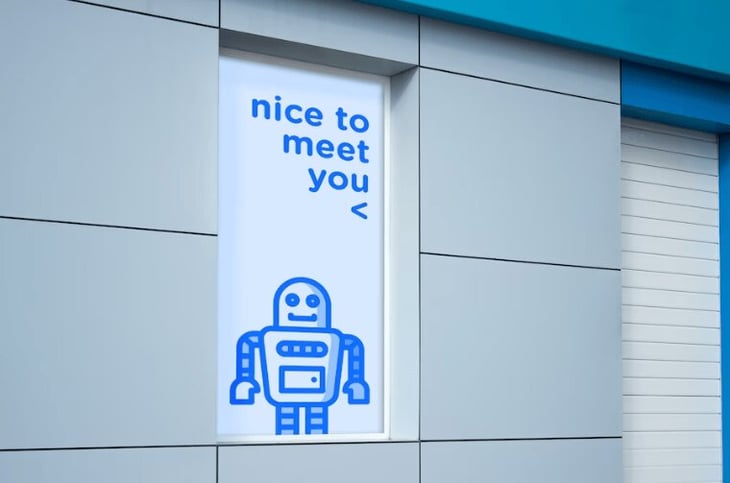 Another important factor to consider before buying your digital signage is the type of content that you're planning on displaying in the first place. This will not only help you choose the right components that will support your content but also allow you to maximize your use of the digital lobby sign.
The first thing you should do is to come up with a content plan that aligns with your goals. Are you looking to promote your business or a new product/ service? Is your sign meant to inform and engage employees? Will it be announcing upcoming events? Or simply to entertain guests?
Finding the answers to these questions will help you generate a content plan for your digital signage and put it into action. Remember that you're not limited to static content. Most content management systems will allow you to create and display videos, live streams, social media feeds, and more.
You can even display multiple transitions on a single screen, schedule content to come up at different times of the day, or even change displays whenever you need to.
Location
Your digital sign will be for naught if you don't optimize its placement. As a general rule, find a spot for your digital sign where it's most visible. While a lobby sees a lot of foot traffic in and of itself, consider which wall or area will catch the attention of your guests.
Here are a couple of things to keep in mind when choosing the ideal placement for your digital lobby sign:
Background

- A loud, visually distracting wall will bring attention away from your digital sign. Make sure the background is plain enough for the sign to be the center of attraction.

Lighting

- Be careful of light sources that can cause a glare on your screen.

Stands or wall mounts

- You can position digital lobby signage either atop your reception desk or mounted on the walls. Either way, make sure you have the right accessories to support your intended application.

Power sources

- To minimize visible and messy wiring, you may want to put your digital sign near a power source. Even better, consider routing wires behind the wall to hide them from sight.



Audience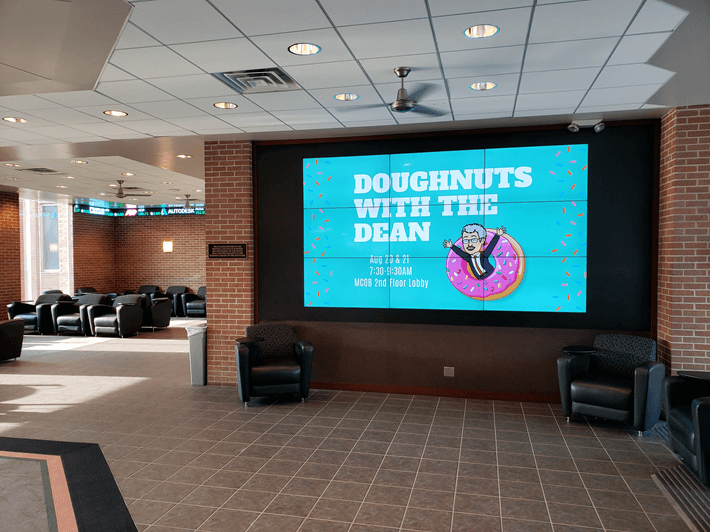 When you place a digital sign in your lobby, your target audience is either your employees or guests, who can be customers, clients, investors, etc. You need to identify who your signage is for and create content that is relevant and appealing to them.
If your digital signs are meant to improve internal communications with your employees, your content will likely comprise upcoming events or meetings, company updates and general announcements, and granular business and project information.
You can even utilize your digital lobby signs to enhance your company culture, such as by recognizing high-performing employees, posting birthday greetings, displaying the company's mission, vision, and goals, or announcing promotions.
Digital signs that are meant to cater to customers, on the other hand, should focus on informing or engaging guests. Some good content ideas include:
Office map or employee directory

Educational content about the company, the industry, products, or services

Customer reviews or the company's social media feed

Engaging live streams
Get Started With Digital Lobby Signage
Now that you're armed with the things you need to know to set up digital lobby signage, you can get started implementing them by signing up for our free digital signage solution and reaping the benefits for your business!
Related Posts