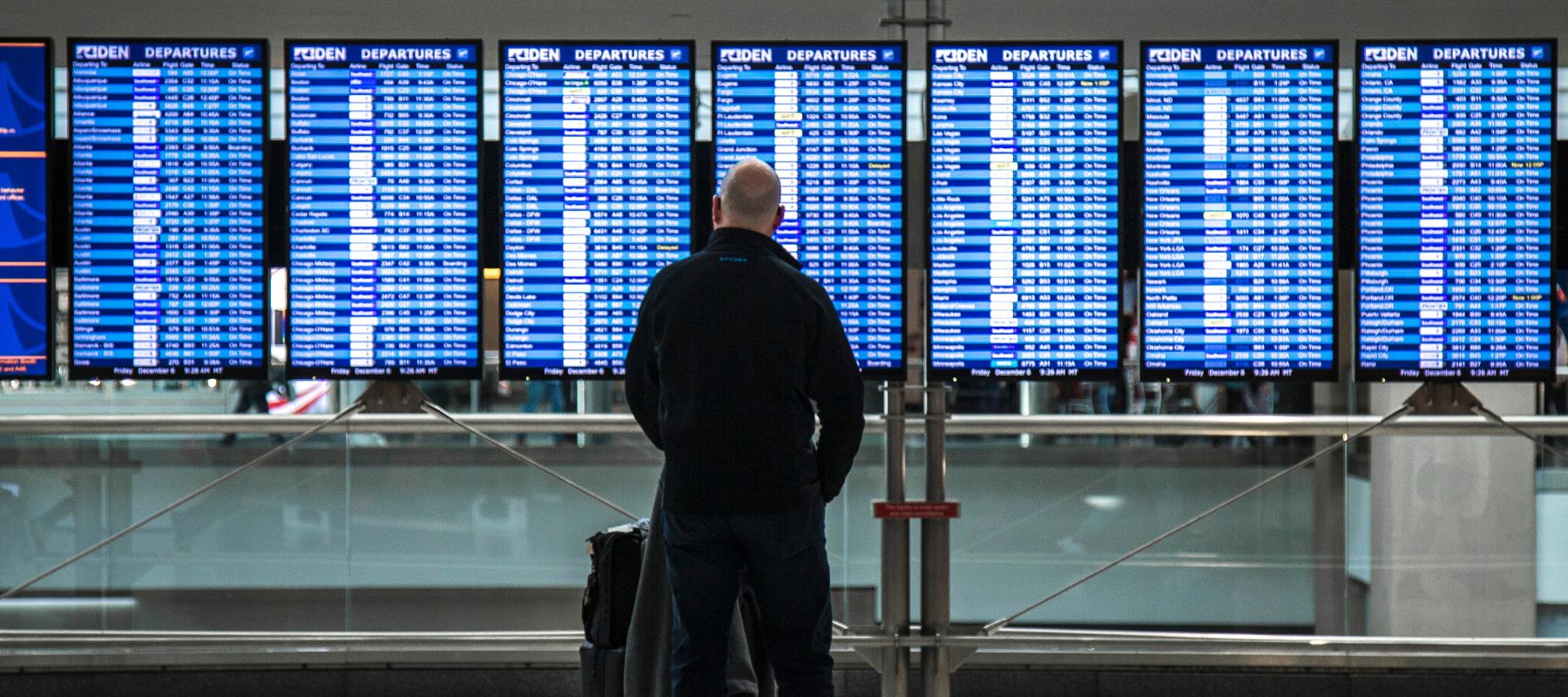 While single-screen digital signage is, by a long shot, more effective than traditional signage, you might want to level up your display further. Perhaps you have more content and information than you can show on one screen, or you simply want to boost your content delivery with a cutting-edge and attractive display.
In any case, looking into multiscreen digital signage is worth your time and effort.
What is Multiscreen Digital Signage?
Multiscreen digital signage makes use of more than one display screen to deliver content, whether that's three screens or 100 in a single digital signage network. This allows companies to level up their content delivery.
With multiple screens, they can deliver more dynamic content that performs like clockwork — as compared to having a single screen that changes content like a slideshow. After all, no viewer wants to wait several minutes for specific content that grabbed their attention to pop up again in a looping playlist.
But in order for multiscreen digital signage to be effective, there needs to be a concrete strategy that unites the content in all displays. Not one screen should be showing content that doesn't contribute to the concept or content goal.
5 Ways to Set Up Multiscreen Digital Signage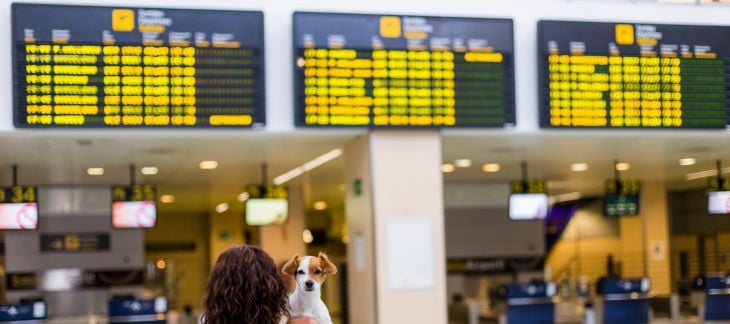 There's more than one way to set up an effective multiscreen display. Depending on what works best for your business, you can adopt any of these strategies.
1. Single Player, Multiple Monitors
Most businesses use a single media player to display content on a variety of monitors. To do this, you simply have to connect all the screens to a media player, computer, or laptop and manage the content from there.
This is a popular way of setting up multiscreen digital signage simply because it's cost-effective. Aside from the screens, a primary media player, and cables, no additional costs are required to set it up. But keep in mind that most computers only allow for a maximum of two screens for the best content quality — unless you invest in graphics cards.
While easy and cheap to do, this method comes with drawbacks. For one, it limits how the screens can be positioned together as you'll have to think of how to run cabling for every placement. Even if you come up with a cable management system, positioning the screens too far from each other runs the risk of signal degradation.
2. HDMI Signal Splitter
Another option is to use an HDMI signal splitter, which duplicates the input signal from one HDMI and outputs it to additional ports. Depending on the type of HDMI signal splitter, this method can work with an additional 2-4 monitors. But as the splitter only duplicates the display, it's going to show the same content on each screen.
Also popularly used, this method is a cheap way to set up multiple screens. An HDMI splitter only costs around $30 for 2 ports and $46 for 4 ports. Standard ones may be cheaper but will yield lower-resolution displays.
This cheap price also means a limited range of use. Most splitters don't have long enough cables to plug into monitors that are more than 30 ft. away from the player.
3. Wireless Signal Splitter
Cables and wires can easily make your digital sign look messy and unappealing. That's where wireless HDMI signal spitters come in. They work the same way as wired splitters, with the HDMI signal being duplicated and cast to a wireless receiver.
Regardless if you have one receiver or multiple, a wireless HDMI signal splitter can also only display the same output on each screen.
The total cost to set this up runs from $150 to $210, which is not bad, but take note that you might not get a lot of value out of it. Compared to their wired counterparts, wireless HDMI signal splitters yield lower-resolution displays. Most can only handle 1080p output.
You might also run into transmission interference because of the 5 GHz bands used for these types of splitters.
4. Digital Signage Players
To display content on a digital signage screen, you will need some sort of media player. For the multiscreen methods we discussed so far, that would be the external laptop or computer. But you can also invest in a media player specifically designed for digital signage, or common market options like an Amazon Fire Stick or Google Chromecast.
Digital signage players allow you to show different content on each display. But to do that, you'll need separate hardware for each monitor. On the bright side, this means that you won't experience display interruptions in case of network problems as the content is locally cached.
5. Smart TVs
If you're not particular about having a screen built for digital signage applications, you can also use smart TV monitors. Most modern smart TVs are able to integrate digital signage software without the use of third-party hardware like media players or external computers.
How to Manage Multiscreen Digital Signage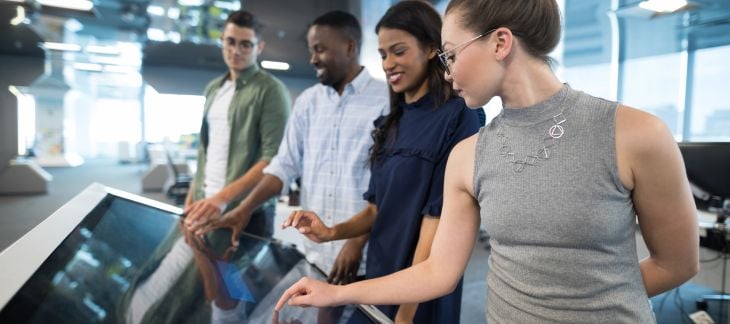 In order to ensure that your multiscreen digital signage works without a hitch, you need to know how to properly manage it.
Here are some tips to manager your multiscreen digital signage network.
Choose the Correct Software
Your software can make or break your digital signage network. Make sure that whichever software you opt for is powerful enough to support multiple displays, is easy to deploy, and can deliver smooth, crisp digital signage content.
Know Your Audience
No matter how well you set up your digital signage screens, it's not going to do your business any good unless you display content that connects with your audience.
Hence the importance of first knowing who you're trying to target. Identify your audience and create content that's centered around their interests.
Create a Content Strategy
Now that you know who your audience is and have identified which types of content will attract and engage them, you need to put those ideas into a content strategy. This involves determining what content goes into each screen, when certain types of content should show up, how you can ensure the cohesiveness of your multiscreen display, etc.
Experiment and Adapt
Your content plan should not stay static forever. You need to make room for any change in your strategy down the line. Make sure you're measuring the performance of your multiscreen digital signage and are ready to make changes as necessary.
The best thing about digital signage is that it's flexible and easy to update. So you don't have to worry about a complete overhaul in case you find that certain content works less effectively than others. There's plenty of room to experiment here, so don't be afraid to think out of the box!
Digital Signage Software for Multi-Screen Displays
To power up digital signage with multiple screens, you need powerful and reliable software. Rise Vision is a cloud digital signage software that supports any media player on multiple screens.
Our software has over 500+ customizable templates to help you create your content with ease and confidence. The platform is easy to use and on top of that, we offer free training and fast support anytime you need it. Sign up for a free trial of our digital signage tool now!