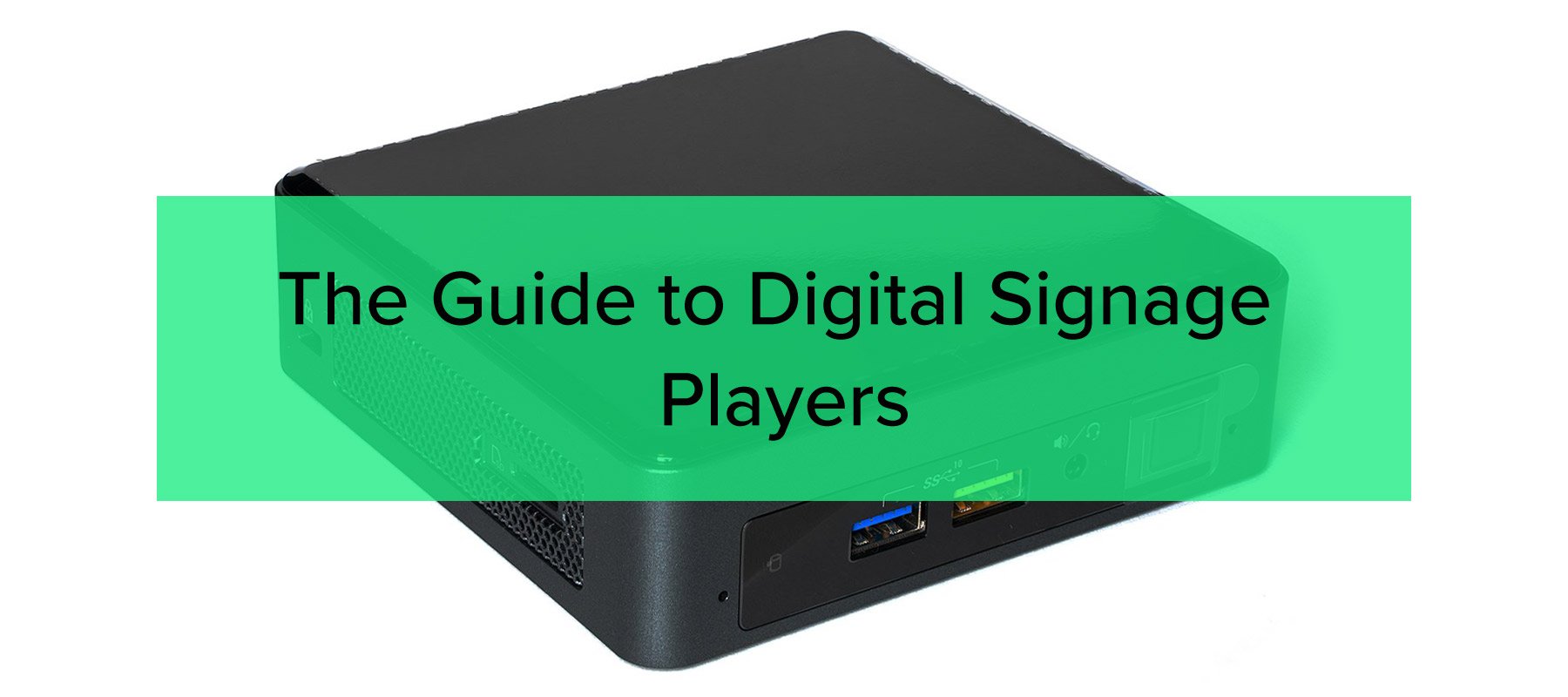 When you put together a digital signage solution, you need three elements:
A software solution for managing displays and content
Displays
A player for each display
Players are the hardware tools that let your displays show the content being sent to them by your software. They range in price and power from thumb drive-sized plug-and-play options to high-performance tools with advanced enterprise features - and that's usually reflected in the price.
In this guide, we'll walk you through the market today, and help you make the right decision for your organization.
The first choice you have to make is which operating system to use in your digital signage media players.
Choosing a Digital Signage Media Player Operating System
It's important to choose the right operating system (OS) for your digital signage needs. Different OS's offer different benefits, work well with different hardware and have different drawbacks.
We'll talk about the most popular choices for digital signage, starting with those OS's that typically include a device, meaning you just have to make one decision rather than two.
Fire OS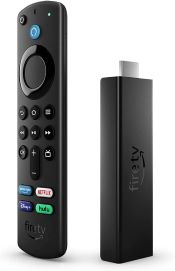 Fire OS is the operating system used in Amazon's family of Fire Sticks, designed as consumer streaming devices that let ordinary flatscreen TVs receive and show internet TV like Hulu, Netflix, and Amazon Prime. There are four types of Fire Stick:
Fire TV Stick is the base model that lets you stream to any compatible TV.
Fire TV Stick Lite has fewer features. Notably, its remote control doesn't give you control over the host TV. This means you need a separate remote to control the TV system volume or turn the TV on and off.
Fire TV Stick 4k has 4k resolution which is the best streaming definition available.
Fire TV Stick 4k Max gives you 4k streaming across WiFi 6, the fastest available WiFi protocol.
Because the difference in performance is quite significant, but the cost is still very low, we'd always recommend going with the Fire TV Stick 4k Max.
There's also the Fire Cube which does the same job but requires an ethernet connection.
Fire Sticks will let your screen show anything broadcast over WiFi, including your digital signage content. They're easy to control via remote controls, easy to set up, and easy to use. They're also reliable, versatile, and low-cost, making them a popular plug-and-play choice for smaller installations.
Expect to pay between $30–$60 for a single Fire Stick, though you can find them cheaper at budget stores or during sales.
Raspberry Pi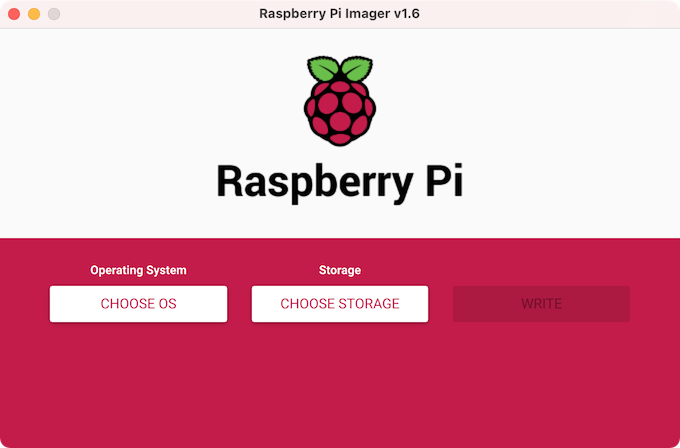 Raspberry Pis first hit the market as a hobbyist's computer. The appeal was that you were buying a minimal setup — they didn't even come in a case. However, they were soon seized upon by small organizations as an ideal tool for specialized functions, including digital signage. As that happened, the Raspbian operating system also became more popular.
Raspbian is a portmanteau of Raspberry and Debian, a popular Linux distribution. It's now offered directly by Raspberry Pi as an OS designed for use with their device.
Raspberry Pi the OS really only makes sense with Raspberry Pi the device, so you're choosing both at once. That can be a good thing because Pis are low-cost, adaptable, modular, and durable. To work well as a digital signage player, your Pi will need to be one of these types:
Raspberry Pi Model 3B or 3B+, with:

Broadcom BCM2837B0
Cortex-A53 (ARMv8) processor
64-bit SoC @ 1.2GHz
1GB LPDDR2 SDRAM and 8GB/16GB/32GB eMMC Flash memory (the Lite variant has no eMMC Flash memory)

Raspberry Pi Model 4B, with:

Broadcom BCM2711
quad-core Cortex-A72 (ARM v8) processor
64-bit SoC @ 1.5GHz
H.265 (HEVC) (up to 4Kp60 decode), H.264 (up to 1080p60 decode, 1080p30 encode)
OpenGL ES 3.1, Vulkan 1.0
Options for 1GB, 2GB, 4GB or 8GB LPDDR4-3200 SDRAM (depending on variant)
Options for 0GB ("Lite"), 8GB, 16GB or 32GB eMMC Flash memory (depending on variant)
Option for fully certified radio module:

2.4 GHz, 5.0 GHz IEEE 802.11 b/g/n/ac wireless
Bluetooth 5.0, BLE
On-board electronic switch to select either external or PCB trace antenna

Raspberry Pi NEC Compute Module, integrated into displays
To make the most out of your digital signage using the Rasberry Pi, you'll also need:
A case with ventilation holes or an aluminum heatsink case
A high-speed 16 GB+ class 10 microSD card
An official Raspberry Pi power supply. Power supplies that are not from Raspberry Pi can cause problems
A micro SD card reader/writer (your computer might have one built-in)
A display
A micro HDMI cable
An ethernet cable
A mouse and keyboard
If you or your IT department feels confident partly building their own digital signage hardware, Pis can be a great choice.
Chrome OS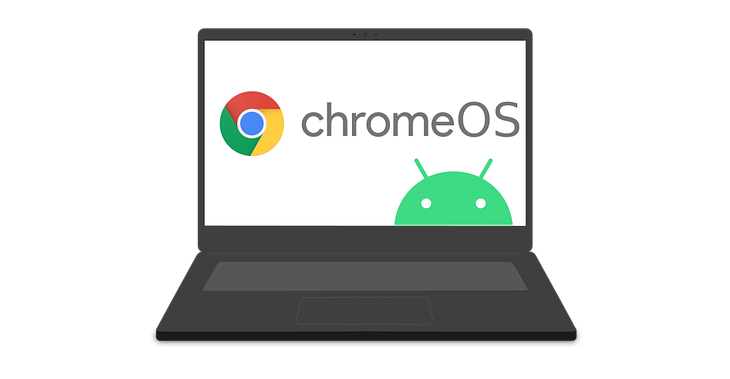 Chrome OS is Google's operating system, familiar to a lot of us from the Chromebook. It looks and feels like an extension of the Chrome web browser, which it largely is. Because of these factors, Chrome OS is a very intuitive operating system to use — we've already learned what to expect.
However, its main attractions as an OS for digital signage media players are security and endurance.
Media players might need to be working 24/7 for months at a time. They need to be robust.
The Chrome OS is available on a range of media players all of which are designed to work with one of Google's flagship products. This means parts and manufacturing are high-quality and endurance is good.
Chrome is also a secure operating system, difficult to attack successfully, and capable of being remotely controlled by administrators. (Note that you'll need a Chrome device management license to use a Chrome OS device.)
Chrome digital signage media players typically cost from a few hundred dollars up to $1,000 or more. We recommend our own Chrome signage media player, which comes ready-configured with Chrome OS and Rise Vision, as well as:
Intel Celeron 3865U processor
4GB DDR4 Memory
32GB mSATA SSD Drive
802.11ac, Dual Band, 2x2 WiFi+Bluetooth 4.0
1 x Gigabit ethernet (RJ45)
5 x USB ports
1 x RJ50 COM PORT
1 x HDMI 2.0
1 x HDMI 1.4
6' HDMI cable
6' ethernet cable
With a significantly beefier processor and chipset, and much more memory and ports, this is a more capable player than a Pi or Fire Stick.
Windows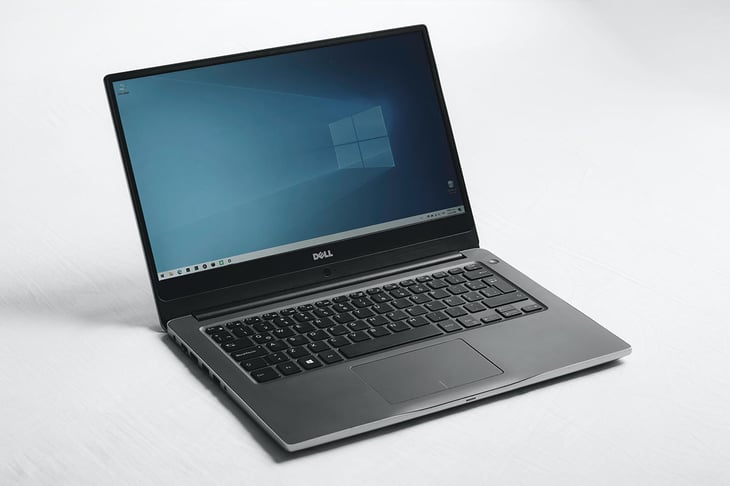 Windows is one of the oldest OSs to enter the digital signage market. Windows digital signage solutions are available on sticks, boxes, miniature players, and full-scale enterprise players, depending on your needs and budget.
When you use Windows, you're using an OS that IT technicians are definitely familiar with, the software is definitely compatible with, and that Microsoft offers support for. However, it does leave you with a little less freedom and a slightly higher price tag than some other options on this list. Windows is a good choice for larger, more complex installations that can use the extra power.
We recommend using this pre-configured digital signage player with Windows 10 and Rise Vision already installed, along with:
10th generation Intel NUC featuring Intel® UHD Graphics
Intel Core i3-10110U Dual Core Processor - 2.10-4.10 GHz, 4MB
4GB DDR4-2666 Memory
120GB M.2 SSD Drive
Intel Wi-Fi 6 AX201
1 x Intel Gigabit LAN
3 x USB ports (Type-A)
2 x USB ports (Type-C)
1 x HDMI 2.0b port
1 x USB Type-C port with DisplayPort 1.2
6' HDMI cable
6' Ethernet cable
Windows 10 Professional 64-bit pre-configured with the Rise Vision Platform
Again, the jump in power and capability from the Chrome OS player is obvious. It's also characteristic of the types of players available for each OS, with Windows players tending to have much larger hard drives and more capable processors.
Android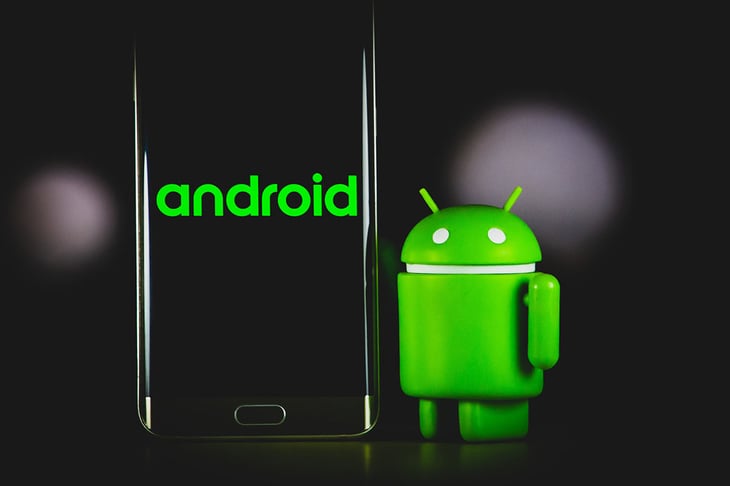 Android is a favorite OS for digital signage because it's familiar, easy to use, and well-supported. They're also low in cost and reliable, an essential point when they're likely to be running nearly all the time. There's a wide variety of Android-powered media players available, meaning it's relatively easy to build an installation where screens have different jobs and require different levels of power or adaptability.
Expect to pay anywhere from $30 to several hundred dollars for an Android digital signage media player. It's best to go with reputable brands; underpowered players running old, unsupported versions of Android can cause security problems as well as reliability issues.
Ubuntu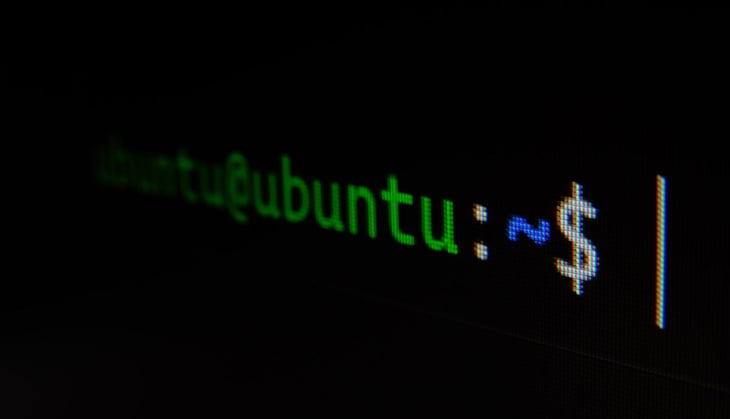 Ubuntu is one of the most popular 'distros,' or distributions, of the open-source, flexible, and powerful Linux operating system (the same OS that underlies Android, Fire, Chrome, and many other OSs). Linux is widely used, and while you and I may not be familiar with it, developers and IT technicians certainly are.
It's open-source, meaning the code is available for anyone to see. This doesn't mean anyone can watch your devices in action, but it does mean the code is audited, tested, and added to by a wide community and is therefore robust and secure.
Linux makes an excellent choice for organizations with specific requirements who prefer to have maximal control over their digital signage installation. Linux users aren't tied down to a single supplier. Unlike some Linux distros which are supported only by the community and require significant IT skills to install and use, Ubuntu installation comes with five years' guaranteed free upgrades and patches.
We'd recommend using one of two Linux-based digital signage media players that come with Rise Vision preinstalled.
The Rise Vision Intel NUC Celeron Media Player comes with:
Intel Celeron processor J4005 - 2.00GHz up to 2.70GHz, 4MB Cache
4GB DDR4-2666 SODIMM Memory
120GB 2.5" SSD Drive
Intel Wireless-AC 9462 with Bluetooth v5
1 x Gigabit ethernet (RJ45)
4 x USB ports
2 x HDMI ports
6' HDMI cable
6' ethernet cable
Linux Ubuntu 20.04 64 Bit pre-configured with the Rise Vision Platform
The Rise Vision Intel NUC i3 Media Player comes with:
10th generation Intel NUC featuring Intel® UHD Graphics
Intel Core i3-10110U Dual Core Processor - 2.10-4.10 GHz, 4MB
4GB DDR4-2666 Memory
120GB M.2 SSD Drive
Intel Wi-Fi 6 AX201
1 x Intel Gigabit LAN
3 x USB ports (Type-A)
2 x USB ports (Type-C)
1 x HDMI 2.0b port
1 x USB Type-C port with DisplayPort 1.2
6' HDMI cable
6' Ethernet cable
Linux Ubuntu 20.04 64-bit pre-configured with the Rise Vision Platform
It's worth noting that while both these players are fully capable of powering a 4K display, Linux players aren't recommended for use with interactive touchscreens. If that's the form of display you're looking at, we'd recommend a Windows player.
There are other ways to approach digital signage tools, though. What about wireless presentation services?
Wireless Presentation Systems
Wireless presentation systems let you stream directly to screens from mobile, desktop, or laptop devices. They can allow users to build digital signage systems without the need for standalone players, though that's not usually what they're used for. When an organization already has a system like this in place, though, they can use it to display digital signage as well as for presentations.
Airtame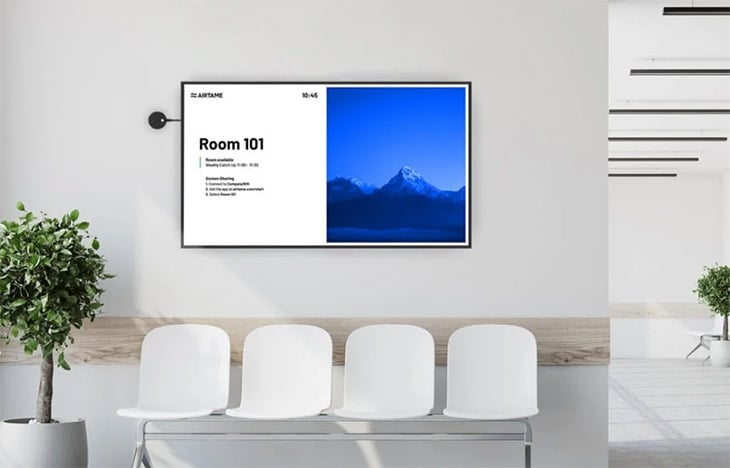 Feature-rich and easy to use, Airtame combines some features of a subscription media player with a presentation tool. A proprietary device is connected to displays via HDMI, in a similar way to a Fire Stick. However, Airtame offers significantly improved enterprise-grade security, very high build quality, and screen-to-screen mirroring that lets one user cast their screen to up to 60 others.
Airtame also includes a raft of smart functions, such as Single Window Sharing which allows presenters to decide which window to stream and which to keep private. Finally, Airtame has inbuilt support for digital signage.
Check out Airtame's website for the latest pricing. Discounts are available through Airtame's sales department for educational and nonprofit organizations. You can use Rise Vision on Airtame via the company's Rise Vision integration.
Mersive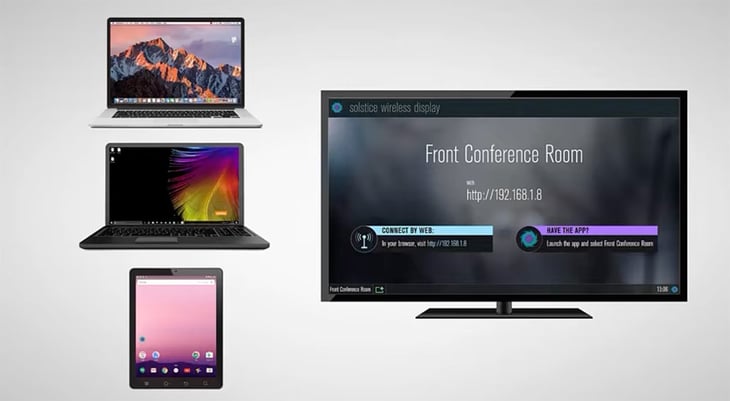 Mersive Solstice works in one of two ways: either a pod you can plug into a display or a software license for a Windows computer. The pod is an integrated software-hardware console.
Mersive is an excellent multi-user tool, letting multiple users share to a single display, and administrator control to let managers or teachers control sessions. While it's powerful, it also represents a major commitment: you'll need to invest in at least a single pod, with recurring fees per pod per year after the first year.
You'll probably also need an IT technician to set it up, but once it's up and running, it's easy to use Rise Vision through a Mersive device.
Screenbeam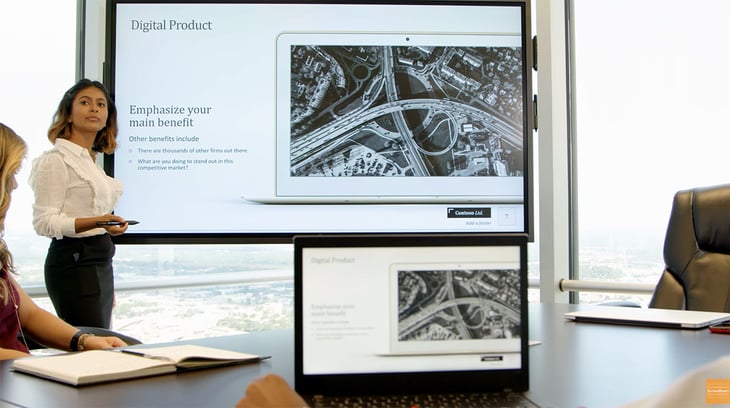 Screenbeam is an appless solution for teleconferencing, presentations, and digital signage. It allows mirroring without WiFi or mobile data usage.
Screenbeam offers several devices, starting with the Mini 2, a thumb drive that can simply be plugged into any screen. While it's impressive, it throws the onus for content transmission back onto another device, meaning that to use it for digital signage you'll have to cast to it from a mobile device or laptop.
Screenbeam has some connectivity issues, too. Because it uses screen-casting technology it doesn't always work well with either Android or Windows, and doesn't work at all with Mac products, though beta support is available for Mac with some Screenbeam products. Screanbeam users can easily use Rise Vision to display digital signage content. Screenbeam pricing is available through the company's sales team.
Zoom Rooms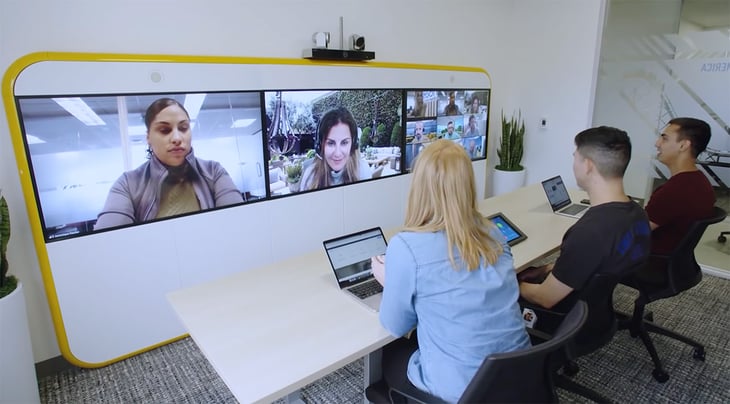 Zoom Rooms was designed as a digital meeting space that brings together in-person and remote conferencing. As such, it's primarily a business-oriented product, including features like Smart Gallery, which uses AI to deliver more realistic perspectives of in-person participants to remote attendees, or the ability to reserve flexible workspaces. Zoom Rooms comes with a native digital signage tool included. It can also easily be used to display Rise Vision digital signage.
So far, we've talked about displaying digital signage content on conventional flatscreen displays. But there's another type of display we need to briefly cover.
Interactive Flat-Panel Displays
Interactive Flat-Panel Displays (IFPDs) are displays built for meeting rooms and collaborative spaces, though they're increasingly finding use in retail settings too. They're high-quality touchscreen displays with built-in software and enhanced connectivity. They're also all compatible with Rise Vision, which can be installed on any of the options listed here using Mobile Device Management (MDM). We'll cover some of the best-known providers.
SMART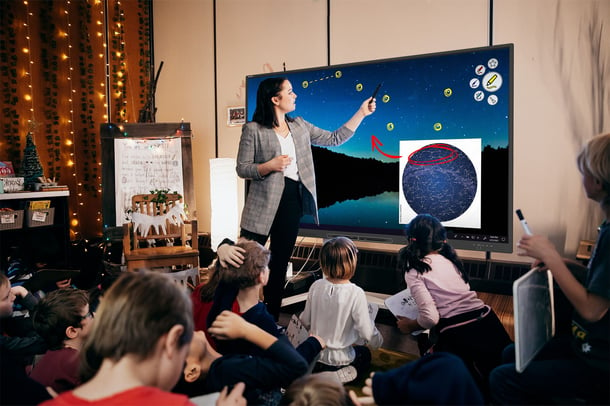 SMART Board interactive displays – designed for the classroom with all-in-one embedded computing - come with free software and ready-made educational content and integrate seamlessly with Mac OS, Windows, and Chrome OS. No subscription is required, and SMART Board users can also easily display Rise Vision content
Promethean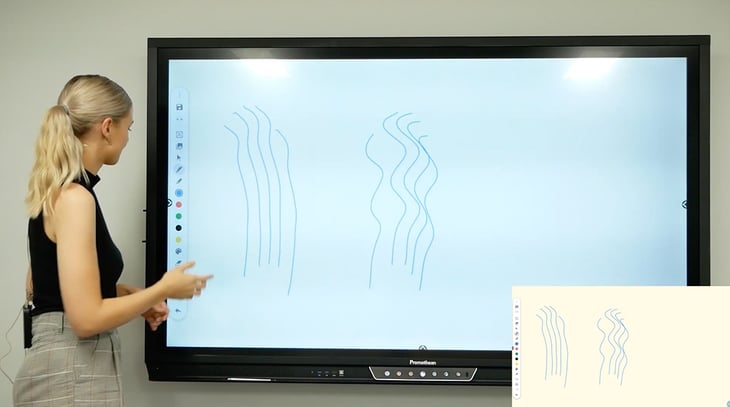 Promethean's ActivPanel is an interactive display that teachers and students can write on, interact with and use for teaching.
It can also be used as an in-class digital signage solution, and Rise Vision can be deployed to Promethean displays through an MDM system.
Clevertouch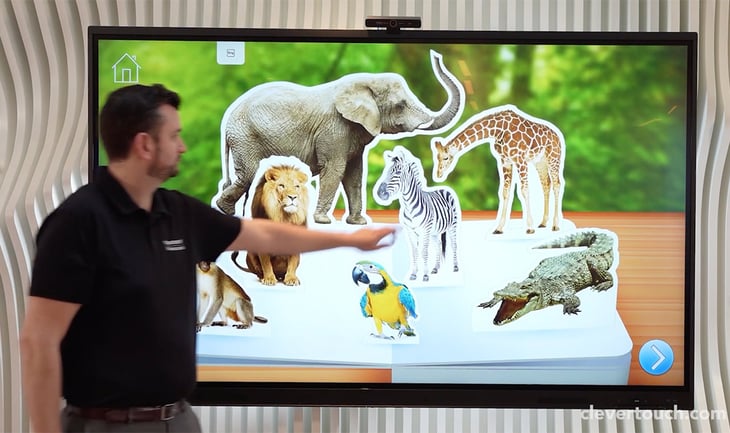 Clevertouch offers a range of displays aimed at business and education, including the IMPACT Plus front-of-classroom display. There are interactive and traditional displays, and the company's website has a feature to help you determine which of the products suits your needs. It's simple to display Rise Vision content to any Clevertouch display using MDM.
ClearTouch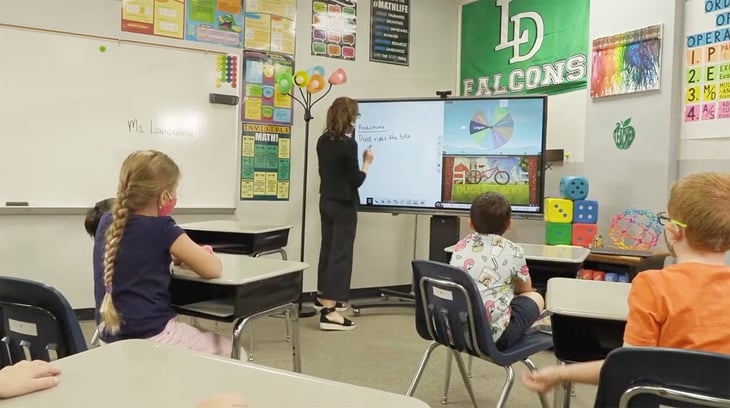 ClearTouch's range of interactive displays offers multiple inputs and software-agnostic solutions, as well as the company's own specialized educational software and hardware accessories. With displays optimized for everything from small classrooms to lecture halls, it's easy to show Rise Vision content on ClearTouch displays via MDM.
ViewSonic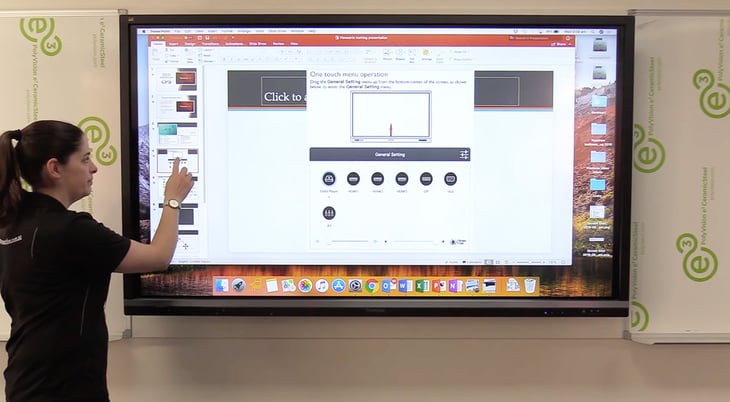 ViewSonic offers a wide range of displays and signage, including an array of commercial displays. Their ViewBoard touchscreen displays are primarily designed for collaboration in business settings, but can also display digital signage using MDM.
Rise Vision Hardware as a Service
Generally, you need software, some displays, and a media player for each display to power up digital signage. But managing all of those can get tricky, especially with all the technical tasks involved.
Rise Vision has Hardware as a Service solutions to help make digital signage management and support an easier endeavor.
Our Rise Vision Media Player Hardware as a Service allows you to simplify your digital signage and eliminate upfront costs. It operates on a subscription basis, which comes complete with digital signage software and hardware. The media player will be completely managed and supported by Rise Vision to simplify procurement.
We also have the Avocor R Series Hardware as a Service, another subscription all-in-one solution that includes a display, a built-in media player, and complete hardware management and support from Rise Vision.
Ready to Get Started?
Contact us for help designing your perfect digital signage installation, or get a free trial of Rise Vision.