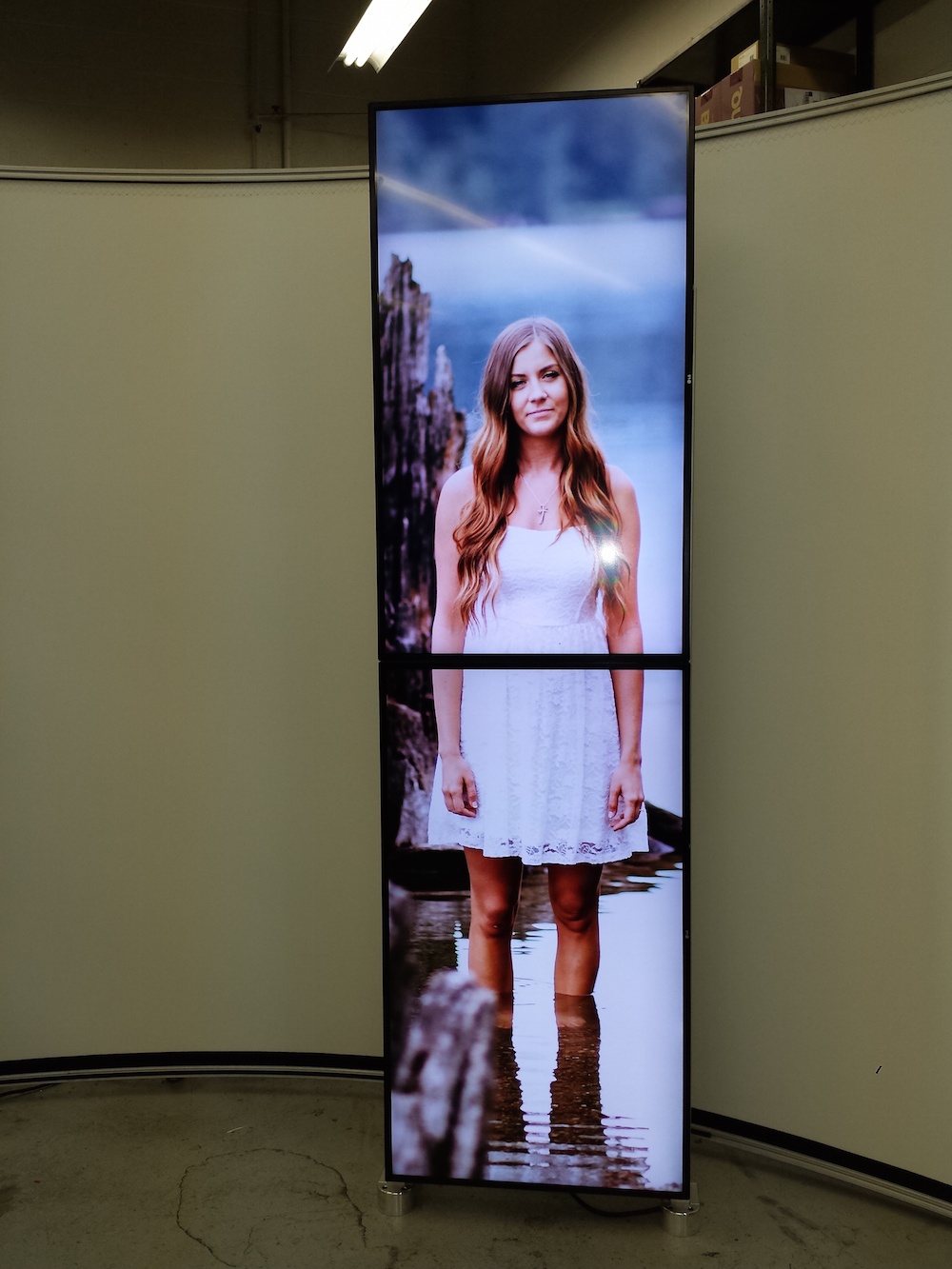 Written by: Peter Ratcliffe, President of RPT Motion.
Your storefront is an important aspect of your marketing and its appearance is a determining factor of whether someone enters or simply passes by. Replacing printed signs or mannequins with storefront digital signage is an excellent way to engage passerby and turn them into customers.
RPT Motion specializes in single and double sided digital signage mounts for glass storefronts. Typically, these mounts are used in low-traffic areas, requiring less protection from contact and have less cooling concerns than enclosed options.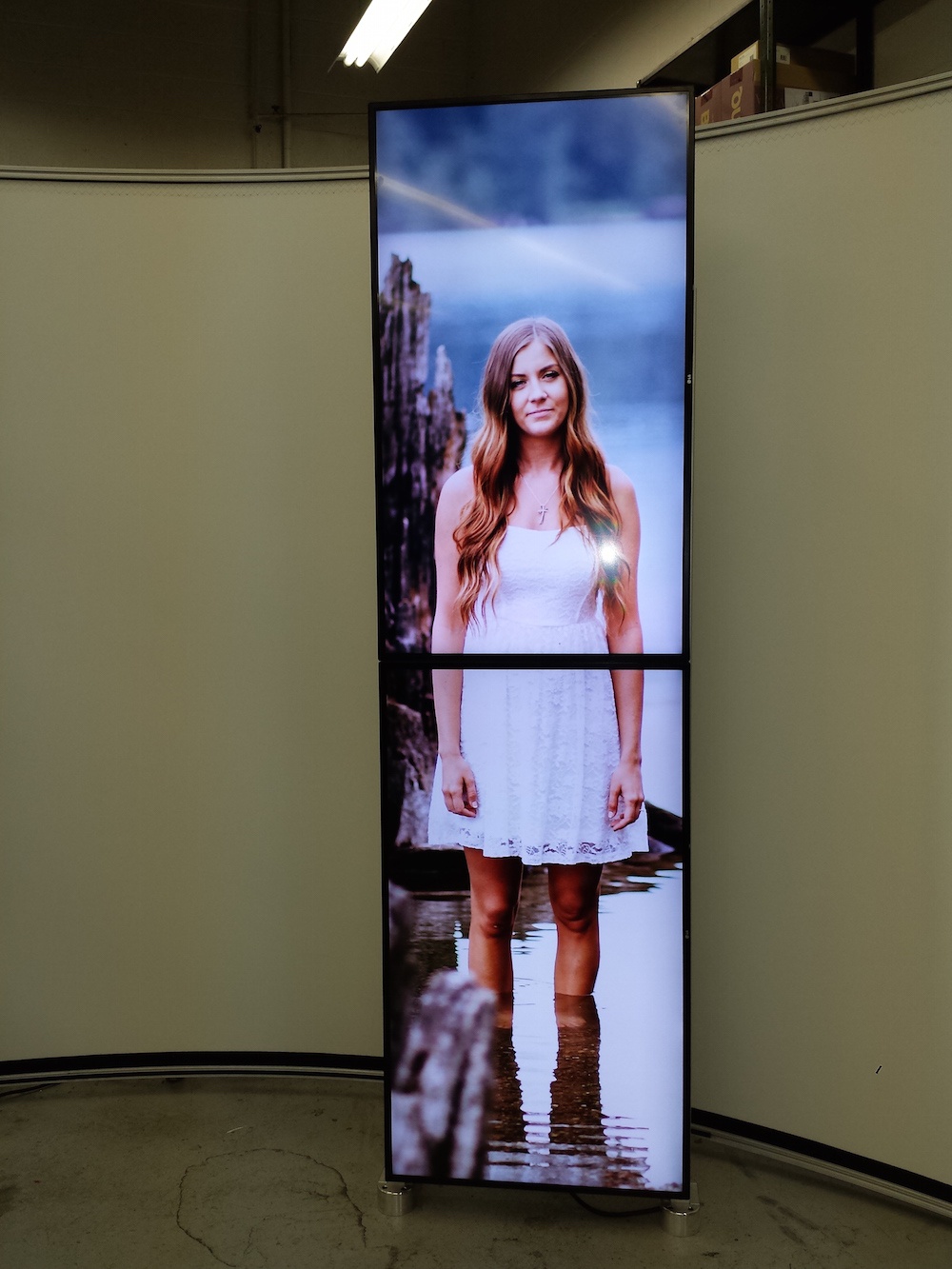 The double sided mounts allow you to display the same presentation on the inside and outside with one media player. Or, you can also use two media players and display two different presentations on the displays.
If your player is compact and WiFi is available, all you need is a single power connection with everything else safely contained and out of sight. The integration of a compact system that mounts back to back monitors, installs and maintains easily is a complex packaging problem that RPT has solved for you. Because our mounting system is based on T-Slotted structural extrusions RPT can customize the mount required for your choice of displays, player's, power supplies and cabling.
In single monitor per side back to back storefront displays we can often put the display on feet or casters. However, once a unit is two or more displays high we usually require some sort of bolted connection. It can be floor mounted, ceiling hung, or on a minimalist floor to ceiling structure. Sometimes, we can also provide a very heavy based freestanding unit with more than one monitor per side. But, the lowest installed cost is generally a bolted down system.
The example shown here is a floor bolted double-sided portrait orientation. It is a one display wide x two high (47" LG in this case) storefront display, perfect for Digital Mannequins. It is imposing and eye catching, each side's screens measuring 84" high and 24" wide but less than 8" from outside face to inside face. It presents a virtually life sized image in stunning 1080px by 3840px resolution.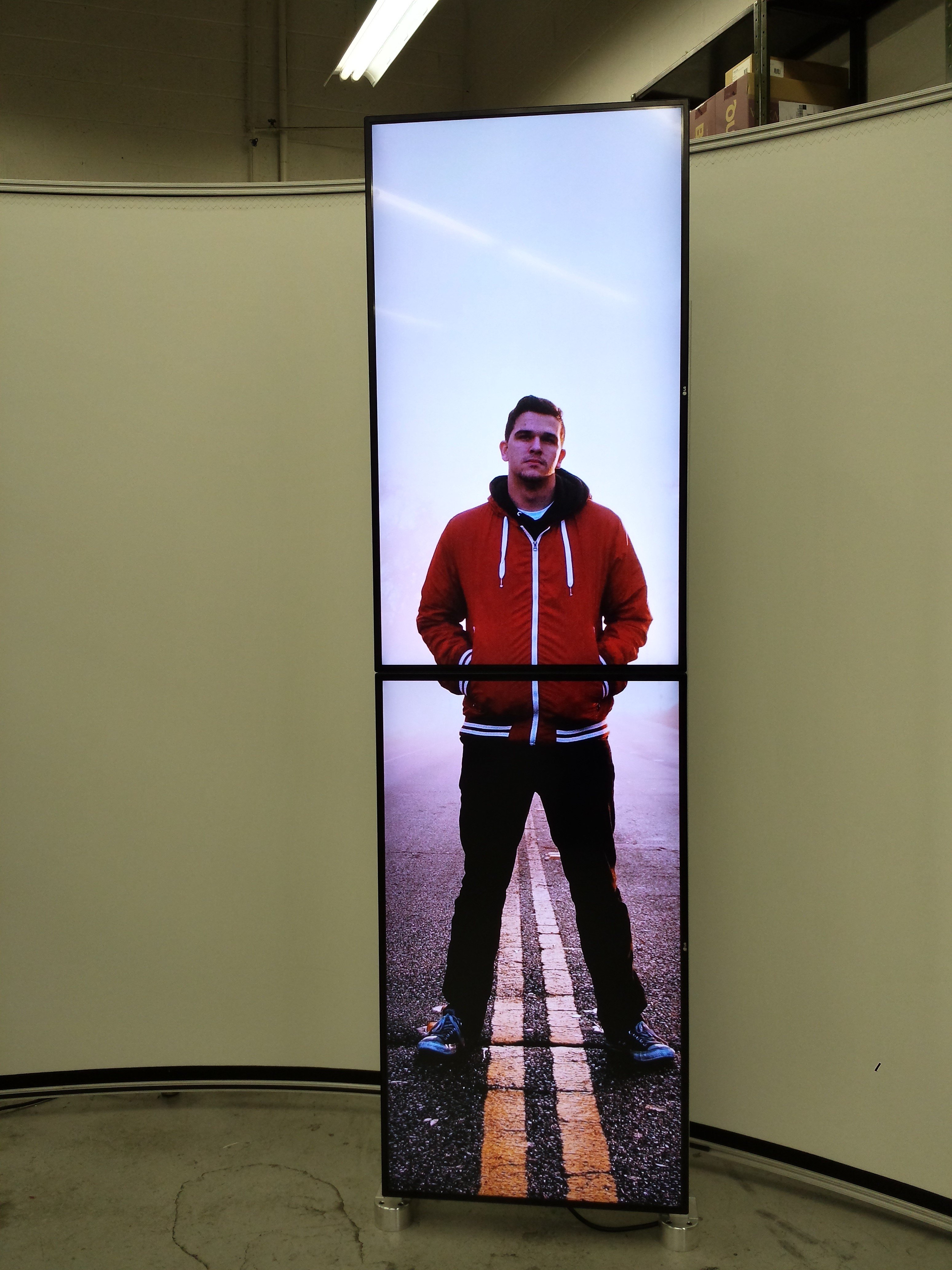 This Rise Vision driven demo at RPT Motion has an Intel NUC i3 running Windows 7 and uses the Rise Vision Chrome Player. Two HD displays are connected through a Matrox DualHead2Go from the NUC DisplayPort to create a 1080px by 3840px Portrait Display. The 47" LG monitors used here have a DVI output which we then use to feed to the opposite side, and voila: a single tiny i3 NUC running Rise Vision drives four full HD monitors presenting full resolution images via WiFi.
Rise Vision's software is tremendously flexible and easily recognizes and manages the unique 1080 x 3840 resolution. For this example we used the free Rise Vision Image Folder Widget to display a folder of 1080px by 3840px JPG photos.
RPT manufactures a high precision 6 axis (X-Y-Roll-Tilt-Pan-Z) micro-adjustable VESA mounting system that makes accurate adjustment of arrays easy, quick and reliable. In addition, RPT incorporates a key-locking gate system that allows the monitors on one side to pivot open for easy installation, access to power switch and maintenance.
RPT Storefront Displays are modular, precise and rugged but designed to be flexible. You choose the best monitors for your application and our mounting system can be quickly customized to fit. RPT will quickly provide a complete mount ready to integrate, or we can pre-mount your electronics, media player and cables for a complete ready to install solution. The rugged aluminum extrusions used in the structure can be powder painted to key with your brand's needs as well.
For more information please contact DigitalSign@RPTMotion.com or call 1-514-683-1612