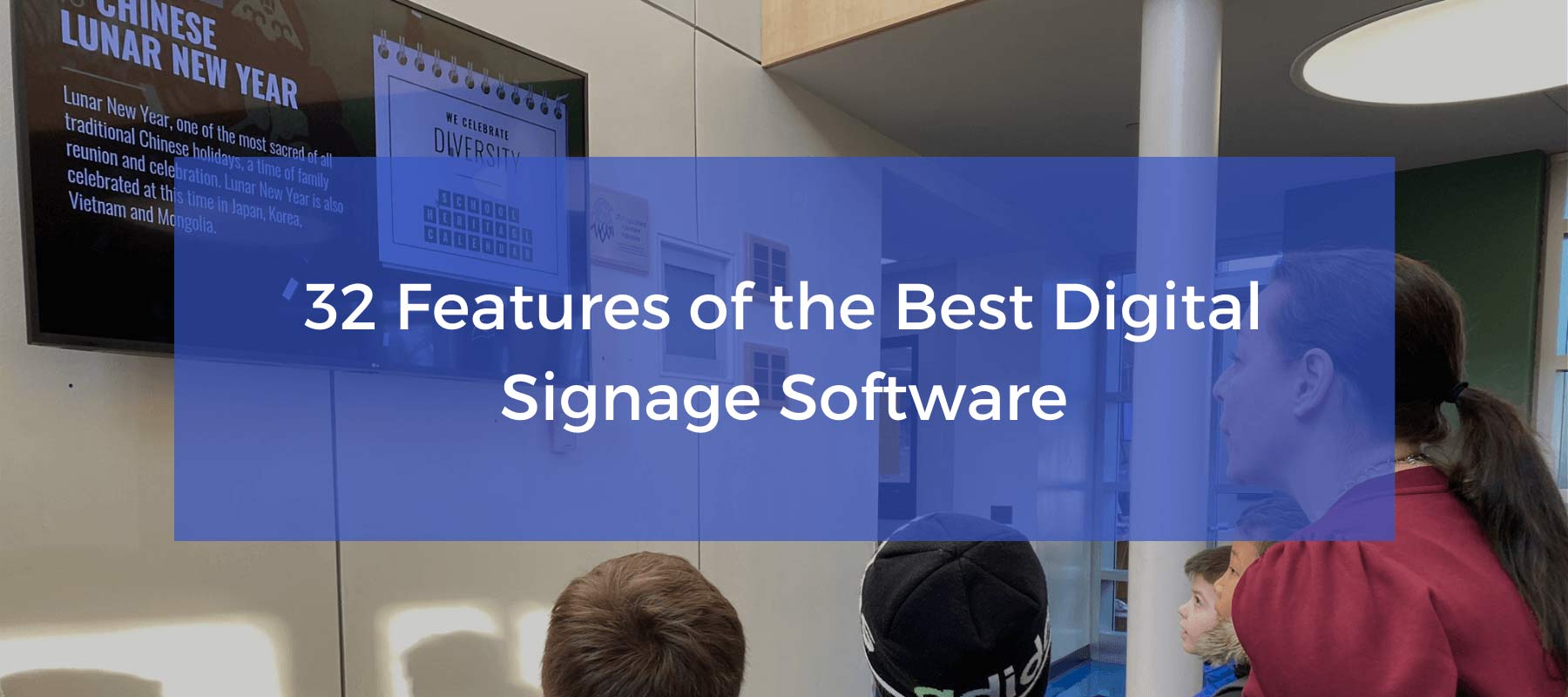 Digital signage software has come a long way from the days of installing servers, $20,000 plasma televisions, and impossible to use interfaces. Today's cloud-based digital signage software is less expensive, easier to use, and helps you accomplish far more.
If you're considering digital signage for your organization, here is the complete guide to the key features that the best digital signage software has.
---
Get all of these features and more with Rise Vision digital signage software
---
Digital Signage Content
The cliche "content is king" is overused but that doesn't mean digital signage content isn't important. Your digital signage software should include all of the features below to make sure it grows with you.
Common Content Integrations
Being able to pull in content from other services you use is a great way to keep your displays interesting and reduce the amount of effort you need to spend in keeping your digital signage fresh. The digital signage software you pick should offer integrations to the key items you need to show data for. Some common ones are: weather, RSS, Google Calendar, and financial data.
Some digital signage services will charge extra for content integrations, apps, or widgets as they are commonly referred to. This can become frustrating as you're constantly having to adjust your billing when you want to use a new integration or show an existing integration on another display. Look for digital signage software that includes at least the majority of the content integrations that are important to your organization in the cost of the subscription, it will make your life much easier.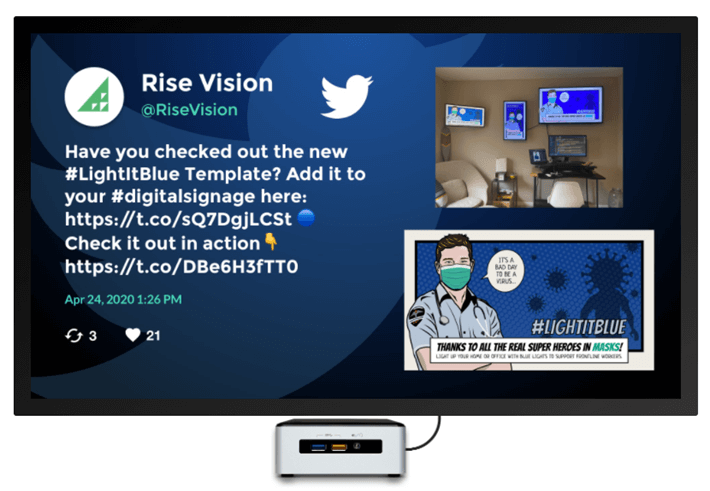 Sharing Content With Your Organization
When you're assessing digital signage software, consider how it will scale to support your organization and how it fits with your organization's structure. Some digital signage software allows you to share content from a top level account to sub-accounts. This is useful if you're a school sharing from the district down to each school, or if you're a company sharing from marketing or HR to specific departments.
Easy Digital Signage Templates
The digital signage software you select should offer a wide range of digital signage templates. The templates should cover common digital signage solutions like calendar walls, digital bulletin boards, and digital menu boards. The digital signage software you select should keep the templates fresh and frequently create new ones for important world events like elections and recurring holidays like Labor Day and Christmas. The templates should be simple enough that the least technical person in your organization can use them. This will help get everyone involved in keeping your digital signage fresh.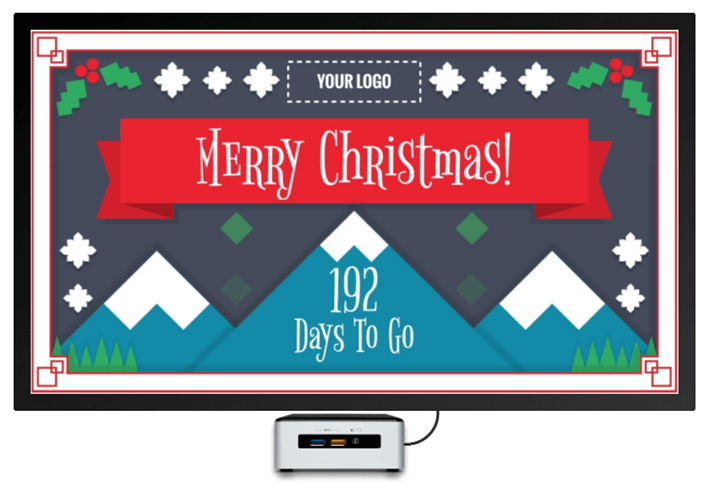 Support For Many Media Formats
Any digital signage software you select should support all of the major file formats for images, videos, and web. For video, these include: .WEBM and .MP4. For images, the software should be able to show: .WEBP, .JPG/JPEG, .PNG, .SVG, .BMP, .GIF. And for web content, the software needs to support HTML5, CSS3, and JavaScript.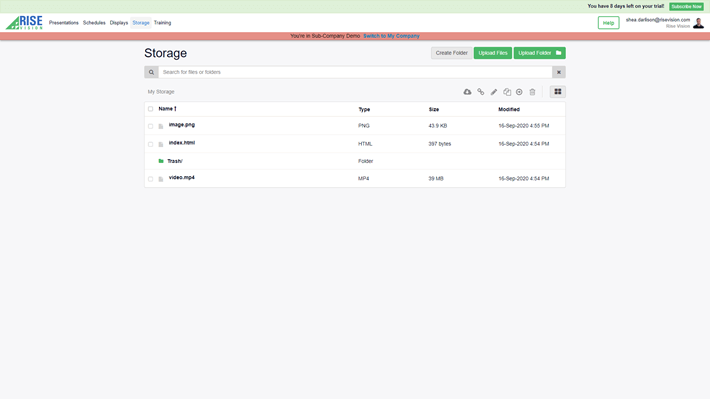 Unlimited File Storage
Storing files online is cheap these days. It's why you can store so much on Google Drive, Dropbox, and more for free. The digital signage software you select should offer unlimited file storage. Avoid digital signage that requires you to pay for more storage or limits the amount you can store on the software. This will cause headaches in trying to figure out how many images or videos you can upload.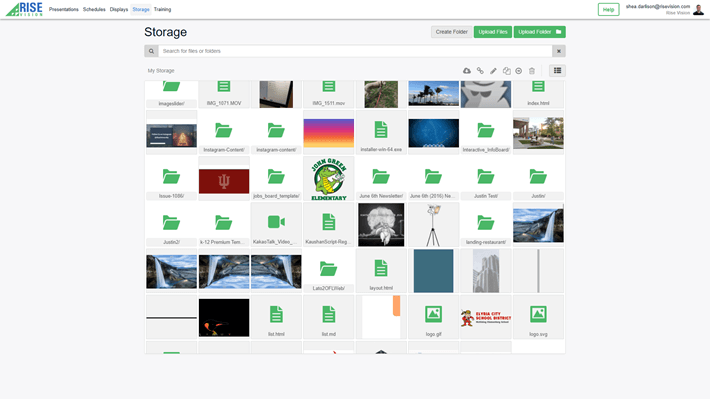 No File Size Limits
When evaluating digital signage software check to see if they have limits on the size of files you can upload to their software. You can avoid hitting the limits by optimizing your video files and reducing the sizes of your images, but it's best to go with software that doesn't limit you. Often less technical end users in your organization will be the ones hitting the limits because they might not be aware of the need to make optimizations or they might not know how. This can often cause internal requests to you for help and is a problem that is easily avoided by picking software with no limits.
Unlimited Bandwidth
The digital signage software you select shouldn't limit the amount of content you can download to your displays each month. You'll often see digital signage vendors limit the amount of bandwidth you can use each month. Like file storage, these limits cause frequent headaches because it's very difficult to estimate how much bandwidth you'll use each month and variable pricing isn't great for most organizations.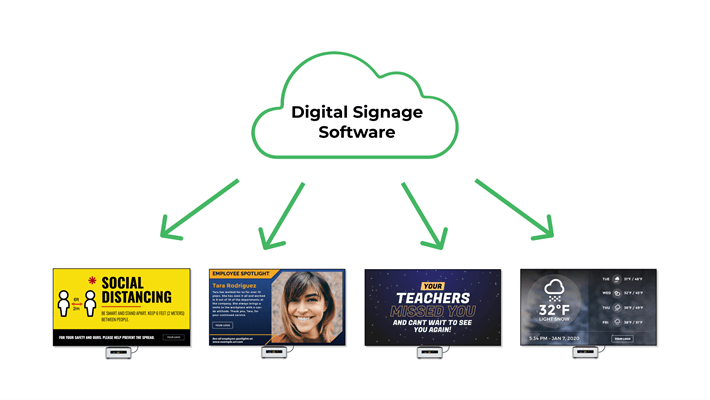 ---
Get all of these features and more with Rise Vision digital signage software
---
Custom Content Builder
Being able to create content from scratch, select different layouts, and mix and match different templates or integrations is a must-have in your digital signage software. While custom content creation might not be as frequently used as the templates or just full screen images and videos, it's a great feature to have in your back pocket for when you have a design in mind that isn't offered as a template.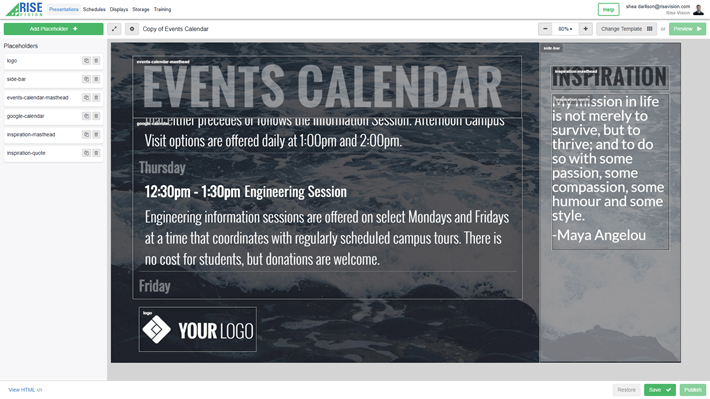 Live Content Preview
A must-have feature for the best web-based digital signage software is the ability to get a live preview of your content right in your browser. A live preview in the browser makes it easy to see your content changes before you publish them to your displays. With a live browser preview, you don't need to install desktop software or keep a digital sign running next to your desk.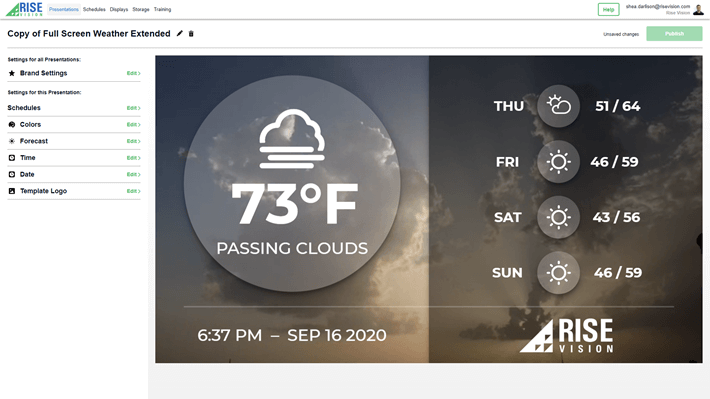 Interactivity
The capability to show interactive web content on your digital signage is important to some organizations. Touch screens are generally more expensive than regular displays and they require frequent cleaning, but are useful in some settings. The digital signage software you select should be able to display interactive content.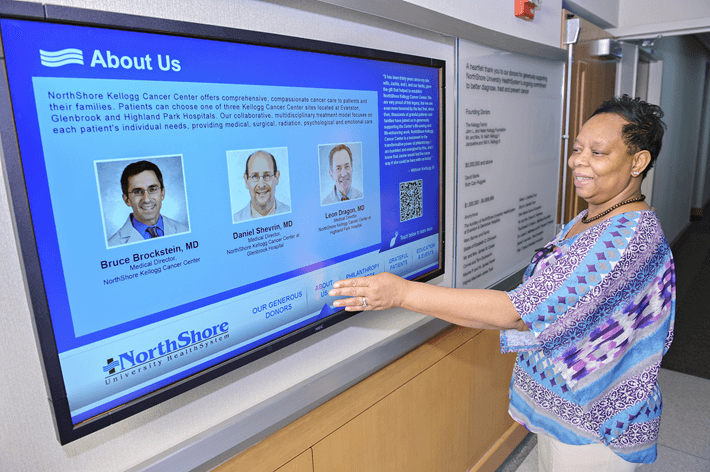 Emergency Alerts
Emergency alert software is becoming increasingly common in schools and businesses. The digital signage software you select should integrate with mass notification vendors so that if you switch vendors you don't need to switch digital signage software. A common term to look for is "CAP compliant" which means the digital signage will integrate with services that use the "Common Alert Protocol," a protocol used by most emergency alert vendors. Digital signage is a powerful tool for distributing emergency alerts across your organization.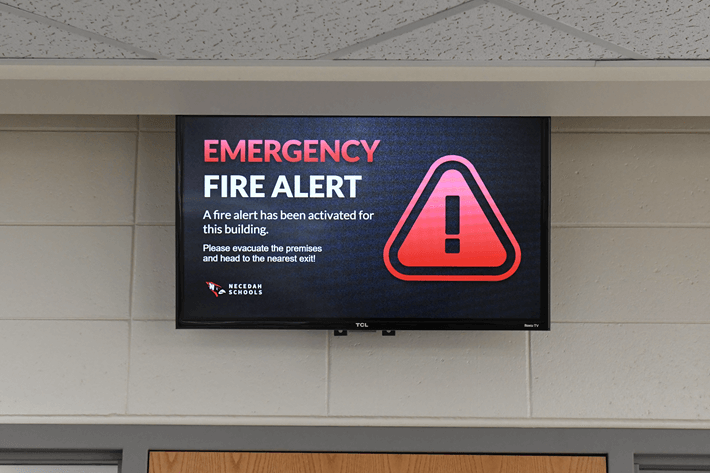 Digital Signage Scheduling Software
The scheduling component of any digital signage software you select needs to be robust. You want to be able to control exactly when and where your content shows. The more time you spend in your digital signage software, the more you'll find the need for precise scheduling increases. When you first get started, you might find yourself showing the same content on all your displays but after a few months you'll begin getting more and more targeted, for example, you might only want to show a slideshow of images every Monday morning on 3 screens starting at 9:00 AM until each slide in the slideshow has played once. The best digital signage software makes this kind of scheduling easy to do.
Granular Scheduling Controls
Your digital signage software needs to have built in scheduling capabilities. The scheduling feature should allow you to control the date a piece of content should start and stop showing, what times each day the content should show, how long the content should play, and at what recurrence for example every day, every second day, etc... For configuring how long a piece of content should show, the software needs to support seconds as well as "until done" so that a video or series of images show until they are done playing and you don't need to manually enter the length of the video or slideshow in seconds.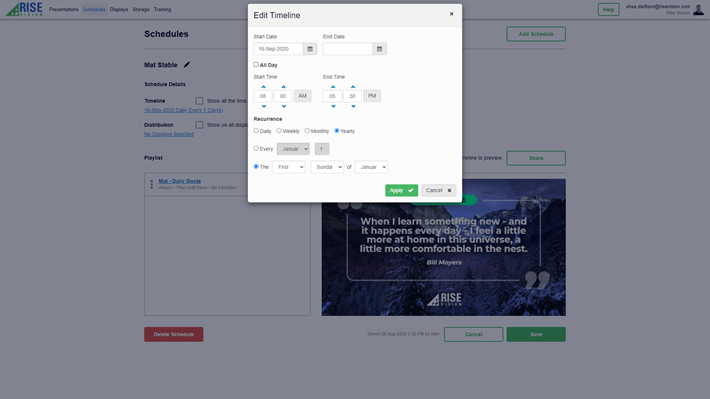 The Ability To Share Content To Multiple Places
With many organizations having some people in their buildings and others at home, the ability to share content across many platforms has risen in importance. Your digital signage software should support sending your digital signage content to employee or student computers, websites, social media, and more.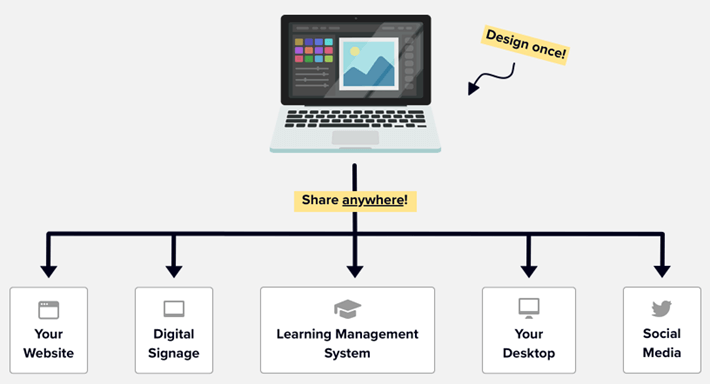 ---
Get all of these features and more with Rise Vision digital signage software
---
Digital Signage Player Software
The digital signage software you select must have reliable player software. The player software is what shows your content on the screen. It's responsible for showing the content your audience will see every day. When comparing various digital signage vendors, ask about the uptime of their player software and what the most common errors are. They should be able to answer these questions.
Support For Many Digital Signage Player Operating Systems
The digital signage software you select should support a variety of operating systems. This is important because if your organization ever decides to switch from one standard to another you can swap out your media players and don't need to go find a different vendor. Some of the most popular digital signage player operating systems run on Windows, Raspberry Pi, Chrome OS, Linux, and Android. Support for Android enables you to use your digital signage software on many popular smart TVs.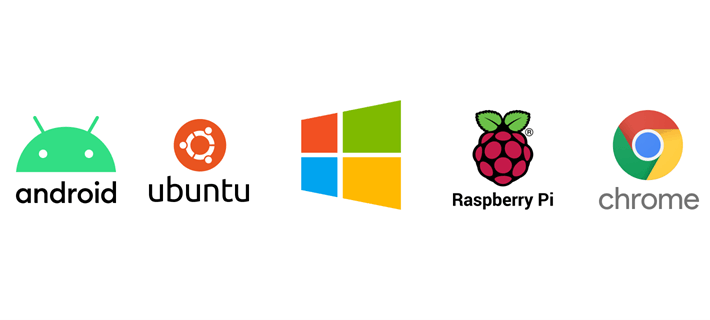 The Ability To Play Content When The Internet Goes Down
Continuing on the theme of reliability, the digital signage software you select should cache content locally so that when the internet fails, your content will continue to play. This ensures that your displays will always look great and you can avoid any pesky error messages.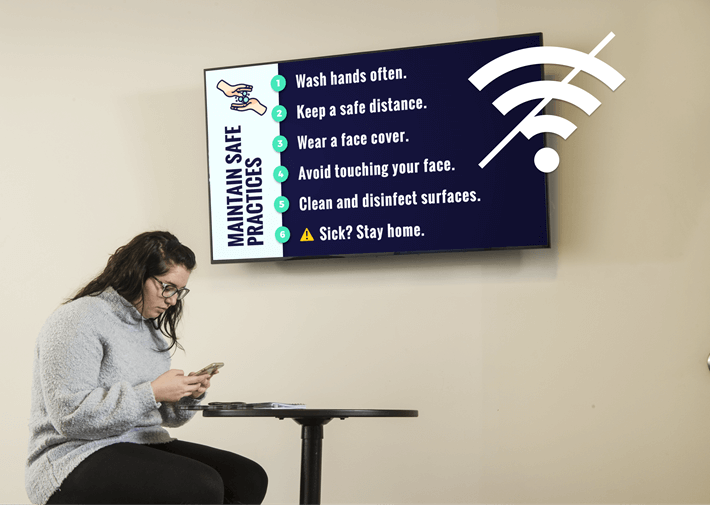 Remote Monitoring And Network Dashboard
Your digital signage software should come with a dashboard that makes it easy for you to view the status of your digital signage network. Other key features to look for are the ability to get screenshots of your digital signs to make sure content is showing correctly, view data like IP address and operating system versions of your media players, and setup email alerts for when a display goes offline so that you can quickly resolve the issue.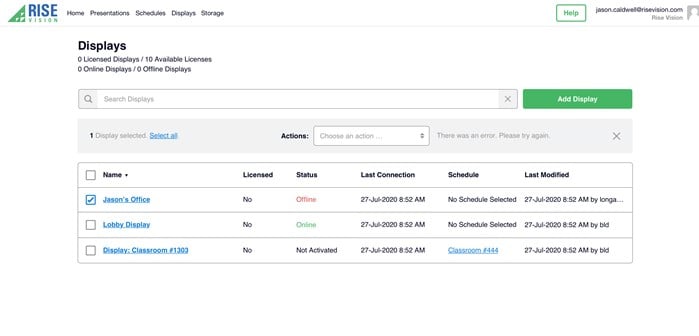 RS232 And CEC Commands
Most enterprise digital signage systems will support the ability to send RS232 or CEC commands to the media players and displays that they are connected to. This gives you the ability to turn displays on or off at specific times which helps save energy.
Portrait Or Landscape Displays
Some newer digital signage software companies don't support having your digital signs in a portrait orientation. While you may not have portrait displays, the digital signage software you select should have support for it in case you decide to add portrait displays in the future. Portrait digital signs are great for directories, posters, hall of fames, and donor walls.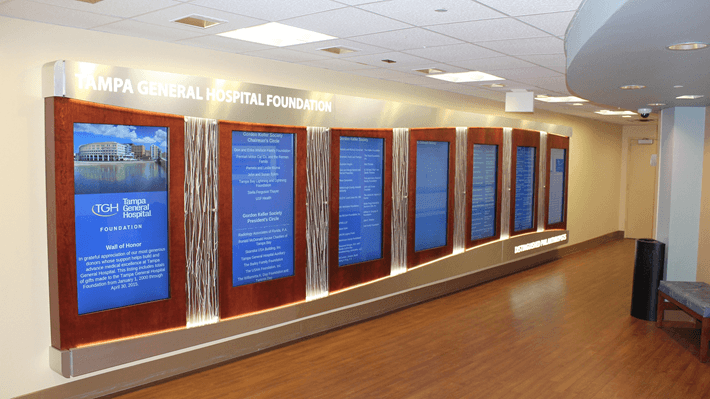 Capability To Create Video Walls
While LED digital signage is becoming a more common solution for large displays, video walls are still popular and are often a less expensive option than direct view LED. The digital signage software you select should be able to support various configurations of video walls such as 2x2 or 4x1 setups.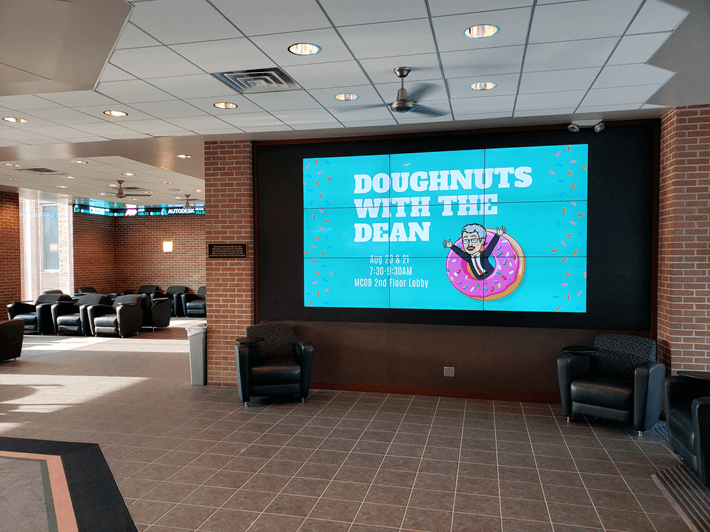 ---
Get all of these features and more with Rise Vision digital signage software
---
Digital Signage Software Application Features
Mobile-Friendly User Interface
A mobile friendly user interface is so important these days. If the digital signage software you're evaluating doesn't allow you to do key actions from the web browser on your phone then you should likely look elsewhere. Many end users aren't at their desks all day and being able to make a change on the go or when you're in front of the digital sign is a great capability to have.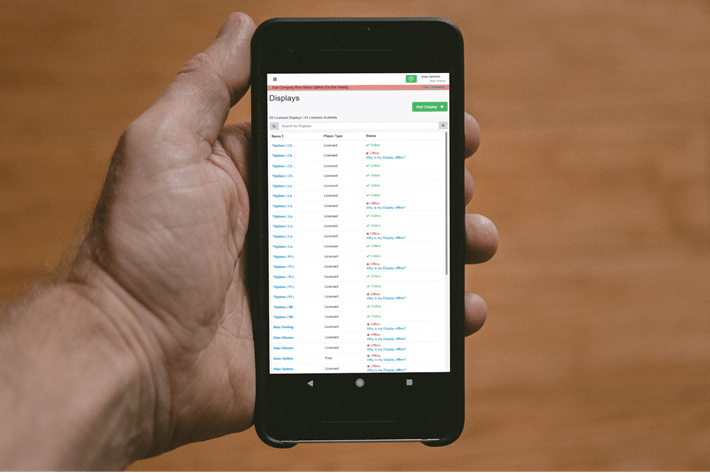 Unlimited Users And Granular User Roles
Digital signage is best when you get lots of people in your organization contributing to it. A shared sense of ownership will help keep your digital signage program successful and reduce the workload for everyone. The digital signage software you select should allow you to add as many users as you need, without charging extra. This is similar to the storage, file size, and bandwidth above. You don't want to run into limits and have to get more users approved by a purchasing department.
When you start adding the users, make sure they only have the user roles they need. This helps keep your account secure and prevents any stepping on toes. You don't want someone to accidentally delete something they weren't supposed to.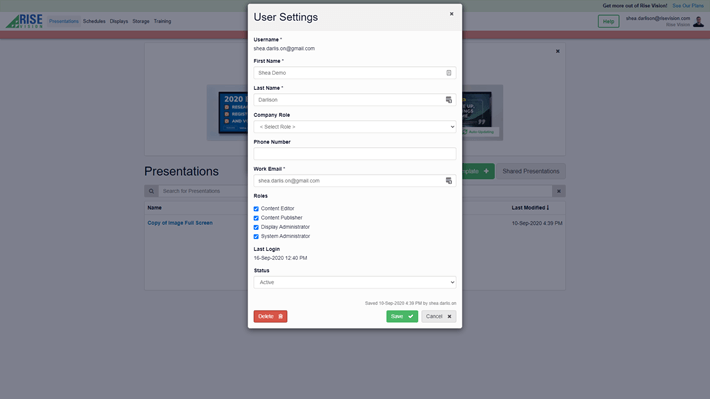 Account Hierarchy
Your digital signage software should support a hierarchy of accounts. This is useful if you're a business, a school, or a reseller. It enables you to have users in a parent account that can access all of the sub-accounts while users in each sub-account are limited to accessing the parent account. Similar to user roles, this helps keep your network secure, makes management of a large digital signage network easier, and prevents any stepping on toes. The digital signage software you select should give you the ability to create unlimited sub-accounts. You don't want to have to pay for extra accounts.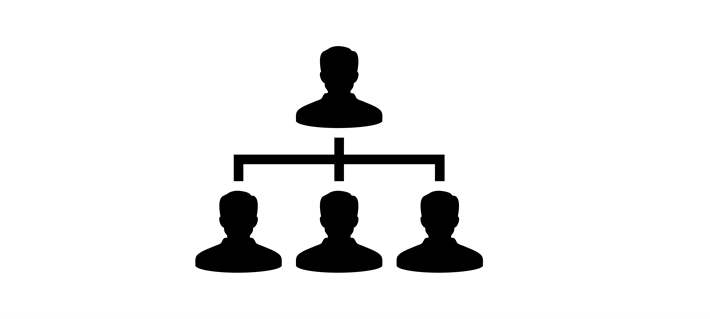 High Uptime And Stability
Be sure to ask your vendor what the uptime of their digital signage software is. There's nothing worse than a digital signage failure, when an error appears on screen or your display is down. Digital signage is a very public medium and so it always needs to look it's best.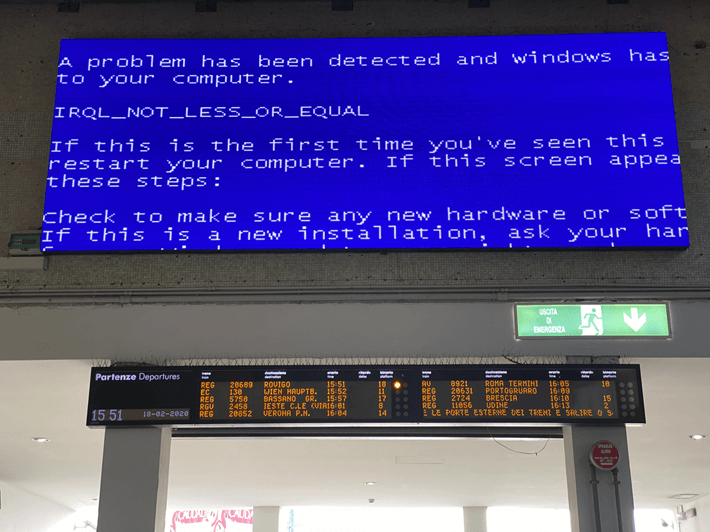 Secure Software
Given digital signage is such a public medium, it's incredibly important that it's kept secure. No one wants to end up in the news because their billboard or sign was hacked and used to show something inappropriate. Ask your digital signage software provider what security best practices they follow. Ensure they receive regular security audits from third party security firms, they have an incident response plan, and they encrypt data, like passwords.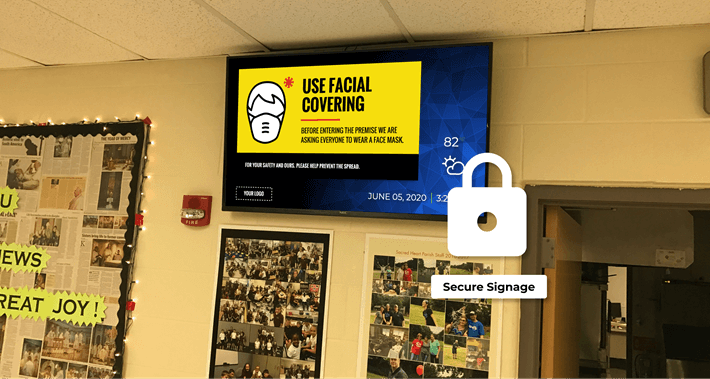 Support For Many Billing Options
Check to make sure the digital signage software you select will meet your billing needs. Do they accept a purchase order, credit cards, can you invoice yourself, does it require a contract, is there a money back guarantee, and what payment terms do they offer? Make sure you pick what's best for your organization and what will keep your purchasing department happy.
Digital Signage Software Price
Price is of course one of the most important considerations in picking a solution. There are digital signage software options that range from free to over a hundred dollars per display, per month. Consider if they have a free digital signage option or open source digital signage option that you can downgrade to if you need to, if they enable you to scale up or down your commitment easily, and if they offer price breaks for volume.
The Ability To Scale To Hundreds Or Thousands Of Displays
The digital signage software you select needs to have a proven ability to support the size of the network you're planning on deploying. For most, this is only a handful of displays and so the ability to scale isn't as important. But some networks can be as large as thousands of displays, so you need to make sure your vendor is capable of handling your requirements.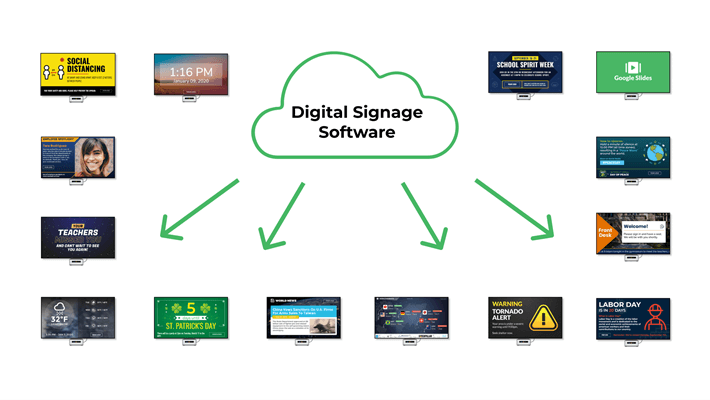 ---
Get all of these features and more with Rise Vision digital signage software
---
Digital Signage Company Traits
Positive Reviews
When you're assessing digital signage software, a great place to check is G2 and Capterra. There you can find reviews on the companies you're evaluating and learn the pros and cons. Make sure the company you select has positive reviews.

Free Support And Training
While evaluating digital signage software, open a support ticket or two to get a sense of the quality of help you receive. Are the support reps knowledgeable? Do they offer to get on the phone with you? You'll likely be with this company for a while so make sure the support you receive is high caliber.
You'll also want to make sure the company offers free training through webinars. This will save you a lot of time when you add more users to your digital signage account. You can send them to the free training instead of training them all yourself.
Good Product Help Documentation
Another support item to check out during your digital signage software trial is the help documentation. Is it well written, comprehensive, and easy to follow? You'll be leaning on this documentation heavily as time goes on so make sure it's quality.
Stable Company
Digital signage is a commitment and so it's important that the digital signage software you select is backed by a company that's in it for the long run. The road is littered with defunct digital signage startups. Do your homework and see how long the company has been around and make sure they'll be there to support you in the years ahead.
---
Get all of these features and more with Rise Vision digital signage software
---
Powerful Software and Hardware to Power Up Your Digital Signage
Rise Vision's digital signage solution empowers you with flexible and highly functional digital signage software to power up your display and communicate your message. Now that you have robust and feature-packed software for your digital signage solution, all you need is your hardware.
Rise Vision offers Hardware as a Service subscription-based solutions that allow you to purchase your digital signage software and hardware in one place. Our Avocor R Series Hardware as a Service comes with an all-in-one display and built-in media player, reducing your hardware costs and simplifying procurement.
We also have the Rise Vision Media Player Hardware as a Service, a white-glove subscription media player with a plug-and-play setup and optimized for high-quality performance with the Rise Vision software.
Both subscriptions come with complete hardware management and support from Rise Vision. Start implementing digital signage into your company without worrying about the technical complexities — we'll handle everything for you so you can focus on your message.
Contact us to learn more about our Hardware as a Service offers.