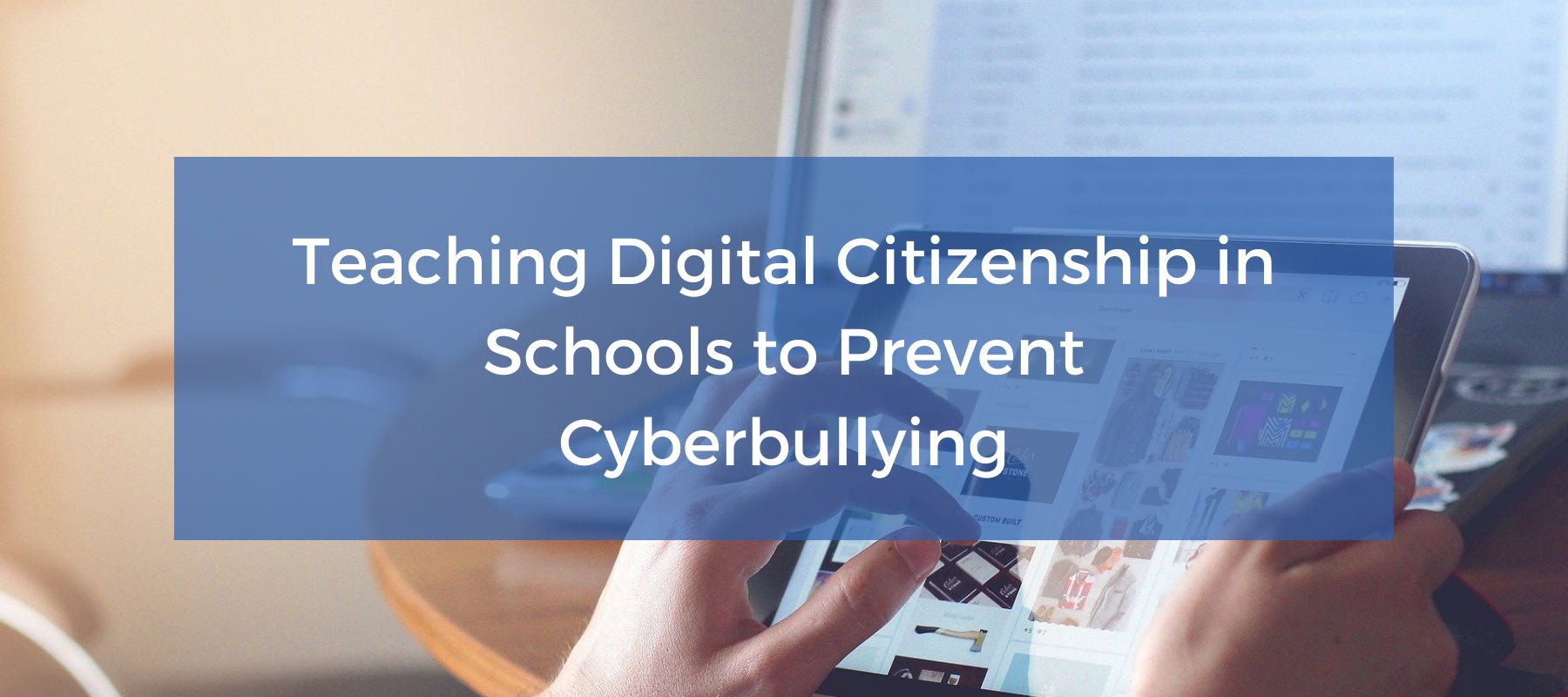 Generally speaking, digital citizenship is a focus on teaching students the dos and don'ts of the internet. Another way to think about it is the online equivalent to real-world civics. It includes skills like creating clear passwords or sharing content in ways that are respectful and don't hurt anyone. Cyberbullying is a form of misconduct that often happens online. The best way to fight cyberbullying is to integrate digital citizenship into existing curricula.
The integration of digital citizenship and cyberbullying is a complex topic due to the connectedness of the two. Cyberbullying is an abusive act that involves the use of technology to defame, embarrass, or threaten someone. Cyberbullying has been a prevalent issue in society since the internet's creation. Still, with the increase of technology and social media, this type of bullying is becoming more common. One of the main reasons for this increase is how both cyberbullying and digital citizenship have become key components of how people communicate with one another and how they learn. In addition, the internet is constantly changing, so digital citizenship is challenged by the ways technology and society are evolving.
---
Download the entire collection of FREE Anti Bullying posters!
- 10 landscape-oriented posters
- 10 portrait-oriented posters
- available in high-resolution PDF and JPEG formats

---
What is Digital Citizenship?
Digital citizenship is the use of digital media to safely and responsibly engage in the world with dignity and respect. Digital citizenship is about understanding the different ways digital technology impacts our lives and being mindful of the boundaries of our online world.
Many people have no idea what digital citizenship is, but it's something that every new generation has to understand and learn. Digital citizenship is about the rights and responsibilities we have due to living in a culture that is increasingly interconnected and dependent upon digital technology. A good digital citizen utilizes the internet to have safe, free, and constructive conversations. They always use the internet for the common good. Digital citizenship is also about engagement - the ability to recognize what is happening online and offline and reason about it. Digital citizenship makes us aware that what we say or do online can affect something or somebody offline.

What is Cyberbullying?
A big concern for kids and teenagers is cyberbullying, ranging from name-calling to harassment and blackmail. It may also exist through electronic media. Cyberbullying is rampant and can have devastating consequences for victims. Cyberbullying could lead to anxiety, depression, and suicide.
There are many different types of cyberbullying, and they all harm the victim. Cyberbullying can take the form of harassment on social media, email, messaging apps, and blogs. Cyberbullying includes sending mean or insulting messages or pictures, posting embarrassing photos of someone, or harassing them with texts or chat sessions.
---
Download the entire collection of FREE Anti Bullying posters!
- 10 landscape-oriented posters
- 10 portrait-oriented posters
- available in high-resolution PDF and JPEG formats

---
How Does Cyberbullying Relate to Digital Citizenship?
Cyberbullying can have an enormous impact on an individual's digital citizenship. Kids need to understand that they need to be accountable for their actions on the internet and should not discourage others. As a parent, it's important to talk to your children about the negative impacts of cyberbullying, which can lead to considerations of society, community, self, and global citizenship.
Cyberbullying is a big issue because of how widespread it is, and it's a big part of what is considered digital citizenship. It's so important to think about your digital footprint on the internet. For example, posting something inflammatory or mean into social networking feeds is cyberbullying because it targets specific individuals. It's okay to voice your opinions and feelings on various topics, but you should be mindful of how your words and actions affect those around you.
Where Is Digital Citizenship Being Discussed?
Digital citizenship is a buzzword that's being thrown around more and more. It's being discussed online, in workshops, and by researchers. Digital citizenship encompasses the behaviors and attitudes someone exhibits when they participate on the internet. There are many ways to exhibit digital citizenship, but some of the most important elements are being responsible for oneself, respecting others, using trust in people and systems, and respecting one's privacy.
Digital citizenship is a part of internet etiquette and growing in importance as we move further into the digital era. Digital citizenship covers online privacy, personal use of the internet, and reducing potential risks when connecting to WiFi or accessing the internet. Digital citizenship, also known as internet ethics, is becoming more important as we move deeper into the digital era.

How to Teach Digital Citizenship and Cyberbullying in the Classroom
Good digital citizenship is an important part of the 21st-century classroom - the students need to learn how to use technology responsibly to be successful. However, the concept of good digital citizenship is often lost in the current generation of young people. This is because they've never had to use the technology in a way that would teach them how to use it responsibly. Therefore, teachers must identify the role of bullying in classroom life and what the role of technology could be in making it gradually disappear from our everyday lives altogether by re-designing the way we socialize, communicate and work with one another.
---
Download the entire collection of FREE Anti Bullying posters!
- 10 landscape-oriented posters
- 10 portrait-oriented posters
- available in high-resolution PDF and JPEG formats

---
How to Incorporate Digital Citizenship and Cyberbullying in the Classroom
Being a digital citizen is about being mindful, and kind and it can be helpful to introduce the idea to students as early as possible. Cyberbullying is a big issue for young people today, and schools and teachers need an effective way to combat the problem. Teach students how to incorporate digital citizenship and cyberbullying lessons into the classroom. Assure the students that you help them navigate cyberbullying and teach them how to use social media responsibly.
So many teachers work hard to incorporate digital and social media in their classrooms, but they often forget to teach students about digital citizenship and cyberbullying. If you see something online that makes you feel bad, it's not your job to attack the other person. Instead, you should take the post down, report it, don't engage, and block the person who is bullying.
Digital Citizenship and Tolerance
Schools should teach kids about digital citizenship and tolerance. Digital citizenship skills teach young people how to act in ways that show them respect, responsibility, and empathy in the digital world, where everyone is online and on screens. This includes making good choices, respecting privacy, trusting and supporting others, and being a good digital citizen. Digital citizenship skills help to develop resources, strategy and interest, and responsibility. Tolerance enables all people to have their right to free speech and the opportunity to work side-by-side with people of other races and other religions. Countries that practice tolerance can maintain peace and stability for a long time, which are two characteristics all people strive to achieve in their lives.
Digital citizenship and tolerance should be a topic of discussion with kids and adults so that they know the appropriate way to behave online.
---
Download the entire collection of FREE Anti Bullying posters!
- 10 landscape-oriented posters
- 10 portrait-oriented posters
- available in high-resolution PDF and JPEG formats

---
Difference Between Cyberbullying and Constructive Criticism
Cyberbullying is a form of violence. Sometimes, people characterize it as "just joking around," but there can be harmful consequences. Cyberbullying can include sending hurtful messages, sharing confidential information, or destroying someone's reputation online. On the other hand, constructive criticism isn't meant to hurt people. It's provided to help people grow and improve. It can be delivered forcefully, but it's not intended to be destructive. Teachers and even companies are often reluctant to give constructive criticism. They're worried about hurting the recipient's feelings or damaging their relationship. However, just because criticism is constructive doesn't mean it has to be harsh. It simply means that it's useful and meant to help.
The internet is an incredible tool that has opened up new avenues for people to interact with one another. Online interactions often bring out the best and worst in people. As we connected to the internet, cyberbullying has risen, and it's not uncommon to see reports of young lives ruined by these types of nasty attacks via social media and messaging apps. Digital citizenship can help people avoid this, and make the internet a safer place for everyone.