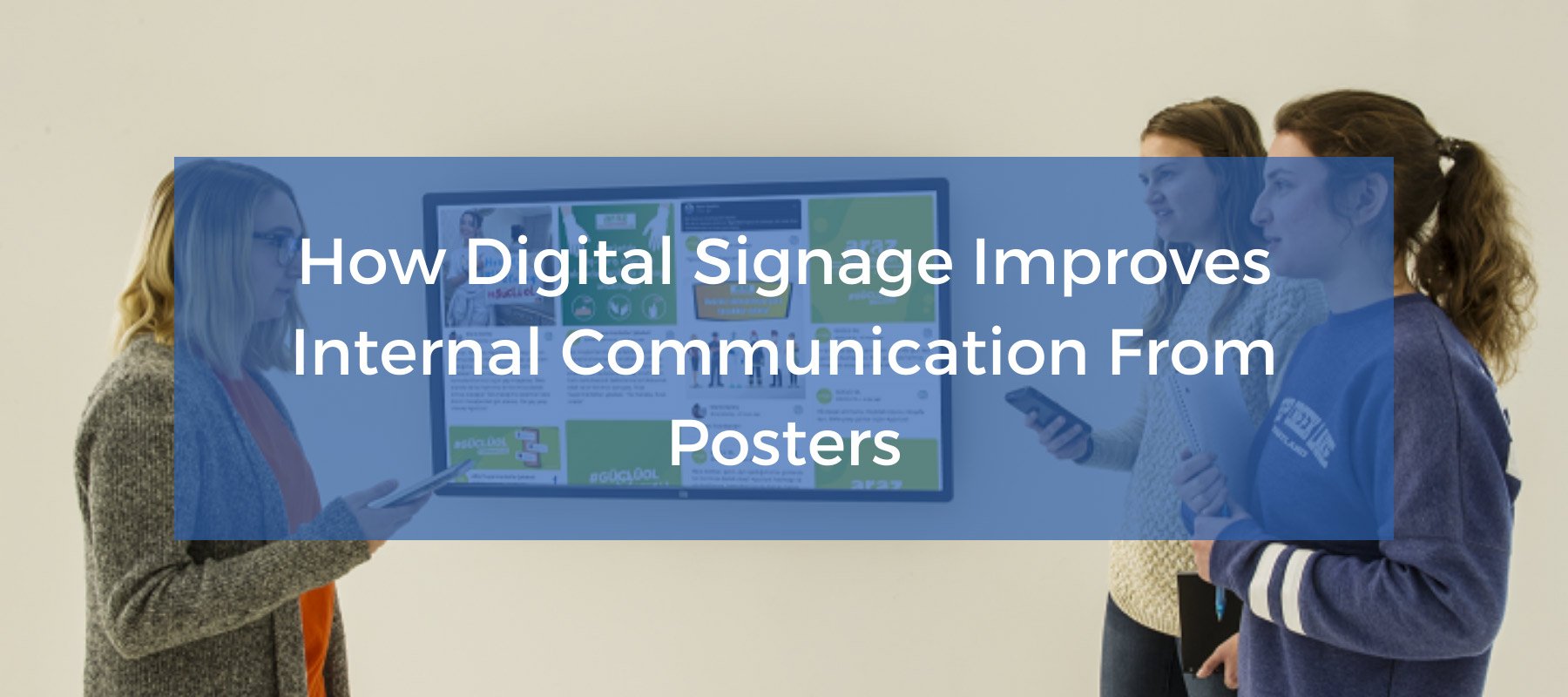 Digital signage has made a significant impact on the way people communicate. This new form of communication is a direct result of the advancement of technology. Digital signage was created for a number of reasons, although it is mostly used to maximize the importance of certain messages. The visual presentation of these messages on screens is capable of reaching a larger audience, which can be especially important for schools. The ability of a digital sign to reach a larger audience can help promote important messages that may not otherwise be noticed. These messages can include upcoming events or safety alerts. Digital signage is also capable of displaying messages that are time-sensitive which makes it easy to update information. A digital sign never needs to be updated because changes can be made in real-time.


What is Digital Signage?
Digital signage is the use of digital displays to present text, video, and graphics. There is an increased use of the technology by educators because it can reach large audiences quicker than print and it can display information in real-time. This means teachers can now redesign their classrooms by taking advantage of multimedia through digital signage. One of the advantages of digital signage is that it eliminates the cost of printing. It also communicates to parents how the students are progressing academically, and it provides teachers with a valuable tool for communicating with parents.
Advantages and Disadvantages of Digital Signage
Teachers are constantly trying to communicate with their students and parents in the classroom. In the past days, many efficient ways of communication have been utilized such as newsletters, phone calls, and posters. However, because of the digitalization era, there have been new ways of communicating with parents and students, like with digital signage. Digital signage allows for a fast and efficient way to communicate the change in school policy while also providing more information. Another advantage of digital signage for communication, over poster communication, is that it can make a note of what plays outside the school building while also displaying today's date and lunch menu using auto-updating templates. What's great about digital signage is that it can broadcast to different areas, allowing for a broadcast to all classrooms or just one. Another advantage is that it can broadcast to different areas, allowing for a broadcast to all classrooms or just one. It can also allow the user to have access to settings previously set up by administrative staff, allowing them to select a start and end date if they are playing a continual loop of videos.
Screens are great for announcing things, showing videos, and lots more. But the reality is that a lot of schools still don't have them. Even if they do, it is usually one or two and that is it. The expense of a new computer or TV might be the number one reason why schools don't have more. Although using digital screens is inexpensive, paying staff to monitor the equipment is difficult.
---
Download the entire collection of FREE Social and Emotional Learning posters!
- 8 landscape-oriented posters
- 8 portrait-oriented posters
- available in high-resolution PDF formats
---
The Impact of Digital Signage in K-12 Education
Digital signage is being used more and more in the K-12 sector, and for good reason. It's an excellent way for parents to stay up to date on what's going on at the school with a quick glance at the screen. So far, in the K-12 sector, it's being used for events, announcements, and student engagement. While there have been many benefits to integrating digital signage in schools, one downside is the cost. Usually, the digital signage for schools needs to be updated with new information regularly.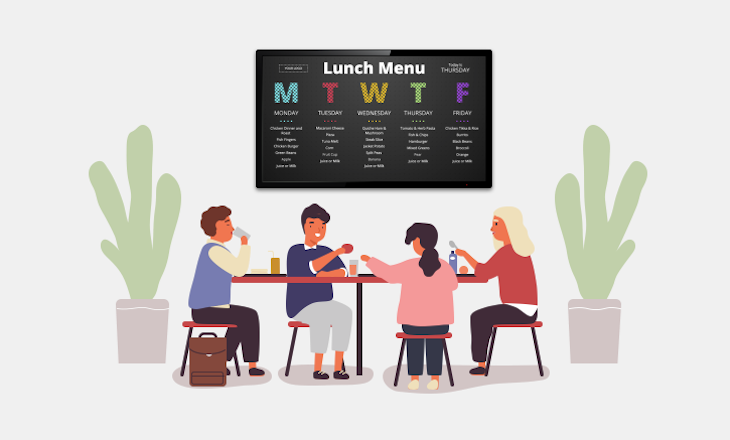 Digital Signage for Internal Communication
Imagine you're a teacher in a crowded classroom of students. How would you communicate internally what you wanted them to do without saying anything? You could use digital signage to show them what to do. Digital signage is a great way to reach parents and communicate things like school closings, emergency procedures, and the school's budget. It's a perfect medium for teachers to use to get information across. Creating lesson plans for students requires audio and visual planning. Using digital signage to enhance lessons simplifies things.
Clear and consistent communication is essential to a healthy, productive school. Parents and students want to know what's going on in school, and they want to feel like they're a part of it. Digital signage is easily accessible, and it can be used to convey information about the day's events, school notices, exercise/campaign reminders, and other information to students, teachers, and visitors who need to know about them.
In classrooms, digital signage can display key announcements or schedules that teachers want to keep on top of. Parents may also be able to monitor their child's progress with notifications from the school. Digital signage can also be used in the office, to give key messages on the screen, as well as outside of the office. Digital screens can be used for advertising, entertainment, or communications. Digital signage makes it possible to tailor your messages to your audience.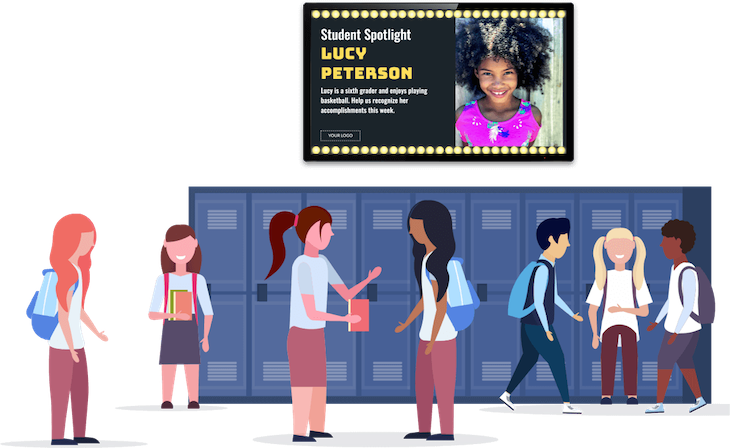 Examples of Digital Signage that Improves Communication in Education
Digital signage is an important communication tool that has the power to reduce feelings of isolation or loneliness among students by giving them a sense of connection. Internally, in some schools, digital signage is installed in classrooms and school libraries to reduce noise and distractions. Digital signage systems can also be used as a form of communication within a school, so teachers can efficiently relay important messages to students.
Digital signage has been increasingly replacing physical posters and banners on campuses. Digital signage offers a number of benefits over other forms of communication. Here are a few of them.
Benefit 1: Digital signage can be updated with new information and can be changed and updated remotely.
Benefit 2: Digital signage is easily seen from a distance, and all of the information is displayed all the time.
Benefit 3: Digital signage improves communication immensely because the information is always accessible and the images are high quality and easily customized.
---
Download the entire collection of FREE Social and Emotional Learning posters!
- 8 landscape-oriented posters
- 8 portrait-oriented posters
- available in high-resolution PDF formats
---
Digital Signage Improves Internal Communication More than Posters Online
Digital signage offers large organizations the opportunity to broadcast their message in a way not possible with simple posters. With digital signage, marketing messages can be customized to deliver the right messages to different stakeholders. Digital signage invites engagement and involvement by audiences in a way that no other media can, and has the capability to influence.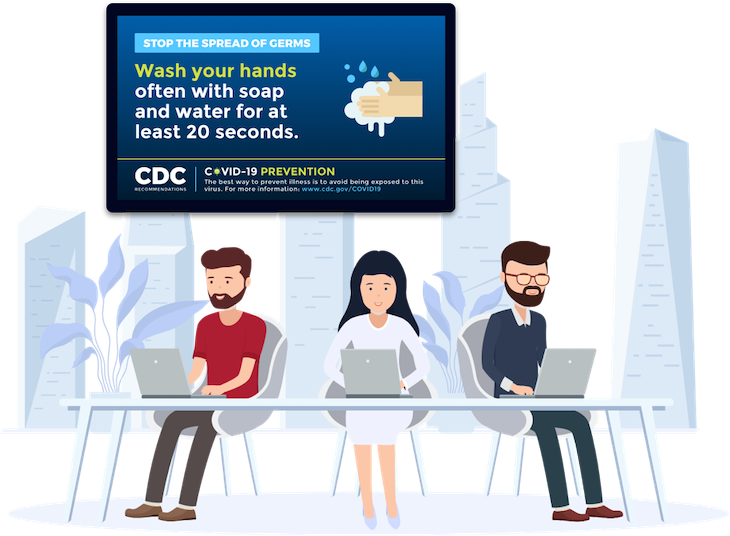 Digital Signage Improves Safety with Notifications and Alerts
Today, digital signage is a staple in most schools. Not only is it an amazing way to improve school safety through various notifications and alerts, but it also promotes student engagement and community cohesion. How does digital signage improve school safety? Many of the signs can broadcast an emergency notification in the event of an immediate risk. These messages are also audible, which is important in a school, where space can be limited.
Digital signage is a great way to keep people safe in public places where you can't always employ physical security measures. Safety digital screens are essential to school security as they provide notifications to parents that their children are safe, as well as alerts for any potential school emergencies.
Digital signage is a great way to improve school safety by giving parents a quick way to learn about the day's schedule and to be aware of any notifications and alerts, like a lockdown. It can work with something as simple as a poster, or a more complex system that can connect to the school's emergency system. By combining digital signage with video conferencing, it's even better for everyone to be receiving the messages at the same time.
---
Download the entire collection of FREE Social and Emotional Learning posters!
- 8 landscape-oriented posters
- 8 portrait-oriented posters
- available in high-resolution PDF formats
---
The Benefits of Digital Signage in K-12
Digital signage is a great way to communicate with staff, parents, or students. It can be used for a variety of things like carrying messages, such as about what lunch is today or how to get in touch with the school nurse. Digital signage can also be used to show videos or presentations, as well as display menus.
Digital signage uses colorful and engaging displays to communicate with students and staff. It's an effective way to get messages across about school rules, reminders, and other events. It's also important to have interactive engagement with digital signage in the classroom to keep students on-task and attentive. Digital signage can help to increase the amount of time students are attentive in the classroom, and it's a helpful tool for teachers for many reasons. Teachers find that kids are more receptive to learning when informative graphics are used showing pupils exactly what the assignment is and how it relates to their lives. In addition, teachers can use it to post important homework assignments for the student's eyes only as well as any assigned reading to be done before school the next day.
Allowing students to easily make their way around the school and find the room they need is a smart use of digital signage. The inclusion of digital signage in a school can be a very valuable learning tool. Digital signage can inform people about current events and it can be used for presentations. It can also be used for announcements.
Making Digital Signage More Effective than Posters
Digital signage is an effective way to get your message across in the classroom. It's a much more modern and flexible way to communicate with your students than traditional posters. Digital signage is a great way to show special announcements and important dates. It can also be used to showcase your school's goals and objectives. The hope is that by giving concise messaging to your students through digital signage, you can help them understand the role they play as members of your community and cultivate a positive environment for education.
In today's society, communication is essential. It's used for the public at large in order to share important information in a timely manner. This includes schools and universities. Many schools and universities have made the switch to digital signage in order to provide this important communication in a timely manner. Digital signage provides a timely visual message that can be accessed in every location at the school or university. For example, using digital signage is essential for a school that wants to relay an emergency. This would allow for the emergency to be communicated to every student, staff member, and visitor - fast. Digital signage is also imperative for a school that needs to relay important information to its students, such as exam information or deadlines. This method of communication is far more preferable than overcrowding a school notice board or taping signage to a whiteboard.