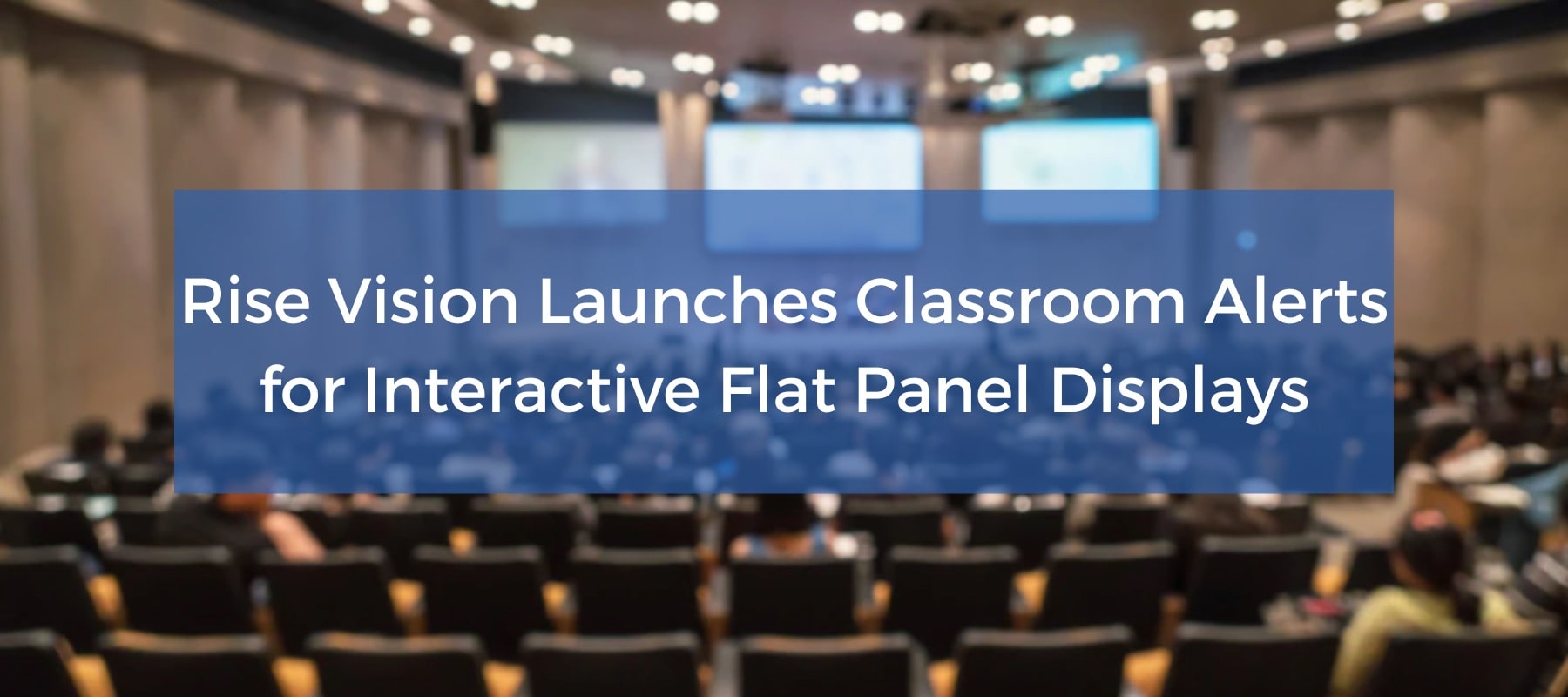 Rise Vision is the number one provider of digital signage solutions for schools. Our goal is to make digital signage robust and easy to use in order for school administrators to achieve their communication goals.
Ultimately, our free digital signage solutions are made to improve school communication and student involvement in order to create a positive school culture and learning environment.
As part of this mission, we are in the process of continuously improving our products to suit the needs of educational institutions. Recognizing that school safety is of utmost importance, Rise Vision has developed and launched a new feature built to communicate emergency alerts and crucial information quickly.
Why Create a Classroom Alerts Feature in Digital Signage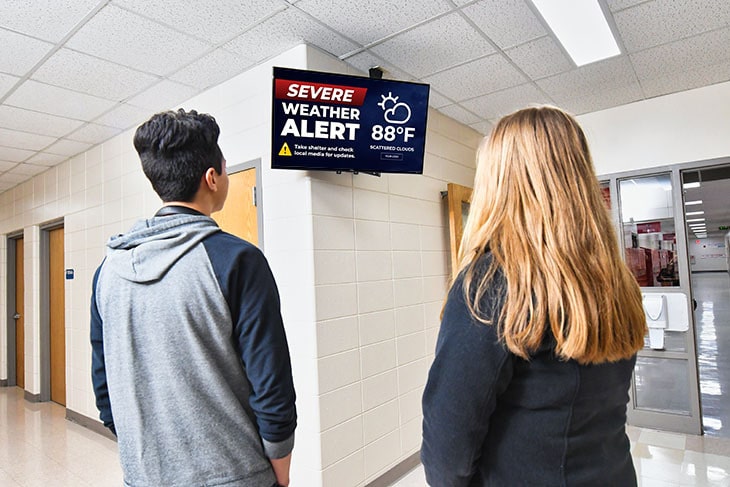 Emergencies can take place anywhere and at any time without any warning — schools, which are hubs of students, teachers, and other staff, are unexempted. Part of an educational institution's responsibilities is keeping everyone inside the four walls safe at all times.
It's important to have adequate and effective safety protocols in place. Along with the usual fire alarms and regular training for what to do in case of emergencies, schools should have a reliable emergency notification system that can disseminate emergency information within minutes.
This is why Rise Vision has developed and rolled out a classroom alerts feature in our digital signage solutions. This new update can help schools meet their responsibility of keeping students and staff safe by allowing them to:
Send notifications about emergencies quickly

Get alerts to a wider audience

Provide information using different media

Integrate emergency alerts with sirens

Disrupt classroom sessions with emergency alerts.
When asked why roll out the new feature, Brian Loosbrock, CEO of Rise Vision says, "We understand that school safety is of the utmost importance. That's why we've developed this feature, which allows schools to quickly and easily disseminate emergency alerts to their students and staff. It's a simple, yet powerful tool that can help keep schools safe."
How the New Classroom Alerts Feature Works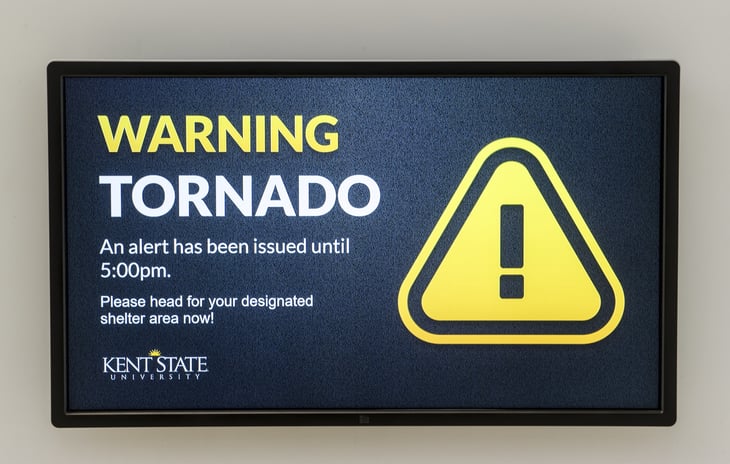 The new alerts feature allows school administrators to quickly broadcast emergency alerts or crucial information to students wherever they may be on campus. It's supported by passive digital signage in cafeterias, libraries, and dormitories, as well as interactive flat panels used as teaching tools in classrooms and lecture halls.
The feature is supported by most digital signage brands, including the following:
Promethean

SMART Technologies

Clear Touch

Clevertouch

Boxlight

Newline

BenQ

ViewSonic

Avocor

And more!
In the event of an emergency, school operators can quickly send an emergency alert to all displays around campus. When the display receives the alert, the screen will be interrupted — that means all lectures or content stops and the alert will be presented in their place.
This quick deployment allows students, teachers, and other staff members to quickly get notified in case of emergencies, whether in the form of common alerting protocol (CAP) alerts or other emergency notifications.
Rise Vision has partnered with various reputable emergency alert providers to deliver CAP alert notifications for its digital signage solutions. These include:
PunchAlert

Omnilert

Rave Mobile Safety

Alertus

Singlewire Software

AppArmor

CrisisGo.
With our partners, we have developed emergency notification functionality for the Rise Vision digital signage software.
As a result of the new feature, everyone can react quickly and conduct the appropriate safety procedure, whether that means evacuating the building in case of a fire, staying indoors in case of severe weather events, to duck, cover, and hold in case of an earthquake, or being vigilant in case of a school lockdown.
Alerts can be customized using Rise Vision templates, giving schools a plethora of designs to choose from that can attract attention and establish urgency.
The new feature is not limited to emergencies, though. Schools can also use it to disrupt classes in case of important announcements from the principal or superintendent. They can also conduct video streams to speak to students anytime and anywhere they may be around campus.
The classroom alerts feature makes communication easier, allowing schools to reach a wider range of students and staff quickly. Not only that, but the alert's disruptive nature and templates can catch everyone's attention, ensuring that they see and absorb the information presented.
The addition of the new feature helps schools in satisfying one of their most crucial responsibilities — keeping everyone on campus safe. By leveraging the alerts system, schools can much better disseminate safety information and ensure that everyone is given enough time and information to react and protect themselves in the event of an emergency situation.
The Rise Vision emergency alerts feature is also made for commercial applications to use in universities, hospitals, office buildings, and more.
How to Get Started With the Classroom Alerts Feature
Schools should take advantage of the new feature to level up their safety protocols and be ready in case of an emergency. It's easy to get started using the new feature and integrating it into the Rise Vision digital signage software is a breeze. Here's how:
1. Pick a Template

There are various Rise Vision templates for different applications. For emergency alerts, we recommend you use the high-contrast emergency notification template to create a sense of urgency. If your school is located in an area where tornadoes are prevalent, use the CAP alert warning template.
Rise Vision also has See It Say It templates that encourage viewers to report suspicious activity. Using this in your digital signage and flat panel displays can help prevent and deter emergency situations.
2. Activate the Display
Connect your display to the media player and enter the activation code in the Rise Vision digital signage software. This will reveal your chosen template. We recommend you continue exploring and adding different templates to suit unique emergency events.
3. Conduct Test Alerts
You shouldn't wait to use the emergency feature until an actual emergency takes place. Your students, faculty, and other staff members need to be aware of how these alerts will look and what to do if flashed on their classroom screens.
Schedule a test broadcast at a convenient time. Speak to your faculty about them so they know what to expect and how to explain the broadcast to the students. Conduct a couple of tests periodically so that everyone is prepared when an emergency strikes, think of it like fire drills.
About Rise Vision's Digital Signage Solutions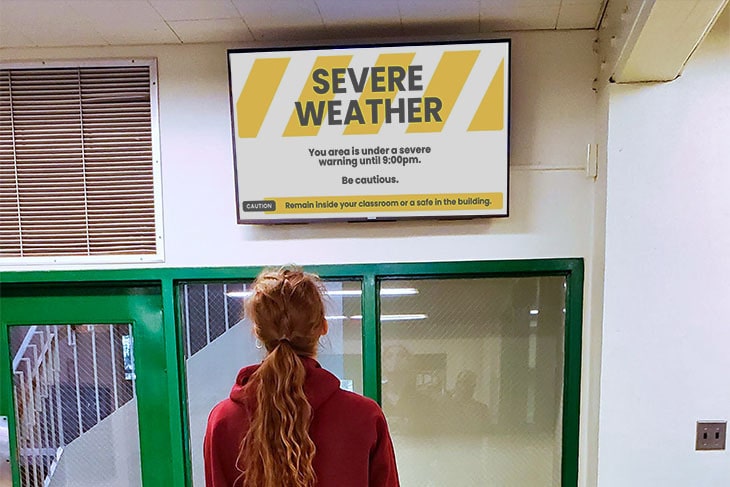 Rise Vision is a cloud-based digital signage software made for schools and educational institutions. Our features are designed to improve communications and enhance student engagement in order to foster a strong learning environment and positive school culture.

Protect Students and Staff From Emergencies Today
Rise Vision has over 39,940 active displays across 9,000+ organizations. Join other schools like Montana State University, Chicago Public Schools, Cullman County Schools, and Barrow County School System in protecting students and staff with Rise Vision's new classroom alerts.
For more information about our solutions and the new classroom alerts feature, reach out to us or click here to watch a video.