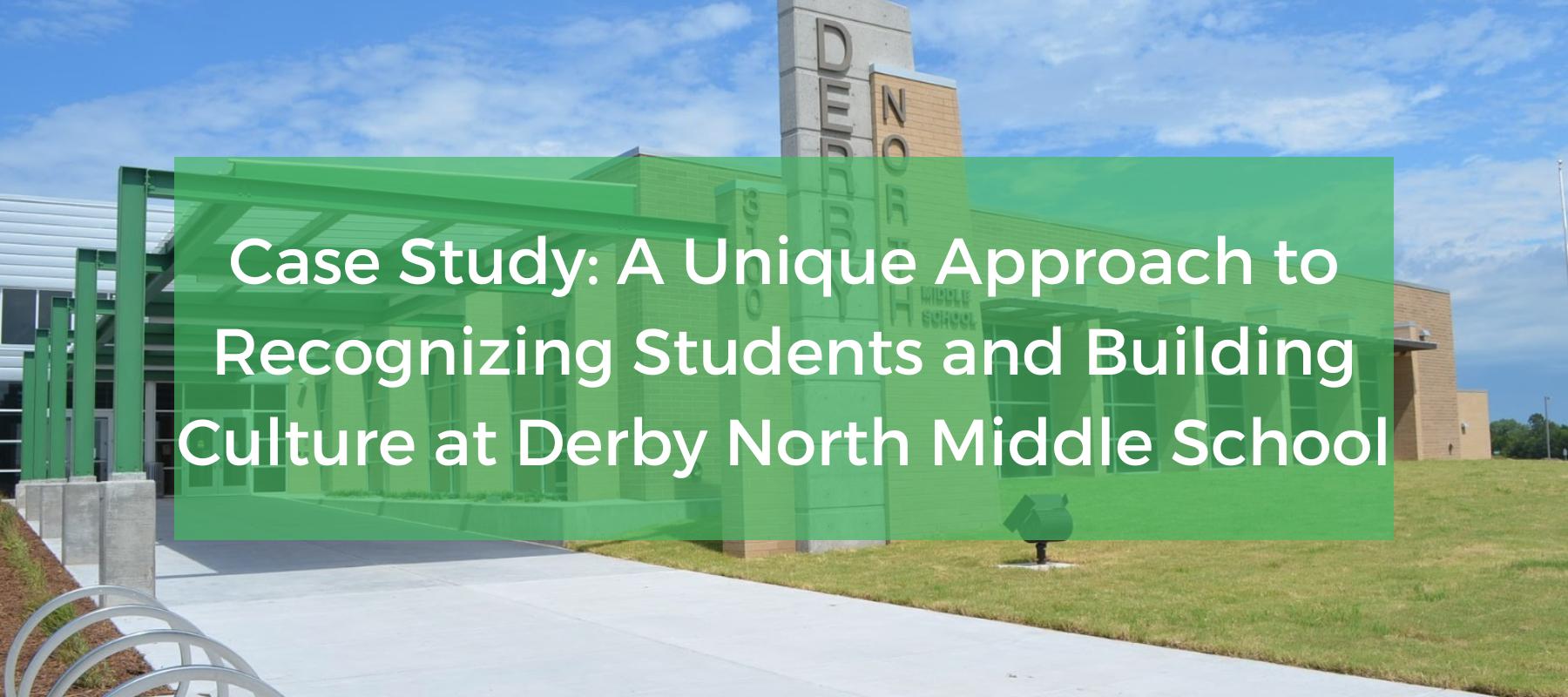 Derby North Middle School (DNMS) located in Derby, Kansas, serves grades 6-8 and caters to over 800 students and over 100 staff.
Having this many people you need to relay important information to requires an effective means of communication. This is especially true when your main goal is to increase student recognition and build culture.
This is where Jeff Smith, Derby North Middle School's Principal, and Rise Vision come in.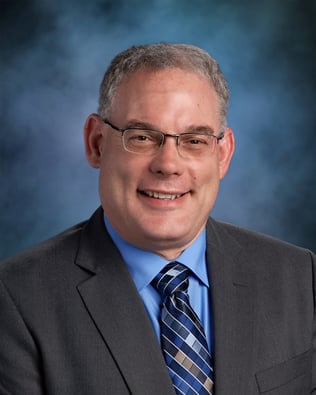 Jeff Smith, Principal of Derby North Middle School in Derby, Kansas
---
After being a Principal in the Derby school district for over 15 years, Jeff Smith knows the ins and outs of his school well.
His extensive experience overseeing operations has enabled him to identify areas for improvement and come up with creative and innovative solutions that many otherwise wouldn't be able to.
The Problem: Difficult and Complicated Digital Signage and Low Student Engagement
A couple of years ago, Jeff realized their digital signage was not benefiting DNMS. This was because of a few reasons:
It was difficult to operate and required a high level of technical skill to use
Inconsistent operating uptime
The software support ended due to the provider going out of business.
With a very busy schedule, Jeff and his staff needed digital signage software that was going to work well consistently and that was easy to operate.
---
"We needed something cool and functional for our digital signage that anyone could use"
-Jeff Smith, Principal at DNMS
The Solution: Rise Vision and KCAV
Derby North Middle School works with Kansas City Audio Visual (KCAV), a Rise Vision partner, who has been helping other schools and businesses set up and maintain their audio-visual equipment for over 65 years.
During a meeting with KCAV, Jeff happened to mention the issues DNMS was having with their digital signage and KCAV recommended Rise Vision as a solution because it solved every issue they had with their previous provider:
Rise Vision can be set up and running in under 5 minutes by anyone and has a support team to answer questions and provide training when needed
Rise Vision is a cloud-based digital signage solution with over 99% uptime (messages display when you need them to)
Rise Vision has been in operation since 1992 with a proven track record of 1,000s of clients specializing in digital signage software for K-12 schools.
Jeff immediately saw the value and jumped on rolling out Rise Vision in his school.
After getting comfortable with Rise Vision and setting it up on his 4 displays in their cafeteria and 1 display in their front office area, Jeff began to innovate.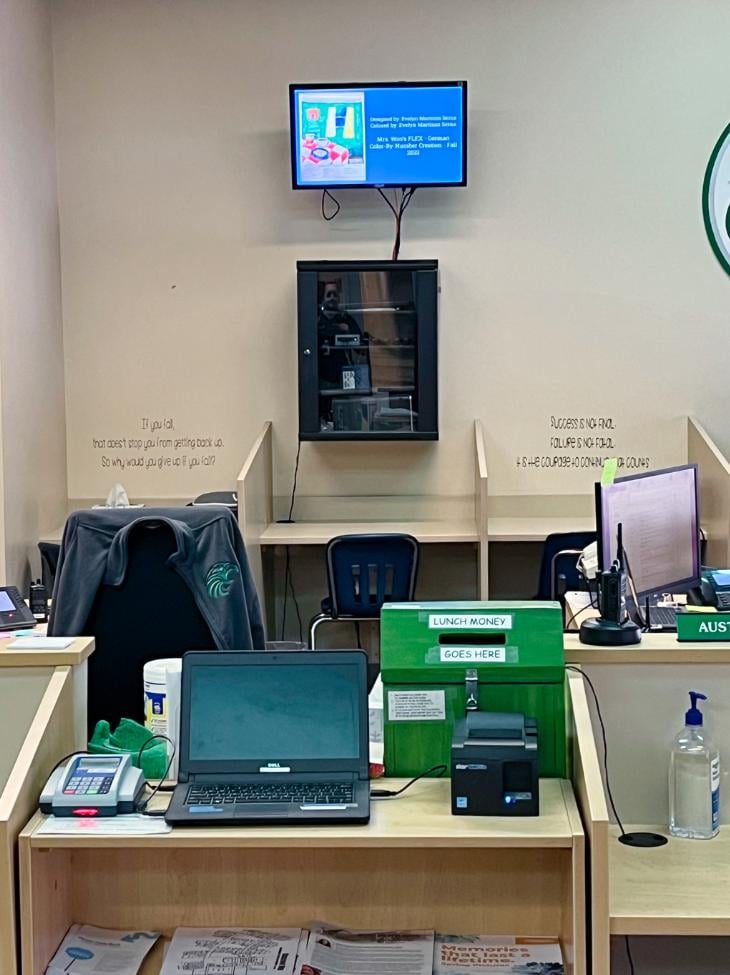 Display running Rise Vision in DNMS's front office showing art a student made
---
With limited time available, he realized that creating high-quality engaging, and original content would be the key to getting maximum value out of Rise Vision.
Given this, he identified an opportunity to increase both student engagement and recognition in his school while generating high-quality content on his displays.
---
"I could be a tech guy, but I don't have time to be a tech guy. The plug-and-play aspect of Rise Vision coupled with the ability to delegate roles and have it still keep chugging along is wonderful"
-Jeff Smith, Principal at DNMS
DNMS Encourages Students to Create Content
After Jeff developed the strategy to involve students in generating new content at DNMS, he sought out a software that would help him streamline the process called "Class Intercom".
Class Intercom works like this:
Students create photo and video content, and write a post about DNMS
They use the Class Intercom app to select which school social media channel to post the content to
The content then gets delivered to moderators (eg. Jeff) at DNMS who approve the content or send back changes to the student
Once the content is approved by a moderator, it gets published on the DNMS's social media accounts.
This innovative process gives students an easy way to be a part of DNMS's social media, and contribute to school culture in a meaningful way that not only their peers pay attention to, but also that parents pay attention to.
So you might be asking, "What does Class Intercom have to do with Rise Vision?".
Since Jeff is smart, he knows that Rise Vision has templates for almost anything including pushing school social media posts to his displays.
After Class Intercom was set up, Jeff used the Full Screen Twitter Template and the Tagbox Social Wall Template to link their social media accounts to their Rise Vision displays.
Once students' content was posted on the school's social media accounts, it could be easily viewed on displays across DNMS with barely any additional work being added to his staff's plate.
Having student content appear on both school displays and social media channels made students feel good about their work and encouraged them to be a part of the DNMS culture.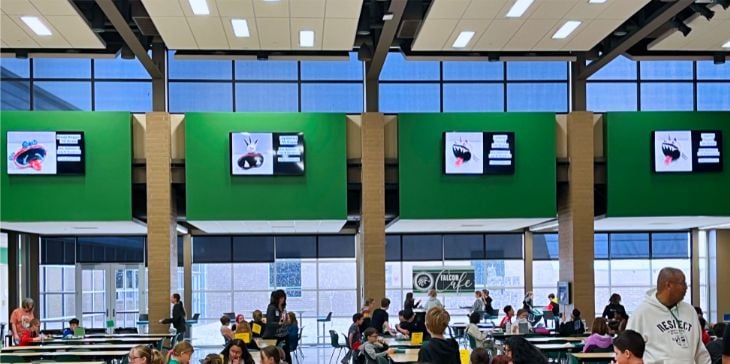 4 displays running Rise Vision in DNMS's cafeteria recognizing different art pieces students made
---
Jeff's future plans are to expand on school-specific content generation by including motivated staff who want to be a part of Rise Vision and social media to suggest, create, and build content.
Since DNMS yearbook staff are already collecting photos and stories throughout the year, including the yearbook program will also be a focus because it will serve as a low-resource, low-cost way to generate large amounts of high-quality content for displays and social media.
Furthermore, he plans on introducing a new class on video production where students' work will get shown on Rise Vision displays, which will motivate students and improve school culture.
---
"The best thing about Rise Vision is it allows us to meet our goals in a very accessible way. There's probably 100 different ways to do this, but this is the best way I've ever seen"
-Jeff Smith, Principal at DNMS
Build Technology into Your School to Foster Engagement
As technology advances, it's clear more opportunities are being created that empower schools to better connect with their students, increase engagement and motivation, and build school culture.
Jeff Smith at Derby North Middle School serves as a perfect example of how to use technology to improve culture and better engage students.
To learn more about how other schools are using technology to increase school engagement and culture, click the links below.