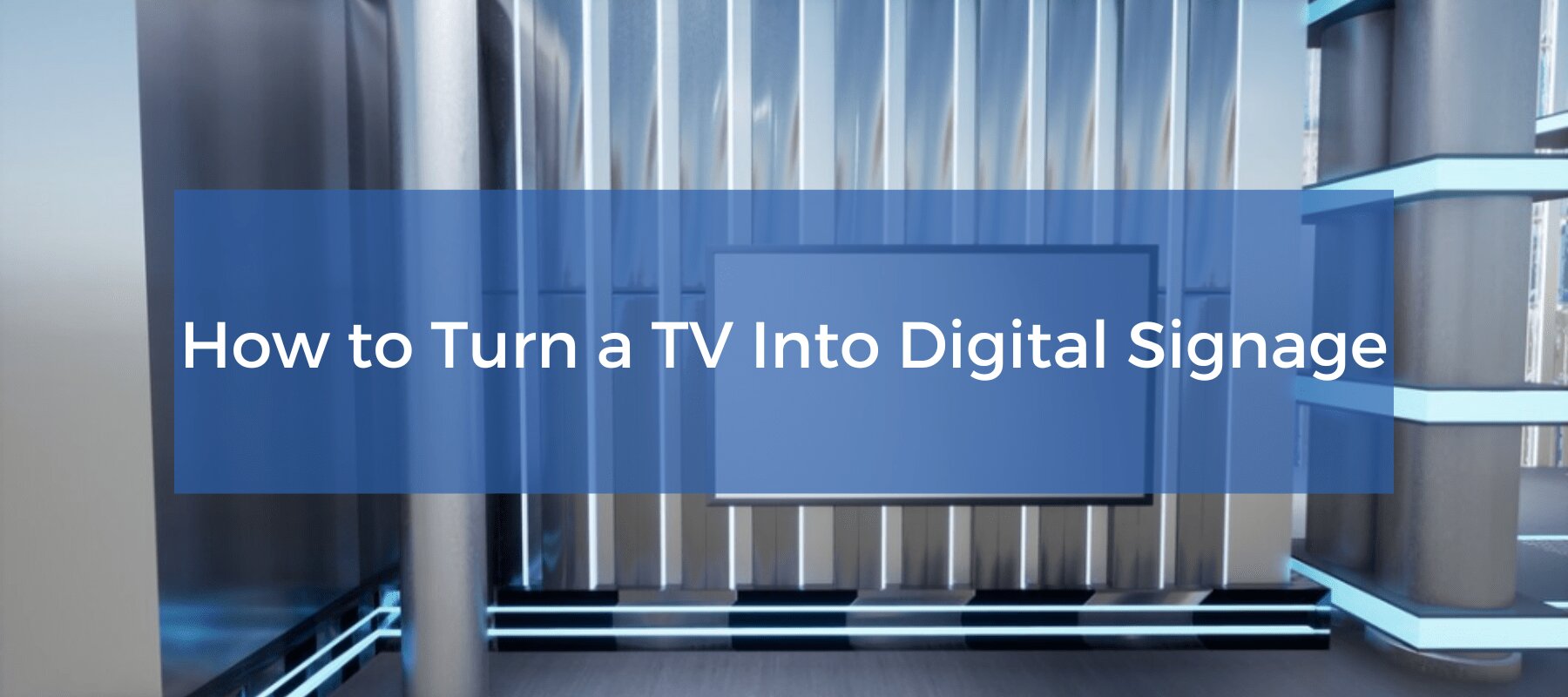 If you want to try digital signage technology but aren't up for spending too much to set it up, you may have considered repurposing your TV. While this is possible with any type of modern TV, there are minimum requirements that your tech needs to meet in order to be set up for digital signage.
What a Digital Signage Needs to Work
Before we go into how you can set up your TV for digital signage, let's take a look at the components that make up a digital sign so you can determine if your TV can support them. Digital signage requires the following:
Display

Digital signage player

Digital signage content management system (CMS)
Your TV screen is the display, so you can check that item off the list. However, to be utilized as digital signage, the TV must support connectivity with a digital signage player that can run a digital signage CMS to deliver high-resolution and quality content.
Choosing a TV for Digital Signage
Whether you already have a TV that you're looking to turn into digital signage or you're just about to buy a new one, there are a couple of things that you need to consider to ensure that your digital sign is optimized.
Size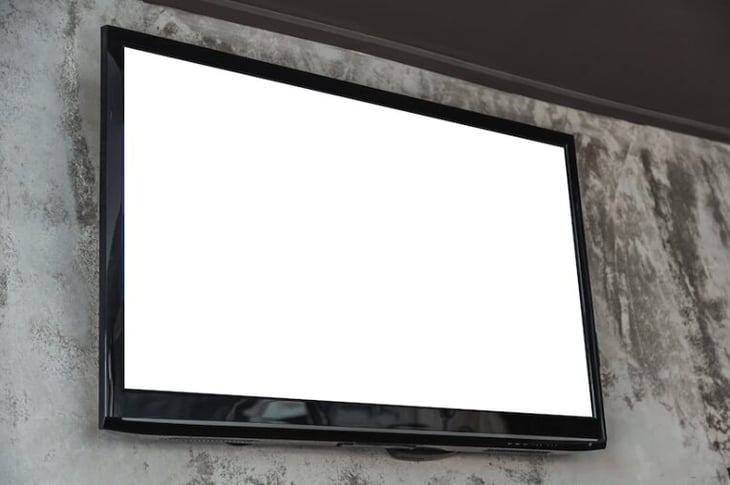 Size is an important requirement to meet when it comes to digital signage. You have to display content on a screen large enough to be visible and readable for potential viewers while ensuring that the size of the screen is relative to where you plan on placing it.
Take a look at your space. If you're displaying digital signage in a small room, a medium-sized screen may be enough to fit the bill. But if you're placing the sign in a large, open-spaced lobby or a long corridor, you may need a bigger screen size so your content can be viewed from afar.
To accurately determine how big your screen should be, calculate the proper distance between the display and the potential viewer. Here's a little cheat sheet you can refer to.
| | |
| --- | --- |
| Distance between the screen and viewer | Recommended TV size |
| 6 feet | 43 inches |
| 8 feet | 57 inches |
| 10 feet | 71 inches |
| 12 feet | 86 inches |
Resolution
TVs come in either Full HD (1920 x 1080 pixels) or Ultra HD/ 4K (3840 x 2160 pixels) resolution. For digital signage, a TV with a 4K resolution is most recommended because of its higher pixel count, which can display sharper and clearer images, smoother transitions, and more vibrant colors.
The better the resolution, the more optimized the viewer experience is, allowing you to maximize the effectiveness of your digital sign.
Wall Mount
Next, ask yourself where you plan on placing your TV screen. Most TVs come with monitor stands upon purchase, which will allow you to put the screen atop a desk, shelf, or counter. But if you're looking for a more seamless installation, you might want to consider mounting the TV on a wall.
For this, you may need to purchase a separate wall mount. Mounts and brackets come in many different types, so make sure that you get one that is versatile enough for the content that you want to display. Your best options are:
Swivel mount

- Allows corner installation.

Tilt mount

- Allows you to install the TV higher and tilt the screen downwards.

Fixed/ statutory mount

- Supports the installation of multiple screens placed in line with each other.



Wi-Fi Connectivity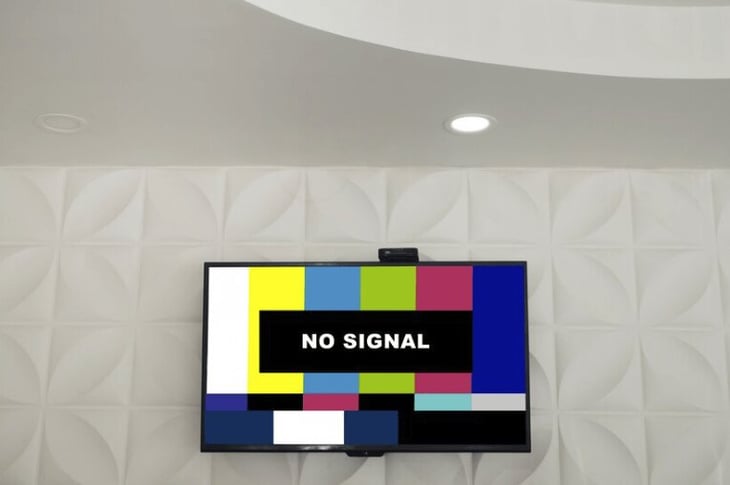 While it's not required for your TV to support Wi-Fi, you may want to consider it to minimize wiring and support remote access through your CMS. Most modern TVs already do support Wi-Fi connectivity, so this shouldn't be much of a problem.
You'll still have to ensure you have a reliable Wi-Fi connection, though, that can handle the speed and resolution your content requires. Generally, 25 Mbps is enough to operate digital signage alone. But if you're using the same router for multiple devices, you'll need a higher Wi-Fi speed.
Technical Considerations
Now that you know the TV specifications you need to support digital signage content, you can move on to learning the technical considerations. Here, we'll explore other elements that you need to keep in mind before setting up your TV for digital signage.
Location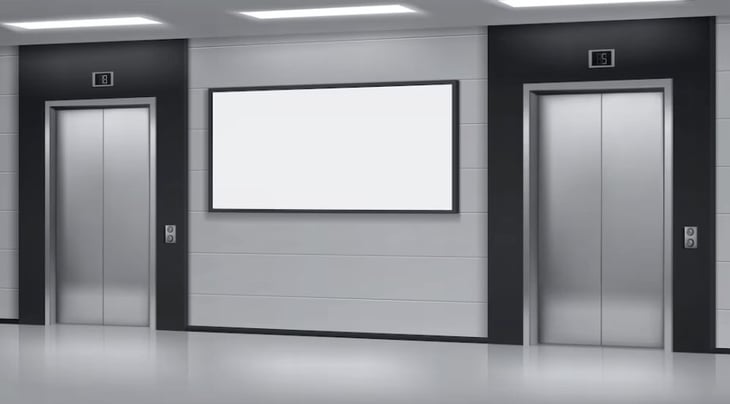 Where you put your digital signage is crucial to achieving your goals. Aside from putting it somewhere with a lot of foot traffic, you also have to consider the design of its placement.
As a general rule, your TV should be mounted to a blank wall with minimal to no visual distractions. You want your screen to be the center of attraction so that the viewer's eyes gravitate to the content. Minimize any excess stimulation, such as graphics on the walls or nearby paintings.
Lighting
Finding a spot for your TV screen is easy. But before you completely decide, make sure that you're taking lighting elements into consideration. Any sources of light that touch your TV screen can cause glare, which will make your content unreadable.
Before drilling a hole in your wall to mount your TV, hold it up to your desired location at different times of the day. Take a look at the screen from different angles and make sure that there are no light sources creating a glare.
Wiring
No matter how good your content is, messy wiring can distract the viewer from fully appreciating your digital sign. Make sure that you're organizing your cords and as much as possible, keeping them out of sight.
To do this, you may want to consider putting your TV near a power outlet or Wi-Fi router box. Even better, run the wires behind your walls so all the cables are hidden.
Sound System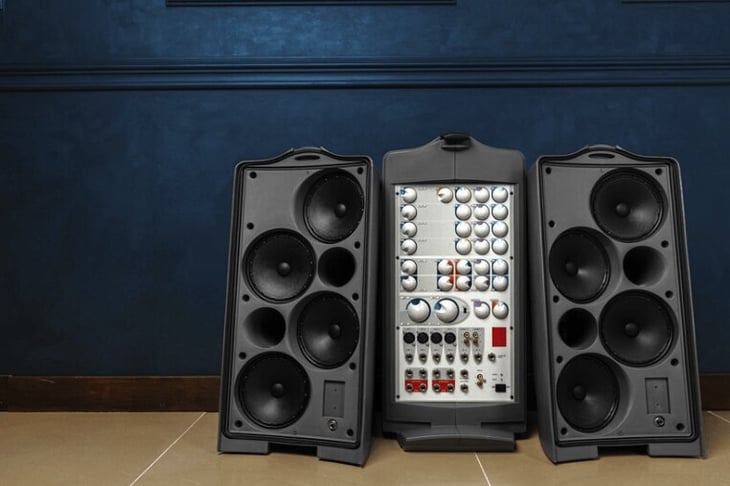 While there are digital signs that do not incorporate any sort of audio, you may want to level up the viewer experience by adding music or narrations to your digital signs. TVs come with their own sound systems, but these are often poor quality and won't suffice for commercial applications.
Consider installing an external sound system, whether that's a Bluetooth speaker, a wired system, directional speakers, or surround sound.
Video Player
Now onto the crux of your digital signage; the media player, which will allow you to stream your content and switch between digital signage software easily.
There are plenty of options in the market, such as Google Chromecast, Amazon Fire Stick, or Apple TV. There are even dedicated media players used explicitly for digital signage, but these may be less versatile than the market options.
Standardization
If you're planning to install multiple TVs to display different types of content, you need to standardize your equipment to support all of them. There are two ways you can do this. Either you purchase multiple media players to operate each TV or you use an HDMI splitter, which connects a single media player to multiple monitors. The latter is the most economical option.
While you're standardizing your TVs, make sure you're thinking about how you plan on hiding all those cords and connectors.
Screen Displays
Now that you've got all the technical stuff out of the way, you need to think about how you're going to create and manage your content next. The good news is that there is a plethora of software you can use to create content for your screen displays.
Ultimately, look for one that allows seamless operation and supports various types of media.
Turn Your TV Into Digital Signage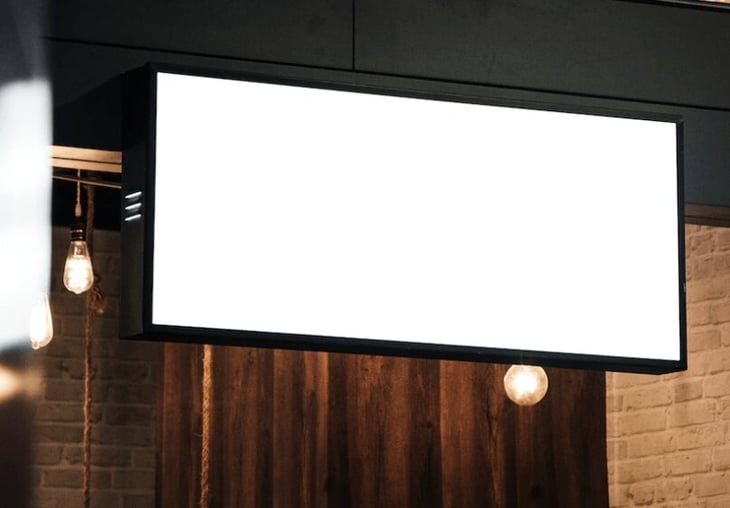 Repurposing a television for digital signage is an economical way to take advantage of digital signage technology. As long as you keep all the technical considerations in mind and fully optimize your TV to work as intended, you should be able to deliver content to your audience that will connect and convert.
Power up our old TV with robust digital signage software from Rise Vision, an easy-to-use cloud software that works with any screen and media player. We offer you the Rise Vision Media Player Hardware as a Service solution, a subscription media player with a simple plug-and-play setup. Connect it to your TV, Internet, and Rise Vision account and get started deploying your message.
If you want to upscale your digital display, you can subscribe to our Avocor R Series Hardware as a Service, which comes complete with a display and built-in media player to reduce your hardware costs.
Both subscriptions include full hardware management and support from Rise Vision. We'll handle the technical side of digital signage management and implementation — just focus on creating stunning content that connects with your audience.
Get started with one of our subscriptions today. Contact us for more information.