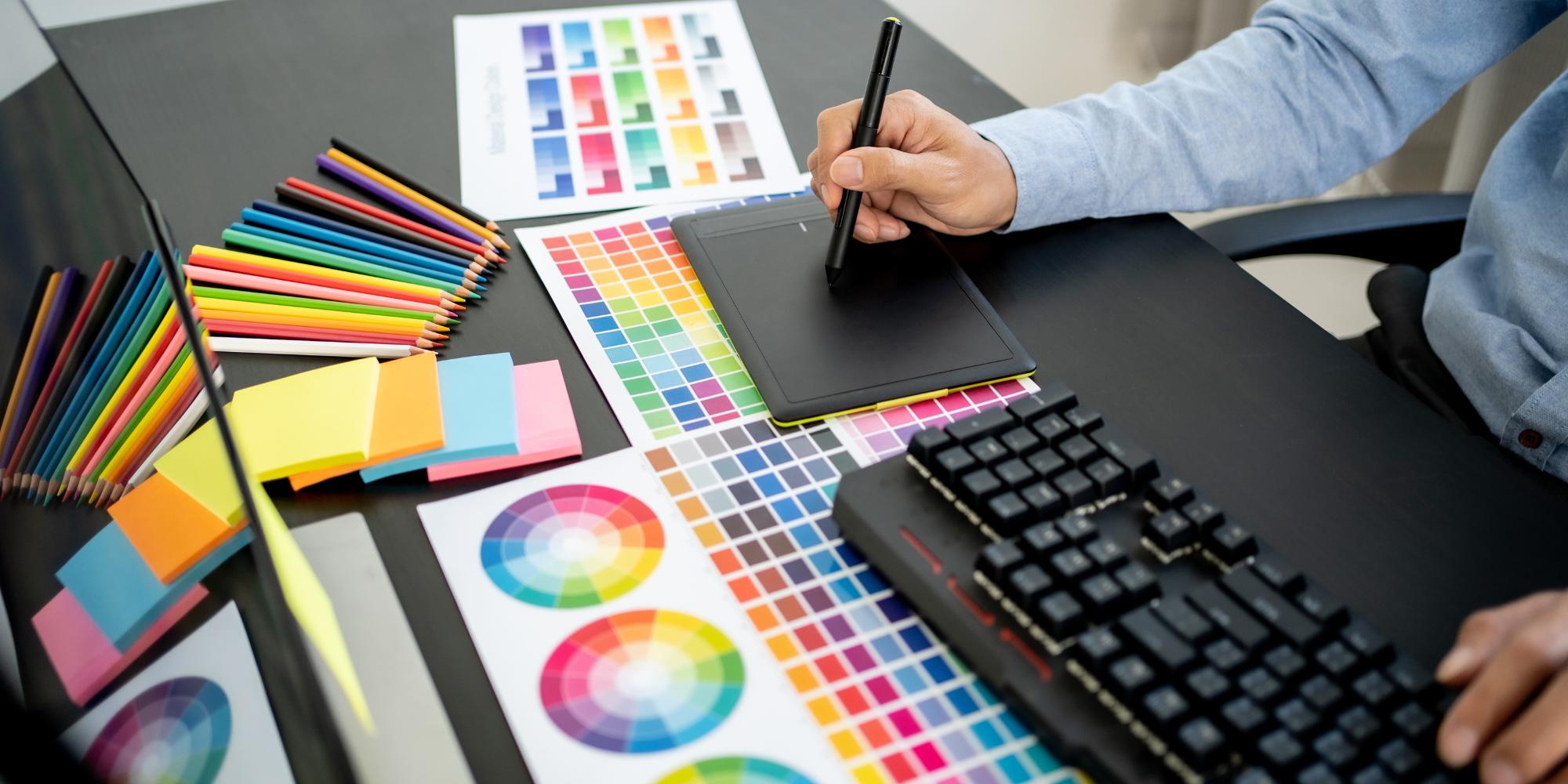 All the software and hardware involved in a digital signage network are just supporting roles that complement and highlight the most important aspect of your display — the content itself!
Studies show that humans are highly visual creatures who can remember more than 2,000 pictures with at least 90% accuracy in a span of several days. With this in mind, it's safe to say that the only way to truly take advantage of all the benefits of digital signage for your business is to create stunning content that connects and converts.
But how do you do that? Depending on your business's preferences, needs, and bandwidth, you can create impactful content for your digital signs in one of three ways (or a combination):
Using templates
Hiring your own designer
Using the plethora of content creation tools at your disposal
3 Ways to Create Digital Signage Content
We gave you a sneak peek of the three common ways to create digital signage content. Let's take a deeper look at each of them.
Using Content Templates
Digital signage software (like Rise Vision)does more than just help you manage your screens and deploy your content. They also come with built-in templates and content creators that you can use to easily whip up your graphics and publish them onto your screens.
Rise Vision, for example, has over 500 templates that you can customize to suit the purpose of your content, whether a campaign, emergency alert, or holiday greeting.
Your software's content creation features may also come with tools that you can use to change colors, fonts, text, or media. Depending on the demands of your content strategy, you might be able to get away with creating content solely with the use of your software templates.
However, if you need more unique and bold designs that align with your branding, you have other options.
Hire a Design Team
You can also create your digital signage content in-house by utilizing your company's design team. With copywriters, graphic designers, and video editors in your arsenal, you can create digital signage content that takes the best design practices into consideration, from color palettes and contrasts to white space and typography.
If you don't have a design team that's ready to take on your digital signage content strategy, you can also hire a design agency or freelancer who can do the work for you. Just provide them with a detailed brief about the project so they know how to go about creating your content.
Use Online Content Creation Tools
If hiring a design team isn't an option, the good news is that you can also DIY your digital signage content creation. There are plenty of tools online that make it easy for anyone to create stunning graphics, videos, and other media — even non-designers!
These tools or applications will come with a boatload of features, templates, and capabilities for your content creation needs. We identify the best ones in the market below.
The Best Digital Signage Content Creation Tools
When it comes to looking for apps and online tools to create digital signage content, your options are almost limitless. Here are the best ones with intuitive features and functionalities that will meet any design need.
We categorized the tools according to media type, from images, presentations, and videos to live and interactive content.
Images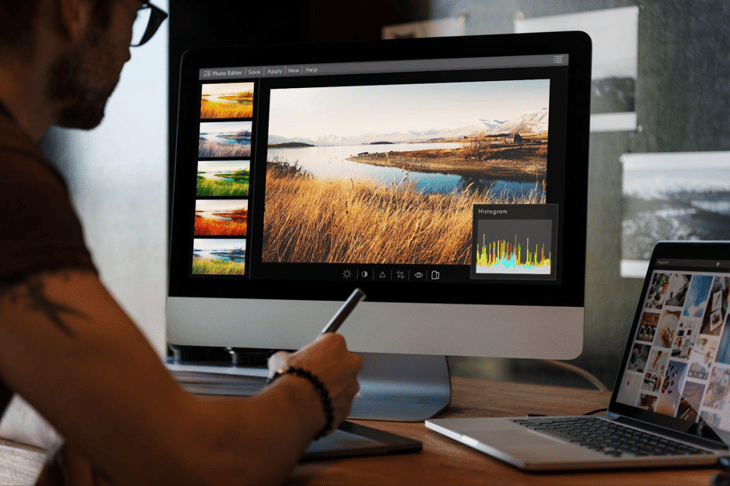 Adobe Photoshop
Adobe Photoshop is the most popular photo editing and graphic creation tool in the market. It comes with advanced features that allow you to manipulate photos to suit your brand, whether that means changing the background color or removing or adding elements.
Adobe Spark
Adobe Spark features templates that can help you create digital signage content in a breeze. Every template is customizable — you're able to add text, backgrounds, clipart, and other media that align with your brand and help communicate your message.
Canva
Canva is a web-based design tool that features a range of templates that can get you started on creating marketing content, from social media posts to digital posters.
Every template is customizable, allowing you to change colors and fonts, add clipart and media, and even play around with transitions and effects.
Mockups Jar
Show your audience a digital render of your product with Mockups Jar. It's a useful tool for clothing brands, software developers, book illustrators, and product designers, among others, allowing them to create visual representations of their products on screen.
Pixlr
Pixlr is a more beginner-friendly version of Adobe Photoshop, offering features that allow for photo editing and graphic creation. The web-based tool also comes in the form of a mobile app that you can access on any device to create your digital signage content.
Placeit
Placeit is a stock image platform that helps businesses create product mockups. It allows you to easily upload your product images to lay over stock photos, creating images that show customers how your products look when used.
Stock Photo Sites
If you don't have the capacity to take your own photos for your marketing collaterals, you can get some from stock photo sites available all over the Internet!
You can choose between free platforms like Unsplash, Pexels, and Pixabay, or paid sites like iStock, Shutterstock, and Adobe Stock.
VSCO
VSCO is an intuitive design app that you can access using your iOS or Android device. Its primary function is image editing, offering filters and other photo processing settings to create high-quality photos for your digital signs.
Presentations and Charts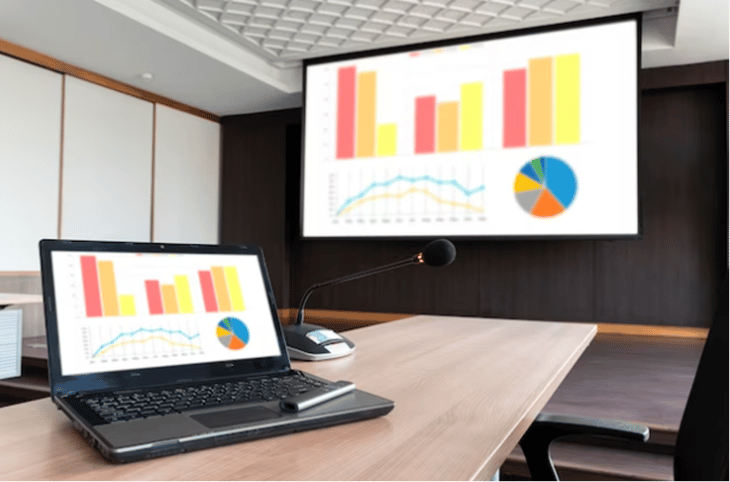 Adobe Captivate
Originally used to create and design e-learning courses, Adobe Captivate offers a suite of features that you can use to create dynamic presentations and charts for your digital signs.
It allows you to integrate PowerPoint slides, virtual reality content, polls, quizzes, and more into the app so you can create engaging content for your displays.
Gitmind
Especially useful for office digital signage, Gitmind turns all your ideas and data into an aesthetic and digestible mind map. It allows you to choose from multiple templates suited for different applications, from brainstorming sessions to system development life cycles.
Google Data Studio
Google Data Studio is a tool that pools your business data from popular sources like Google Analytics, Google Search Console, Google Drive, Google Ads, and more and converts it into comprehensive dashboards fit for your digital display.
Google Drawings
Google Drawings is a Chrome extension that allows you to create charts and diagrams for data presentation. It can be integrated with data tools, whether Google's or otherwise, to easily incorporate metrics into your content.
Google Slides
Google Slides, a cloud-based presentation platform, is a powerful tool for creating a range of digital signage content. It comes with templates, slide transitions, and design functionalities that are all intuitive and easy to use.
Microsoft PowerPoint
The classic Microsoft PowerPoint allows you to create stunning presentations to display on your screens. With templates, text transitions, and embedded content capabilities, this familiar tool makes it easy to create valuable digital signage content.
Picktochart
Instead of using text to communicate data to your viewers, use Piktochart to transform them into attractive and compelling infographics. The tool is easy to use — you just have to upload your data and choose from the range of templates and customization options the platform provides.
Prezi
Similar to Google Slides and Microsoft Powerpoint but more focused on design and seamless transitions, Prezi provides you with a large canvas to freely design your digital signage content.
It has a handy zoom feature that enables you to zero in on design elements and add emphasis to your presentation.
Veed
Web-based video editing tool Veed makes it easy for you to edit content and customize it to suit your brand. With features for cutting clips, adding captions, attaching music, and overlaying text, it can turn plain footage into a dynamic video that begs to be noticed.
Venngage
If you want to show data and numbers on your digital signage, you need to utilize a tool like Venngage. The platform allows you to create stunning graphs, charts, and infographics that communicate your data in a visual, digestible, and engaging manner.
Visme
Visme is a data presentation tool that transforms boring numbers into stunning presentations. It comes with templates and animations that help you present stats and data using compelling visuals your viewers will love.
Vizzlo
Vizzlo is an online data visualization tool that converts your data into visual charts and graphs. There are templates for any statistical design you may need, from bar charts and feedback loops to bird's eye funnels and business model canvases.
Videos and Motion Graphics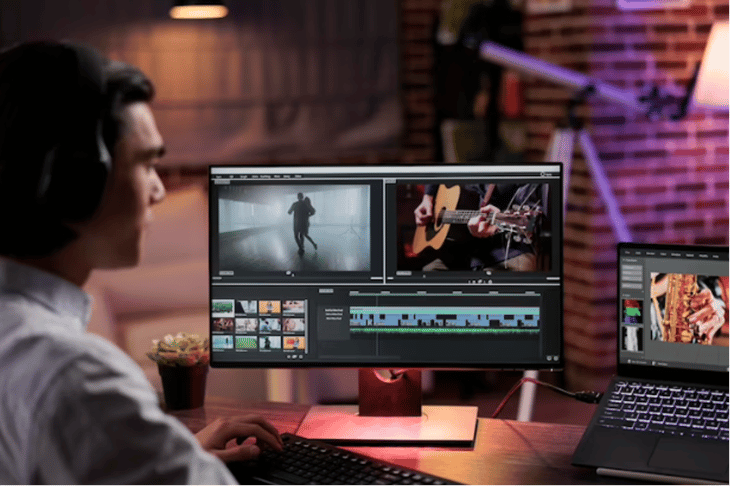 Biteable
Biteable houses everything you need to create stunning videos for your digital displays, from templates and stock footage to music and customization options. That way, you don't have to switch between platforms to create your digital signage content.
DaVinci Resolve
DaVinci Resolve is a powerful and advanced non-linear editing software that provides you with a range of the latest features to edit your videos. The platform works offline and is free to use for Mac, Windows, and Linux users.
Giphy
Bring life to your static images by converting them into GIFs with Giphy. The tool accepts a range of media formats and can also work with footage from online video-hosting sites. You can even customize your GIFs and add drawings, text, and stickers.
iMovie/ Windows Movie Maker
You may not have to look elsewhere for a video editing tool. Your Mac or PC device already comes with one that you can use to edit and export videos on your digital signage.
Both iMovie and Windows Movie Maker are no-frills, uncomplicated tools that anyone in your organization can use.
Kizoa
Kizoa is a video editing tool you can use to create 4K-resolution videos, movies, and slideshow presentations. It has templates specifically designed for your business needs, from product ads to webinar promos.
LottieFiles
Adding animations to your digital signage content is made easier with LottieFiles. This tool has a suite of free animations that you can pick from and download to integrate into your primary design tools, whether that be Adobe After Effects, Adobe Animate, Sketch, or Calvary, among others.
Magisto
Owned by Vimeo, Magisto makes video editing as easy as uploading your footage and picking a theme. It does all the work for you, using visual analysis features to detect the most engaging parts of your footage and yield a finished product you can use instantly.
WeVideo
WeVideo is a cloud-based video editing software where you can store, edit, and upload videos from anywhere. Its main selling point is its collaboration capabilities, allowing you and your team to access files and work together on video projects.
Filmora
Filmora is a video tool that comes with advanced editing features like AV synchronization, AI portrait effects, green screens, and motion tracking. It also has a large library of presets, audio, templates, and word art to further enhance your footage.
Live/ Dynamic Content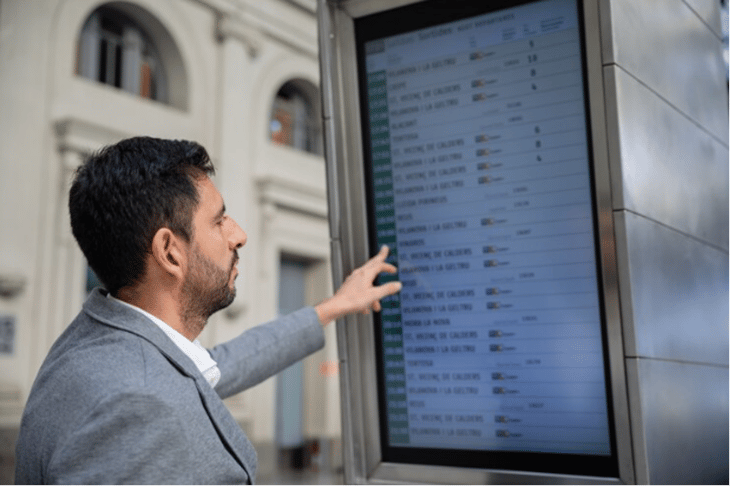 Analytics/ Dashboards
Digital signage in office settings can display analytics and data that reveal company performance, effectively keeping employees informed of how their work is contributing to your business.
You can do this with the use of data dashboards like Geckoboard, which connects to and displays metrics from data sources like Excel, Zendesk, Basecamp, and Salesforce.
Live Streams
Live streaming can do wonders for increasing screen engagement and viewing time. If your digital signage software offers a live streaming feature, take advantage of it to broadcast your company's events and conferences, or give your viewers a live tour of your facilities.
News Feeds
You can also use your digital signage to keep your audience informed of the latest news and insights in your industry. All you need is an RSS-to-HTML tool that can source content from news platforms and stream them on your displays.
Read more: Best RSS Feeds for Your Digital Signage Screens
Social Media Aggregators
You don't have to wrack your brain trying to think of new content for your digital signage. You can repurpose your social media posts as digital signage content, effectively bringing your online presence to a physical location.
All you need is a social media aggregator, such as Enplug's Social Media Collage app or Tint.
Weather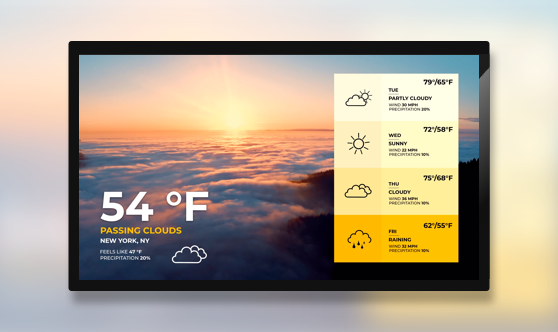 The weather template from Rise Vision shows the weather, icons and conditions for your location as well as a video background that changes based on the conditions.
You want your digital signage to provide value to your viewer, and something as simple as a weather update can facilitate that. Most digital signage software in the market allows you to add weather widgets on your screens. But you can also use a weather app or display weather web pages.
Web Pages
Digital signage software allows you to display web pages on your screens, which can give your viewers real-time updates on trends, posts, and data regarding your business. You can stream anything from waitlists and dashboards to a stock market tracker or Salesforce data.
Interactive/ User-Generated Content

Dynamic Interactive Videos
If your digital signage hardware has touch-screen capabilities, you can use it to create an interactive experience for your viewers. Dynamic interactive videos allow the user to pave their own journey and give them control over what they see on the screen.
You can use tools like Wirewax by Vimeo to create dynamic interactive videos for your digital signage.
Slido
Live polls in digital signage can help you communicate valuable feedback or get audience opinions in real time. You can use Slido to display live polls, which converts your poll results into stunning infographics.
Timeline
Timeline is a valuable tool you can use to tell your brand story. It is primarily used to build an interactive timeline that users can click on and explore to learn more about the key events in your brand's history.
This type of digital signage content is especially important in galleries, museums, schools, and public information centers.
Thinglink
Designed for interactive digital kiosks, Thinglink helps you create an interactive map that your audience can explore for wayfinding, watching product demos, or displaying training modules.
The maps are highly customizable, allowing you to add icons, images, text, and audio to facilitate the user experience.
Review Sites
Positive reviews about your business can work with you to build trust and convert viewers into paying customers. Through social media aggregators, web page displays, or RSS feeds, you can showcase customer reviews from platforms like Yelp, TripAdvisor, etc. on your digital signs.
Digital Signage Content Checklist
Creating content for digital signage needs to be done with purpose. Your content, as well as how you display it on your screens, should align with your goals and intended results. To get the most out of your digital signage content, here's a handy checklist you can refer to:
Does your content follow the fundamental design rules?

Does your content align with your branding?

Are your images and videos high-quality?

Is your content optimized for your screen's orientation (portrait or landscape)?

Does your content resonate with your audience?

Is your content engaging?

Is your content relevant to your target audience at the specific time and day you're showing it?

Is your content serving its intended purpose?

How long are you going to display this content? When are you going to refresh your display?
Start Creating Content for Your Digital Signage
Now that you have all the resources you need for your content creation strategy, all there's left to do is to get started. Pick your go-to content creation tools, or switch them up every now and then, and create stunning and engaging content for your digital signage.
When you're ready to deploy them onto your screens, start a free trial with Rise Vision, the #1 free digital signage software.