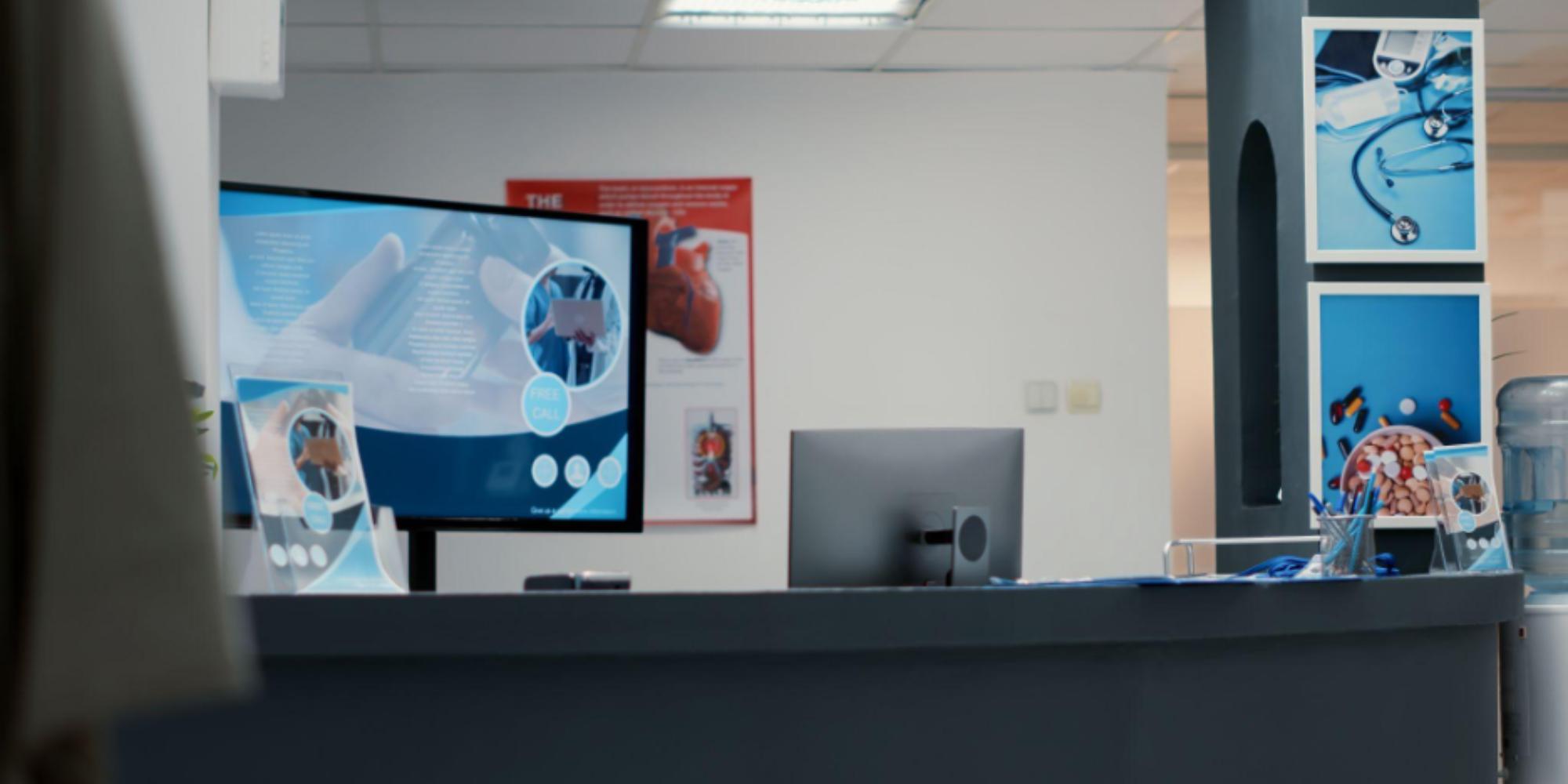 The healthcare industry is one that relies heavily on sharing and exchanging information. Let's look at the benefits of digital signage in the healthcare industry.
Patients need to disclose their personal information and medical history to the staff. Nurses who undertake initial treatments will have to brief the doctors on the treatment progress, medications administered, and overall state of the patient. Doctors will then have to give the patient clarity on their conditions, walk them through their treatment plans, and keep them updated on their progress.
Aside from these, there are many other areas where information is necessary, from coordinating with laboratories to conduct the required tests to helping the patients navigate their way to the hospital's amenities.
In a setting where effective communication is crucial for success, digital signage serves a very important role:
Facilitating the sharing of information
Streamlining healthcare processes and procedures
Overall improving the patient's experience
Benefits of Healthcare Digital Signage for Patients
Digital signage in the healthcare industry can benefit three main groups: the patients, the staff, and the practice itself. Let's first explore how digital signs can be of service to patients.
Educate Patients on Healthcare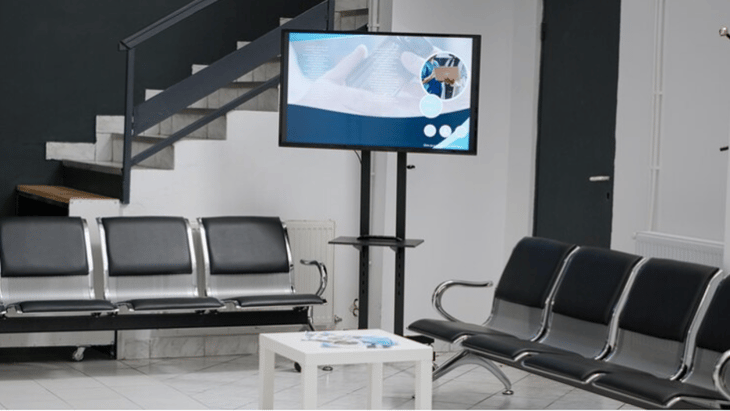 A healthcare setting is a perfect place to educate patients on the best health practices and habits that will help them live healthy and fulfilling lives. It's an environment that has a sense of credibility on the subject — and patients are much more likely to listen to a healthcare provider than to a random article they read online about how to keep their health in check.
Use this opportunity to display educational content on your facility's digital signs. Some examples include videos about the importance of drinking water, getting enough sleep, having a healthy diet, or exercising.
You can even show valuable content about topics that align with your expertise, such as tips for skin health for dermatologists, or a guide to flossing for dental practitioners.
Otherwise, you can use your digital signs to reassure patients that they're in the right place and that their health concerns will be addressed. Content showing your services and specialties, success rate, and staff credentials can help them feel more confident and at ease in their decision to seek help from your practice.
Entertain Patients
Being in a hospital or doctor's office can be quite an overwhelming experience. There's a high likelihood that the patient is going to be on edge or anxious the entire time. You want to help them alleviate those nerves — and digital signs provide the perfect distraction.
You can install them in the waiting area, hospital lobby, patient rooms, or queue areas, and display fun and engaging content. These can include live streams of TV programs, RSS news feeds, social media, educational videos, and other interesting content!
Help in Wayfinding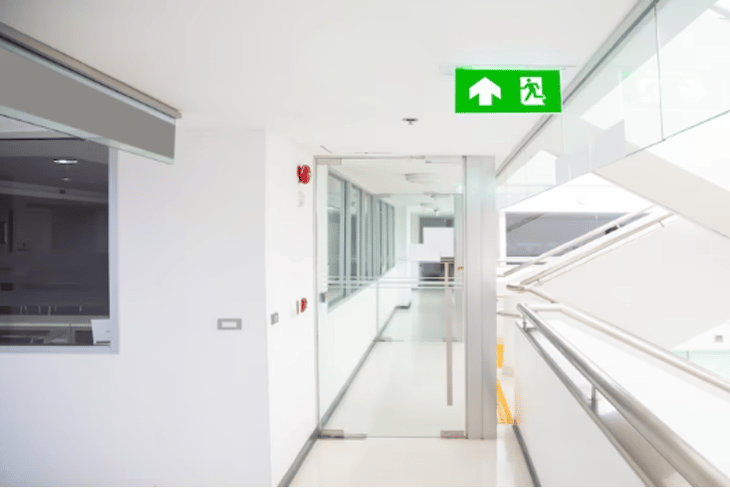 A hospital encompasses a large space, often with multiple buildings, rooms, and hallways. To make matters worse, it seems like every corner and every floor looks exactly the same!
It's so easy for a patient to get lost trying to find their doctor's office or getting back to their room after a lab test. Even newly onboarded staff may find themselves lost in the hospital trying to get to the location of their next shift!
Digital signs can assist patients to navigate the sprawling area of a hospital. From directional signs in strategic areas and an interactive map on every floor to digital landmark identifiers, wayfinding through digital screens can eliminate confusion and make the hospital a more accessible place for everyone.
Improve and Speed Up Waiting Time
Visiting a doctor will necessarily involve a long wait — that's why people know to free up an entire day for a doctor's appointment. Patients will have to wait in queue for several minutes to hours, often unsure of how much longer until it's their turn to speak to the doctor.
Waiting rooms should incorporate digital signs to make the wait much more bearable for patients. With dynamic videos and readable content flashed on a digital screen, patients get a source of entertainment to help pass the time.
Hospitals can take this a step further by installing digital signs in the facility's restaurants and cafes that show the current queue. That way, patients don't have to get held up in a bland waiting room for hours on end. Instead, they can pass the time by having a cup of coffee and heading to their appointments when the sign tells them it's almost their turn.
There are also interactive digital signs where patients can input their information and retrieve a queue number. This method makes appointment processing much more seamless, saving crucial time compared to having to manually fill up a printed form.
Provide Effective and Personalized Patient Care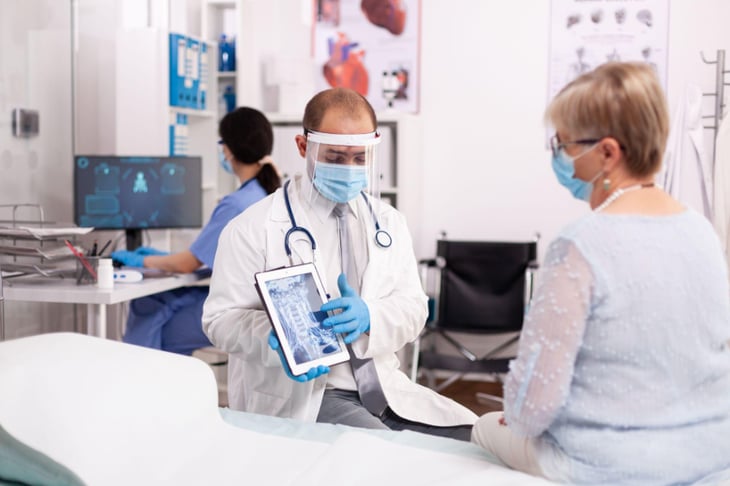 While the healthcare industry is unexempted from the impact of modern technology, a lot of the protocols in a hospital and patient care setting are still pretty traditional.
We still see bulletin boards of patient information outside their rooms, whiteboards that are updated with information every time the treatment plan progresses, and doctors holding a clipboard of papers containing patient information.
It's high time for the healthcare industry to start incorporating digital signs to streamline patient care and provide a more personalized treatment. With digital displays, healthcare staff can easily update patient information, record vital signs, take note of treatment plans, and communicate updates with doctors and nurses.
Digital signs installed in patient rooms can also give them access to their treatment information and test results. They can even be programmed to alert patients when it's time to take their medications or to enable remote monitoring and telehealth access.
Benefits of Healthcare Digital Signage for Staff
Digital signage provides patients with a more pleasant stay in a healthcare facility. But they're not the only ones who benefit from this technology. Digital signage can also be used to improve internal communication and facilitate more efficient operations for hospital staff.
Allow Real-Time Communication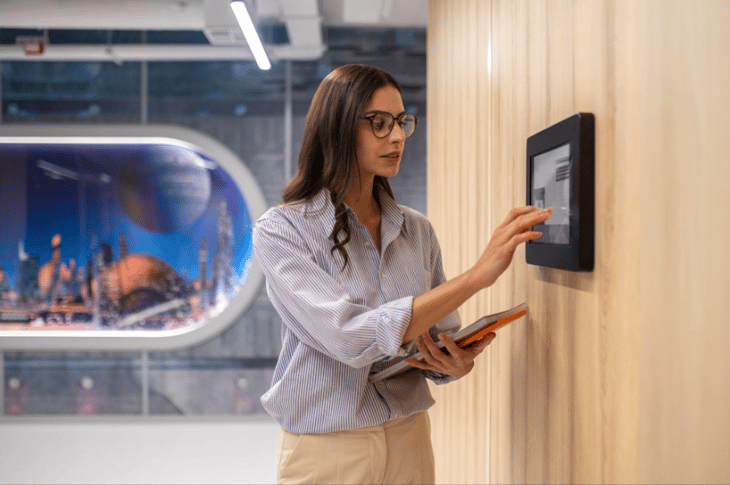 A patient care setting can get quite hectic. You'll hear phones ringing endlessly, nurses scrambling from one building to another, and doctors running late. Because the environment is so busy, not to mention the large area that hospitals span, communicating and coordinating with staff members can be a challenge.
Digital signage can help address this. Hospital staff can communicate with each other and deliver essential information on the screen, reducing the time needed for voice or personal correspondence. Information can easily be flashed in real-time, helping streamline communication in the workplace.
Deliver Emergency Information
Hospital personnel must act fast in case of an emergency. But often, it takes time for them to find out there is an emergency in the first place. Digital signage can be a lifesaver in emergency situations.
Messages can be flashed on all digital screens with a press of a button, giving all staff members and patients adequate time to react to fires, security breaches, or other emergency cases.
Improve Information Sharing
Doctors and nurses traditionally get information about a patient in the form of printed charts. They carry these around when attending to a patient and it gets passed on from one staff to another. This can be quite inefficient, not to mention it's time-consuming having to dig through a drawer of charts to find the right one.
Instead of going this traditional route, healthcare staff can improve communication and information sharing with digital signage. Screens can be installed in patient rooms and provide everything the doctors and nurses need to know to deliver proper treatment.
From medications, test results, and treatment schedules to any allergies or health warnings, digital signs can make patient information available at a glance, saving crucial time and reducing the risk of staff error.
On the flip side of things, digital signage can also facilitate staff coordination. They can be mounted in breakrooms, staff lounge areas, or doctor's offices, providing information on shift schedules, staff on duty, etc., making it easier to find the right people to coordinate with.
Provide Staff Training
Every day in a healthcare setting is a learning opportunity for staff members. With digital signage, getting new knowledge and staying updated with current news and events in the medical field has never been easier.
Digital signs can be used to deploy educational videos, training live streams, compliance guidelines, and hospital policies and procedures to encourage knowledge and skill-building for all hospital staff.
Speed Up Diagnosis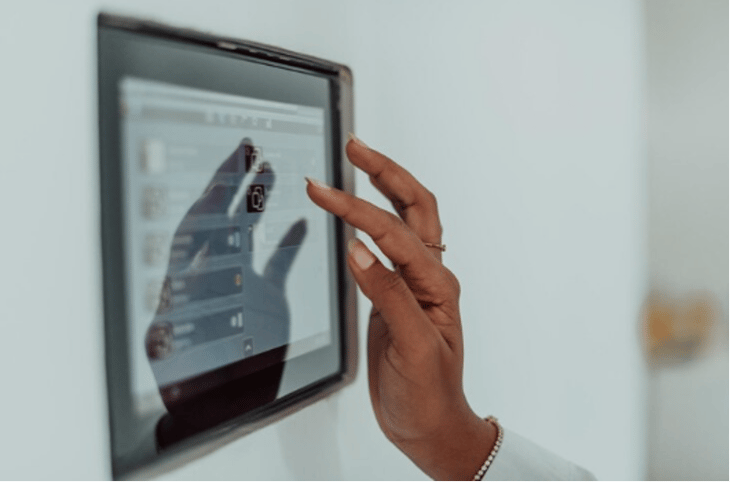 With digital signs, doctors no longer have to refer to a dozen envelopes and multiple pages to find information about a patient's medical history, test results, or current medications.
They can instead use interactive screens that provide them with a wide-screen view of their patient's records, get the information they need in a couple of touches, and make a proper diagnosis in less time. Should additional information be required, doctors can easily request the records to be flashed on their screens in real-time.
Benefits of Healthcare Digital Signage for the Practice
The use cases of healthcare digital signage we've discussed so far all redound to the benefit of the entire practice. But the facility can also utilize it for a range of purposes.
Allow Brand Promotion
In addition to being a communications tool, digital signage has found significance in advertising. Businesses from all industries, including healthcare, can effectively utilize it to show promotional content to patients and visitors.
When placed in high-traffic locations in the facility and programmed to show targeted ad content, digital signs can increase brand and service visibility more effectively and much cheaper than traditional signage, bulletin boards, and posters ever can.
Collect Data on Patients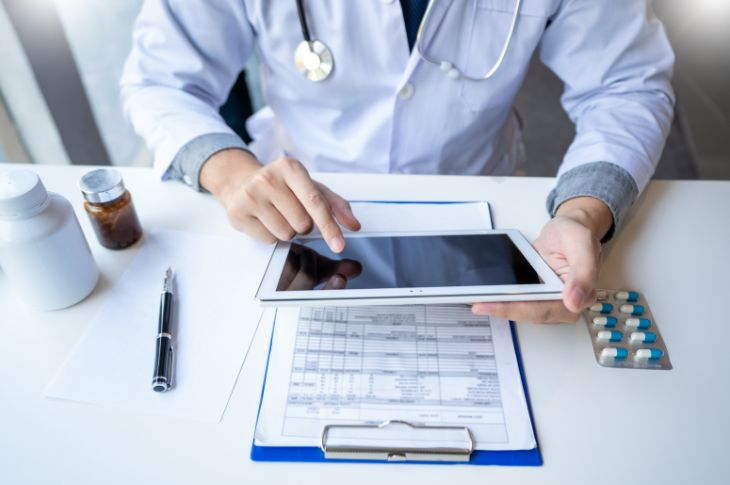 Digital signs are more interactive now than ever before. Users can navigate the touchscreen displays to create their own journeys, learn about content they're most interested in, or otherwise conduct self-service.
Interactive displays can be a valuable tool in the healthcare setting, speeding up patient intake and allowing doctors to quickly and easily retrieve the information they need to make a diagnosis or conduct a treatment plan.
With an interactive kiosk, a patient can simply check-in, add their contact information, update their records, pay bills, or schedule future appointments on-screen. Once submitted by the patient, this data will be readily available for healthcare staff to use throughout the patient's stay.
Recognize Donors
Donors are the lifeblood of a healthcare facility. Through their contributions, they make it possible for your practice to admit patients, diagnose and treat illnesses, and provide jobs to your employees. The least that you can do is thank and recognize them.
Most hospitals already have donor walls plastered in their building lobby. But you can also use digital signage for this purpose. Installing a large-scale display in your hospital that shows a list of all your donors and their contributions is an immersive and attractive way to celebrate your donors and encourage people to make donations.
You can also switch up the content every now and then to commend your best-performing hospital staff, boosting employee morale and motivation.
Upscale Your Facility with Healthcare Digital Signage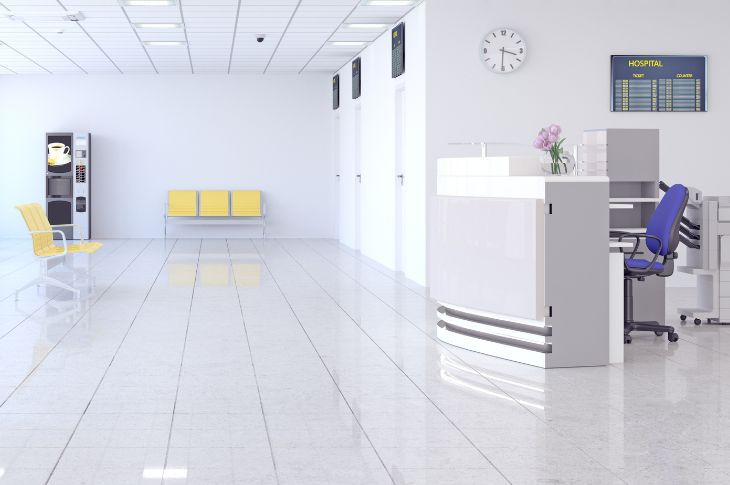 Digital signage helps healthcare facilities improve communication and coordination, streamline processes, and keep staff and patients happy. There are many ways you can incorporate it into your hospital and many benefits to reap when you do.
Get started with healthcare digital signage and improve your practice today by signing up for our digital signage free trial offer.
You May Also Be Interested In: