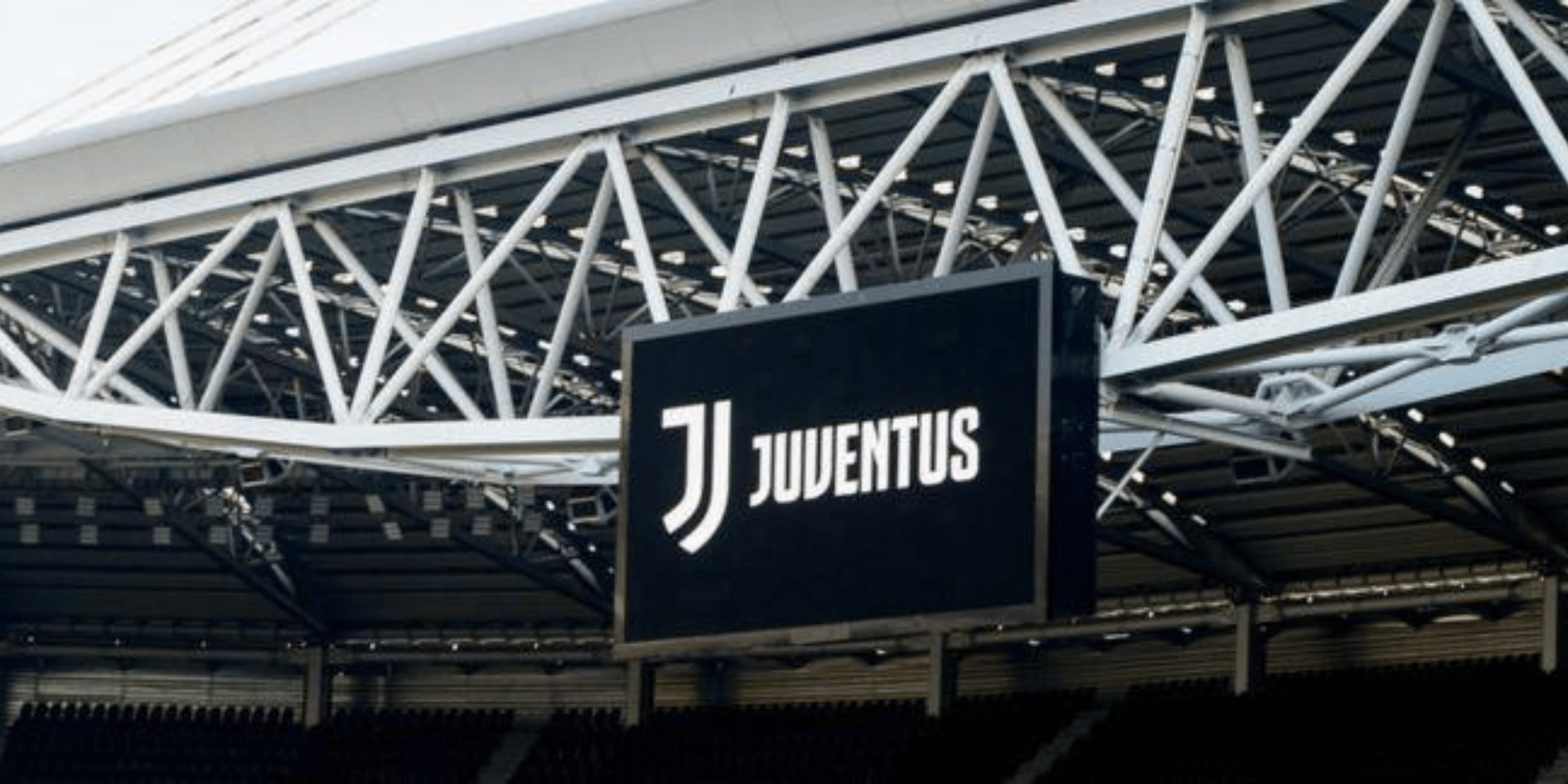 A staple in sports or concert venues are those large LED screens mounted above the audience or on either side of the stage. Typically live streaming the show or providing game stats, these screens help improve the audience's experience and allow them to stay on track with what's happening on stage or on the court.
Digital signage solutions are a must-have in these venues, and you've likely never been to a stadium or arena without them. Signage serves a very important purpose and helps facilitate the event for all to enjoy.
The Benefits of Stadium Digital Signage
Stadium digital signs complete the experience of watching a sports game or live concert — but that's not all they can do. Venue organizers can maximize their use to facilitate other activities and logistical needs in stadiums.
Improve Audience Experience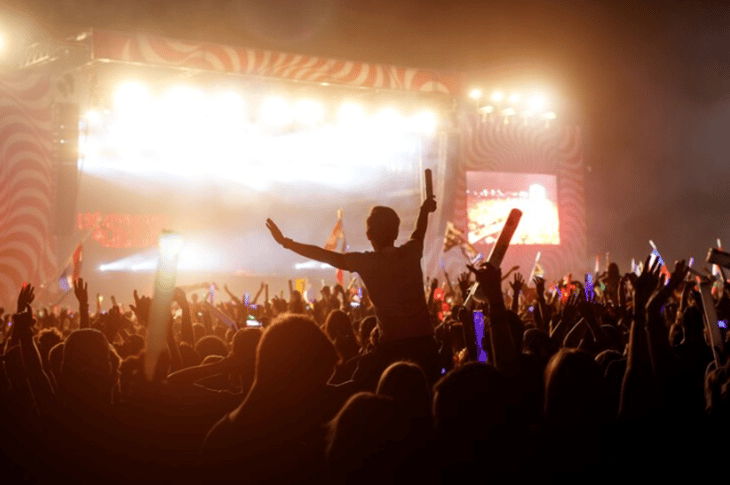 First and foremost, digital signs in stadiums or arenas are critical for the audience experience. They live stream the whole show so everyone can see what's happening and get a closer look at the artist or players performing. This allows them to fully appreciate the show — especially if they're sitting in rows further away from the stage.
Aside from live streaming the event, digital signs can also help the audience keep track of highlights by playing back key moments or displaying game stats and information. In sporting games, for example, you'll see signs showing player stats, scores, current quarter or inning, and the time remaining.
The audience is there to enjoy and immerse themselves in the show. Digital signs help support that and deliver a fulfilling experience for everyone who's watching.
Improve Communication
Digital signs can be utilized to deliver important information that everyone in the stadium needs to know. It's a quick and efficient way to share updates about weather conditions or emergencies, ensuring the safety and convenience of the audience.
Increase Revenue Opportunities
Stadiums are hotspots for advertising collaterals. We see vinyl decals of brands plastered all over the walls and sometimes even on the stage floor. There are posters of different products and businesses hanging from the ceiling, and sometimes, even the chairs have stickers with brand logos stuck to them.
Digital signage in stadiums can work as an advertising medium as well. Venues can sell ad space in their digital signs for brands to promote their products and services or introduce sponsors and merchandise.
Businesses love advertising themselves in stadiums because they're able to get a wider reach and target thousands of potential customers all gathered in a single location. As such, this presents an opportunity for stadiums to utilize their digital signage installations as revenue-boosting opportunities.
Enhance Security and Crowd Control
Stadiums and arenas are usually flooded with security personnel who are tasked to make sure the entire event is safe for all the attendees. You'll see them stationed in every section, in the hallways, and along the stage.
But with the influx of people, perfectly ensuring safety and security is easier said than done. Luckily, security staff has digital signs to help them with this. Digital signage can deliver important information about where to line up, where to go in case of emergencies, how to navigate the venue, keep the attendees informed of security regulations and standards, or announce important safety protocols.
They can also be used to assist in crowd control, helping the staff get people in the right places without having to explain or announce restrictions and protocols to groups of people over and over again. The mass notification capabilities of digital signage make security and traffic management much more bearable, which goes a long way in managing the influx of attendees.
Promote Upcoming Events
In downtime, such as before the show begins or during halftime, digital signs can be used to promote other upcoming events and encourage the attendees to buy their tickets. It's the best way to pool more attendees for a forthcoming game or concert, considering that the target market is already in the venue.
Digital signs can further be optimized to show specific content for a certain demographic and programmed to present different media at key times during the event.
Ways to Use Stadium Digital Signage
Digital signs, when placed in a stadium or arena, can serve a range of uses, from delivering information to entertaining the audience. Regardless of how you use it, digital signs help improve the experience of your attendees, which ultimately leads to an effective event and an increase in your venue's bottom line.
Studies show that sports fans that are satisfied with their experience spend more during a game and show greater loyalty to the stadium. Supplementary research revealed that the littlest things contribute to greater satisfaction, including:
Being able to track game stats

Easily navigating the venue to find their seats

Seamlessly making their way to food stalls and concessions
If you're not sure how you can incorporate digital signs into your venue to reap these benefits, here are some ideas.
Game or Show Highlights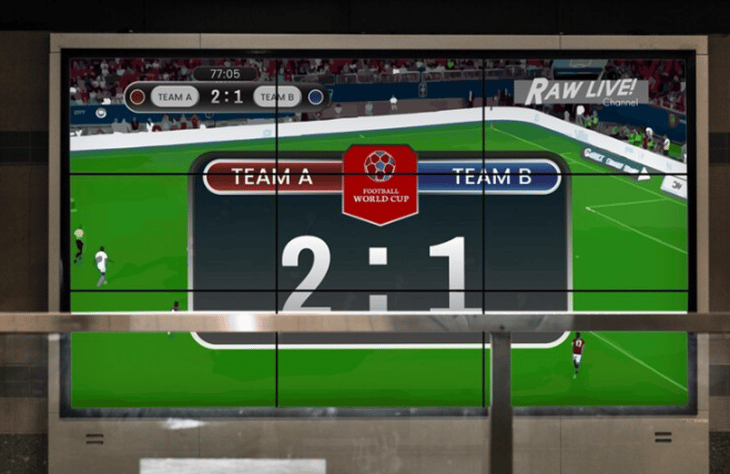 Imagine watching a boxing match live with your eyes glued to the players, looking closely at every move they make. Then in a split-second, the athlete you were rooting for throws a punch and knocks down his opponent. The crowd cheers and goes wild — it's a moment that you want to relive a second time. Wouldn't it be great if you could?
Digital signs give your audience the opportunity to see winning shots, game-changing moments, and other highlights again while they're still excited about it. You can show these during match breaks, providing a source of entertainment and excitement even while the game is on pause.
Entertaining Media
During breaks when your artist is preparing for the next set or the players are huddled up with their coaches, there's a lack of things for your audience to do except sit and wait. And this can be difficult, especially when they're still so hyped up about the last match or the performance that just unfolded.
Your effort to entertain your audience shouldn't be paused just because the show did. Continue keeping them engaged with your digital signage! Show press videos of the artist or players, give them an inside scoop of what's happening backstage, or stream related YouTube videos people can watch while waiting for the show to resume.
Local Advertising
Watching a game or concert live in a stadium is a very exciting time for your audience. So much so that whatever events take place in the arena will stay with them for months after. You can take advantage of this to promote your brand and merchandise. In fact, a survey found that 85% of audiences who experience satisfying events are more likely to change their purchasing behaviors.
Utilize your digital signage as a revenue-producing tool by featuring local ads, promoting your food and drink concessions, offering special deals for upcoming events, or inviting attendees to purchase merchandise. You can also opt to feature your sponsors or sell ad space for other brands to be featured on screen.
Wayfinding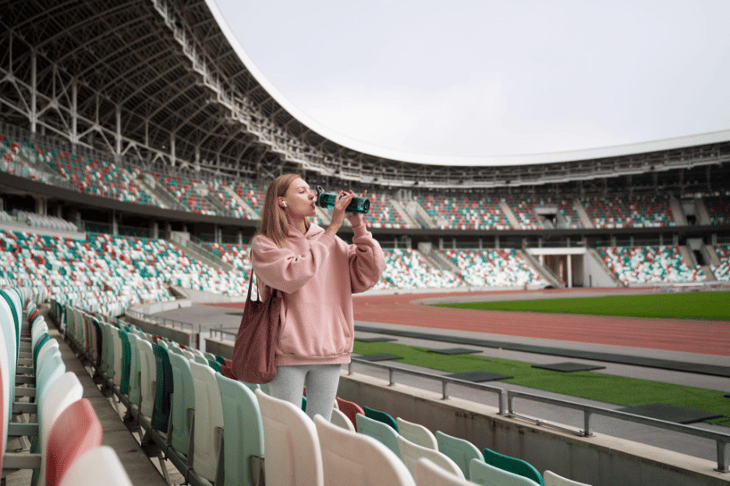 Stadiums span several square miles and stand multiple floors high. Because they're so large, it can be hard for people to find their way around. Hence the importance of directional signs and wayfinding solutions.
Use digital signage to make your venue more accessible and easier to navigate. Put up signs that guide attendees to their sections, seats, food stalls, restrooms, entrances, and exits. There are plenty of wayfinding signs you can install, from an interactive kiosk that maps out your whole stadium to several directional signs placed in strategic areas around the venue.
Safety Messages
Stadium management is responsible for making sure that the venue is safe for the artists, players, staff, and attendees. This is a difficult job, especially considering the vast area that they need to inspect and cover.
Digital signs can help in this regard. They can be used to communicate emergency situations, providing guests with enough time to react accordingly. Digital signage is also becoming increasingly used to make attendees aware of security restrictions and protocols, such as advising them of what they aren't allowed to bring inside the venue, where to go in case of a fire, and which areas of the stadium aren't accessible to them.
Digital signs are powerful tools for keeping the behavior of event attendees in check. By delivering information about the venue's security standards, everyone is made aware of how to promote their own and everybody else's safety.
Food and Beverage Outlets
Like in an actual restaurant, your food and beverage concessions can also make use of digital signs to improve their service and reduce wait times — which is especially important in a stadium where long queues for food and drinks are unavoidable.
Food vendors can incorporate digital menu boards to quickly run down what customers can purchase so they can order much faster when they get their turn at the counter. Or they can even go as far as installing interactive kiosks that enable customers to make orders and pay for their food and drinks on the screen.
Digital signs can also provide much-needed entertainment and a pleasant distraction for those waiting in line, which reduces the likelihood of angry and impatient customers.
Backstage Information Delivery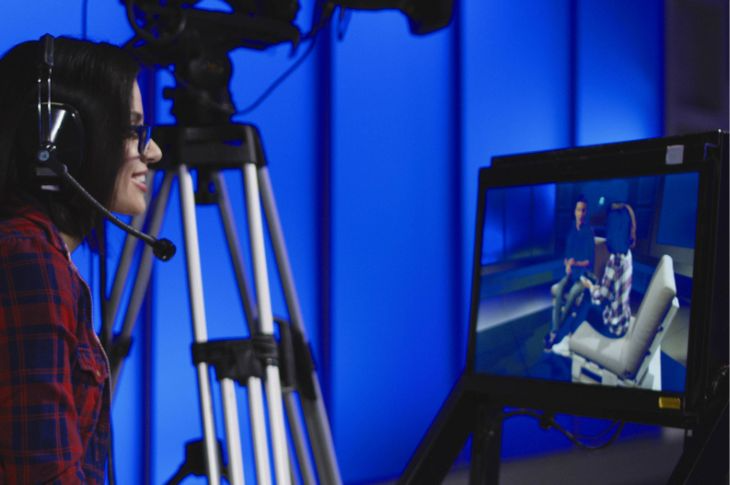 Digital signs aren't only for the eyes of the show spectators. In fact, they can be just as useful, if not more, for the artist, players, and backstage staff. Digital signage can be incorporated in dressing rooms, props facilities, and backstage hallways to quickly deliver information to the necessary people.
For example, there can be a TV screen in a team's breakroom, which keeps them informed of when they need to start heading to the arena. Or, digital signs can show the whole event program so that staff has a reference for what they need to do next.
Where to Put Stadium Digital Signage
Where to put digital signs in a stadium will depend on their use and purpose. But generally, there should be a digital sign in the following areas:
On stage or on the court

Hallways and elevators

Entrance and exits

Building facades

VIP lounges

Restaurants and food stalls

Stadium balconies

Backstage
There are many ways that stadiums can incorporate digital signs into their venues to improve safety, enhance communication, and ultimately, create good audience experiences. Stadium management should take advantage of this technology and watch how it transforms their venues and events.
---
Interested in seeing how you can use digital signage in your stadium or event center? Book a free demo with Rise Vision today!