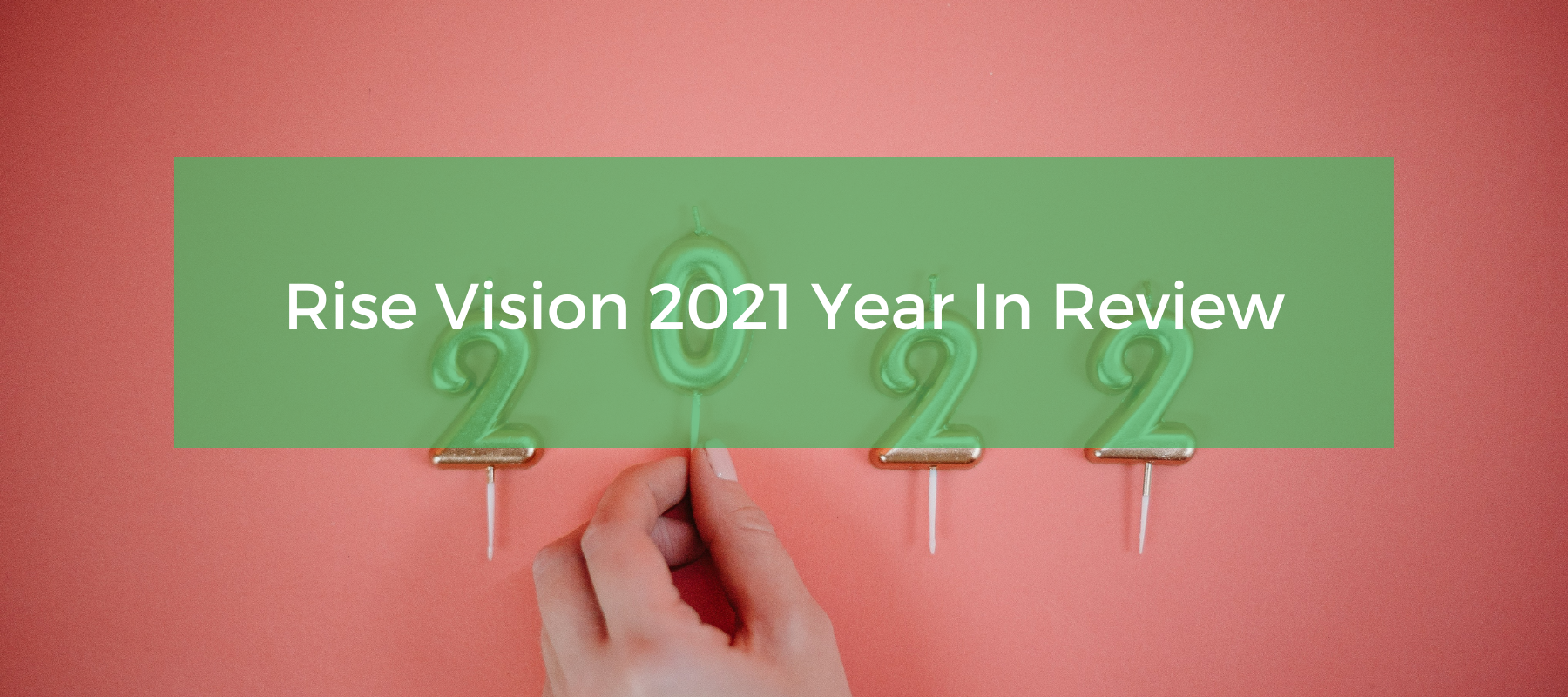 2021 was an exciting year of growth and improvement at Rise Vision. We worked hard to deliver lots of new value to you, to help you improve communication at your organization, and to save you time. Looking back, Rise Vision implemented new product updates, added new partnerships, and created fresh content. Here are some of our biggest accomplishments from 2021!
Product Updates
Unlimited License
We released a new pricing option for K-12 schools, the unlimited license, which lets you pay one flat low price and get unlimited displays in your school. This new license makes it affordable to add digital signage to your hallways, libraries, cafeterias, gyms, auditoriums, offices, lobbies, and more. You can even expand your digital signage to interactive displays and wireless presentations systems in your classrooms. One of the biggest benefits the unlimited license provides is simplified budgeting, you can add displays anytime without issuing new PO's or waiting until your budget refreshes.
Android Player
We launched support for Android and Android TV versions 7.1 to 10. You can now install Rise Vision through the Google Play Store or use our APK. Our Android player launch made it possible to use Rise Vision on a less than $100 USD media player, as well as on Android smart TVs and many interactive flat panel display brands that are commonly used in classrooms.
Fire OS Player
In our quest to continuously drive down the cost of digital signage we launched support for Fire Stick and Fire TV devices running Fire OS 6 or 7. We recommend using the Fire TV Stick 4K MAX which can be purchased from Amazon for around $50 USD.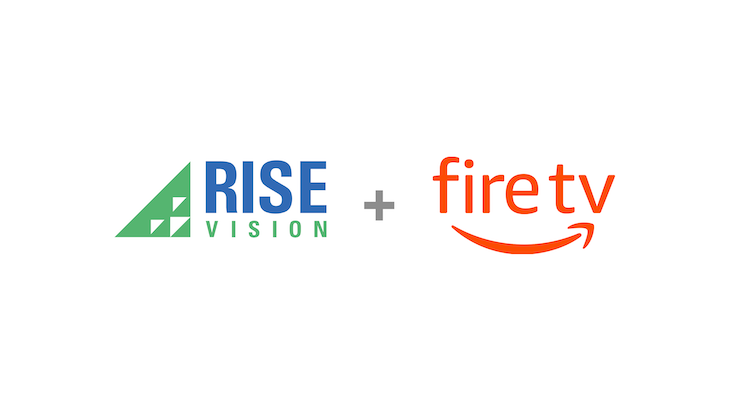 Web Player
Earlier in 2021 we also created our web player. The web player lets you use Rise Vision on any device with a modern web browser so that you can expand the reach of your message. You can use the Rise Vision web player on common devices like Airtame, ScreenBeam, Zoom Rooms, and more.
Airtame Partnership
We partnered with Airtame to integrate Rise Vision into Airtame Cloud and make it easy for you to get more out of your investment in Airtame devices. This partnership enables you to share Rise Vision content in classrooms and meeting rooms with Airtame devices when they aren't being used for wireless presentations.
ScoreStream Partnership
With Rise Vision's templates and ScoreStream's fan-driven sports platform, you can follow the results of sporting events from 25,000 schools. You can show scores from across the country or filter results by state. There are 2 templates in the Rise Vision template library that pull in data from ScoreStream's sports platform.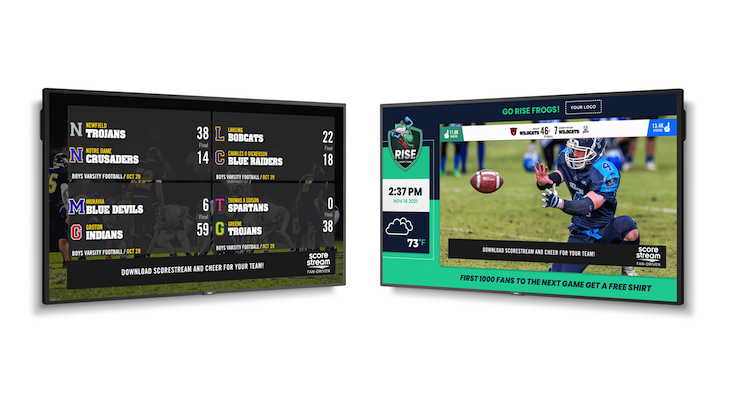 Random Acts of Kindness Foundation Partnership
We worked with the Random Acts of Kindness Foundation to release three new templates to help you promote kindness on your digital signage. You can now join the Random Acts of Kindness Foundation and encourage your audience to begin building a new routine that creates intentional moments of kindness, laughter, and delight.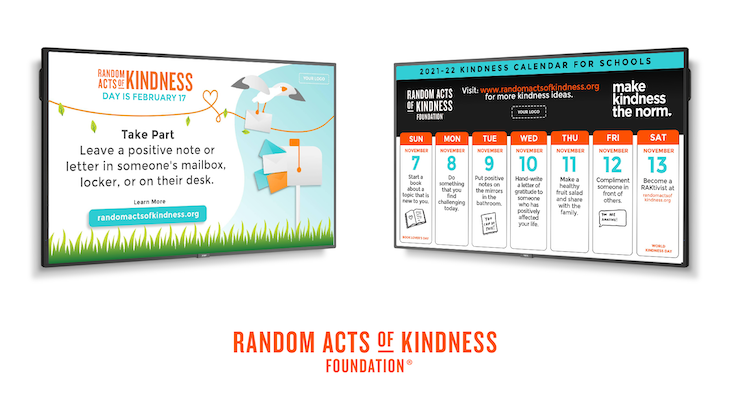 Canva Integration
You can now create Canva designs inside Rise Vision and add them to your templates. This makes it possible to create custom designs using Canva's extensive library of templates and assets. Canva is a great option if you can't find the perfect Rise Vision template for your use case.
Template Playlist Items
This is a very powerful feature, the ability to create playlists of content inside templates! You can add different content like images, videos, Google Slides, and other templates into your playlist, and you can set a timeline on each item in the playlist. This makes it easy to set up a playlist for the month ahead and set each playlist item to start and stop on specific dates.
Make a Copy of a Template
One of our most requested features, the ability to make a copy of a template, launched in December 2021. The template editor now has a '...' toolbar button that lets you make a copy of your template. And the copy will include any customizations you made to the original.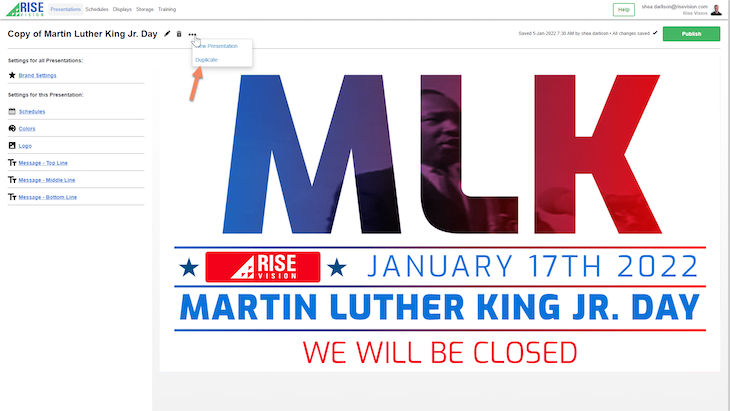 Most Popular Templates
We created hundreds of new templates in 2021, but the three most popular throughout the year were Full Screen Weather Extended, Daily Motivation, and Campaign Positive Message Text.
Fresh Content
Digital Signage Success Plan
Want to have success with digital signage in 2022? We created the step-by-step guide to achieving your goals with Rise Vision and digital signage. Check out our digital signage success plan here.
Webinars
We put on two great customer panel webinars in 2021 on top of our weekly training webinar. You can watch both of them using the links below.
See How 3 Educators Improve School Communication With Digital Signage
Hear from Tony Smodilla, A/V Director at Sarah Scott Middle School, Allan Horton, Network Video System Analyst at Garland ISD, and Joyanne Herdman, Media Specialist at Lithia Springs Elementary, on how they improve their school's communication with digital signage.
See How 3 Schools Are Planning to Improve Student Engagement In 2022 With Rise Vision and Airtame
This panel discussion is perfect for principals, IT staff, communications professionals, teachers, and district administrators who want to improve how their schools and districts are using technology for communication and collaborative learning.
Case Studies
We had the opportunity to share stories from a number of our successful customers in 2021: