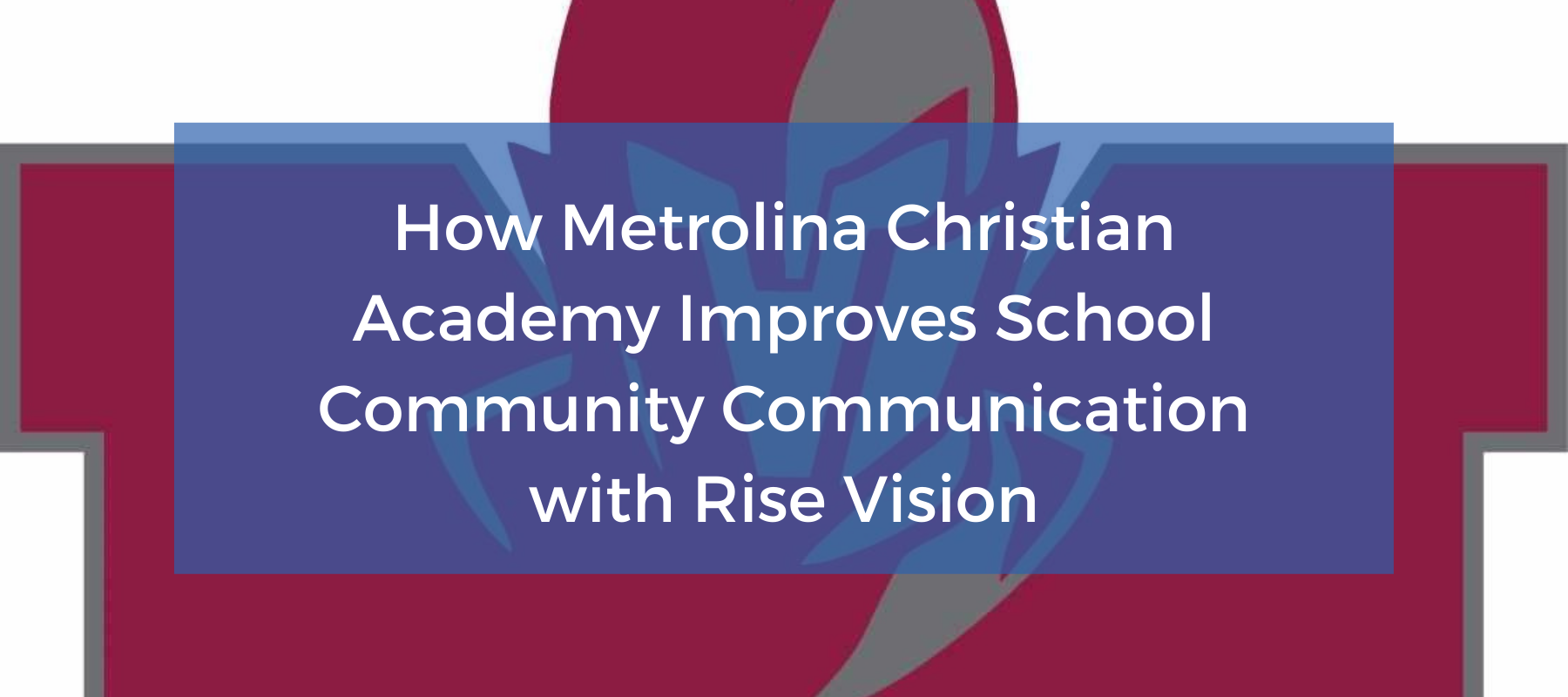 Metrolina Christian Academy is a private Christian school in Indian Trail, North Carolina, affiliated with the First Baptist Church of Indian Trail. With 1,300 K-12 students, the school is the second-largest Christian school in the state of North Carolina. The school realized the need to upgrade their 'make-shift' digital signage of a USB stick and Powerpoint slides in 2019. Lindsay Calloway, Communications Director of Metrolina Christian Academy, is responsible for running everything, from print, digital media, graphics, and digital signage. As Lindsay's responsibilities increased, so did the need to upgrade their digital signage.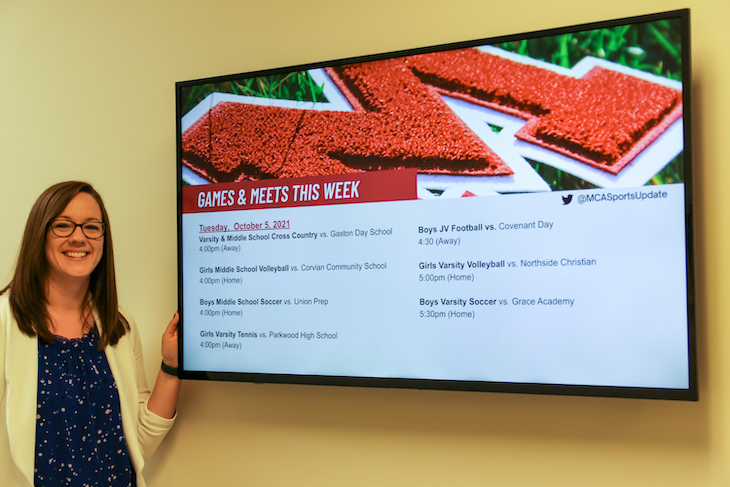 Much of Metrolina's digital signage communicates with students and faculty (events, athletics, musical programs). Some displays are used externally for parents at events, and there is one display connected to the scorer's table for sporting events and games. Making sure everyone in the school is aware of what is going on is Lindsay's number one priority. Today Metrolina Christian Academy uses 30 displays.
Lindsay first heard of Rise Vision from a local school in North Carolina at a conference she attended and participated in as a web host. This school already used Rise Vision, and Lindsay had to learn more. After connecting with the school at the conference, Lindsay felt comfortable knowing Rise Vision met Metrolina's needs and decided to sign up. Shortly after signing up, the pandemic immediately affected schools across the country, including hers. During the pandemic, Metrolina had half a school year and then shut down. With the integration of Rise Vision, Lindsay was able to help provide essential information to students and teachers using announcements regarding school closures and notices from the Principal. Last year, Lindsay used Rise Vision to get rid of most bulletin boards and provide student recognition.
---
Download the entire Metrolina Christian Academy Case Study PDF:
---
"Using Rise Vision for our digital signage has enabled Metrolina Christian Academy to improve communication within our school community of students, teachers, and parents and also with guests that visit our campus. We have been able to phase out bulletin boards and incorporate Rise Vision digital signage throughout our entire campus to accomplish our communication goals. With the addition of digital signage, we can share announcements, highlight student achievements, advertise events, and connect with our community in new, creative ways." — Lindsay Calloway, Communications Director, Metrolina Christian Academy.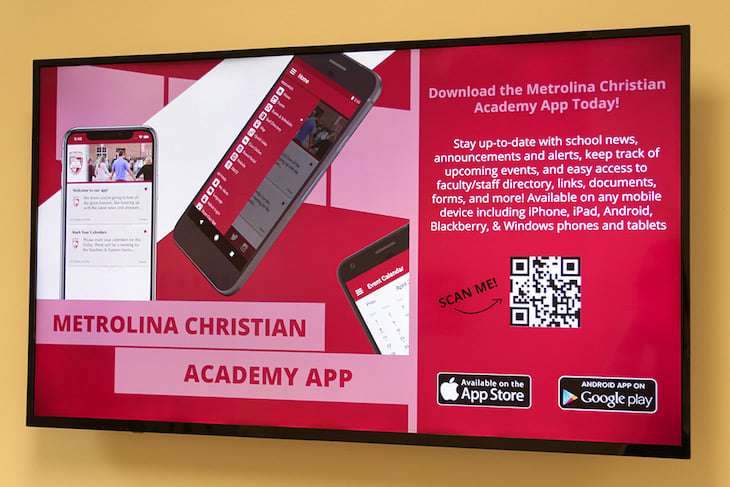 Using Digital Signage to Improve Communication Plan
Increased Awareness of Events and Important Updates
Digital signage appears on screens in just about every building at Metrolina, including hallways, high traffic areas, and the lunchroom. In this case, students see announcements, including the menu board, when lining up to get in the lunch line. Lindsay arranges displays to play information relevant to that particular area of the school. For example, lower school vs. high school templates. One of the more creative uses of digital signage is in the scorer's table of sporting events. "Where the announcer sits, they run a scoreboard on the front of the table. They can shift messaging as the TV is built into the actual table", says Lindsay. This connected media player engages with people who can see it and works harmoniously with the live streaming of matches Lindsay set up for their audience.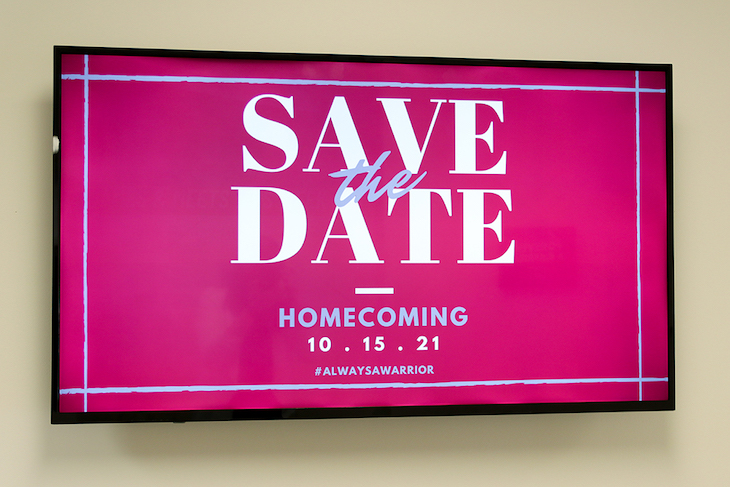 Welcoming Families and Promoting Online Engagement
Metrolina also uses digital signage to provide a warm welcome to prospective students. When families come for a tour, they are greeted with personalized welcome messages on the displays. There's been an incredibly positive response to the welcome slides. Parents and students get very excited to see their names up on the displays. Lindsay also uses the displays to share student artwork, the #AlwaysAWarrior school hashtag, and school social media accounts to increase online engagement with students and the community.
---
Download the entire Metrolina Christian Academy Case Study PDF:
---
Sponsorships
In 2020, Lindsay incorporated local community partners into Metrolina's communication plan. Local businesses and organizations sponsor the school and as part of their sponsorship, they get placement on the displays. "Students, parents, and faculty get excited about being able to see that. These companies support the school financially and get digital signage as a benefit to share their messages," says Lindsay. These sponsorships are geared towards parents and staff and include local restaurants, financial advisors, and other businesses. These ads appear in both school offices, the gymnasium during sporting events, and the scorer's table. Metrolina creates sponsorship levels that attract these businesses, with a guarantee of Digital Ads on monitors at Arts Programs throughout the school year.
Lindsay recommends Rise Vision to schools considering using digital signage, as she was in 2019:
"I would definitely recommend Rise Vision. We have been a client for two years, and in those two years, I have been very impressed with the customer service. I work with a lot of different companies that are software and web-based. Sometimes the customer service is not always the best in that world, and I will say I've been very impressed with the customer service at Rise Vision. Anytime I put in a ticket, they address it in a very timely and efficient manner, and the customer service representatives are very helpful and knowledgeable. In addition, in the two years we have been a customer, I have seen constant improvement. They listen to feedback, update the software, and make it more user-friendly. I love that in just two years, I have seen so much change and improvement that makes things easier and more efficient for us."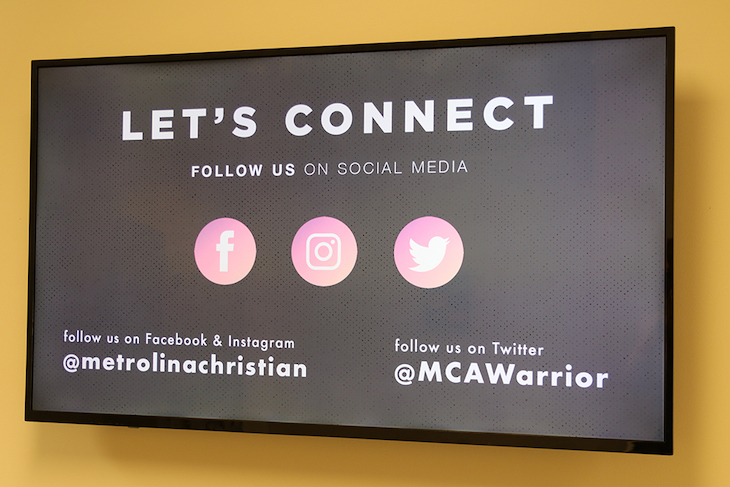 What's Next For Metrolina Christian Academy?
Metrolina Christian Academy uses digital signage in "pretty much every building" except two modular units that are in the process of being removed. Lindsay plans to continue expanding how the school uses digital signage, showcases student success, and creates a community atmosphere. Focusing on being as creative as possible is at the top of Lindsay's goals, and she is excited to explore new updates and improvements from Rise Vision that enable these goals.
Interested in seeing how other schools have used Rise Vision to inspire students? Here are a few more stories to check out: