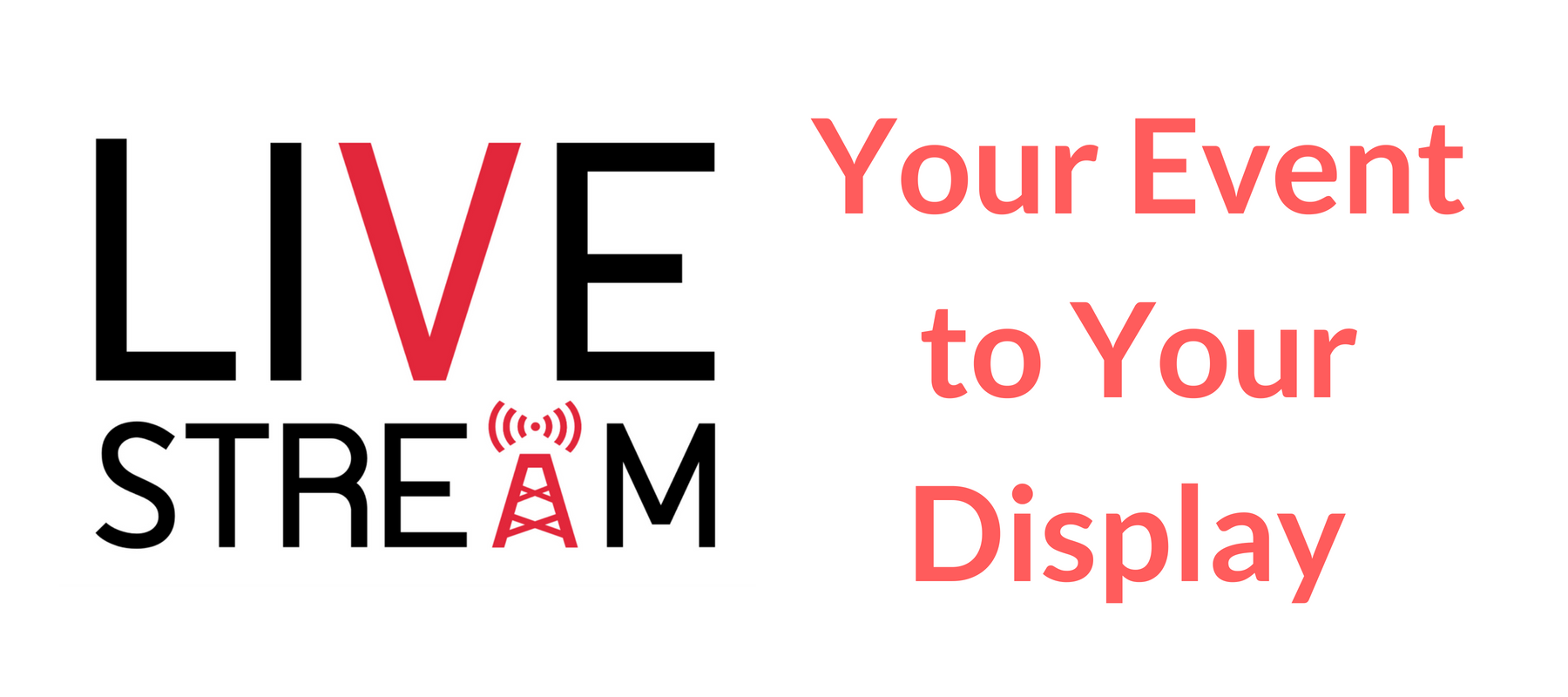 There's plenty of free ways to live stream your next big event--from conference keynotes and graduations to high school and college sporting events; YouTube and Facebook are the most obvious choices. But how do you get it from video camera lens to live broadcast in a way that's both stable and professional? We'll walk you through the steps below.
Don't forget: you can use this technique to live stream to any display on your campus using the method in this post. Imagine the engagement you'll get being able to show a sporting event live to students as they eat in the cafeteria, or show product launches to customers walking in your store. The possibilities are endless.
Audience Needs
Before you run out and buy equipment, make sure and ask yourself what your audience expects. Different events have different expectations; a sporting event, for example, would need to include a scoreboard, and a live stream of your campus quad might consist of the weather. Whatever you are live streaming, at the very least, make sure you have met the following three requirements for a successful live stream broadcast:
Stable connection. It's not advisable to rely on a mobile data connection. In most situations, wi-fi can work, but for the most stable connection, a LAN is recommended.
Clear picture. Using a device that captures anything less than 720p is not recommended.
Clear sound. Don't rely on the built-in microphone; almost every camera--from iPhones to amateur devices have the option to add an external microphone.
Equipment
Setting up a live stream can cost next to nothing to several thousand dollars. It all depends on your needs and expectations. Below are a few options for every budget.
Mobile Device
On the lowest end of the spectrum, your phone or tablet would work "technically" work; there are even built-in apps that make streaming even easier. It's a good entryway to learn the basics of live streaming, but not advisable long-term. At the bare minimum, we would suggest you get a tripod and microphone for your device. For most devices, you can also purchase additional lenses, which make the picture a little sharper--especially when you need to zoom.
Non-Action Devices
If you are capturing presentations, graduations, or other events that don't require you to move the camera around or follow the action (like you would in a sporting event), there are many entry-level devices that are perfect for these kinds of events. The Zoom Q2n ($149) and Mevo ($399) are two examples. Both of these devices are ready to go out of the box--they have built-in mics that record crisps sound and have wi-fi.
Sporting Events
Sporting events require a little more skill and better equipment than your average event; the wrong camera will make the image jerky as you follow plays. The Canon VIXIA HF R80 is a good entry level camera; it has wi-fi built-in and 57x optical zoom. Having a good optical zoom is especially crucial for sporting events where you'll want to keep your viewers close to the action. If you want the very best, one of the most popular cameras used for live streaming sporting events is the Panasonic AG-DVX200, which can stream in 4K; keep in mind, however, that for this kind of production you'll need a lot more skill and accessories.
Software
Some events are perfectly fine being streamed with no production. Others, such as sporting events, your audience will want a bit more. This is where software such as Wirecast and vMix can help. If you aren't a beginner, a popular free and open source solution is OBS Studio. In addition to adding a sports scoreboard to your video feed, you can use software to show replays, recaps, and highlights during timeouts.
If you aren't quite ready to broadcast your own live stream, check out our post on the best already available live streams for your digital signage. You can also look at this free resource to learn what else you can do with live streams.