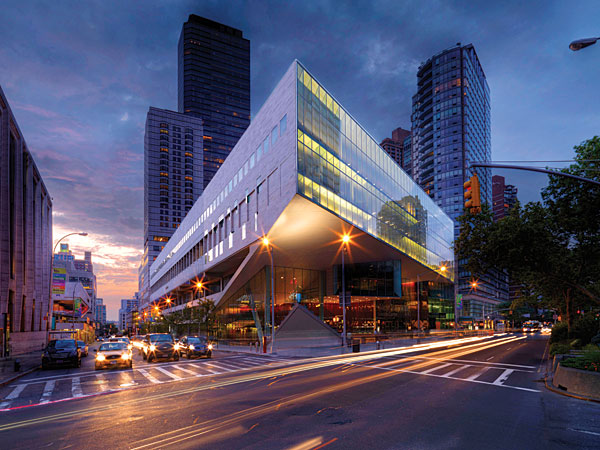 About the Jilliard School
Business schools aren't the only educational institutions that are turning to digital signage to help them get their messages out. For example, New York City's famous Juilliard School, the country's pre-eminent performing arts academy, recently updated their campus communication strategy by installing large LCD screens in the central lobby of their main campus at the Lincoln Center for the Performing Arts.
A private performing liberal arts college, The Juilliard School has roughly 1,900 students in its college, pre-college, music advancement and evening divisions.
The School's Campus Communication Strategy
According to Tunde Giwa, the school's chief technology officer, the decision to add digital signage to Juilliard's main lobby came about as part of their Juilliard/Lincoln Center Redevelopment Project, an ambitious undertaking begun in 2007 that involves major renovations to more than 50,000 square feet of existing campus space, and adds an additional 39,200 square feet of new theatres, studios, classrooms, practice rooms and specialty spaces to the arts school's expanding downtown premises.
"We wanted to add digital signage to our lobby as part of our redevelopment project," Mr. Giwa explained. "We needed this to communicate to our internal and on-campus audiences about events, along with news and weather."
After first trying a consultant's recommendation, which called for a digital signage setup that Mr. Giwa characterized as "a very complex system," the school sought out and contracted the services of Rise, mostly because they found Rise's recommendations and software to be much easier to understand and use.
Digital Signage at the Jilliard School
"This was our first foray into digital signage," explained Mr. Giwa. "The system that a first consultant designed for us would have required a lot of people to have learnt a very complex software product, to allow us to design and schedule our digital signs. We did try to learn how to use it, but it was much too complicated."
Simplicity then became one of the main requirements in their search for a better digital signage control system: "It had to be easy to use, and attractive." Rise's combination of high-end display hardware and web-based sign content management software — called Rise Display Network— fit the bill. In contrast to their confusion with the first consultant's system, Mr. Giwa said, their experience with the Rise solution was much more rewarding. "Rise's software was much easier to implement, and much easier to use. It's a quality product."
The Final Result
The performing arts school's new digital signs opened to rave reviews on campus. "In general everyone likes the Rise system," continued Mr. Giwa. "Users comment on how easy it is to use and members of the community seem to really like it. We're very happy with it. Very satisfied."
Want to see how more schools use digital signage? Check out our Education Customers page with past clients, use cases, and the benefits of digital signage for schools universities and colleges!
More client stories:
---
Get Your Message Noticed.
SIGN UP NOW