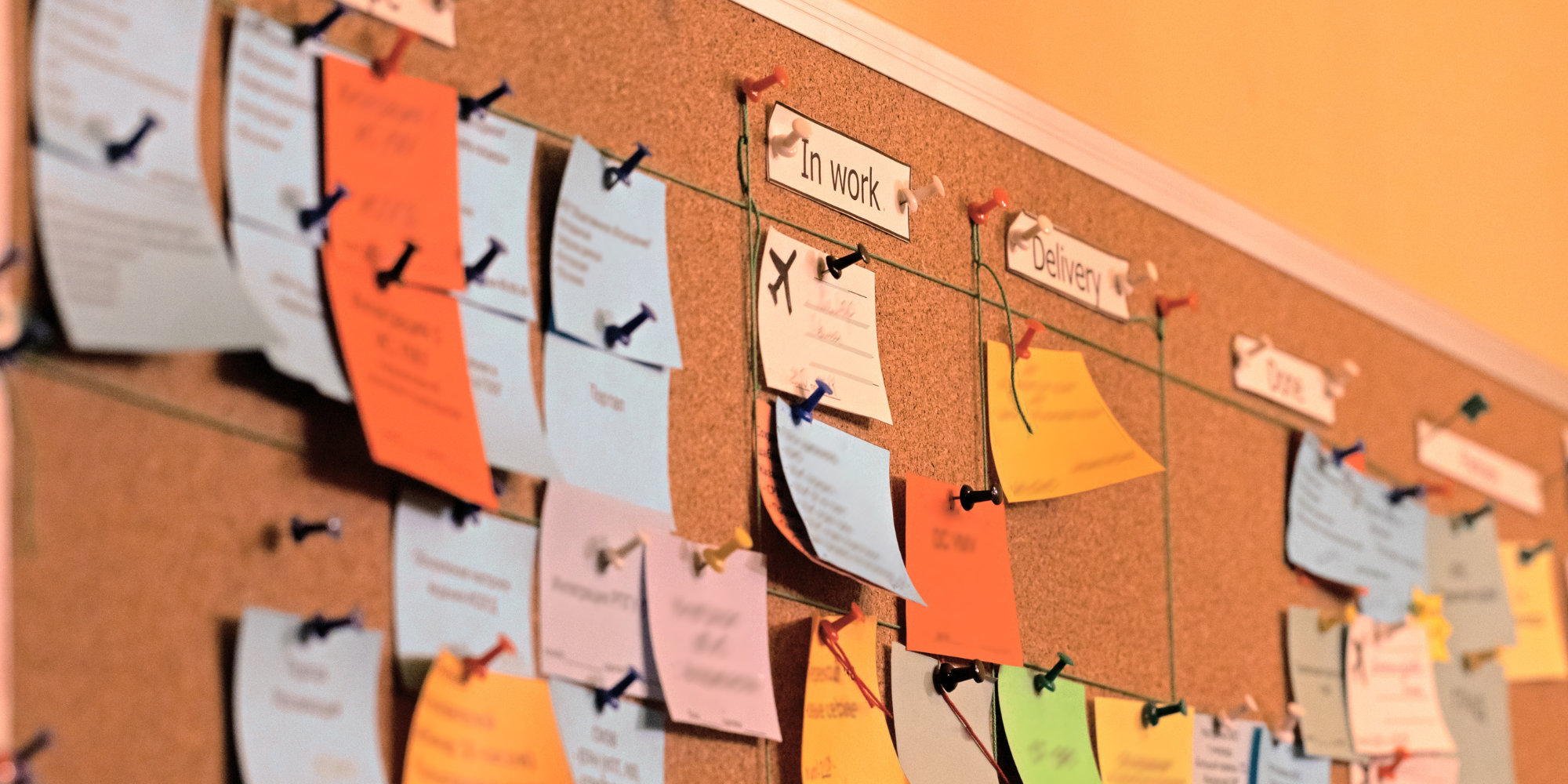 There's are bulletin boards almost everywhere we go, from the school hallways and library to our office lobbies and meeting rooms. Considered an important communications platform, it would be odd not to find a bulletin board filled with post-its and printed memos in your place of business.
Though bulletin boards have become quite standard, are they still effective at relaying messages and communicating information? Trends are showing they no longer are. As digital signage solutions begin overtaking traditional printed forms of communication, people are noticeably paying less and less attention to traditional signage — even in the form of bulletin boards.
This highlights the need for a more modernized approach to providing information, and digital bulletin boards are taking the spotlight.
The Benefits of Having a Digital Bulletin Board
Traditional bulletin boards would have several pieces of printed documents thumbtacked into the board, aiming to provide announcements or information to its intended audience. Often, these messages are all typewritten, making it difficult to read quickly.
Because of the plain and often messy appearance of traditional bulletin boards, the information it provides is naturally easy to ignore and hard to absorb, especially in this day and age when everything is visual.
Studies show that the human brain is able to process visual content 60,000 times faster than text, and subsequently recall 65% of it three days later.
Digitizing traditional bulletin boards turns the familiar, cluttered, and messy display into a highly visual and dynamic one. With bold colors, eye-catching graphics, and an organized format, a digital bulletin board can't be missed and is much more effective at getting your message across.
Because they don't require frequent printing of new announcements or manually updating the board, digital bulletin boards are also cost-effective, environmentally friendly, and flexible. You can update content in real-time, only requiring a couple of clicks on your digital signage software.
How to Make a Digital Bulletin Board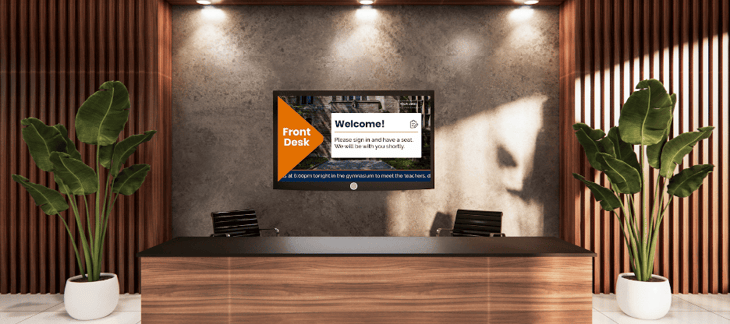 If we've convinced you to ditch the humble bulletin board for a digital signage solution, here are the steps you need to take to make the switch.
Get a Digital Signage Software Subscription
To power your digital bulletin board, you need digital signage software that will help you manage your content and deploy them into your screen. Rise Vision is the #1 cloud-based digital signage software solution that makes it easy to set up and optimize your digital bulletin board.
All you need to do is to set up your subscription to access over 500+ customizable templates you can quickly deploy onto your display. Rise Vision's software works with any media player and digital signage screen.
You can book a demo to learn more about how our operating system can support your digital bulletin board and help you improve communication in your organization.
Create Digital Signage Content
Next up is creating the content that's going to show up on your screens. Your digital signage software will likely have templates that you can customize to suit your message. But you can also opt to create your own content using online design tools.
Templates
The templates provided by your digital signage software make it easy for you to create and deploy content. You'll have a whole collection of templates to choose from, whether you need something to announce a holiday event or to provide emergency alerts.
These templates are customizable — with a couple of clicks on your software, you can add media, change text, or play around with the format. And when you're done, you can easily launch the template on your display.
Online Design Tools
You can also opt to create and design your digital bulletin board content from scratch. You can have your company's design team curate them for you, or if that's not available, there are various design tools online that you can take advantage of. Some popular ones include:
Canva - A beginner-friendly graphic-creation tool with a range of templates and editing tools.
Google Slides - An online platform where you can create slideshow content and access colors, fonts, animations, and effects. You can also use

Microsoft PowerPoint

as an alternative.
Noticeboard - An easy-to-use app that helps you create simple text + background content formats.
Put Your Content on a Playlist
Once you're happy with your content, you can begin compiling them in a playlist. When doing so, you want to add them in the order in which you want them shown and indicate how long each content should appear on-screen.
Your digital signage software may also have features that allow content scheduling or thematic playlists. The former lets you select the times of day when specific content will appear and the latter allows you to show different sets of content on multi-screen digital signage.
Integrate Ambient Content
Digital signage serves three primary purposes:
Inform
Educate
Entertain
That means your digital bulletin board shouldn't be solely about business! Take advantage of this technology's ability to engage and attract your intended audience.
In between announcements, alerts, or memos, add some ambient content types like weather widgets, news live streams, social media feeds, or even YouTube videos. You can even leverage it to boost staff engagement by displaying birthday greetings, recognizing top-performing employees, or posting photos from your last team outing.
Keep Your Digital Bulletin Board Up to Date
The beauty of digital bulletin boards is that they allow you to update content remotely and in real-time. You don't have to go to your screens to change the display or reprint collaterals when new announcements come up.
Through your digital signage software, you only need to upload content and make a couple of clicks to instantly deploy them onto your screens. You can even do so at home or anywhere with an Internet connection through cloud-based software.
Digital bulletin boards give you no excuse to leave your boards displaying the same old content. Make sure you don't let your digital bulletin board go stale — refresh your playlist every now and then and add content that communicates the latest announcements or events in your organization.
Digital Bulletin Board Applications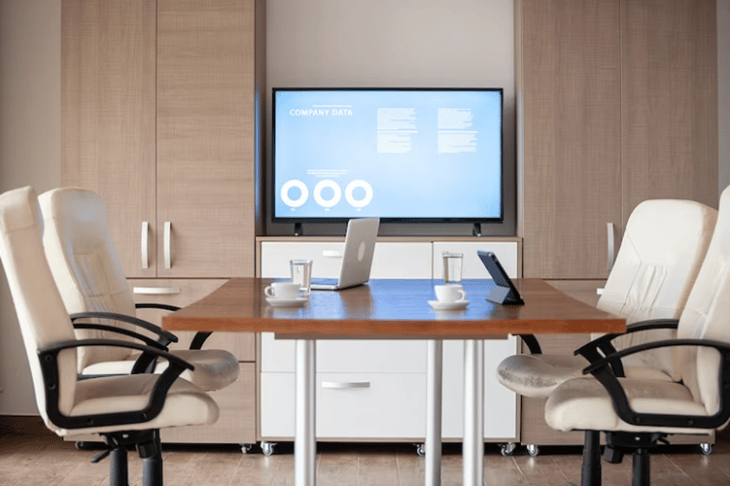 Like traditional bulletin boards, digital signage should be placed in high-traffic areas in your organization. The school entrance or office reception are good places where you're sure to reach your intended audience.
When choosing a location for your digital bulletin board, make sure to consider visibility and readability. Your sign should be the center of attraction, without distracting lighting and decorative elements that can turn your audience's eyes away from it.
Get Started Making Your Digital Bulletin Board
Your traditional bulletin board is not getting the same traction it used to, which means your audience is not getting the message you're trying to get across. It's high time to upgrade your communications platform and invest in a digital bulletin board. Start the switch with a free digital signage trial of Rise Vision's digital signage software.