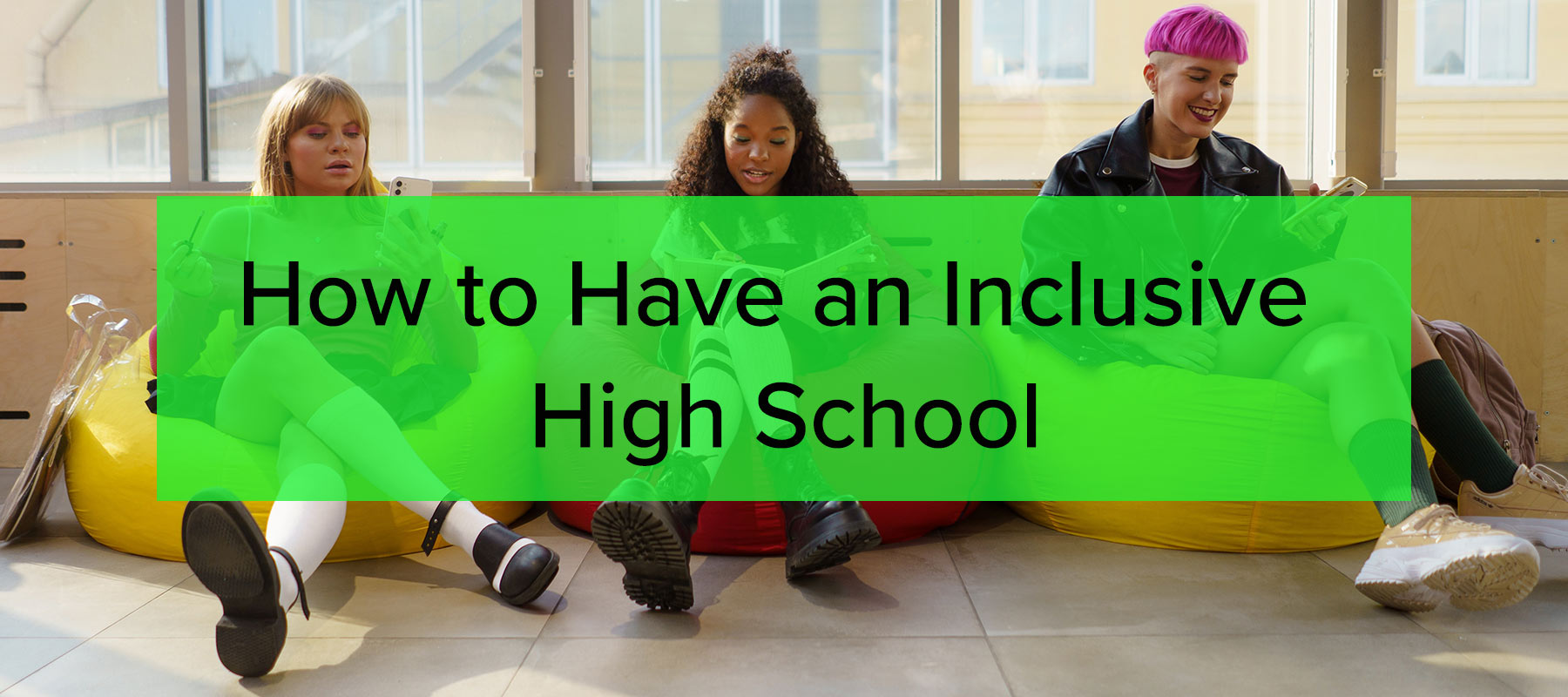 High school is a crucial formative period of most people's lives. This is when we make the transition from childhood to adulthood and begin forming adult identities.
Social inclusion at high school has very significant effects on personal and academic development.
For mainstream students, improvements in Social and Emotional Learning (SEL) outcomes translate directly to improved academic outcomes. They also lead to improved life outcomes once students leave school.
For students with learning differences of all types, inclusive high school experiences correlate with better independent living and employment outcomes after high school. A longitudinal study of 11,000 seriously disabled students showed reduced referrals for behavioral issues and fewer school absences from school.
However, inclusion doesn't simply mean finding a place in the life of the school for students with disabilities. The same approaches and attitudes work for everyone. The goal should be to create a school environment where all students feel safe, secure, and empowered to succeed.
Including everyone
When we talk about inclusion, who are we talking about including? We want to make high schools a place where everyone feels welcome and supported, but different groups can have different needs.
Diverse cultures and backgrounds
High school students can sometimes find themselves excluded on the basis of their culture and background. This isn't always because institutions or individuals are consciously exclusionary. And not being deliberately exclusionary is insufficient. We need to go out of our way to deliberately make everyone feel included.
Some students will speak different languages than the main body of the school. These could be as second languages, first languages, or bilingualism, where, say, Spanish is spoken at home, and English at school. A student of high school age may be their family's main 'interpreter,' interfacing with American society and institutions on behalf of elders who don't speak English well.
These same students might need accelerated education because they're starting high school late. Without this, they might be at risk of not accruing enough credits for graduation. They'll be overcoming language and cultural barriers and the normal challenges of adolescence — and trying to do it twice as fast.
High schools can make themselves more inclusive by acknowledging this. One way to do that is to display signage in other languages than English. Even if only a few signs are bilingual, the effect is to make speakers of other languages feel recognized and welcomed.
It's important to integrate students into mainstream classrooms as early as possible and provide peer language mentoring. This is a key way to accelerate language acquisition, because students are both motivated and supported by the social engagement involved. The process is mirrored in the experiences of students with learning differences (see below).
Right alongside different languages, some groups will have different cultural practices. These might be recently-arrived groups, or they might be longstanding minorities like Gullah or Pennsylvania Dutch (actually descended from German immigrants). They might even be indigenous peoples. Consider recognizing important events in their cultural calendars, and finding ways to recognize and respect their cultural practices within the broader school culture. This can mean signs wishing everyone a happy Diwali, or Kosher food in the cafeteria.
Diverse identities
LQBTQ+ individuals are at high risk for ostracization and bullying in high school. Since this is also true in the family and community, these students are particularly reliant on provision from schools and community organizations. Down the line, this ostracization translates into increased risk of homelessness, joblessness and incarceration, and mental health problems, as well as reduced scholastic performance and reported wellbeing.
Ostracism of LGBTQ+ students harms their classmates too, creating a hostile and exclusionary educational environment that doesn't prepare students well for an increasingly diverse work and social life. Non-LGBTQ+ students may well find themselves working with, or even for, their LGBTQ+ classmates in future, as well as living alongside them. So learning to be inclusive helps everyone.
These concerns extend to personal expression. Some students may have personal expression styles that are gender nonconforming. Others may simply be interested in fashion or music scenes that involve unusual styling. Within the confines of the school dress code, these forms of expression should be consciously included, making sure these students feel safe and valued.
Neurodiverse students include those on the autism spectrum or with conditions such as Obsessive-Compulsive Disorder (OCD) or Attention Deficit Disorder (ADD). Medication can help students with these conditions, but not 'cure' them. Students who have them are different, but not worse; this message should be promoted to the school as a whole.
Diverse learning styles and differences
Our culture privileges the written word as a source of information. Yet, very few people find reading alone the most effective learning method. In fact, almost all people have what's called a 'hybrid' learning style. They learn best when they see, hear, read, and do, for instance. High school students who don't easily assimilate written information can end up feeling less capable, even though they're actually the majority. Schools should cater to students' actual learning styles, but should also explicitly recognize and celebrate them.
Individuals with learning differences — neurodiverse people, but also those with Down's syndrome and other similar conditions — also need positive inclusivity. It's not always possible to provide this within mainstream schools. However, studies show that where this is done, the results are positive. Non-instructional time falls by 23 percentage points, students spend more time on both functional and basic academic skills, and they tend to rely on peers more and adults less. There may also be some benefits for their classmates who take on mentor roles.
High schools also need to address giftedness. Students with unusually developed intellectual abilities for their age can rapidly become bored with the standard curriculum. Ironically, this can cause them to display the same behavioral issues as students who are left behind by it. More gifted students should be supported in academic attainment by more advanced work. Additions to standard lessons should cater to them. And they should be given opportunities to pursue the same subjects as the rest of the grade, at a higher level.
This group of students will face unique challenges when preparing to transition to higher education. 'This is especially important for students with high-functioning autism spectrum disorders (ASD), who are likely to experience significant and unique challenges in adjusting to postsecondary educational settings,' say Diane Adreon and Jennifer Stella Durocher of University of Miami/Nova Southeastern University's Center for Autism and Related Disabilities. Schools need to find ways to assist these students through high school — and to prepare them for the challenges to come.
An inclusive classroom: What can teachers do?
Inclusion starts in the classroom, the site of the majority of interactions between the school and its students. Unsurprisingly, effective classroom communication and positive student-teacher relationships are shown to be the among biggest single contributors to educational outcomes.
What can teachers do to make classrooms more inclusive?
Define clear minimum standards for behavior
These should be attainable, the same for everyone, and enforced evenhandedly. Enforcement doesn't mean that punitive discipline should be the response to misbehavior. Instead this should be dealt with in a sensitive way that aims to get the student back into compliance with the behavior code and back to learning. No student's circumstances or condition should be regarded as a reason not to comply with these rules. In high schools, these standards should aim at developing appropriate habits for young adults.
Create opportunities to listen to all students
Some high school students will feel comfortable making their voices heard. Others will need help, encouragement and support. Teachers should work to create a learning environment where students are unafraid to take risks or try to do things they're not good at. That could mean activities such as answering math questions at the board or reading aloud.
Study groups and group presentations are effective ways to do this. However, they can risk replicating the social structures that already exist in the classroom. clever, confident students may move to the fore, meaning no harm, and make it hard for their classmates to take part. Guided reflection on group projects, and teaching group learning as a skill in itself, can be helpful.
Clearly display timetables and relevant information
Some high school students will find it all too easy to forget or mislay crucial information. Keeping it in front of their eyes is an effective way to keep it at the top of their minds. Use anything from traditional static boards or cards, to full-fledged classroom digital signage. In many high schools, classroom-based signage is used to display relevant content during class. The same screens then default to centrally-controlled digital signage the rest of the time.
An inclusive school: What can principals do?
Teachers are best placed to make an immediate impact on students' learning and development. But they need the support of the school to do it most effectively. And high school students spend a lot of their school hours outside the classroom. They're in the gym, in the cafeteria, the library and the corridors. No one teacher can make a student's entire school experience inclusive.
In many cases, there are structural changes that can be used to make a high school more inclusive. These can be things that are relatively easy to implement, such as braille signage on doors or bilingual lunch menus.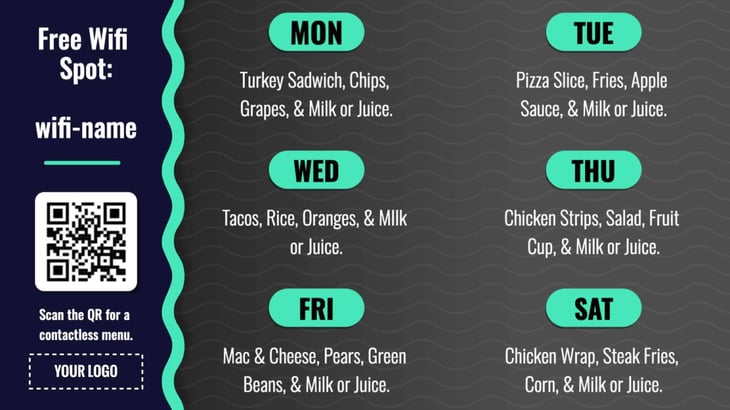 Get started with this digital lunch menu here.
QR codes can be used to let students download menus to their device in their preferred language.
Or it can be the larger investment that a wheelchair ramp represents. These changes have a dual effect. If you're a wheelchair user, that ramp is a big deal. Even if you're not, it sends the message that it's worth building a ramp so wheelchair users can have the same access as everyone else.
Another option is to send messages directly. School principals can select messaging that helps high school students build a more equitable, inclusive and supportive school culture. This can include schoolwide messaging that reinforces behavioral norms or underscores the school's SEL efforts.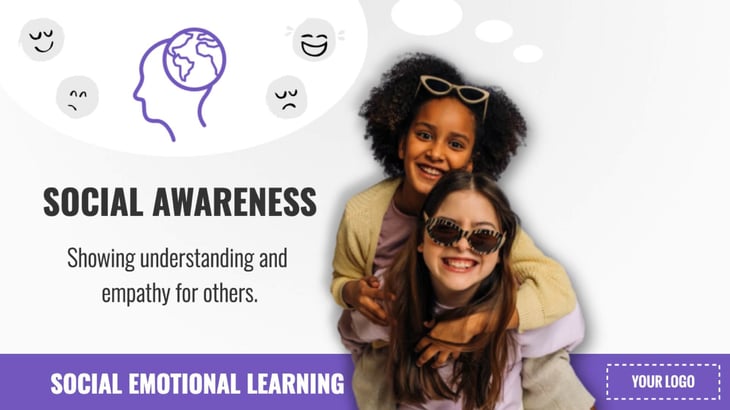 Download the Rise Vision SEL poster pack here.
Or it can involve closely-targeted messaging intended to 'nudge' student behavior when it's most important, or most amenable to change. Digital signage has been shown to be particularly effective for this.
An inclusive school district
School districts can share information between schools, and seek to standardize and improve provision for diverse students across the district. District-wide implementations of signage solutions can be more cost-effective than single-school options. They can also allow more professional teams to operate them. School districts with schools across K12 can use signage to smooth and support the journey between school stages. This can ease the shock of transition and reduce tensions in the school.
School districts can seek involvement from community members and organizations. Consider school visits to coincide with cultural events such as Eid, or performances from community groups.
Chief Leschi Schools, a Tribal Compact School operated by the Puyallup Tribe of Indians, use their Rise Vision screens to embed the school's Twitter feed. There, they take the opportunity to mark cultural events like Hispanic History Month, tying them to students' experiences by introducing and celebrating the school's staff:
Alejandra Morales, one of our preschool teachers in our Chief Leschi ECE program, is a first-generation Mexican American. Both of her parents were born and raised in Durango, Mexico. Her ancestral roots are Spaniard and Huichol (Wixáritari). #HispanicHeritageMonth pic.twitter.com/FfAdTgB5kW

— Chief Leschi Schools (@LeschiSchools) October 12, 2021
Conclusion
Inclusion is a crucial consideration for high school teachers, principals, and districts, as well as the communities they serve. That's because it's central to the interests of students, including both mainstream students and those most at risk of exclusion.
High schools should seek to create supportive environments for both academic learning and personal growth. This can be done in concert with classroom teaching and schoolwide SEL efforts. It's most effective when it's most systemic and organized, utilizing the full resources of the school — including its digital signage.
Other Posts You May Be Interested In
Featured Image Source