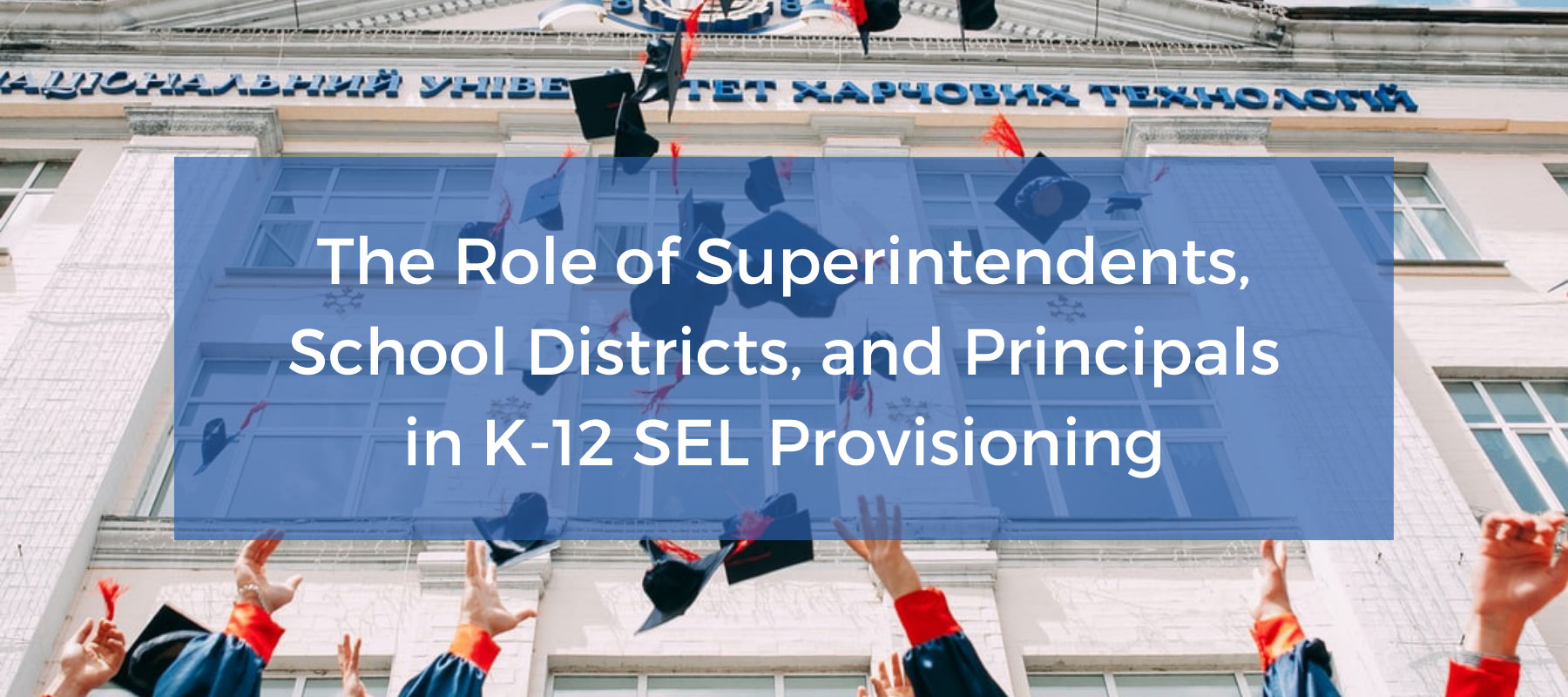 SEL, or Social and Emotional Learning, is of critical importance for schools. Students perform better when SEL is implemented alongside, and preferably integrated with, the conventional academic curriculum. Behavioral issues are reduced, grades and graduations go up, and teachers perform better. It can also save schools and districts large amounts of money.
In this post, we'll look at how best to address the role of school districts and principals in developing and delivering SEL programs, as well as the potential advantages — and some of the obstacles.
First, a refresher on SEL.
SEL 101
SEL is Social and Emotional Learning, consisting of five core competencies identified by the Collaborative for Academic, Social, and Emotional Learning (CASEL) as: self-management, self-awareness, social awareness, relationship skills, and responsible decision-making.
In 2020, CASEL updated its definition of SEL to place greater emphasis on identity development, educational equity, and adult-student co-creation of learning environments to help create more just communities.
---
Download the entire collection of FREE Social and Emotional Learning posters!
- 8 landscape-oriented posters
- 8 portrait-oriented posters
- available in high-resolution PDF formats
---
Why SEL matters
SEL matters because everyone has a social and emotional life as well as an academic and professional one. It's also important because when students' social and emotional lives are disturbed, their academic performance suffers.
CASEL's Joseph A. Durlak and Joseph L. Mahoney observe that 'students typically do not learn alone, but rather in collaboration with their teachers, in the company of their peers, and with the encouragement of their families. Emotions can facilitate or impede children's academic engagement, work ethic, commitment, and ultimate school success. Because relationships and emotional processes affect how and what we learn, schools and families must effectively address these aspects of the educational process for the benefit of all students.'
A 2016 meta-analysis of the available literature by CASEL found that SEL implementations in schools were associated with an 11-percentage-point improvement in academic achievement across the board.
SEL programs were able to improve multiple issues that often stand between students and effective learning in a safe environment:

SEL programs in schools can lead to improved academic and other outcomes, including:
27% of students improve their overall academic performance
57% gain skills
24% improved social behaviors and lower levels of distress
23% improved attitudes
22% show fewer conduct problems
The improvements wrought by SEL programs are somewhat counterintuitive, in that attitudes improved by 13%, while academic performances improved by up to 33% — the opposite of what you'd expect.
Delivering SEL isn't confined to the classroom: it can be reinforced both at home, and in the school's public, social spaces. Refectories and halls are crucial spaces for learning because when they're dysfunctional, students bring that dysfunction into the classroom with them. Homes can be even more crucial, and SEL support and reinforcement can be packaged with school-student messaging. Digital signage is particularly effective for this, and Rise Vision has a ready-made library of digital signage for SEL programs.
SEL is not just effective: it's also cost-effective. SEL programs deliver improved long-term outcomes, such that kindergartners with high SEL achievement were less likely to be in a correctional facility or public housing as adults, and more likely to be employed, even when other factors were controlled for. That saves money for states, cities, and the federal government.
However, SEL is cost-effective for schools and districts too. Every dollar spent on SEL programs saves $11 in reduced spending on problematic behaviors and academic underperformance: a 1,100% return on investment.
---
Download the entire collection of FREE Social and Emotional Learning posters!
- 8 landscape-oriented posters
- 8 portrait-oriented posters
- available in high-resolution PDF formats
---
SEL benefits teachers too
Teachers face their own SEL-related struggles, particularly now. Having to be the voice of authority, reason, calm and inspiration to thirty people an hour all day, every day was always a tough job that levied an emotional toll, making self-regulation more difficult. The coronavirus pandemic has laid more pressure on parents and students, but it's also made teaching even more difficult and stressful. Before the pandemic, one US teacher in six was considering leaving the profession, with stress the most-cited reason; now it's one in four.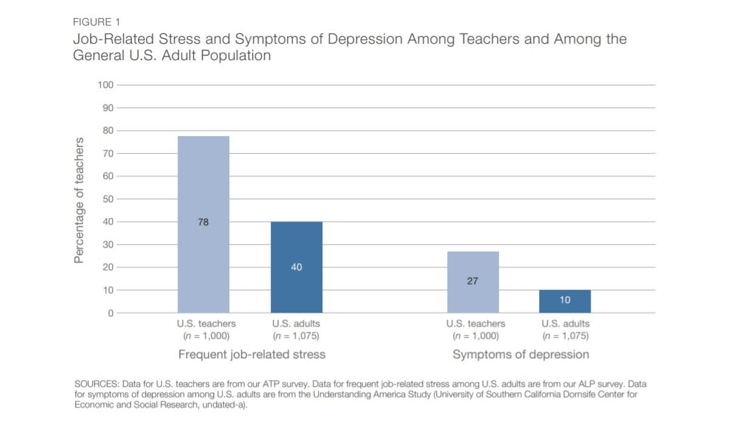 For new teachers, and for those who choose to stay in the job, SEL assistance targeted to them directly can help ameliorate the pressure. More effective than this, however, is SEL efforts directed to students.
Teachers are stressed, and when teachers are stressed, they're more disciplinarian. This kind of approach makes self-management even harder for students with behavioral difficulties, leading to worse behavioral outcomes — and worse teacher stress. Meanwhile, more students are suspended and learning outcomes suffer. SEL interventions targeted to students can be the intervention that breaks the cycle. However, most schools and districts feel they lack the tools to implement SEL initiatives effectively.
The SEL gap
Many district and school leaders see their current SEL programs as inadequate and say they will need additional support in the future, from both the public and private sectors as well as from communities and parents.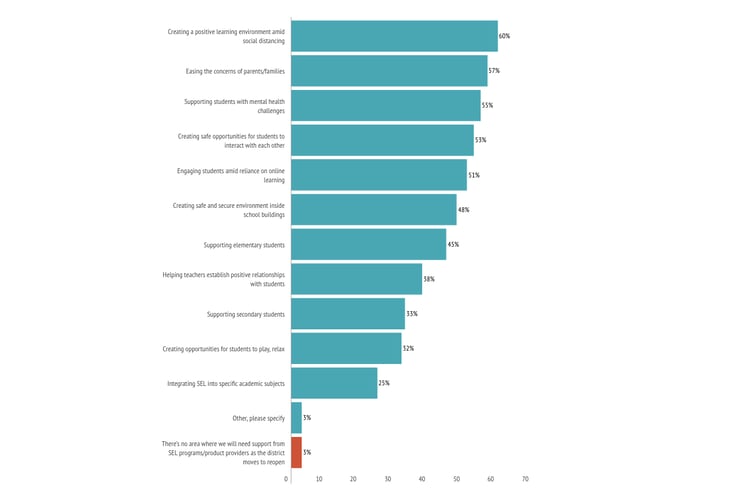 At the district and school level, educators need assistance from the private sector to bring SEL into the school experience — especially now that school is so often online.
Systems that allow SEL to be delivered to students in school and at home can be used to support educators, students and parents, helping to construct a cohesive SEL-positive environment for students.
Rise Vision Anywhere is one such system, allowing centralized control over messaging to school-owned IT infrastructure, signage and displays on-site, and website social channels too.
---
Download the entire collection of FREE Social and Emotional Learning posters!
- 8 landscape-oriented posters
- 8 portrait-oriented posters
- available in high-resolution PDF formats
---
Combining SEL with STEM
We've seen how SEL programs in schools can support academic achievement. But how does SEL interact with STEM teaching particularly?
STEM subjects aren't inherently emotionally engaging in the same way that arts and humanities are. Even more 'academic' subjects like history refer to human experiences that students can imagine themselves into. Science and technology subjects aren't like that, for the most part, and as competency in these areas becomes more important, a higher level of skill is demanded.
However, the relationship between STEM and SEL is all the more important because these subjects aren't inherently emotionally engaging.
For students to find satisfaction and interest in the scientific method or the patient iteration and observation required for success in technical tasks, a relatively high degree of self-awareness and emotional management is required.
You definitely want kids who are handling test tubes in chemistry class to be making responsible decisions. Goal-setting and organization are key to everything from experiment planning to revision.
SEL progress supports STEM progress by laying the groundwork on which it rests, and helping to create a learning environment conducive to success.
Systemic approaches to SEL
SEL needs to be implemented in schools systematically. Like any other kind of learning, it's most effective when individual interactions between learners and learning materials are guided by an overarching plan. This is where leaders and administrators — principals and superintendents — are needed.
Leaders and administrators must develop SEL plans and goals that can then be applied throughout the school or district. But they must also:
Create a climate conducive to SEL
Establish SEL as a priority, clarify its importance and establish an overarching vision for SEL implementation.
For that to happen, leaders need to support staff in understanding that SEL isn't an intervention for the at-risk or for students who clearly require additional support. In CASEL's words, 'some educators consider SEL as solely an intervention for students identified as needing Tier 2 and 3 supports and/or those with behavioral or mental health issues. This can lead to a perception that SEL is mainly the responsibility of social workers or counselors.' Instead, it needs to be understood as a domain of learning that applies to all and is most effective when everyone participates.
Establish coaching structures for effective SEL
Teachers need to be exposed to effective SEL implementations, and the opportunity to practice delivering SEL to students. This means they'll need to be coached, and they'll need coaching practice too, as well as peer collaboration opportunities.
This can include:
Designing district organizational charts to bridge connected workstreams
Developing and monitoring a strategic plan that aligns SEL and the rest of the school's learning methods and targets
Aligning district frameworks around SEL and academic targets
Integrate SEL into existing professional learning and development on academic content areas
Provide ongoing support for teachers about how to use instructional practices that promote and deepen SEL
Set up regular cross-department meetings between district leaders in SEL and academics, collaboratively plan and reflect on those collaborations
Evaluate SEL effectiveness
Leadership must assess SEL delivery and effectiveness, reorienting plans and goals to match new needs and situations. This includes making clear the definition of success to teachers and building robust systems of measurement.
It can include planning regular SEL updates to the superintendent's cabinet, or to senior leadership teams in schools, as part of an academic progress report, to monitor, track and adjust SEL implementation.
---
Download the entire collection of FREE Social and Emotional Learning posters!
- 8 landscape-oriented posters
- 8 portrait-oriented posters
- available in high-resolution PDF formats
---
The role of the principal in SEL
Principals have a crucial role in the implementation of SEL at the school level. They also have unique challenges. Principals are more sure of the teachability of SEL than they are of their own ability to teach it. They're convinced of the value of SEL:

In a recent survey, 72% of principals at underperforming schools said they were confident that SEL interventions could increase their students' chances of graduating.
They need both direction and support — as do their staffs. What do principals see as their major obstacles to success in SEL?
Some of these issues are more addressable than others. The struggle to buy teachers enough time to perform the ever-growing list of duties of their ever-expanding professional role is as old as the profession. Budgets are never as elastic as we might wish.
However, reinforcement outside school is possible. We can reinforce STEM, English, mathematics, foreign languages, history, art and geography skills outside school, through homework. We can do the same with SEL, offering tasks to do outside school and reinforcing key SEL messages inside school too. Where principals have access to both an overarching plan and the infrastructure to match it, they can deliver SEL-related materials to students wherever they are — online classes, the school website, and digital signage in hallways and classrooms can all be used to deliver and reinforce positive messaging.
Teachers can be supported with additional training materials too, as discussed above, though much of this requires intervention at the district level, led by superintendents rather than by principals.
In fact, their chief role is to lead by example, letting both staff and students see that they regard SEL as both necessary and achievable.
Conclusion
Staff and principals often know they need to deliver SEL, and are frequently aware of some of the benefits. They may need to have these restated, but more usually the obstacles preventing implementation of effective SEL programs is the lack of structured guidance and planning, appropriate infrastructure and support, and the concomitant lack of belief that success is attainable.
Superintendents and district offices need to offer principals the equipment and guidance they need to deliver SEL, but they also need to include it in their overarching plans for schools and curricula. Principals need to tailor these to their own school's cohorts and situations, and to embody lifelong SEL learning and a commitment to delivering SEL as part of the curriculum to all learners, as 'food,' not 'medicine.'
When SEL is consistently delivered, school communities are happier and calmer, suspensions and expulsions fall, problematic behavior is reduced and exam results and long-term outcomes improve. It's one of the most effective interventions a school or district can undertake.