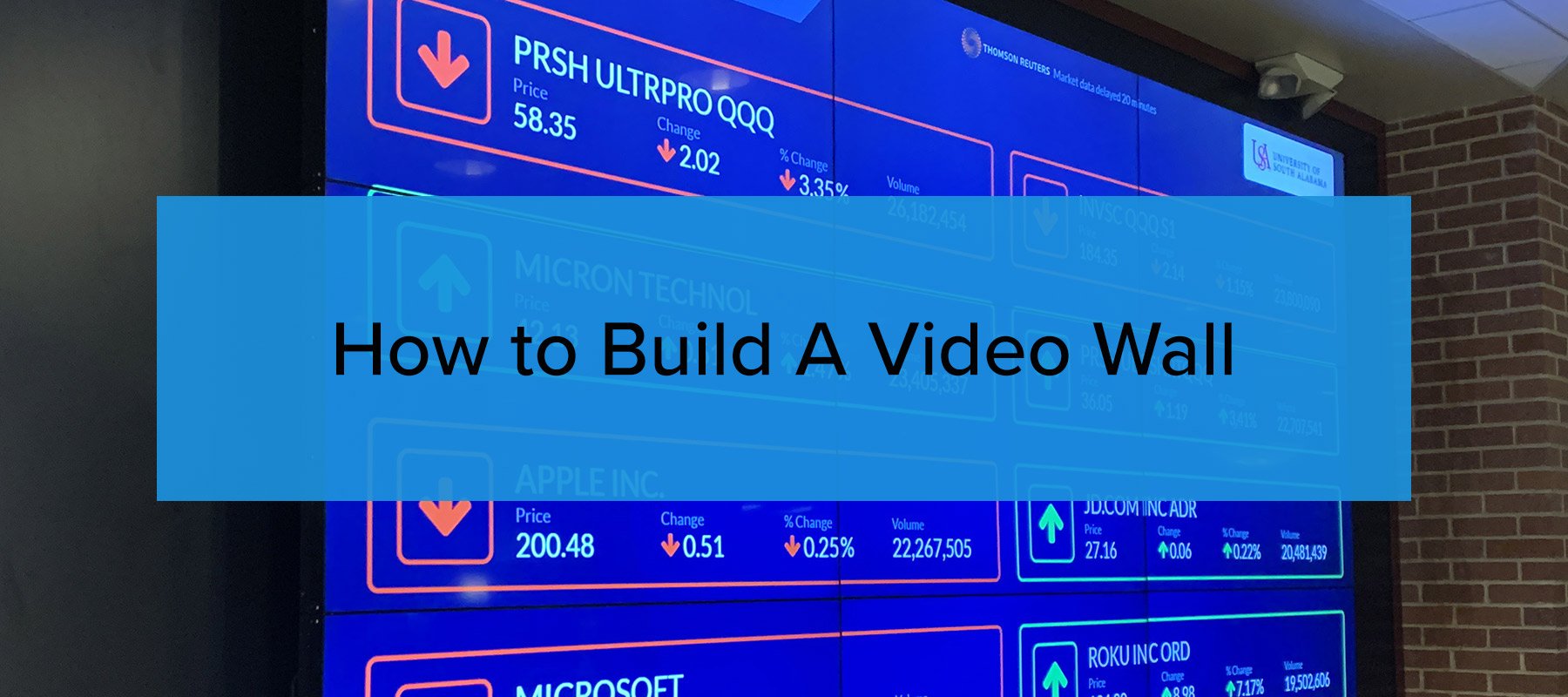 Video walls are an impressive way to display video content. They're great for office entrance ways and lobby areas. They can also be particularly useful in a museum, theaters and even in schools.
Building a video wall really depends on the goal of your video wall and what you want it to do. There are a few ways to construct and set up a video wall and we'll go over some of those ways in this post.
Before You Build A Video Wall: Establish Goals and Measure!
You or your organization probably have a good reason for building a video wall. Before you do anything, be sure your goals and objectives are clearly defined. This can save a lot of money down the road!
Here are some things to consider:
What's the video wall for?
Where will it be located?
Is there an electrical outlet nearby?
What size video wall do you need?
What does your video wall need to be able to do?
Is there WiFi or Internet access nearby?
Is there some sort of water fountain / fall nearby? (an issue in hotels and buildings)
Who's going to install it? Do you need to hire professionals?
It's a good idea to draft up a formal project document before you begin building your video wall. The idea is to sanity check the entire project before you purchase anything. Have other people in your organization review the project document and ask questions. Someone may raise an important concern that can save the project from running into extra costs and unforeseen issues.
Measuring Awareness
A common mistake when building a video wall is to forget to account for unexpected dimensions:
Actual display size (and not the marketed diagonal screen size)
Frame and supporting structure dimensions
Room needed BEHIND the displays and support structure
Distance between displays (if multiple displays are used)
Distance to power and internet connections
Room for media players, computers, WiFi adapters
Most office walls tend to be 8.5 feet in height. But you should carefully measure your wall height and width so you know the total area you're working with. You can think of this area as your canvas size. When you're designing your video wall, it's a good idea to sketch your design so you can account for margin around your video wall. You may want to present a certain aesthetic and margin plays a big role when it comes to video wall aesthetics.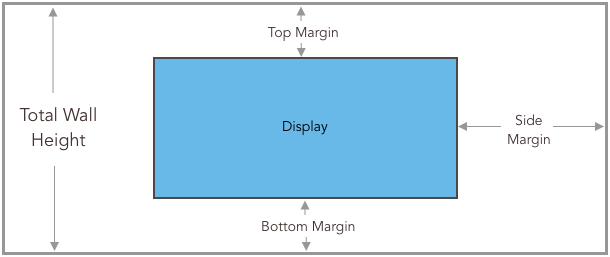 Create a schematic of your video wall so you have a good idea of how it will look once installed.
It's easy to not really comprehend what height your support structure may position your video wall from the floor. It's completely possible that your video wall will nearly hug the ceiling and end up looking awkward. That's why it's important to know ALL your dimensions!
Additionally, you must know the WEIGHT of your total video wall system. This includes the weight of all frames, supporting structure, displays and cables. The reason why is because if you're going to mount your video wall to a wall, you need to be sure your fastening system can bear the load you intend to put on it.
We strongly recommend you hire a professional TV / entertainment system installation company (that's licensed and insured) to build your video wall.
Address Potential Hazards
Video walls tend to be large, heavy structures. Some video wall stands and supporting structures can be up to 200 lbs alone! With this being said, some potential hazards to be aware of are:
Sharp corners people can run into. Think about people who may round corners quickly. Is there a high likelihood they'd run into it?
Will it be freestanding? Will your video wall be considered a tip hazard? Can you fasten it to the ground?
Can you stow cables and power cords away so they don't present a trip hazard?
Power consumption. Can your wall socket and any other power connection equipment (e.g. surge protectors) handle the voltage and amperage required by the video wall?
Finally, one last thing to consider is air conditioning and ventilation for your video wall. Some video walls do need to operate in a cool environment to avoid overheating. That's another reason why you need to make sure there is enough space behind your displays for ventilation.
Now that this is out of the way, let's get into how you can build a video wall!
Method 1: Keep It Simple. Keep It To One Screen
Thanks to the fact that LED screens, TVs and digital displays are getting wider every year, the ability to construct a video wall has become a lot easier. Ten years ago, you were either stuck having to use a projector or creating a video wall by assembling a grid of TVs or displays.
Starting with the largest "screen" you can buy, Samsung has come out with a 292 inch (24 foot) MicroLED screen at 8K resolution. It's appropriately been called "The Wall Luxury".
This obviously solves the problem of having to build a video wall, however the price for the Wall Luxury is hefty. The cost of the entire unit plus installation and delivery is $1,500,000. For some organizations and businesses, this may well be in the budget and additionally, you'll get Samsung to install it and provide support.
Now, even 24 feet might be too big for your needs. Most grid video walls are sized in the 10' X 8' region (ten feet wide by 8 feet tall). At the time of this writing, 98" (diagonal) is roughly the largest TV size that can be purchased. What this translates to is that these TVs are in the 7' x 4" size (seven feet wide by four feet tall), which is basically the largest video wall you can have with one screen.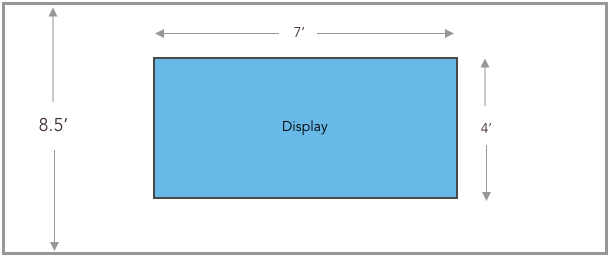 This is roughly what your largest display in 2020 will look like up on a wall.
If this meets your requirements, then you can avoid having to build a grid-style video wall. Next, you need to mount the display to the wall. Your IT or facilities team might be experienced in this area, otherwise we recommend hiring a professional entertainment installation company to do the installation. Displays at these sizes are heavy and cumbersome. A lot can go wrong during mounting!
Connecting A Media Player
In order to broadcast video, slideshows or signage to your display, you'll need a media player - a small computer - to do the broadcasting. You can use a desktop computer if you'd like, but we highly suggest using a media player since they are specifically designed for this purpose. They're compact and built to specifications for displaying video to a large display.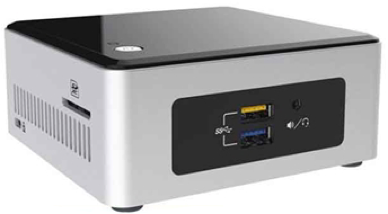 We recommend the Intel NUC Media Player
The nice thing about media players like the Intel NUC is that they can be attached to the backside of the display using double-sided velcro.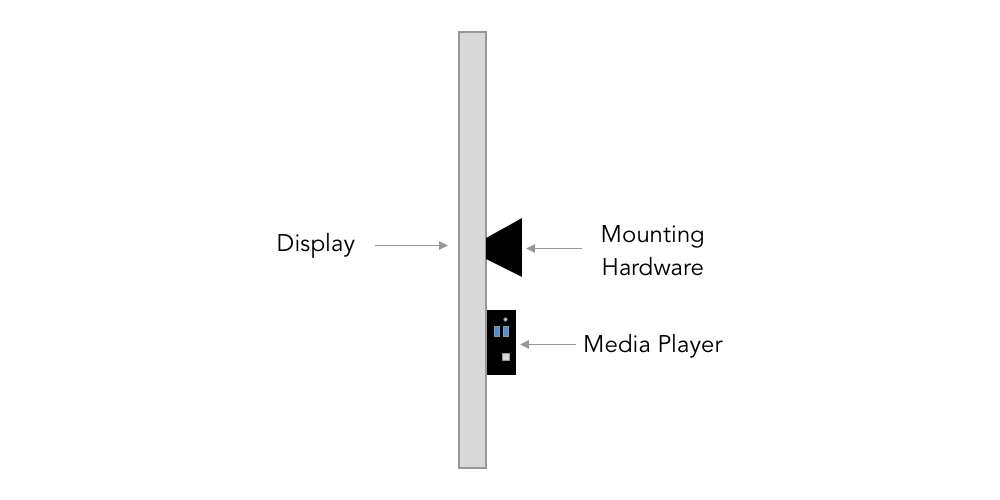 Most media players are small enough that they can be velcroed to the back of your display
Alternatively, you can stow your media player in a cabinet or in the ceiling. If you're concerned about not having messy looking cables everywhere, we suggest buying cable concealer (white plastic tubing to hide your cables). They will keep your cables nice and neat while blending into most wall colors.
Video Wall Software
Once you have your media player and display physically installed you'll need to install software on your media player to run video files, slideshows and other media. Rise Vision is a cloud-based digital signage content management system that makes it incredibly easy to broadcast video walls, slideshows and signage to your display (or to any display you own for that matter).
We highly recommend that you try Rise Vision first before you try to go with a do-it-yourself option. Rise Vision is stress-free, quick to set up and we're here to support you through the entire process. Plus, our content management system and template gallery was designed to save organizations up to 16 hours a week on content creation and scheduling. We've found that's where most schools, businesses and organizations spend the bulk of their time when it comes to broadcasting video wall and digital signage content.
This video will guide you on how to install Rise Vision for a single display digital signage system:
If you still want to go the do-it-yourself route, we have some articles that will help you:
Method 2: Build A Video Display Grid (Multiple Screens / Displays)
Up until very recently, this has been the go-to method for building video walls. And it can still be done. It's just a bit more work in terms of configuring and installation. Let's get into the steps now.
Choosing Your Displays and Mounting Hardware
Based on the goals you established earlier, you should have a good idea of the overall dimensions of your video wall. Now you'll have to search for the right combination of displays and mounting hardware.
Most mounting frames can accommodate a range of displays sizes. Just be sure to carefully jot down those values when selecting the right displays. For instance, the Peerless 3X3 Video Wall can accommodate displays that range between 46" to 55" diagonal screen sizes. Again, be sure to get the actual display height and width dimensions (and not just the diagonal dimension). You'll need these values later when you sketch your installation measurements and diagram.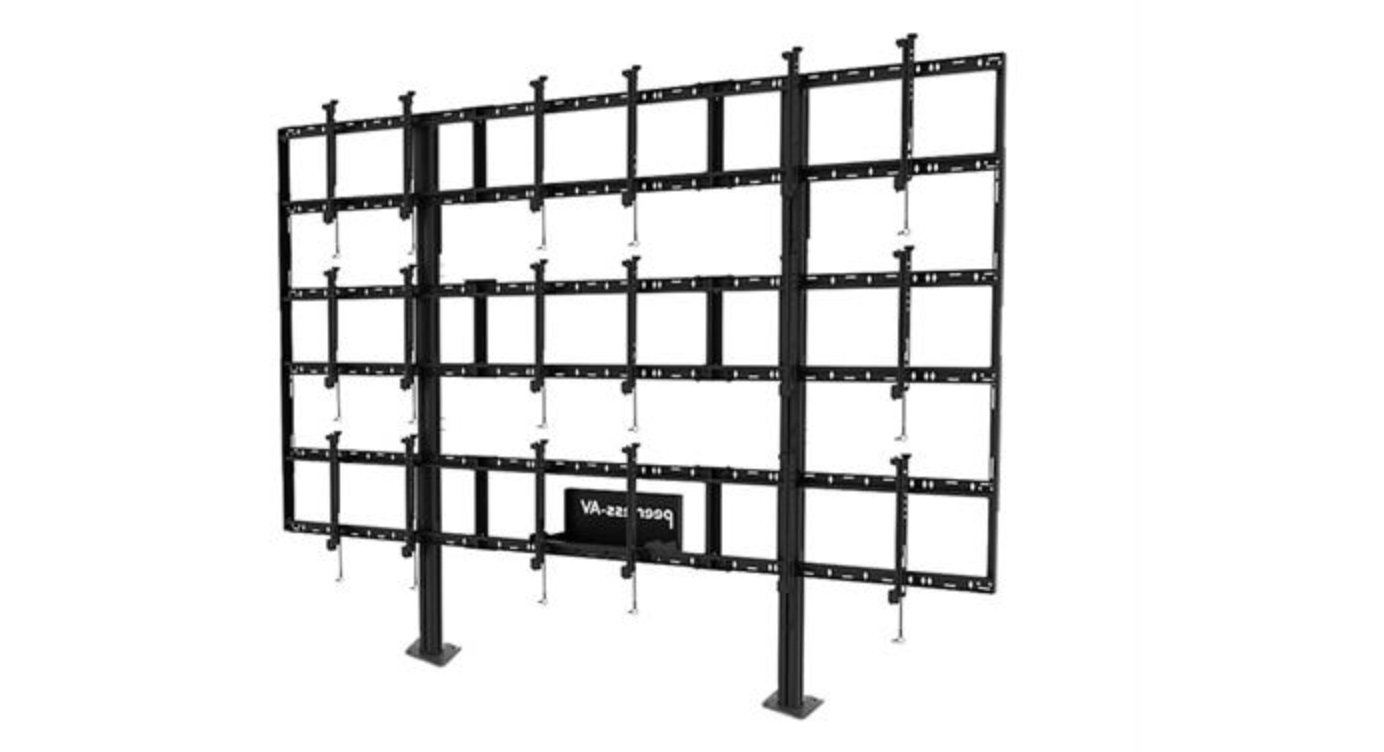 Peerless 3X3 Video Wall can accommodate displays that range between 46" to 55" diagonal screen sizes.
Hire Professional Entertainment Contractors or Have The Appropriate In-House Department Install It
Of any of the methods mentioned in this article, this method has the highest chance for project mishaps and safety issues. Video display grids are large, cumbersome set ups that are a lot trickier to configure and get working.
Measure Your Walls, Mounting Frame and Displays
Even if you're going to have a professional contractor or other in-house department install your video wall, it's still a good idea for you to get out the measuring tape. Not only can you sanity check your measurements with what the installers come up with, you'll have a better idea of how you want your video grid to look once you're done going through the math.
Similar to method 1 above, you'll want to sketch out wall, margin and equipment dimensions. The big difference with a video grid is that most video grid mounting hardware has feet. You may not be bolting to your wall, however, in some circumstances it may make sense for added safety.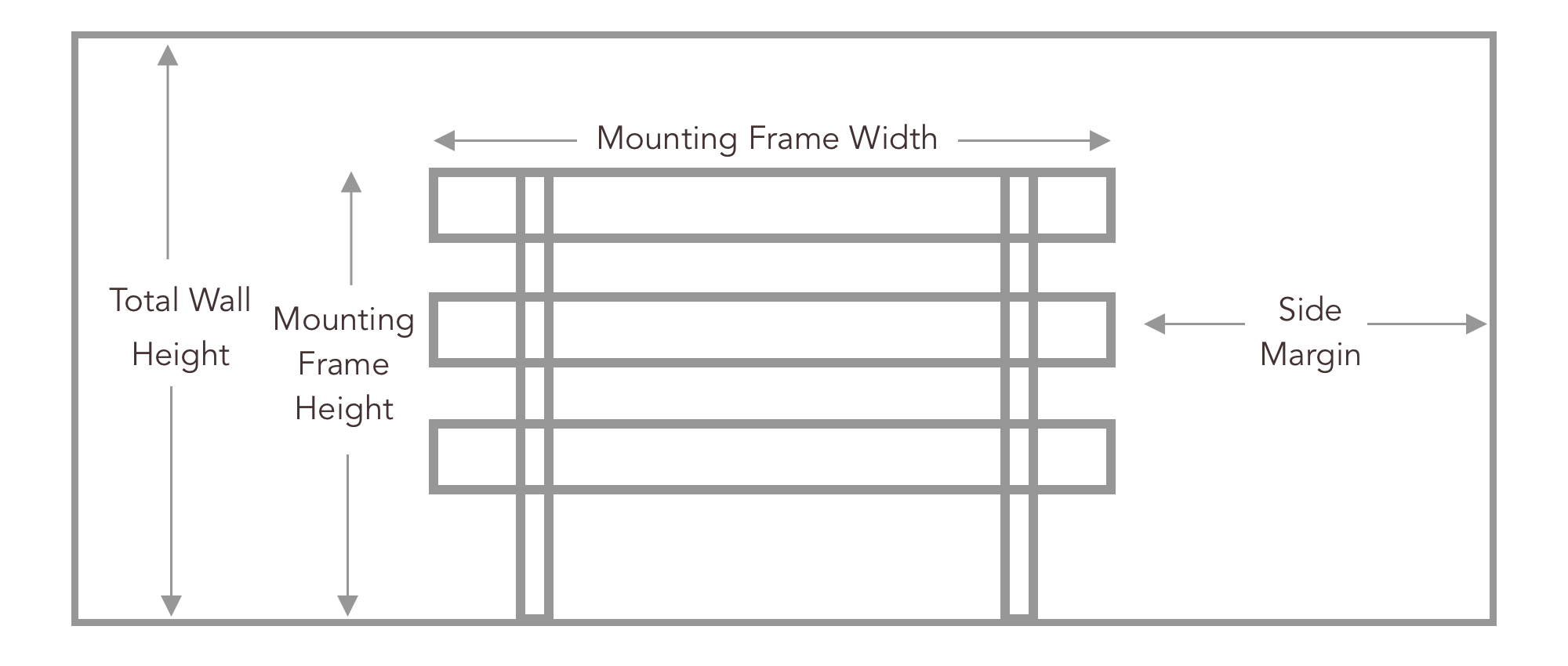 Knowing your mounting frame dimensions will help you envision how the overall installation will look when finished. Locate the display mounting holes in the frame so you can gauge what the complete set up will look like.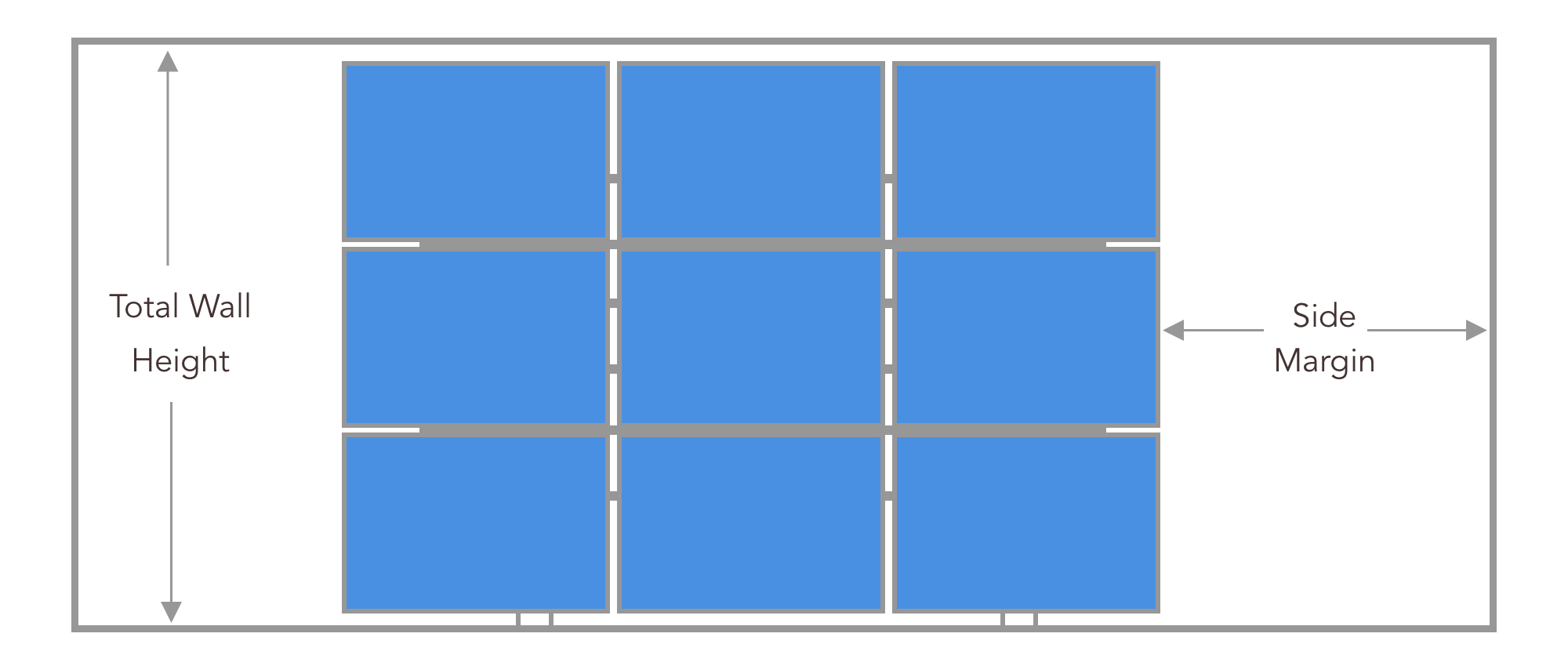 Once you've measured all the mounting holes and frame dimensions, you can overlay your monitor dimensions to get an idea of how the completed assembly will look
Display Accessibility
An easy goof to make is to install the video wall mounting frame right up against a wall. This can make installing cables and servicing the displays next to impossible. A good rule of thumb is to ensure someone's arms can reach behind the video wall - where one arm is reaching for a port and the other is pointing a flashlight. Occasionally technicians will have a hard time seeing behind the video wall and need even more accessibility for flashlights and screwdrivers.
Your Media Player Will Most Likely Need To Be A Desktop Computer
Your traditional digital signage media player is designed to broadcast to one display usually. For a video wall grid, you'll need to create a custom desktop computer that will have 9 display ports. Your local computer store can build a computer for this specific application or you can do it yourself.
Mac, Windows, Chrome or Linux?
Mac and Chrome OS aren't really designed for a video grid application. You'll most likely want to go with Windows. If you're very adventurous you can try building your video wall grid using Linux as your operating system. The good news with trying Linux first is if you give up you can always reformat the computer to be a Windows computer later.
Media Player or Computer Location
A desktop computer is generally a little larger than a media player in terms of size. That said, you may opt to stow the computer in a nearby cabinet or behind the video wall. Your video grid frame may have holes that will allow you to fasten a shelf to it. The computer can be placed on the shelf. And as always, the desktop computer can be stowed in the ceiling.
Setting Up The Media Player Software
For grid style video walls we recommend using the Windows operating system. It's the best operating system that can handle more than one display at a time. Read this Rise Vision article that details how to set up your Rise Vision account when running multiple displays.
Method 3: Projector
For certain applications, a projector can be a great way to create a video wall. It can keep project costs down and reduce the safety hazards that displays and video grids can create. Not to mention, aesthetically, they can sometimes produce the best looking picture!
Installing Your Projector
The ideal location for most projectors is on the ceiling. This will keep passersby from getting in between the light source and the wall or screen. With that said, again, we recommend that you have your IT or facilities department mount your projector or have a licensed and insured contractor install it. It's not just that installing ceiling mounted equipment can be dangerous, experience goes a long way when it comes to getting a great looking picture from a projector.
Know Your Projector's Throw Ratio
Knowing your projectors' throw ratio will help you determine the distance your projector needs to be from the wall or screen. To determine the distance you need to set your projector away from your wall or screen, take the screen diagonal width and multiply it by the minimum value listed as your throw ratio. For example:
Screen size: 100"
Throw Ratio: 1.85
Distance from screen = 100" x 1.85 = 185" (inches) or 15 feet, five inches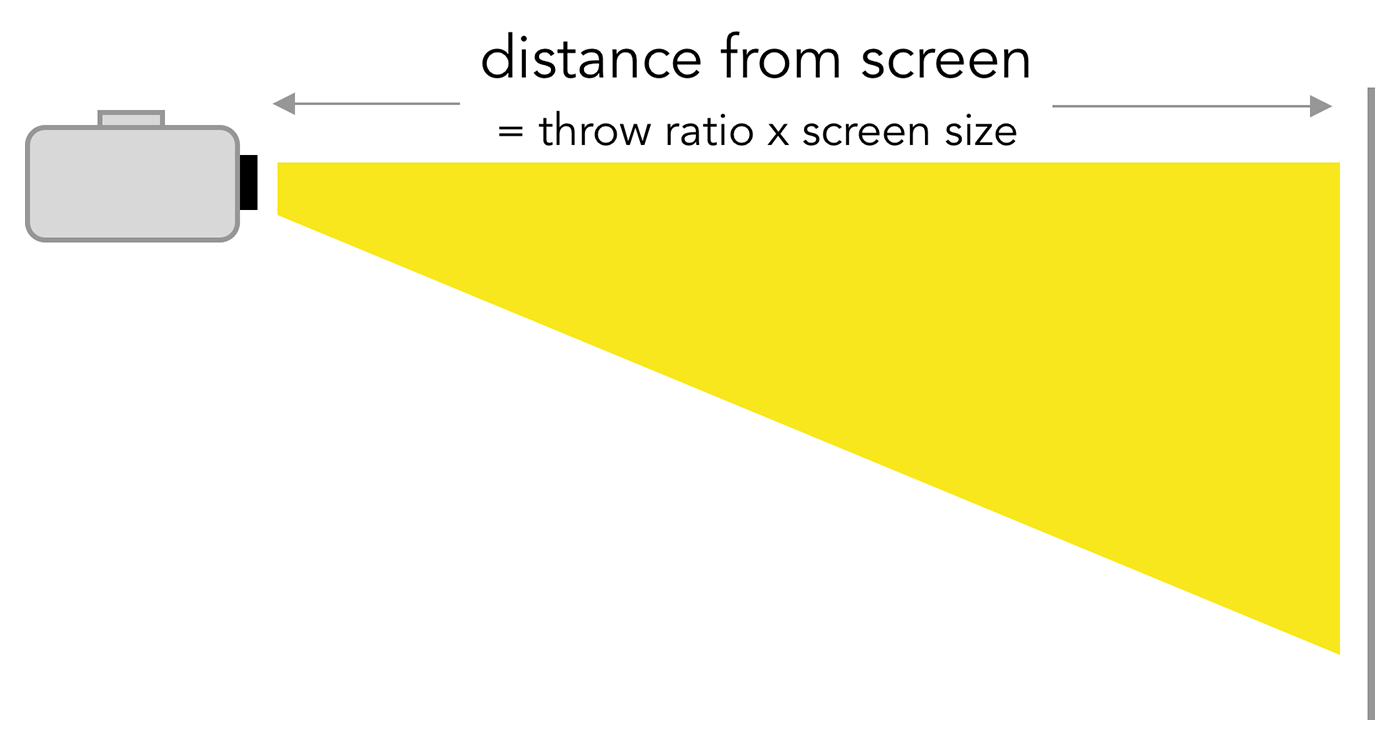 All projectors come with a throw ratio. You can use this ratio to determine your projector mounting location.
During installation, it will be crucial that you test your projector to make sure the image that's displayed on the wall is centered and not tilted in any off-direction. The projector mounting hardware will have to be adjusted carefully to make sure the picture is perfectly aligned. Many projectors will have a testing grid setting that will project a grid image onto your screen or wall. You can use this setting to adjust your projector alignment.

Your projector may have a grid mode that will help you align your picture during installation. The above grid will be projected onto your screen or wall when this mode is selected.
Also, make sure the factory recommended separation distance is followed to prevent fires. Projectors can get very hot (up to 300 degrees!) and can potentially start fires. We recommend you place adhesive temperature strips to mounting surfaces to be able to measure the temperature near the projector. You'll want to cross reference the temperature grade of your ceiling or other nearby materials to make sure you're not creating a fire hazard.
Installing The Media Player
A media player will ideally need to be installed close to the projector. Otherwise, you'll need to run cables further distances if you decide to stow your media player far away from the projector. And longer cables usually increases project costs.
Again, consult your IT or facilities team to see if they can install the media player. The good news is most media players these days are lightweight, so mounting them to the ceiling should be fairly easy.
Just as you would connect an HDMI cable into your media player while plugging the other end into your display, in this scenario you'll be plugging in the other end of the HDMI cable into the projector.
Turn on your media player and your projector. See if you can produce an image on your screen or wall. If you can, you're in business!
Don't Forget The Audio!
Mounting the projector can be an involved project and it's easy to forget sound!
Many media players will have an audio output. For instance the Intel NUC has one in the front of the unit. You may have to change the audio settings of the media player to output through the analog audio port (instead of HDMI). You can then use an audio cable to connect external speakers to provide audio for the room.

Determining where to place your external speakers is a bit of an art because each room will have different acoustics. You may want to experiment with placing your speakers in various locations throughout the room to see how the sound reverberates in the room. There will always be a sweet spot, you just have to find it!
How to Set Up Rise Vision if You're Using a Projector
The good news is that you can connect a digital signage media player to most projectors. To get Rise Vision digital signage running on a projector video wall system, you can follow this video to get going:
Make Your Video Wall a Breeze with Rise Vision!
Rise Vision makes any type of video wall you choose to create easy to operate. Best of all, we've found that our customers save up to 16 hours a week when they use our pre-made templates. We've found that the real expense to digital signage is content creation. Try a free trial of Rise Vision and see how effortless digital signage can be!
Other Posts You May Find Useful: