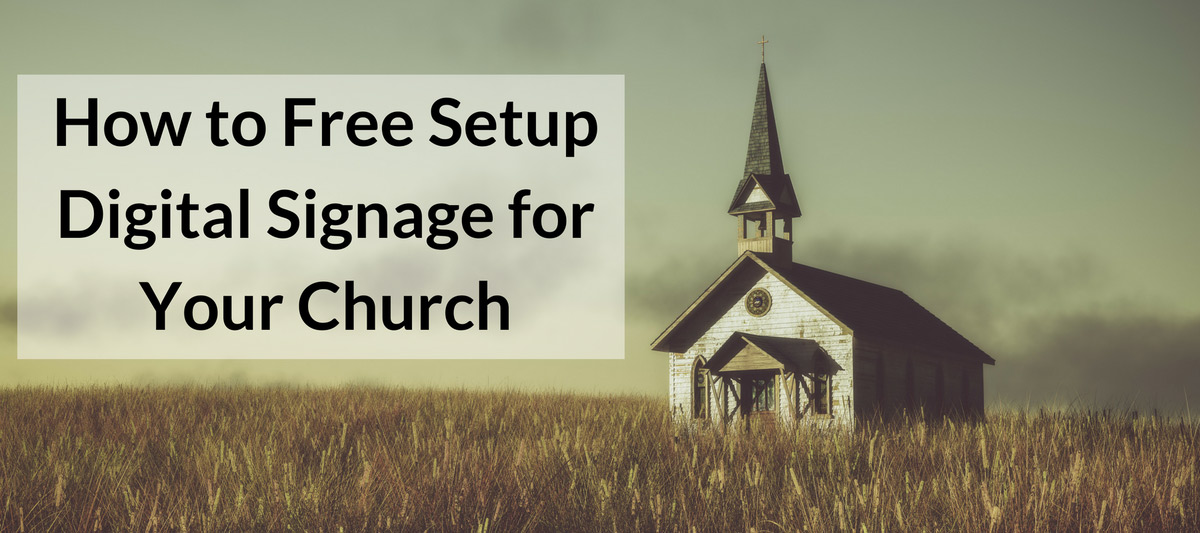 Digital signage not only brings a more dynamic experience to churches, but it saves them money. The days of printing hundreds of bulletins each week are over now that you can take that message and put it on a display; most churches have even gone away from buying hundreds of copies of hymnals now that the same music can be placed on a large screen that is easier to see and follow.
PowerPoint was the best solution for churches wanting to display their announcements and praise music on a display, but today most churches want to streamline their solution to make it easier and less time consuming for their staff.
Your church knows digital signage is something it needs to give people visiting the church a much more dynamic experience, and you've been tasked with setting up the digital signage solution: now what?! There are so many solutions and options. What's right for your church? We'll cover everything you need to get started on any budget in the four easy steps below.
Display

When people talk about digital signage displays, they're really talking about TVs. You know TVs--you got one in your living room, after all, so this part should be easy, right? Sort of. Commercial displays are different from the consumer TVs in your home, and it's important to know how before you buy one for your church.
Software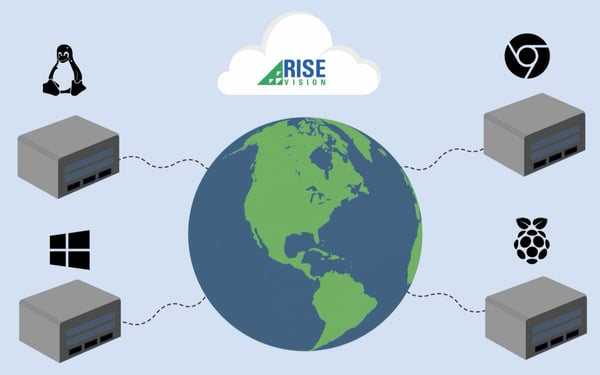 Once you decide on a display, you need to determine how you are going to put your church announcements and other digital signage onto it. The advantage of using dedicated digital signage CMS software over something like PowerPoint or Keynote is it lets you do things that presentation software will not, such as schedule when announcements will play (and on what display), and wirelessly manage hundreds of displays across satellite church campus.
Rise Vision's open source solution gives you flexibility most providers do not. While you do have the option to purchase a media player, you can also use your own. There are no monthly media player fees because you own everything. We also support multiple operating systems (Windows, Linux, Raspberry Pi, Chrome [coming this summer]). That means whatever system you have, we are ready to support you.
Media Player

The last step before you start building your digital signage is deciding what media player to get. A media player connects to your display; this is where the software sends your digital signage. There are literally hundreds of options for media players when you use Rise Vision. We have pre-configured media players that you can buy, but many users choose their own.
Raspberry Pi is one popular option, and it's perfect if you are only showing a single image; if you are streaming the service, running videos or showing slideshows, then having something with a little more power is recommended.
The Intel NUC I3 Media Player is an excellent option for power users; while the cost of this player is obviously higher than a lower end device, the lifespan of the player will be significantly longer and help futureproof your investment for future features that require more memory.
Content
Now that you have everything you need to get started, what goes on your display? With Rise Vision, you can create any presentation from scratch or use one of our several widgets to add videos, slideshows, social accounts, and more; you can also use one of the 150+ templates. Templates let you create professional digital signage in seconds.
Many of our templates are just for churches. You can see a few examples below.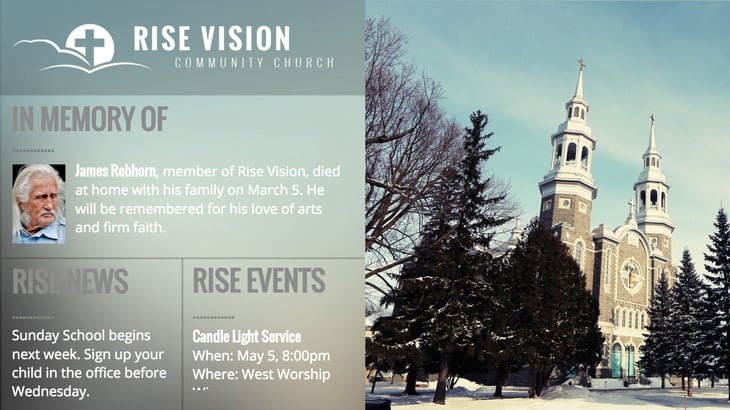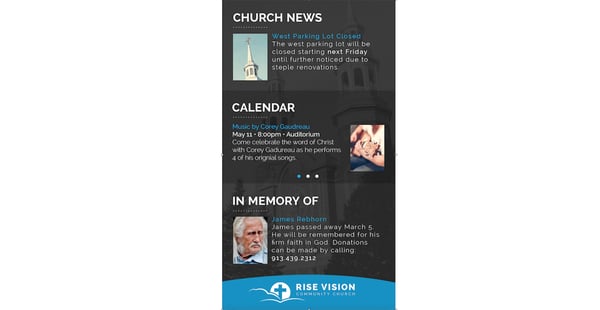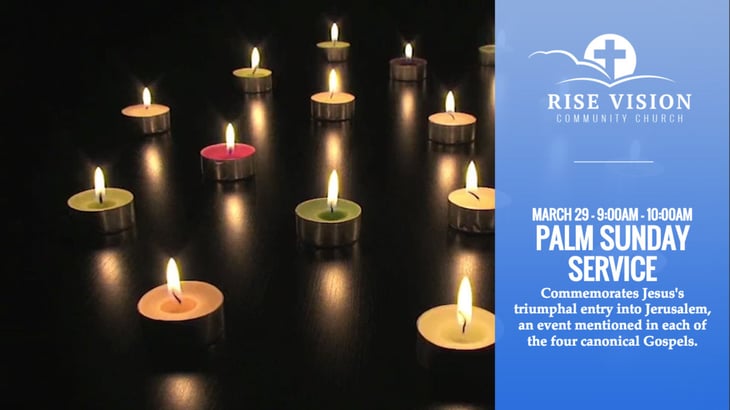 If you want to see other ways churches are using digital signage at their church, click here.
Get Digital Signage Hardware and Software for Your Church in One Place
Investing in a digital signage solution for your church doesn't have to be expensive. Rise Vision offers you digital signage subscription services tailored to your needs and budget.
Get your digital signage display with a built-in media player by signing up for an Avocor R Series Hardware as a Service. This all-in-one solution provides you with everything you need to start deploying your digital signage — no external media player is required.
If a media player is what you need, you can opt for the Rise Vision Media Player Hardware as a Service, a subscription media player with an easy plug-and-play setup and optimized functionality with the Rise Vision software.
For both subscriptions, you also get complete hardware management and support from Rise Vision. Leave the technical tasks of digital signage management to us and focus on achieving your digital signage goals.
Learn more about our subscription options by reaching out to our team.