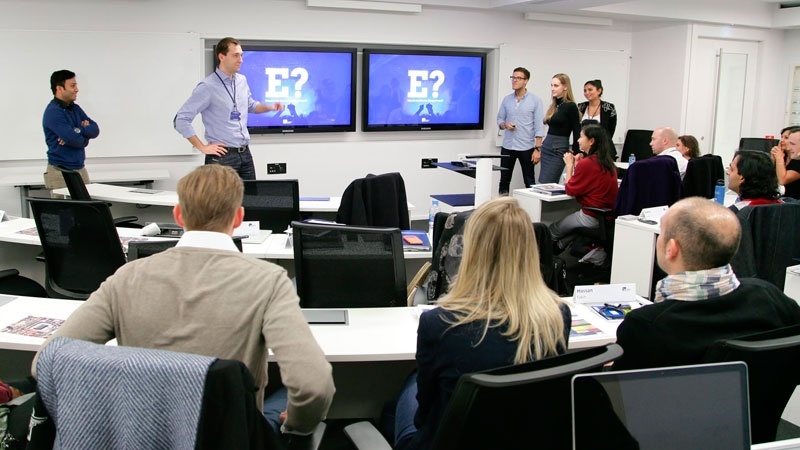 SHAWNEE, KS – March 1, 2008 – Rise Vision, Inc., a provider of web-based content management software for control of digital signage networks, announces that it is outfitting eight more business schools with digital signage solutions for their campus-based financial trading labs. These facilities are a fast-growing feature among business schools, as they offer real-life "Wall Street" experience that provides students with a post-graduate hiring advantage in financial services careers. Rise Vision, Inc. has worked with more than 100 business schools to deploy the technology they need to build a financial trading lab, including LED stock tickers, large format LCD displays, and financial quotes and headline news to create a dynamic financial atmosphere.

Virginia Commonwealth University in Richmond, VA deployed a unique 47-foot LED ticker on an elliptical curve to create a focal point for the four-story atrium of its new building, Snead Hall. The custom ticker attracts attention to the high-tech capital markets center, which faces the atrium through large windows that run along the curve below the ticker.
McIntire School of Commerce at the University of Virginia in Charlottesville, VA installed a 284-foot stock ticker, giving them the distinction of having the longest LED ticker display in a US business school. The custom ticker wraps around two trading rooms and displays financial quotes and headline news.
University of Wisconsin - Milwaukee mounted two 46-inch LCD screens that display the latest market updates, as well as a 70-foot ticker that wraps around three walls in the trading lab.
University of Delaware in Newark, Delaware built a trading room that features three 65-inch LCD screens that function as one large video wall, with a 33-foot ticker installed above them. Another 36-foot long ticker and 65-inch LCD screen in the hallway draw attention to the new room.
Marquette University in Milwaukee, WI built its first financial trading lab several years ago, with two 40-inch LCD screens and a 10-foot LED ticker. In January, the trading room moved to a new facility, and added a three-foot by six-foot LED wallboard to its installation.
New Mexico State University in Las Cruces, NM installed a 21-foot ticker and two 46-inch LCDs in a custom wooden enclosure in its newly remodeled lobby, along with two 46-inch LCDs inside a financial trading room.
Spring Arbor University in Spring Arbor, MI outfitted its new financial trading lab with a 40-inch LCD, a 57-inch LCD, a 12-line-by-48 character LED wallboard, a 50+ foot LED ticker, and a four-zone world clock to create a high-tech learning center.
Washburn University in Topeka, KS has expanded its digital display system to include four LED tickers and six 46-inch NEC LCD displays throughout the hallways and classrooms in the school of business.
To receive a copy of the white paper published by Rise Vision about deploying a financial trading lab in a business school environment, contact Ryan Cahoy at rjc@risevision.com. The white paper details steps in the process, from finding funding to getting results. Included in the paper is information from a survey conducted of business schools that have deployed financial trading labs on campus.
About Rise Vision, Inc.
Rise Vision, Inc. owns, develops, and operates the Rise Display Network, a web-based content management system for digital signage that brings live data, custom messages, and riveting content to thousands of displays. The Rise Display Network is a web service that does not require hosting infrastructure; users login from any Internet-accessible browser to update, control, and monitor their displays, or use their smart-phone browser to send critical alerts. Every display needs a message – we believe that it should be as easy as creating that message from the web, anywhere, anytime and knowing that it has been delivered. It's that simple.
Rise Vision, Inc. was founded in 1992 and has offices in Shawnee, KS USA and Etobicoke, ON Canada. For more information, call 877.538.7473 or visit www.risedisplay.com.
Contacts:
| | |
| --- | --- |
| Todd HemmeRise Vision, Inc.913-538-6988todd.hemme@risevision.com | Alison HarrisHarris Media Services207-829-4500alison@harrismediaservices.com |