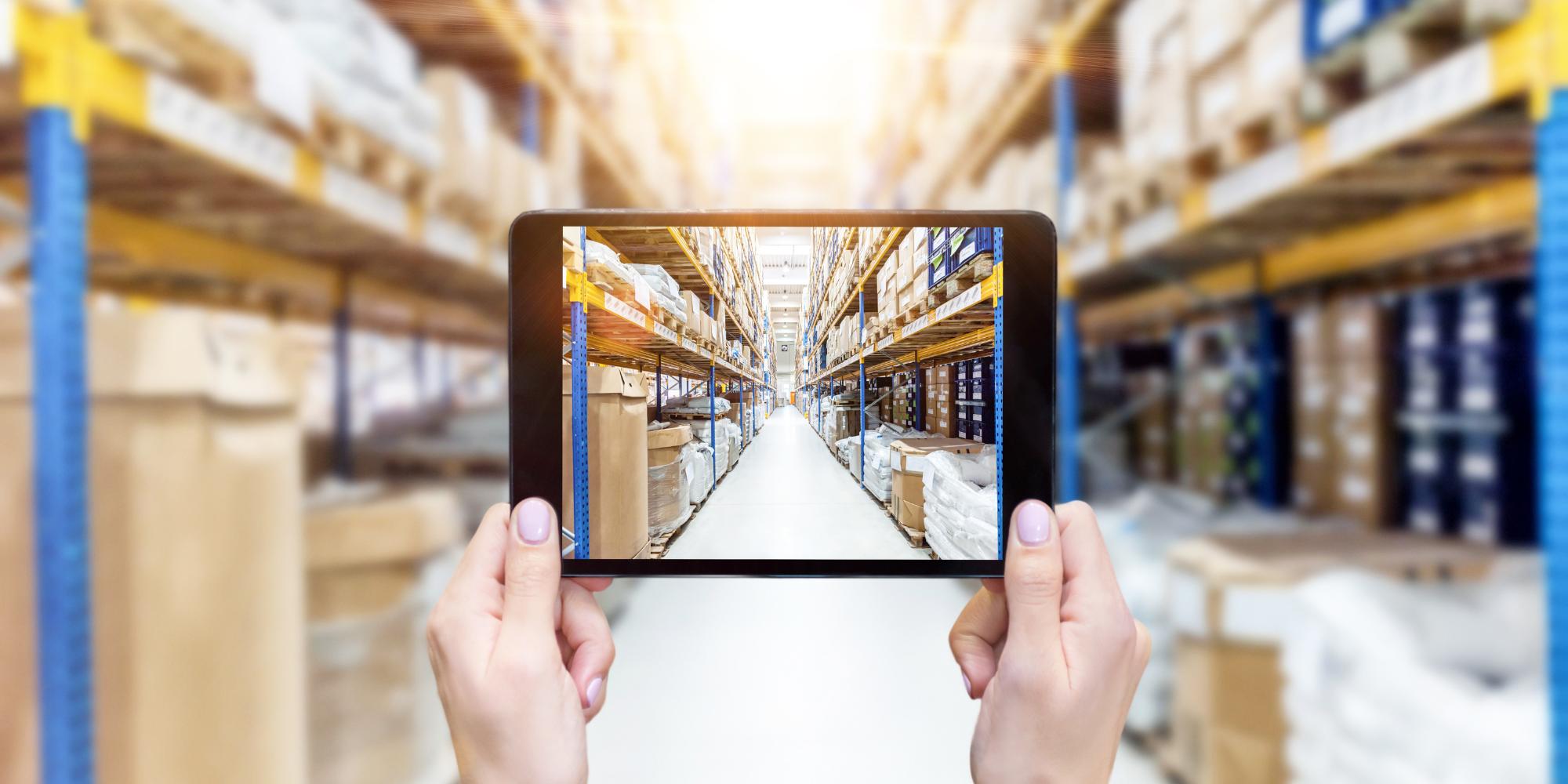 A warehouse is easily the most confusing place to work. Not only is it spread across a large land area, but there are several people and departments to coordinate with. Not to mention the volume of materials and complexity of equipment present in the facility.
Without proper communication and accessible information, warehouse operations are prone to mixups and confusion, ultimately leading to downtime and inefficiency. Digital signage cloud software presents a viable solution to this.
Digital signage can make warehouse communication and coordination fast, easy, and productive by showing messages on screens in real time. Here are some of its benefits and use cases.
Emergency Alerts
Warehouses are highly hazardous environments. One misplaced box can be a tripping hazard, and small damage at the fire exit can have disastrous results. There must be a way for people to alert concerned staff of potential hazards so they can be addressed as soon as possible.
Digital signage does just that — by allowing the instant deployment of information, they can ensure that staff is alerted of hazards and tackle them promptly. Emergency alerting features in digital signage can also be useful in case of fires and earthquakes, allowing premise-wide dissemination and facilitating the staff's quick response for their safety.
Employee Engagement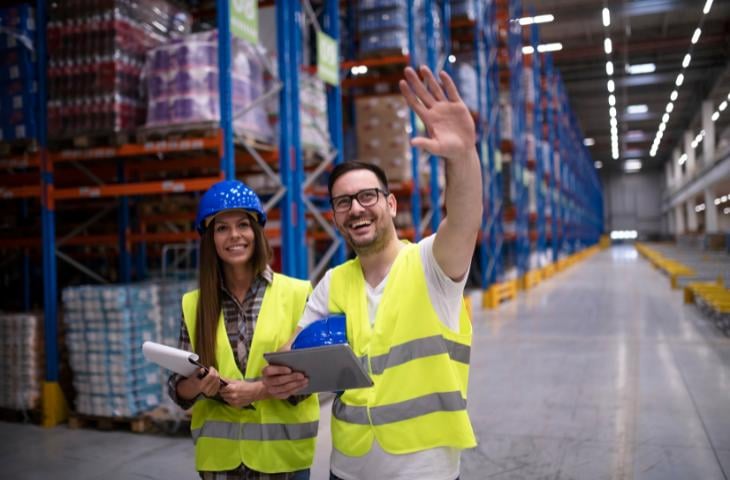 The warehouse and storage industry is not exempt from the effects of employee burnout, especially in peak order fulfillment seasons. Employers must prioritize keeping employees engaged and motivated in the job, as well as creating a healthy work culture.
Recognizing employees through digital screens is a great way to boost morale and engagement. From birthday greetings to employee milestones, these displays help create positive energy in the workplace, keeping employees connected and making them feel valued.
Employee Health and Wellness
Working in the warehouse and storage industry can be incredibly demanding both physically and mentally. Digital signage can help employers promote health and wellness among their workers, providing them with information about healthy eating, ergonomic exercises, stress relief, and more.
Some screens around the facility can even be used for entertainment, showing live streams or entertaining videos to help engage staff during their breaks.
Internal Communication
Warehouse employees are always on their feet and have very little idle time to check their phones for messages or approach bulletin boards every so often. In a setting like this, communication through instant messaging apps or posters will simply not cut it.
To deliver messages in real-time and minimize delays in correspondence, digital signage should be utilized. The screens can be updated with information fast, providing instant access to order lists, operational announcements, shifting schedules, and emergency alerts in a split second.
Inventory Management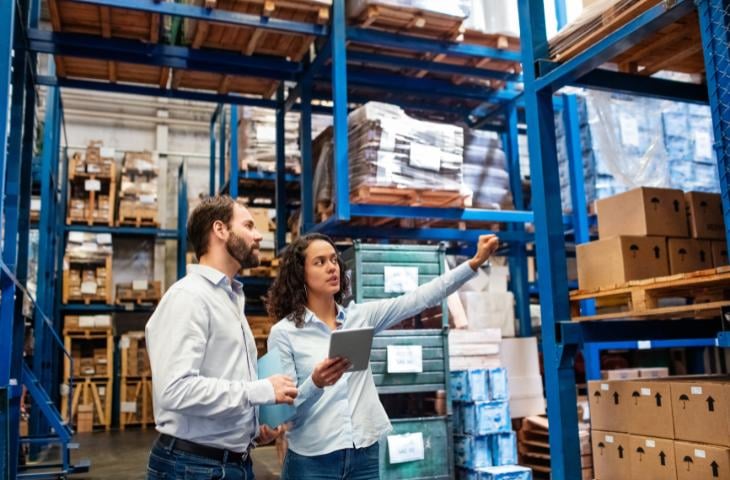 In the next 5 years, 54% of warehouses plan to expand their inventory to meet growing consumer demands. With that comes the need for an organized and efficient inventory management system.
More and more warehouses are exploring digital signage solutions for inventory management, with employees using portable digital screens to scan barcodes, record products, and organize SKUs in warehouse management software.
Performance Tracking
Digital signage can be used in a warehouse to provide employees with stats and data about their performance. With real-time digestible charts or graphs providing information about how they're meeting KPIs, their hours, progress, and milestones they can maximize their productivity and improve their performance to exceed expectations.
Safety and Security
According to the U.S. Bureau of Labor Statistics, there were 46 warehousing and storage industry fatalities in 2021. In the same year, injuries or illnesses in the workplace stood at a rate of 5.5 out of 100 full-time warehouse workers.
The heavy equipment, complex machinery, and elevated work areas, among others, make warehouses very hazardous places to work. This calls for a high level of safety and security awareness among employees.
Digital signage can help remind employees of safety protocols in the workplace and inform them of potential dangers. From providing information about clearance heights and identifying hazardous areas to outlining how to use forklifts and other equipment, screens placed in strategic locations in a warehouse can keep employees informed of safety and security measures in the workplace.
Training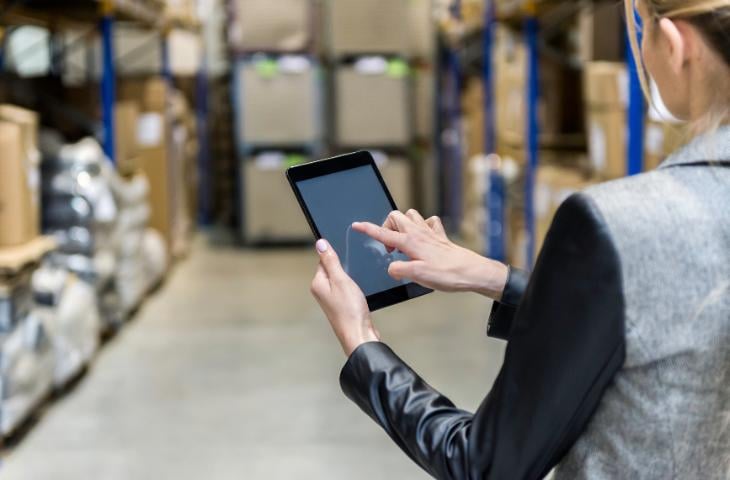 Warehouse operations are highly complex, which makes it difficult for any newcomer to learn the ropes and get familiar with how to go about their daily responsibilities. Even seasoned workers can find trouble navigating new processes or equipment.
Extensive employee training, coupled with regular refreshers, is crucial for productivity and safety in a warehouse. Digital signage deploying training slides, instructional videos, and workplace FAQs can be valuable in providing employees with more clarity and guiding them in carrying out their tasks.
Wayfinding
The average warehouse size in the U.S. is 180,000 square feet with plenty of rooms, racks, and alleys that look almost identical. Without signs and area markers, it's easy to get lost in the facility.
Digital signage can be utilized as an effective wayfinding solution, either as identification, directional, informational, or regulatory signs. Screens placed in key areas in the warehouse provide employees with directions to different areas in the facility and help them navigate through the warehouse maze.
Improve Warehouse Operations with Digital Signage
Digital signage is a communications tool that can revolutionize the way warehouses operate. By making it easier to relay information and facilitate healthy communication and correspondence, adopting this technology into your warehouse can result in 25% higher productivity and more operational efficiency.
To maximize the benefits of warehouse digital signage, you need a powerful digital signage software to power up your displays. Learn more about Rise Vision's free digital signage software capabilites by signing up for a free trial or booking a free demo.