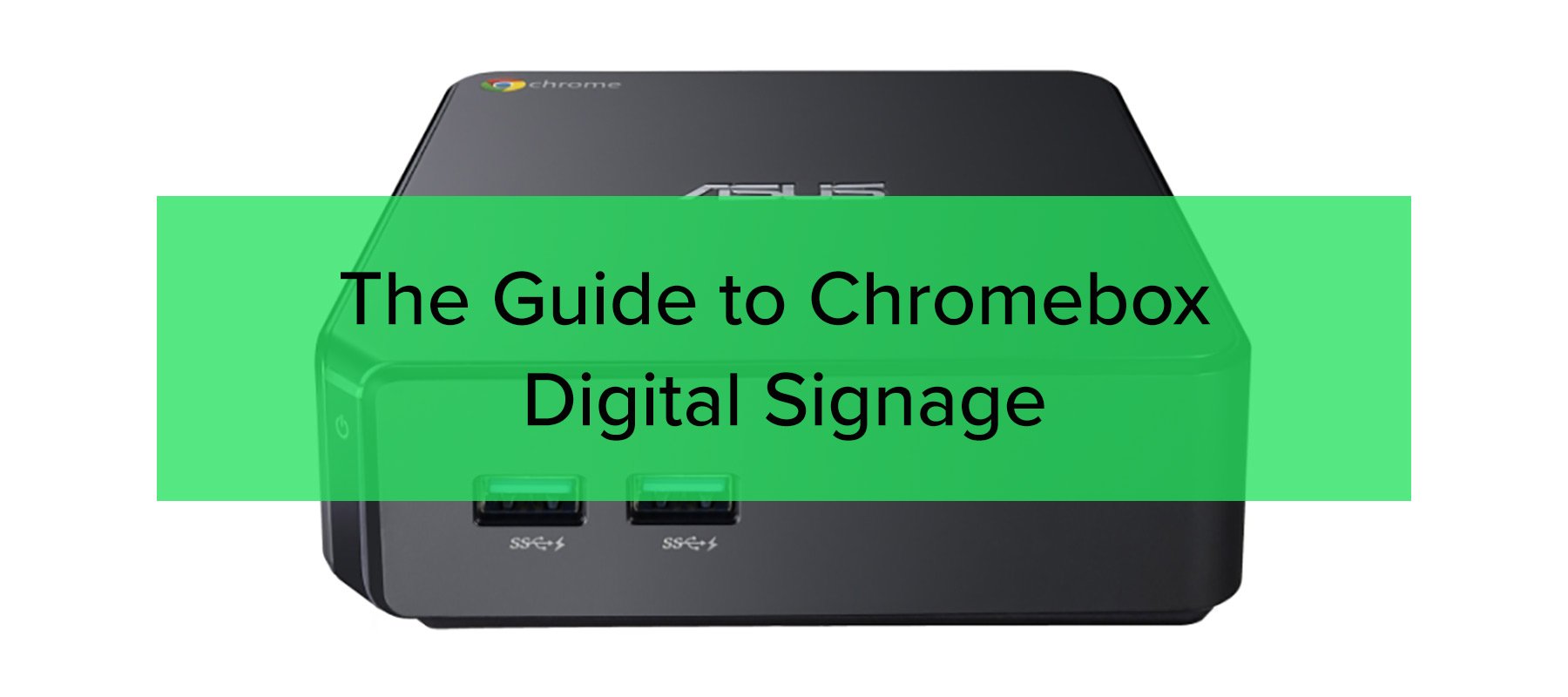 Google Chromebox offers a compact size and sufficiently powerful hardware that makes it a good fit for a digital signage media player. Released in 2012, Google Chromebox was an obvious goto computer to market after the success of the Google Chromebook.
Both the Google Chromebook and Chromebox run on Google's own Chrome operating system, which can be slightly confusing to users that are used to Windows or Mac environments. Many of the expected features and user interface of the more traditional operating systems are simply unavailable. However, after a few days of working with a Chrome OS device, most users move up the learning curve quickly.
Why Choose Chromebox for Digital Signage
Let's go over some of the pros and cons of using Chromebox for a digital signage system. We'll start with the pros first.
Size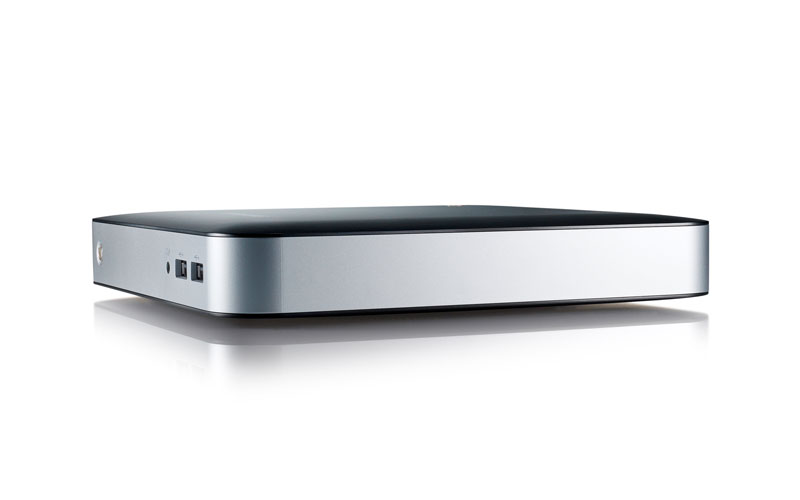 Chromebox can come in slim cases which makes it a good digital signage media player choice. (Image Source)
Some Chromeboxes make for a great digital signage media player. The right choice can be small, lightweight and come with WiFi hardware all in one nice package. Plus, if you're a fan of the Google ecosystem, the learning curve will be relatively easy for you.
Device Security
One benefit of Chrome OS is that it's a relatively newer operating system that hit the market when cybersecurity was already a daily issue for most computer users. Chrome OS designers were able to design an operating system that could handle most of the common security exploits that affect Windows and other operating systems.
Price Range

There are plenty of established hardware companies that make their own Chromebox media players which means there's a wide range of devices at varying price points. Chances are you can spec one out that fits your application at an affordable price.
No Windows Update Message!
A common problem with Windows-based digital signage is the annoying Windows update message. To run a smooth digital signage campaign you really don't want dialogue messages popping up while the signage is running. This is a common problem with Windows media players.
Device Lock Down
It's not uncommon for the class hacker or local vandal to come by and disrupt a digital signage campaign. These days it's easy for anyone to come by and plug in a peripheral to a media player and take command. Chrome OS' kiosk mode allows you to lock down your device so no unauthorized users can hijack your signage.
Things to Be Aware Of
Chrome Device Management
Chrome Device Management makes it easier to manage multiple devices. This is helpful if you're a school, business or organization that will have many displays to manage. The only downside is there is a device license required for each device. It's an annual fee, so this can definitely put a dent in your budget.
It's Easy To Pick The Wrong Device
One of the advantages we listed above is there's a huge selection of Chromeboxes to choose from. That means there's a higher likelihood you might buy a Chromebox that's underpowered for your requirements.
It's especially important to pick a more powerful Chromebox if you're going to be broadcasting video or animation. And this, of course, means you'll be spending more money then you may have been expecting.
Cost
Newer Chromebox models can cost upwards of $1,000. And if you're going to be installing multiple displays, this cost can quickly add up. However, there is a used market for Chromeboxes, which means there are older models out on the used market that can considerably offset these costs (plus you may not have to pay additional sales tax depending on where and how they are purchased).
If cost is a major issue for your digital signage project, you may want to consider using Raspberry Pi. You can get started with a Raspberry Pi digital signage media player for under $100, however, you'll potentially have to troubleshoot many more setup issues. It's definitely only for hardcore do-it-yourselfers!
How To Setup Chromebox for Digital Signage
Setting up a Chromebox to be a digital signage media player is pretty straightforward, especially if you've ever set up a desktop computer before. In this section, we'll thoroughly go over a complete setup and touch on things you may have not thought of!
Preparing For Installation
The very first step is to determine where your display will be installed. If you're going to do a wall-mounted installation, we highly recommend that you have either your IT or facilities department do the installation, or hire a professional entertainment system contractor. Displays can be very heavy and ladders are dangerous. If installing a large display is something you don't have experience with, trust a professional to do it!
Additionally, mounting support hardware to a wall can be a costly endeavor if you make a mistake. Not only is it incredibly easy to mount off-center, but the weight of your display can rip right out of your wall if not done correctly. This can be a liability for you and your organization, so again trust the pro to do it right the first time!
Measure!
Even if you hire a professional contractor to do the installation, it's always a good idea to sketch how you want your display to look - whether it's going to be placed on a wall or free standing. Think of how high off the ground you need your display to be and the overall aesthetics of the display relative to the room.
For instance, think of how much margin you want between your display and wall corners and the ceiling. Do you want to hide your cables and media player or is there a way to stow these connections and devices in cabinets or other storage areas.

Once you've sketched out your layout, be sure to include dimensions. You can show your diagram to the contractors - they'll appreciate that you thought it out!
Connect The Chromebox To Your Displays Before Mounting!
It's a good sanity check to make sure all your equipment is working before you have it installed. You never know if you have a few bad display pixels, a faulty cable or a damaged Chromebox. Here's a quick six-step procedure for checking your Chromebox digital signage system prior to mounting:
Connect your Chromebox power supply to your electrical socket or power strip.
Connect your display power supply to your electrical socket or power strip.
Turn the display power on first.
Turn on the Chromebox power next.
Connect the HDMI cable to your Chromebox and connect the other end to your display.
Your Chromebox should automatically detect your display. If not, go to Settings > Device > Displays and check to see if a display icon appears in the Arrangement section. If not, try unplugging your HDMI cable and reconnecting it.
Mounting
Again, we recommend you have the appropriate department or professional contractor mount or set up your display for broadcasting. If you're going to do it yourself, be sure you review how to mount a TV or display to a wall.
Using Rise Vision and ChromeBox
Rise Vision is a cloud-based digital signage content management system. We've been perfecting digital signage workflows since 1992, with the goal being to reduce the time it takes people to curate, create and schedule their digital signage. We've found that some organizations spend up to 16 hours a week working on their digital signage content!
We reduce the time you'll spend working on your digital signage. Our content management is incredibly easy to use and we have a templates gallery that makes creating digital signage a breeze. No need to create anything from scratch. Just pick a template, enter any text you want, connect to social media feeds, add video or images - whatever your needs are, our templates can do it!
Rise Vision has been able to work with Chrome OS devices for years now. When you sign up for Rise Vision you'll be able to select Chrome OS as the operating system you're using.

One nice thing about using a Chromebox for Digital Signage is that Chromeboxes come with WiFi capabilities already built-in. This makes installation, especially if you're going to set up multiple displays around a campus or office, much easier to configure. There's no need to string ethernet cable for miles or connect external WiFi adapters to multiple media players!
Setting Up a Chrome Device Policy
Before you get started with Rise Vision, you'll need to set up a Chrome device policy. These configuration steps are required to operate Rise Vision digital signage software. Please follow these instructions.
Once you've finished setting up your Chrome device policy, follow the next step of instructions to power your Chromebox digital signage with Rise Vision.
How to Setup Your Chromebox Digital Signage with Rise Vision
The following steps can be done on another computer other than your Chromebox.
Start by picking a template from the Rise Vision templates gallery
Click on the button that says, "Put This Template on Your Display"
Edit your template - you can change things like text, logo, and colors
Click on the button that says, "Publish To Display"
Click on the button that says, "Add Display +"
If you already have a media player, click on "I have a media player"
Click on the Chrome OS selection
Copy down your Display ID
Connect your Chromebox to your display as well as your keyboard and mouse
Restart your Chromebox and display
The Rise Player software will automatically install onto your Chromebox
When prompted, enter in your Display ID
The template you edited should be showing up on your display now. You can also create more templates and save your work by logging into your Rise Vision account (from any computer). You don't need to access Rise Vision from your media player. You can schedule different templates to run at different times. You can even connect more displays as well.
Try These Digital Signage Templates With Your Chromebox Digital Signage!
Full Screen Google Slides Template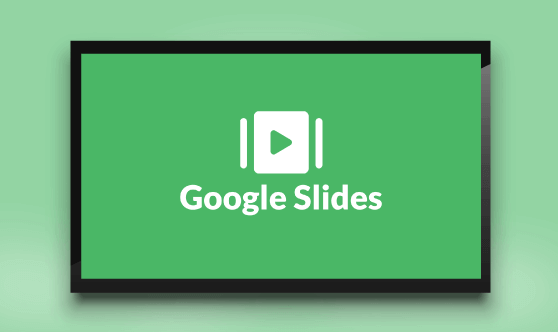 Get started with this Google Slides digital signage template here
You want your audience to take notice and we want to help you. We have created this easy to use Google Slides template to do just that. Simply add the template and customize it with a link to your own slides presentation and logo and get your message out there.
Google Slides with Weather Feed Template
Get started with this Google Slides with weather feed digital signage template here
Display a weather forecast alongside Google Slides using this forecast template. It will show the current day's weather as well as an outlook for the next week. This template includes details for the wind speed and chance of rain so it would be perfect to run alongside your sports-related slides presentations.
Full Screen Video Template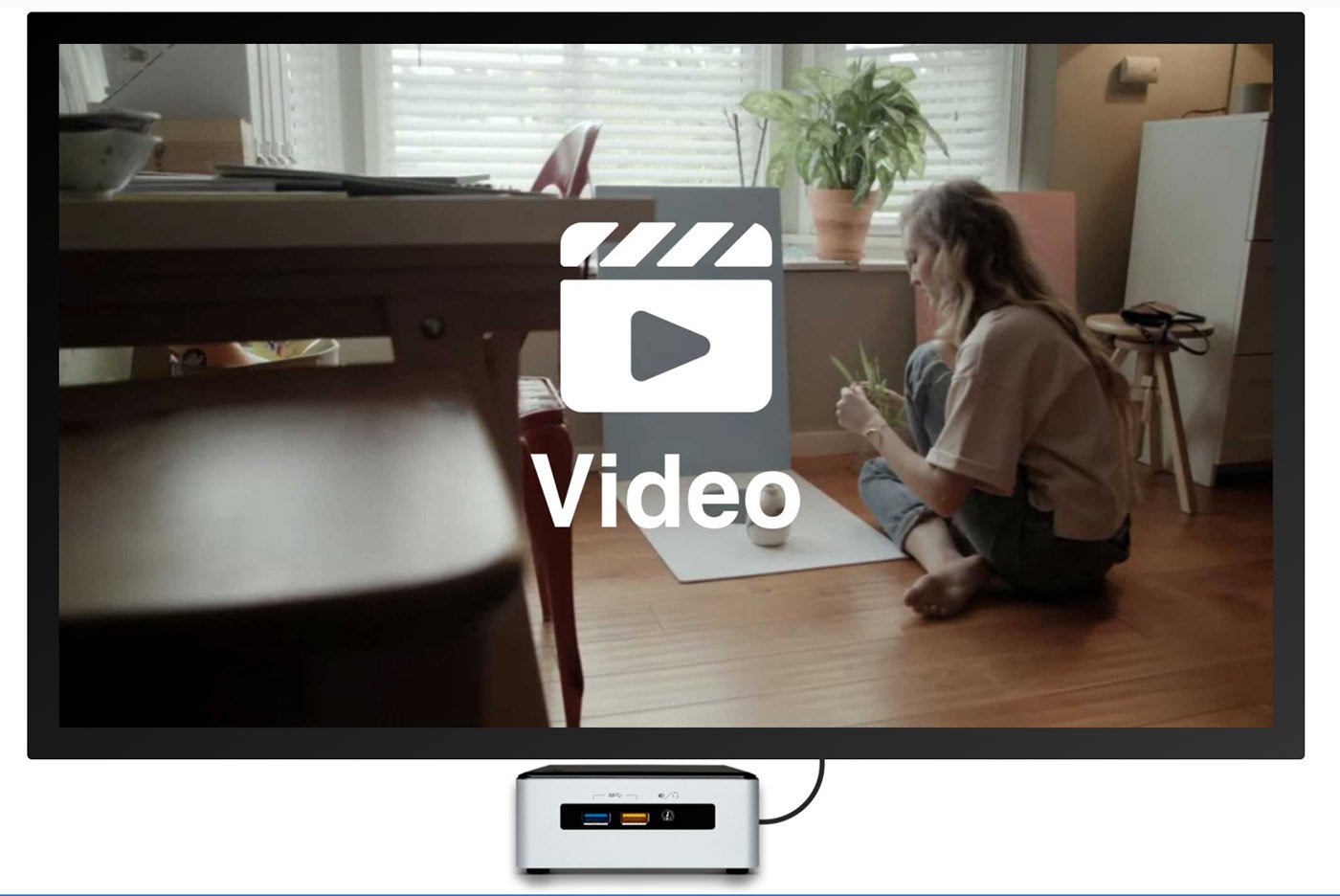 Get started with this full screen video digital signage template here
We all know how fundamental and important videos can be to convey your message, that's why we created this simple to use full-screen video template. Add the template and personalize it with one or several of your videos. Engage and captivate your audience today with the power of videos.
Rise Vision Makes Chromebox Digital Signage Easy!
We've found that most of the time and energy spent on digital signage is content creation. Some of our customers used to spend up to 16 hours a week creating, scheduling and updating their digital signage! Rise Vision digital signage includes hundreds of pre-made templates to eliminate that workload from hours down to minutes. Sign up for a free account today!