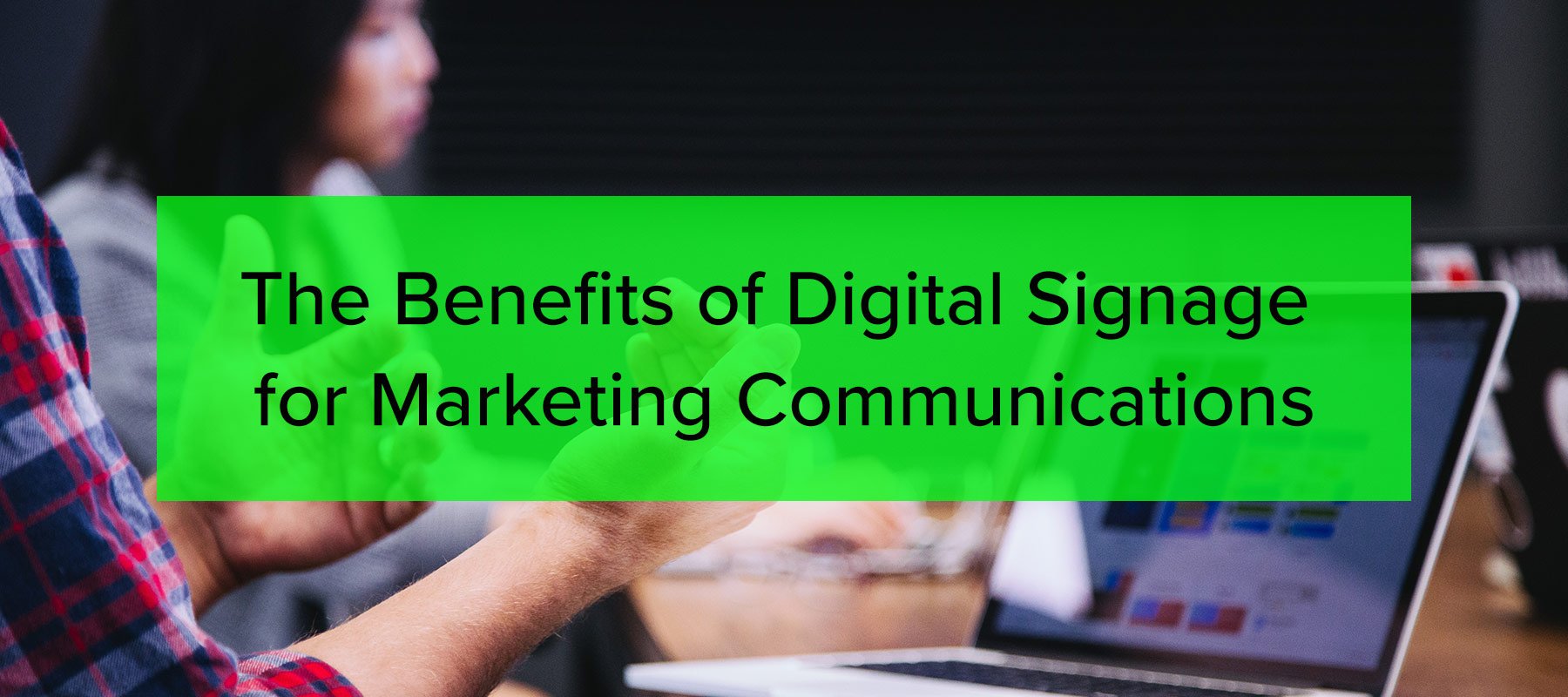 Schools increasingly find themselves competing for students, including at public schools. School marketing is becoming a crucial element of building a high-performing school or district, yet school marketing is often old-fashioned, disconnected, or altogether absent. As we'll see, school communications teams are in a difficult position with regard to marketing communications. However, there are ways they can leverage the power of digital signage to make rapid, radical and affordable improvements.
Why Digital Signage?
Digital signage scores over traditional static signage in several key areas. First, it's more effective at garnering attention. We tend not to notice things that don't move or change, and we're increasingly good at ignoring static signage, especially when it's familiar.
As Cornwall-Lebanon's Technology Coordinator Jason Murray told us, 'paper handouts and static signs — people just pass straight through them and they don't read them. Everyone is drawn to screens.'
Statistics bear Jason out. Digital signage captures 400% more views than traditional signage, makes wait times feel shorter for shoppers in stores, and 60% of respondents to a 2019 survey recalled at least one digital sign they'd noticed in the last week; 75% recalled noticing one in the last month.
Digital signage helps change actions, not just grab eyeballs. In one study, a fifth of respondents had an unprompted conversation about a digital sign they'd seen. In eateries, digital signage is associated with a 5% average increase in sales. Across all businesses, 80% saw an increase in sales using digital signs, sometimes by as much as 33%.
The causal link is clear: digital signage produces increases in sales by improving viewer attention, assimilation and retention. In the same 2019 survey, 55% of respondents said they noticed the message on a digital screen most or all of the time, and 22% changed plans because of it.
The argument for digital signage is clear. While much of the data comes from retail and advertising business research, digital signage is increasingly being adopted by schools and universities.
Benefits of Digital Signage for Schools and Colleges
Digital signage solutions are increasingly adopted by schools and colleges seeking to improve communication with students, staff and visitors, and save money and time. Digital signage tools allow centralized control, meaning staff no longer have to go from screen to screen to upload appropriate messaging. Schools can design messaging well in advance and propagate it to the right screens at the right time. This is important for K-12 schools where educational, behavioral and administrative messaging may be entirely different depending on student cohort factors, particularly age.
How Digital Signage Is Used By School Marketing Teams
Digital signage is a particular asset for school marketing communications, because of its agility and centralized control.
Marketing communications is a strategic rather than tactical endeavor, aimed at delivering improvements whose effects will be felt in the future. It is important, but seldom urgent. In schools, the communication team is often small and underfunded or understaffed.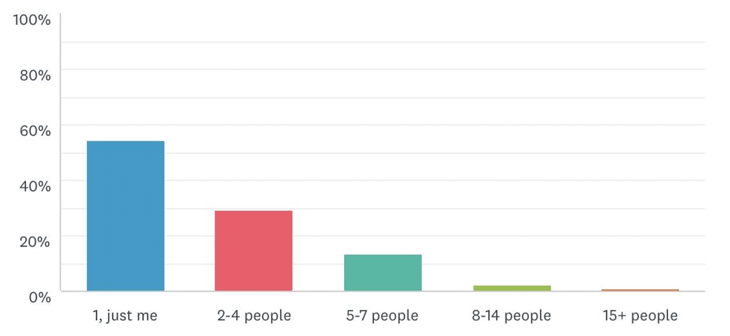 These are communications team sizes, not marketing team sizes. Over half of all schools responding to this survey had single-person communications teams. These teams are often busy with activities that are urgent, and thus usurp priority. While 82% of schools feel that marketing in their districts should be a priority, communications teams spend just 4% of their time on this, compared to 16% on internal staff communications.
Time-efficient
While it's possible to imagine several solutions, and the situation is often markedly different in colleges, one solution is to improve the efficacy of all communications team efforts and reduce the time and energy required for maintenance tasks. Thus, teams should be able to dedicate more time to marketing; even if they can't, the time they do dedicate to it should be more effective.
Digital signage can let teams accomplish this, very rapidly and from a standing start. The difference is stark: when Geoff Kruse arrived as Central Lyon School District's Technology Administrator, the main signage system was a PowerPoint presentation, created by teachers and managed by secretarial staff, shown on screens in the school's common areas.
Seven years later, Grand Lyon now has 3 large-format displays in the most heavily-used areas of the school building: their high school common area, high school library and middle school hallway areas.
Using automatically-updating templates from the extensive and ever-growing Rise Vision template library lets Geoff leverage his time much more efficiently: a far more effective digital signage solution for the entire 780-student school now takes Geoff just one hour per week.
Cost-effective
Schools typically have very little spare money.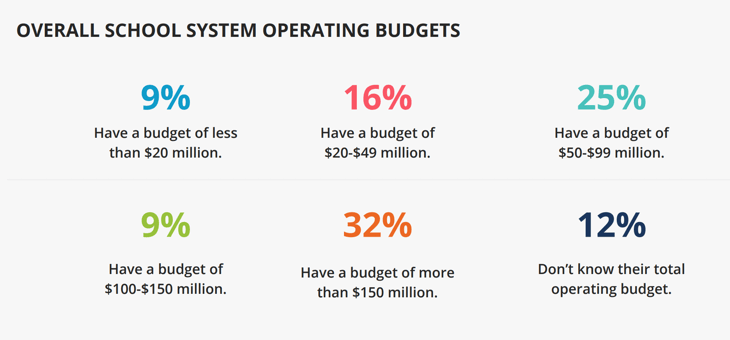 Communication teams don't either: 34% have a yearly operating budget of under $100,000.

Here's how their budget breaks down: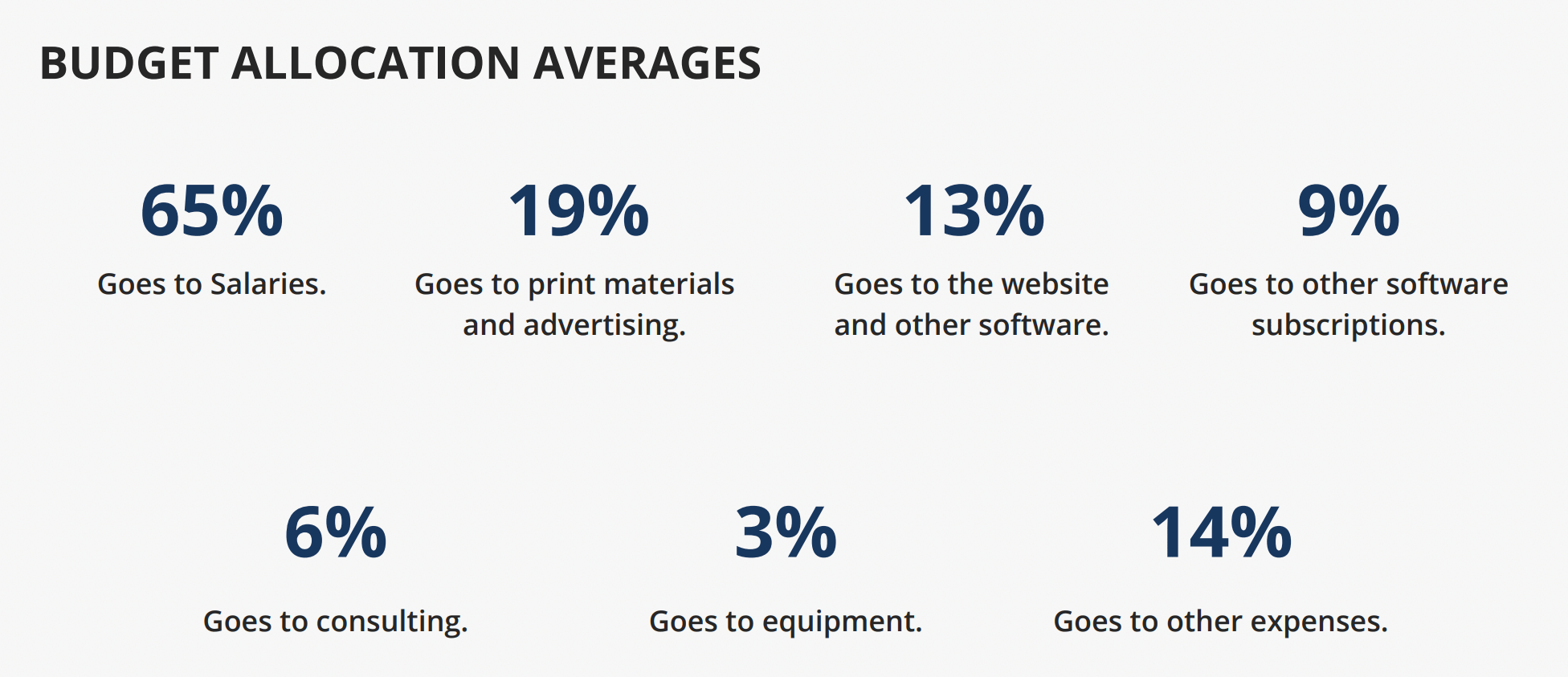 At a generous estimation, then, school communications teams might have 22% of their total operating budget to dedicate to choosing new signage tools. So these tools need to deliver, they must do so immediately, and they must be relatively inexpensive.
In fact, the best options are modular and device-agnostic. Rather than requiring a new suite of software, hardware and connectivity tools to be purchased all at once, blowing a hole in a team's yearly budget without clearly demonstrating value, these solutions can be purchased, implemented, and evaluated piecemeal. Many Rise Vision customers start with just one or two screens, then increase their subscription when the value has been proven and funds become available.
Schools should budget for around $10 per Rise Vision display license, falling as numbers increase. Districts, large schools, or schools with a large number of screens usually find the $999/year unlimited display license offers the best value for money and this is particularly popular with K-12 schools.
Easy to use
Digital signage solutions for schools must score over traditional desktop tools in terms of presentation and effectiveness, without requiring advanced design skills or lengthy learning curves. Rise Vision achieves this by an extensive template library. Users can create a new slide from a blank template, or brand existing templates with their own school colors, logo and more.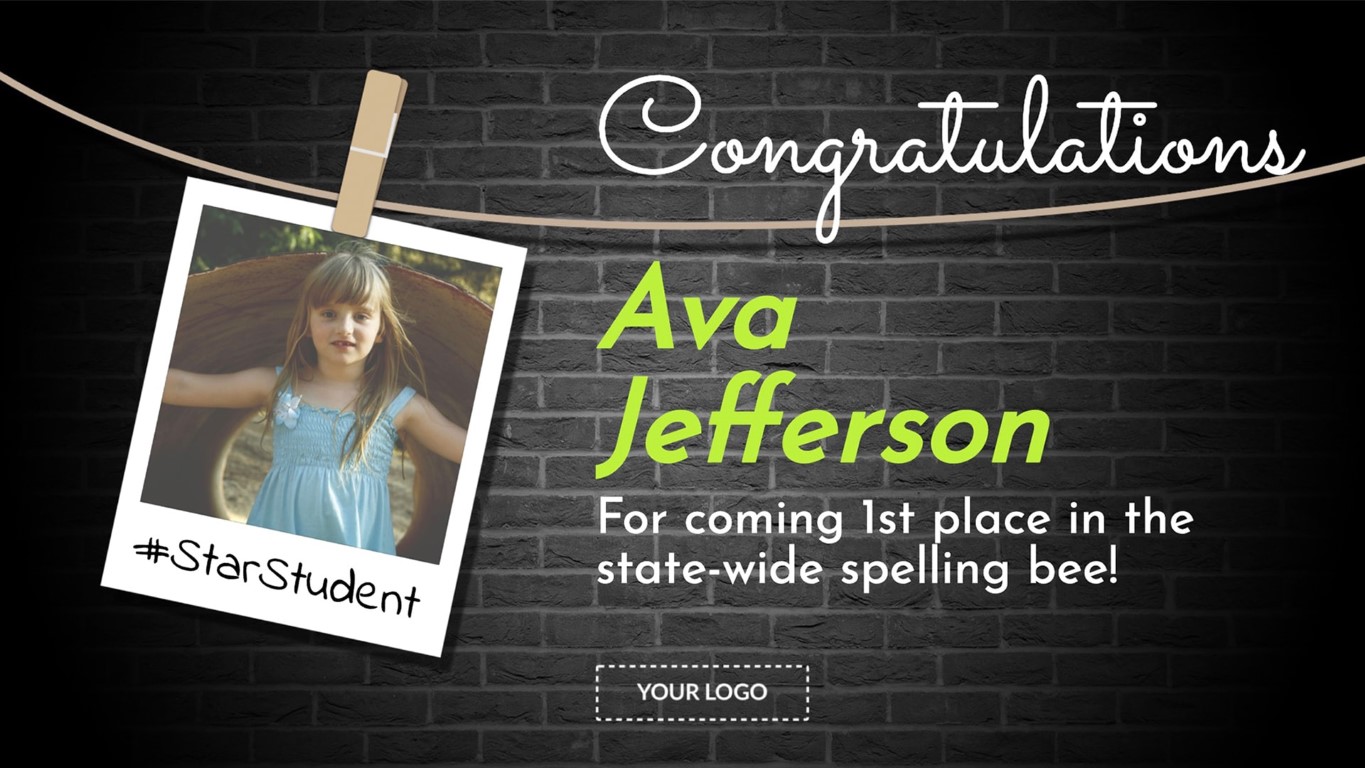 Displays like these can serve to celebrate students' achievements in a way that foregrounds the positive learning atmosphere of the school, a key parental concern — particularly in the lower grades.
Creating a Digital Signage Strategy for Marketing Communications in Schools
Schools fall into two groups: those that already have a marketing strategy, which they could improve by integrating digital signage, and those that don't have one at all.
Surprisingly, many schools have no marketing plan: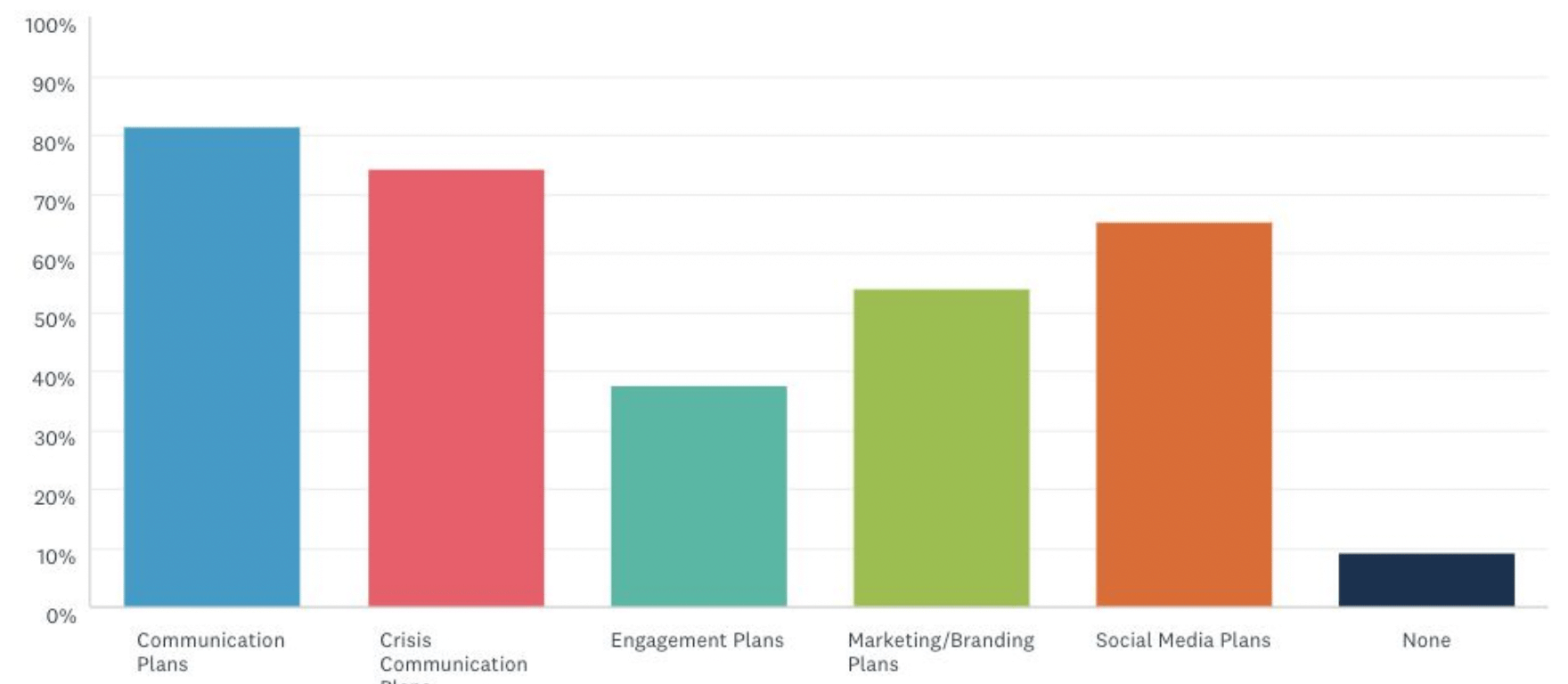 Just over half do, with emphasis going to other, more urgent tasks like crisis communication. In fact, 10% of schools have no communication plan at all.
Solving that issue is beyond the scope of this post, but here's how to approach developing a marketing communications plan for your existing screens and implementing it alongside a digital signage solution.
1: Who are you trying to market to?
The improved efficacy of targeted marketing has been proven beyond any kind of reasonable doubt. Talk to people about their problems, in their language, and they're many times more likely to join a conversation with you and, eventually, make a transaction.
For school marketing teams, the persona they're trying to connect with is mostly parents, but that by itself is a little vague. Seek to narrow it down, identifying the kind of parent you want to connect with and creating evidence-based personas that will help you understand their concerns and communicate with them effectively.
2: What do you want them to do?
Figure out goals that can be measured, and that you can hit within a meaningful timeframe. Increasing enrollments by 5%, or increase holiday program attendance by 10%. Identify how these instrumental, tactical goals connect to your strategic or terminal goals: we want to increase donor activity by 3% so we can…
3: How will you communicate?
Digital signage is a crucial part of the process. But it can't be the only part. Expect liquid expectations, altered by exposure to both competitor institutions and totally unrelated brands, including highly-communicative online brands like Amazon. And expect the parents you're trying to reach to be both online and off, in a variety of locations. This means you should seek to choose a digital signage solution that integrates with your social media, SMS communications, emails, and website: something that can slot into place as part of a unified whole.
Rise Vision allows schools to broadcast to students' browsers, to in-school signage, and to social media and the school website from a single design via Rise Vision Anywhere. Social media feeds can be embedded in school signage, completing the circle.
4: What do you want to say?
Identify the messaging you want to use. In school, this can be digital signage scheduled for when parents attend — such as open days, but also when parents of existing students come to campus for sports or community events. (Remember, parents talk to each other, and word of mouth is the best marketing channel.) Seek to give existing parents the ammunition they need to make your case to their friends: grades, behavior, college acceptance, alumni careers.
5: Construct and schedule your messaging
Rise Vision lets you send your messaging to multiple school digital assets including the website and social feeds. You can create one ad or sign, then propagate it to the channels and screens you choose.
With this in mind, you can identify the times when your target parents are likely to be paying attention, such as school enrollment period, and select from Rise Vision's template library to create effective messaging, then schedule it weeks or months in advance. There's always some work that has to be done in real-time, but if you know event times and dates you can schedule in-school signage in advance too. Finally, positive messaging about the school, emphasizing academic and sporting achievement or positive SEL-related attributes, can be shown in the halls to improve student behavior and simultaneously make the school more attractive to any visiting parents.
Conclusion
School marketing communication teams face a difficult task to make their institutions' marketing effective, with sharp budgetary, time and technological constraints. Yet, it can be done — even while freeing up time rather than increasing workload. The key is choosing a communications system that's flexible, easy to use, and cost-effective.
Rise Vision's in-school signage solution is cloud-based, supported by a large and ever-growing library of easy-to-customize templates, and accessible from any device — even remotely from mobile. Schools can combine their emergency, in-school and marketing messaging efforts on a single platform and simultaneously slash the time and effort invested in maintenance activities, freeing teams for high-value strategic marketing activities.
Related Articles