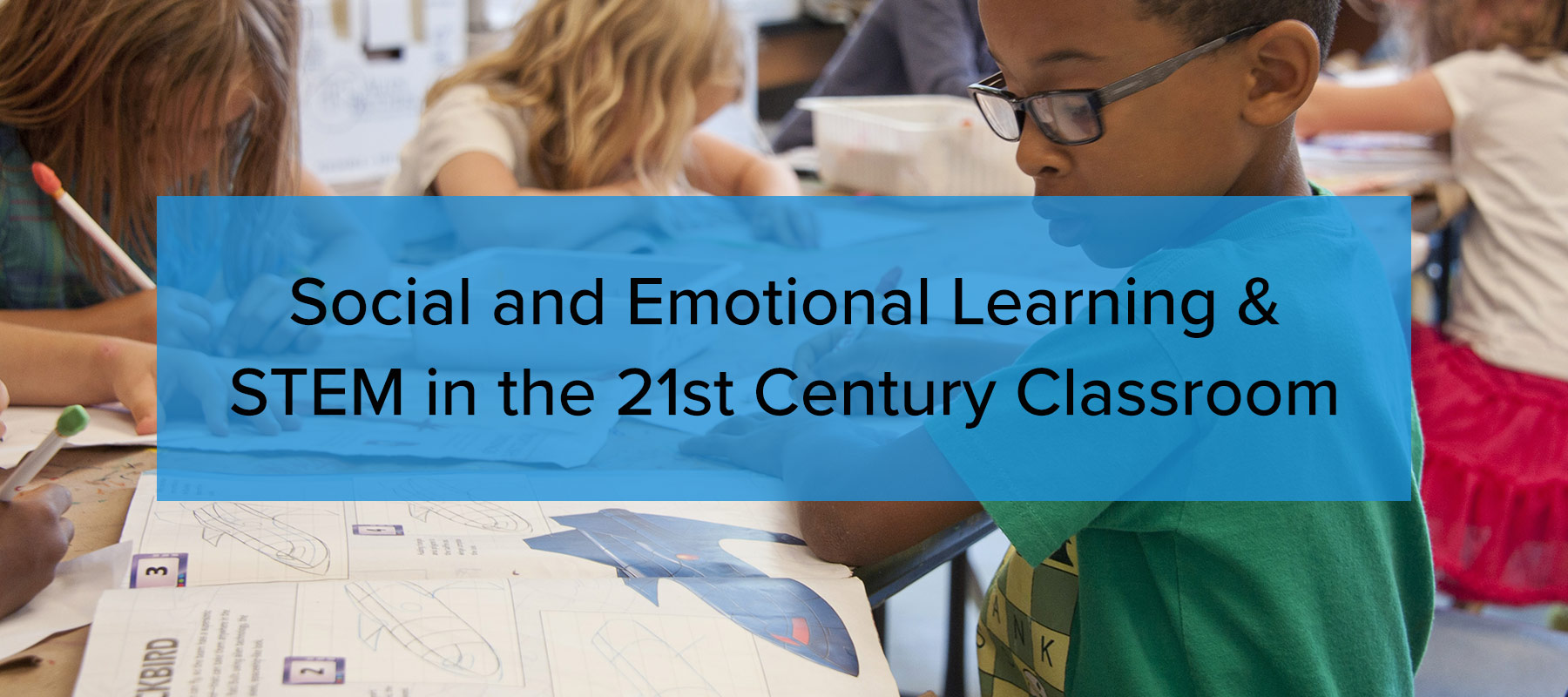 STEM education is a major priority for schools, districts, and parents. By the time students are considering their future careers, the increasing need for STEM in the workplace is often on their minds. In a future where work increasingly consists of managing algorithms and handling data sets, STEM skills will be as necessary as literacy was 100 years ago.
Yet, America lags behind competitor nations in STEM graduates and in the quality of STEM education. Attempts to address this shortfall have often focused on increasing the quality of classroom instruction, establishing a standards-based approach to curricula and pedagogy, and building out programs to supply additional learning time for students.
However, these approaches aren't supported by the evidence. The things that really move the needle in STEM learning are often self-efficacy, self-image, conflict management, confidence… the very 'soft skills' STEM is viewed as standing opposite to, particularly by those who have never run a research or engineering project.
Those affect-based issues are influenced by SEL programs when they're standalone; but the most effective approach is to integrate the two, as we'll see. Before we get into that, though, let's briefly look at what SEL and STEM are.
What is SEL?
SEL is Social and Emotional Learning. It means the area of education that addresses personal development, relating to other people and regulating our own emotional lives.
It's most effective when it starts early, continues through high school and beyond, and integrates with the rest of students' school lives, including their STEM classes.
What is STEM?
STEM is Science, Technology, Engineering, and Mathematics: the hard, crunchy stuff that makes the world go round, rather than arts and humanities. The trouble with that surface-level analysis of the split isn't that many famous scientists and mathematicians were also philosophers, writers and artists, and vice versa; it's that STEM and SEL go hand in hand. They're more effective when they're combined.
Science says SEL is good for STEM everything
SEL is underappreciated as a contributor to life and academic outcomes, largely because of a fragmented view of education that privileges formal instruction over more comprehensive contributors to outcomes.
If you were planning a strategy to improve physics grades, common sense says you'd probably focus on physics instruction. Perhaps more homework, an after-school club, a buddy system in classes, superstar teachers or an innovative curriculum. On the face of it, that's entirely sensible. Alternatively, you might choose to increase the amount of teaching time spent on basic academic skills like math which underlie physics. That's the approach Common Core takes, but the results have been underwhelming. The evidence points in a different, more intriguing direction.
source
There are huge gains to be made: a large majority of students don't believe their school provides a supportive learning environment, and 83% of students who took part in an SEL program with an academic component improved their grades. This improvement was between 11 and 17 percentage points. The schools that focus on SEL see the best academic results.

Source
Big improvements are there for the taking in most schools, but achieving them means rebuilding curricula to incorporate SEL.
How STEM education lets students down
STEM education is widely regarded as critical. Yet, two major cohorts struggle to achieve adequately in contemporary STEM education: girls and boys. (Yes, that's pretty much everyone.)
Girls' underperformance is STEM-specific:

It arises from multiple causes — including a lack of confidence, a feeling that the subject area is 'for boys,' and a shortage of compelling female role models. Girls often can't imagine themselves in STEM careers and don't know what the career structures look like, and there are few female engineers and researchers to tell them. In other words, it's a classic SEL issue.
Boys struggle more holistically. We've just seen that male students outstrip female students in college STEM graduations. But throughout the education system, and across the developed world, boys underperform girls. By the time they get to college enrollment there's a significant bias: 60% of American college freshmen last year were women. But the problem starts much earlier.
Francesca Borgonovi, senior analyst at the OECD, told the Financial Times, 'In schools, learning is the incidental thing that happens while kids are socializing. There is a lot of, "How do I impress my peers?"'
For boys, this often means defying authority and flouting rules — not conducive to high scholastic achievement.
The most severe deficiencies are in English and math: attention-intensive, these subjects reward engagement and concentration, which boys often struggle with — and which SEL interventions have been shown to improve.
Bringing SEL into STEM
SEL is often brought into schools as a standalone subject — a consequence of its status as an afterthought in many already overcrowded curricula. It's better than not bringing it in at all, but it makes more sense to build it into other classroom activities. The difficulties encountered in working as a team, planning, working alone, resolving conflict within the team, or simply managing our own emotions during a precise and painstaking task like titration or building to a technical drawing, all bring us face-to-face with the importance of SEL. Social and emotional concepts are a part of every aspect of our lives, especially our work lives; they're crucial to group and individual work, self-regulation, and organization.
Emotion plays a key role in how we make decisions, its influence is far greater than many of us realize. So if we want to influence the decisions people make, we have to address emotions and social situations and address their effects. At the same time, it's a goal of school STEM teaching to be relevant in students' lives, helping them to integrate scientific knowledge into their worldviews and identities.
Tania Dearden looks back on her time with Techbridge Girls, an after-school STEM program for girls — just the sort of program you'd institute if you thought more subject-matter pedagogy was the missing element in STEM education. 'I ran one afterschool program in partnership with a fifth-grade teacher, Katryn. I had a strong STEM background, but little youth development experience and she had an incredible SEL background but didn't feel confident to lead the STEM activities independently,' Tania recalls.
'Team dynamics are often the source of most frustration during STEM activities,' Tania explains. (It's a major issue in the adult world too.) 'In one program, two girls were arguing over which of their ideas they would include in their design. Katryn calmly went over and started to ask a series of questions to help the girls empathize with each other.' Interventions like these contextualize STEM in terms of SEL, helping young people develop the social and emotional skills required to navigate the STEM world.
Integrating SEL and STEM DIFFERENTly
An example of the integration of STEM and SEL subjects in the classroom is the DIFFERENT curriculum, developed by entomologists and educators Kristie Reddick and Jessica Honaker. DIFFERENT integrates the study of arthropod (insects and arachnids) biology with empathy, self-reflection, and emotional self-management. It's designed to challenge students' perceptions of themselves, others, and the natural world, and to help them become more capable of dealing with such challenges.
Designed for grades 4-12 and matched for each grade to the Next Generation Science Standards (NGSS), DIFFERENT is also aligned with the SEL principles and objectives outlined by CASEL, the Collaborative for Academic, Social, and Emotional Learning.
In some ways, the DIFFERENT curriculum is a bait-and-switch: it places its initial focus on arthropod survival strategies to distract students from the discomfort that many may feel in traditional SEL. Because it's integrated with regular science instruction, DIFFERENT always offers students an escape route: they can skew more academic when the SEL content makes them feel vulnerable or more emotional when the academic content makes them feel constrained.
Classroom signage and SEL/STEM
In STEM classrooms, as with the wider school environment, there's a place for signage that reinforces SEL messaging, making the classroom a more supportive environment and driving improved SEL outcomes. We can use priming and nudging to recontextualize the way students experience their interactions and to encourage solving problems with a better toolkit that relies less on anger, more on compromise and dedication to the project.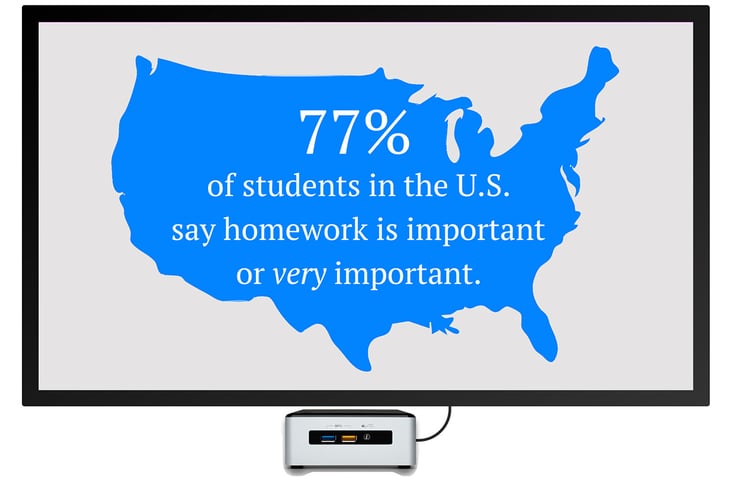 We know from studies in the commercial world that digital signage is more remembered and has a greater influence on behavior than static signage, and this effect isn't small; digital signage can deliver a significant boost in the effectiveness of schoolwide and subject-specific SEL initiatives by backing SEL messaging and teaching both in classrooms and in public spaces like corridors and cafeterias.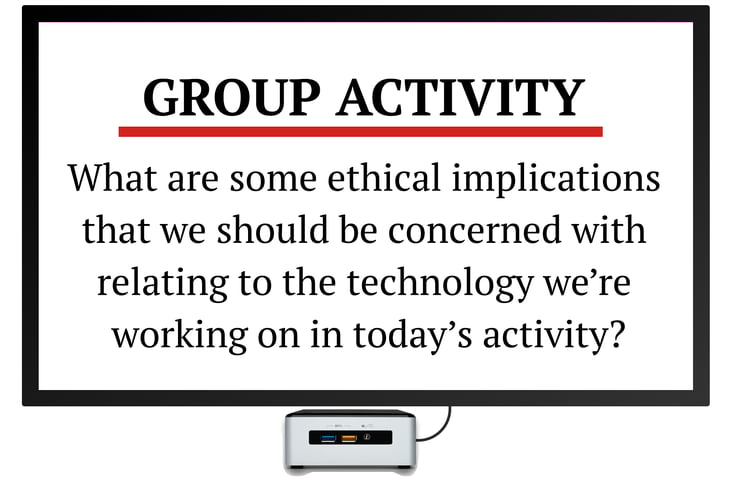 An important part of STEM discussions are those relating to the humanities.
We can use classroom signage to activate topics concerning ethics and societal ramifications. This is a great way to bring education full circle and get everyone in the room thinking about science and technology from a different perspective, instead of only focusing on calculations.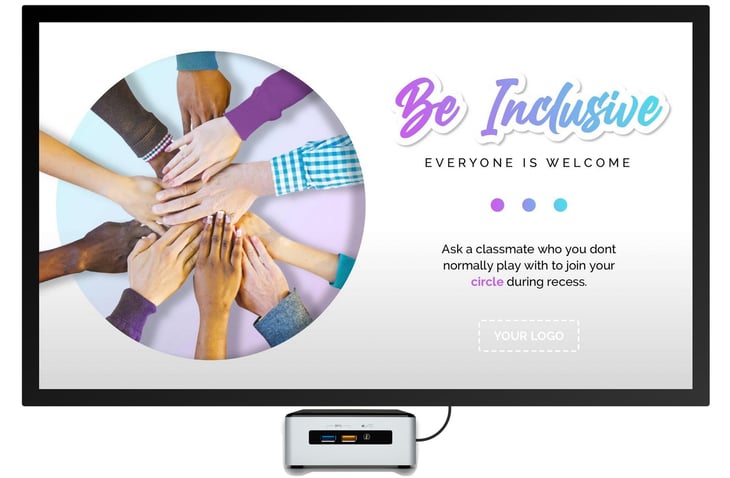 Download this digital signage template here
Whether it's recess or during STEM classroom activities, it's important to remember to get everyone involved in interacting, listening, and working with others. Signage that promotes inclusiveness can also bring straight-A students and the unengaged together.
Conclusion
STEM classes are an ideal place to introduce SEL themes because they are capable of appealing across the student body and are clearly linked to outcomes. Better confidence, conflict resolution and self-efficacy, and self-advocacy bring clear rewards in group STEM work such as engineering projects or the DIFFERENT curriculum.
But inspiring teachers and teaching assistants can't be everywhere. In-class digital signage can be used to deliver SEL messaging that targets the emotional challenges students are likely to face during their STEM classes, emphasizing and reinforcing the lessons of the official curriculum and the interventions of teaching staff.