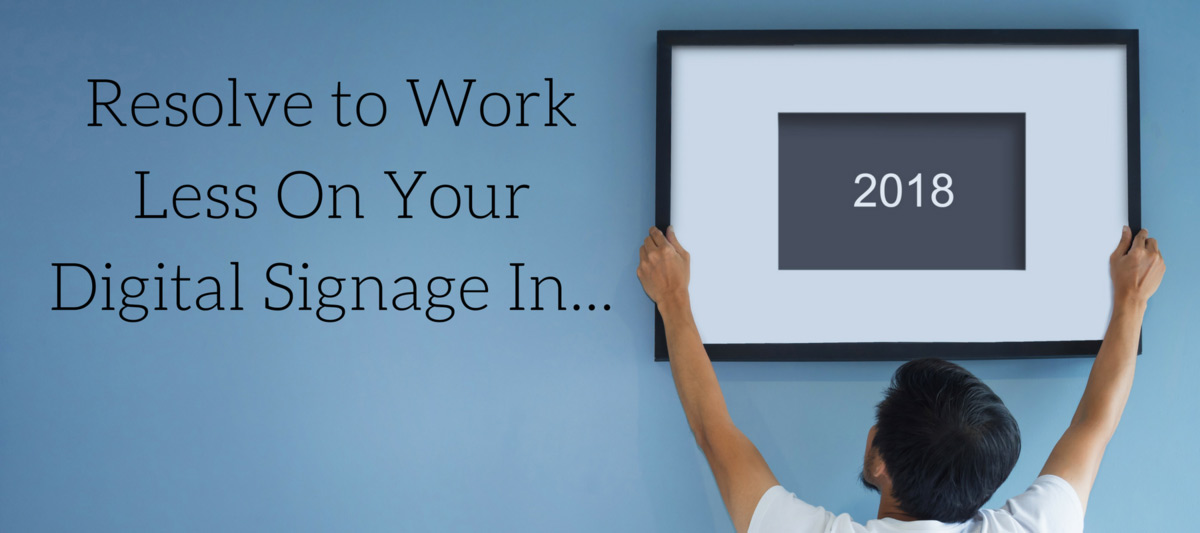 2017 is almost over, and we finally know with certainty: Porgs did not become the Jar Jar Binks of The Last Jedi! We also can say with certainty that you are just a few minutes away from creating even better displays! So before you run off to set your resolutions for the New Year, here are five ways to make your displays better in 2018 with very little effort or time.
Work Less!
If you are serious about keeping your New Year's resolution, then you'll need to make sure you have the time to do it. So how about you do yourself a favor and work a little less on your displays?! Obviously, you don't want to have the same boring photo slideshow in rotation 365 days a year, but that doesn't mean you have to work constantly at updating it.
Streaming videos is one way to make sure your presentation always has something fresh. It's easy to do! Adding a RSS news feed, also makes sure that your screens are always displaying new content--and remember: RSS doesn't have to be news; you can add a RSS feed for quotes, for example, so you have a new quote displaying every day.
Boston Public Schools use a number of widgets to keep their presentations changing with fresh content; they use the RSS widget, for example, to show district news.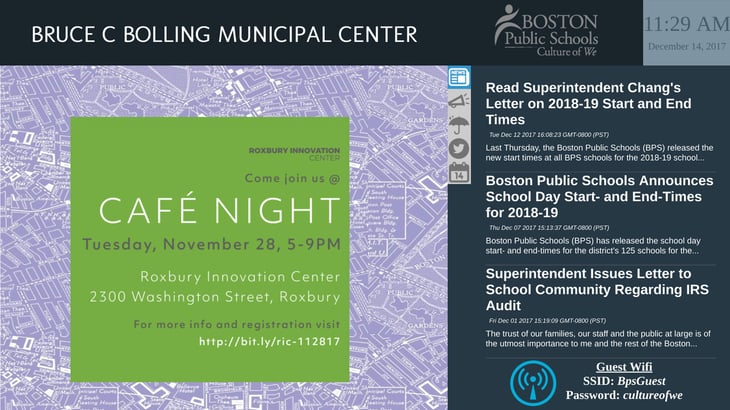 Use Widgets
Another way to work less on your digital signage in 2018 is by using widgets. Widgets make it easy to post school calendars, embedded websites, weather and even videos. Check out this post on the top 10 used by education. UCLA's Library, for example, uses the HTML Widget to show how many laptops they have available in one of their labs.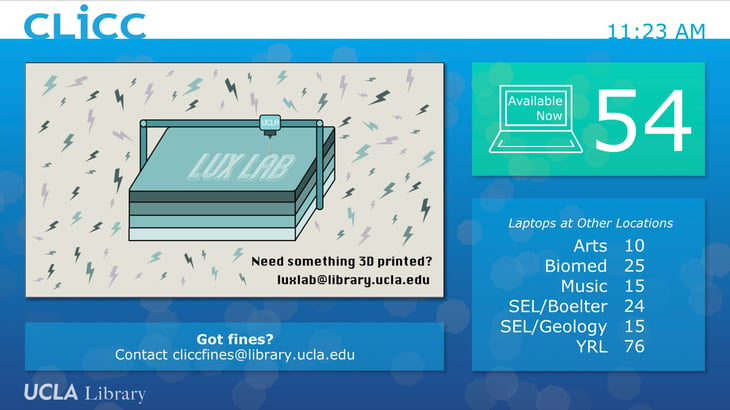 Use Templates
Rise Vision's Creative Team adds new templates every month. Templates are pre-made presentations that schools and businesses can tweak to serve their needs. The hard part is done for you. Once you plug in your logo and text, your presentation is ready to go. The whole process can take less than one minute. Just think: in less than one minute, you'll have digital signage that's attracting more people to your brand or service! How's that for working less in 2018?
There's several dozen of them to pick from, and not a major holiday passes without a new professionally designed presentation--there were over a half dozen new templates for Winter Holidays alone! Unlimited access to the templates are included in the Basic Plan (non-subscription users can also purchase templates separately).
Get Social
Having displays with a call to action for viewers (such as a hashtag) is one of the easiest ways to increase engagement. There are even templates to help you get social and make your life easier. You can customize them for your display in less than one minutes! You can also use the widgets to feed in your social accounts--that's what Kent State University College of Podiatric Medicine did with their Facebook page.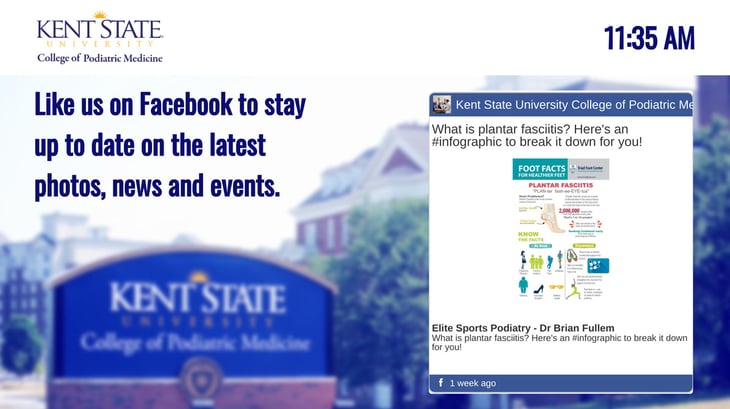 Speak to the Viewer
Do you really know what your audience wants to see? You may be surprised at how millennials think, for example--you have less than 9 seconds to grab their attention! You've taken the time to use the digital signage software; now take the time to make sure you are posting the right content.
We hope you finish out the year with lots of peace and joy, and we can't wait to see what you do with your displays in the coming year!