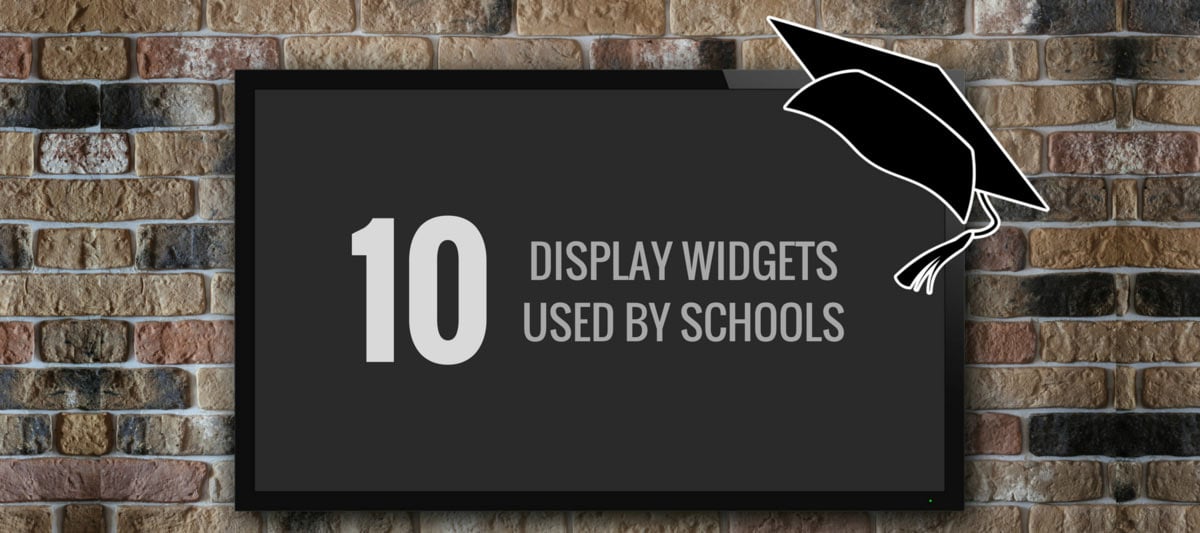 Display Signage is good...in theory. Of course, you'd want to take advantage of technology to better publish content to your students and staff. But when it comes to actually making a presentation, you might be struggling a little--there are so many options, after all!
Widgets are small applications you can add into your presentation to help save you time and make your digital signage come to life. With widgets, you can show the weather outside, display current events, and moving text. Schools use widgets to help them do everything from live stream sporting events, create menu boards for their cafeteria, show class schedules, and much more.
Below is the ten most popular widgets schools are using today:
RSS Widget
The RSS widget makes it easy to keep your content fresh and always changing. Just insert an RSS feed, then customize how you want it displayed (do you want pictures to show, for example?). Schools can use this widget to show current events from news sources like CNN.
HTML Widget
Schools that want full control and customization over what they display take advantage of our HTML Widget. With the HTML Widget, you can create videos, interactive games, and everything in between!
Text Scroller
Static text is excellent for some presentations, but if you want to grab student / staff attention with an important or timely message, the text scroller is a great option.
Google Spreadsheet
The spreadsheet widget is a highly customizable way of adding course schedules, directories, and just about anything else.
Google Calendar
Schools take advantage of the Calendar widget by highlighting upcoming events, holidays, testing days, and more.
Video Widget
One of the most engaging ways to attract eyes to your display is with videos. The video widget lets you play and loop any video in your storage. Schools use it to show everything from highlights of sporting events and announcements to previews of upcoming events.
Web Page Widget
The easy to use Web Page Widget is a simple way to display any website on your display (it can also be customized to show only a portion of a page). It's as easy as adding a URL. Many schools use it to show their school's website.
Weather Widget
It may be cold or hot outside, but when you spend your entire day inside, you might not know it. Students love being able to see the current weather before they leave campus, so they know if they need to put on a coat.
YouTube Widget
The Video Widget is perfect when you have a video, but if you want to stream something off YouTube, then this widget is for you.
What else can you do? Here are 50+ more things schools can do with their digital signage! If you need a little extra help, try using one of our seasonal templates. Whatever you do, remember to keep these best practices in mind.
Are you doing something exciting with your digital signage? We want to hear how your project is working out! Drop us an email to tell us about it!