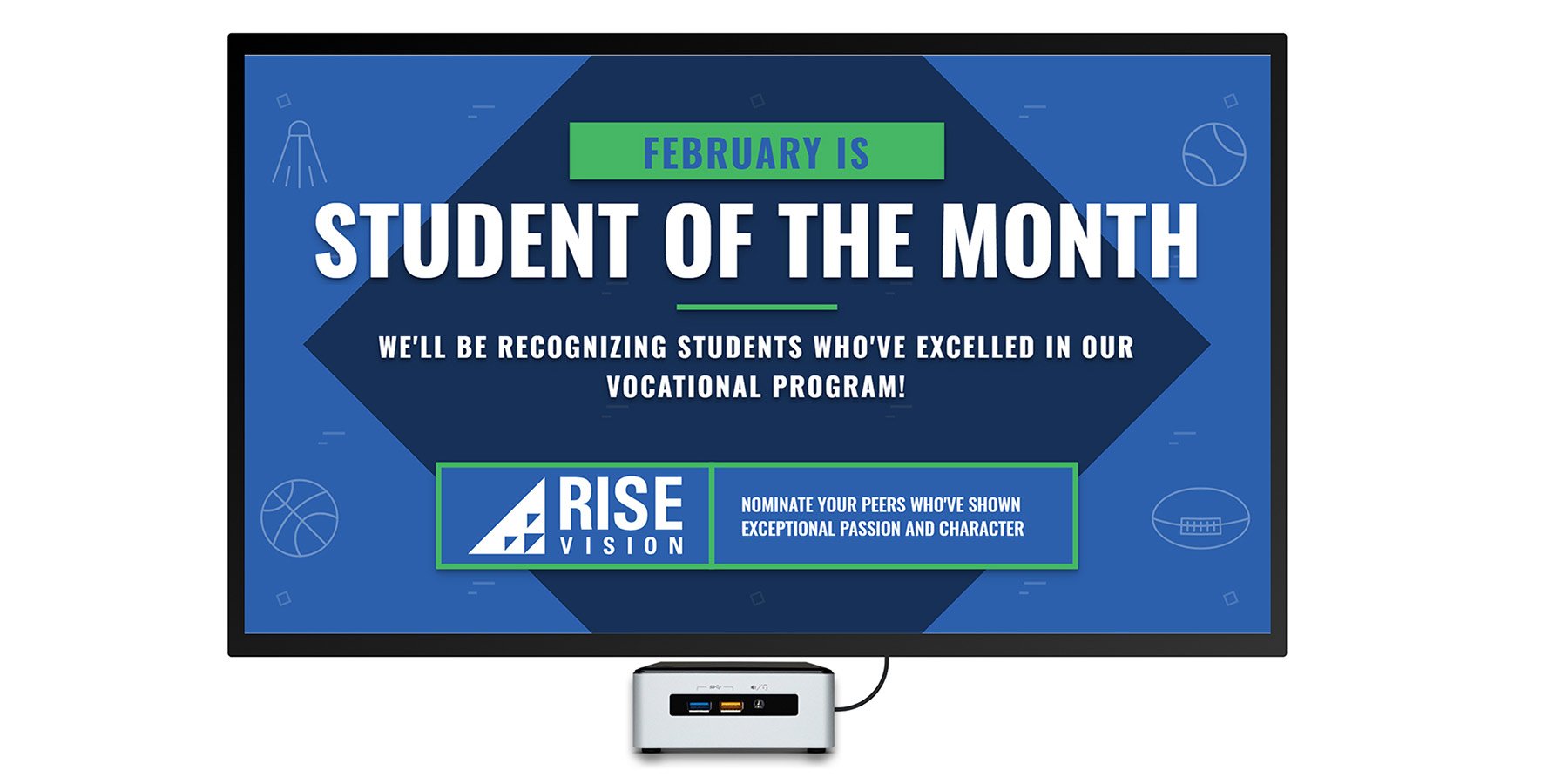 In the era of the participation trophy, individual student achievement awards have become slightly controversial. Is it better to give token awards to all students regardless of performance, or does this type of unconditional reinforcement contribute to a "slacker society"? Does only rewarding high academic achievers demotivate students who aren't at the top tier of their academic pool? Does it teach high achievers to strive for a product rather than the process of learning as an award? Read on to learn how you can develop a Student of the Month program and student achievement awards that are beneficial, inclusive, and motivational for a diverse student body.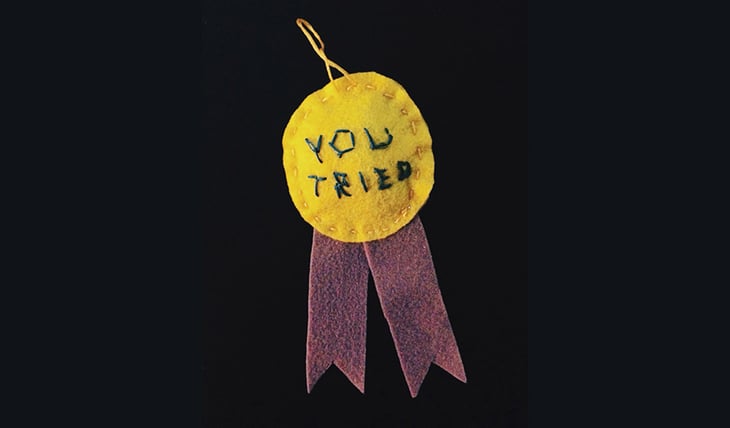 Student of the Month Program
Student of the Month programs are designed to recognize student achievement and to showcase accomplishments in academics, athletics, exemplary character traits, and other categories. But not all students have the resources and support to shine through as all-stars in these more traditional lanes. On top of that, only spotlighting students in traditional categories can have a negative impact on peer relationships, create an imbalance in the sense of school community, and potentially breed a sense of resentment among students. But at the same time, recognition for hard work is linked to our basic human desire to feel appreciated--so much so that employee recognition can be directly linked to productivity. So how do you strike a balance and give recognition without causing resentment?
---
Download the entire collection of FREE Social and Emotional Learning posters!
- 8 landscape-oriented posters
- 8 portrait-oriented posters
-available in high-resolution PDF formats
---
Diversify your criteria
For an inclusive Student of the Month program, you're going to have to think outside of the box and broaden your criteria beyond statistics, report cards, and standard measurements. Students need to be motivated to succeed, but just how they're motivated can differ widely. You can keep it simple and award for the highest GPA, but what about Margaret who's always struggled with geometry, but just sewed the softest pair of mittens with the neatest seams? Or Lennon who has a history of behavior problems but just discovered the school media lab and is a star behind the camera?
Recognizing talent and interest outside of academic performance is a great way to motivate students to try new things, find their way, and explore without fear. So, consider some of the following non-traditional criteria for your Student of the Month Program evaluation:
Most improved
Most passionate
Most dedicated
Best new skill
Best helper
Most curious
Best work ethic
Most interesting hobby
You can also diversify your student achievement by simply broadening the categories that you award for. For example, you can recognize by school subject:
STEM Student of the Month
Athlete of the Month
Visual Art Student of the Month
Music Student of the Month
Chorus Student of the Month
Drama Student of the Month
Foreign Language Student of the Month
English Literature Student of the Month
History Student of the Month
Vocational Student of the Month
Computer Science Student of the Month
Consider rotating through the categories and be sure to keep your student body informed about which category is up next so they know when to hustle!
Collecting feedback from teachers
Traditionally, teachers are polled to first nominate and then vote for a Student of the Month. And this is a great system for feedback… until two teachers disagree! While passionately advocating for a student is a wonderful quality to see from a teacher, it's best to keep controversy and politics as minimal as possible in what is meant to be a positive reinforcement system for students. So what's a tactful, diplomatic way to collect feedback for your Student of the Month program?
Google Forms
Google Forms are a really simple tool you can use to collect feedback from teachers. You can create a questionnaire with your criteria in under 5 minutes and share it out just by dropping a link in an email. Plus, feedback can be kept anonymous so you can remove a layer of bias or suspected favoritism. Again, this process should be simple and diplomatic!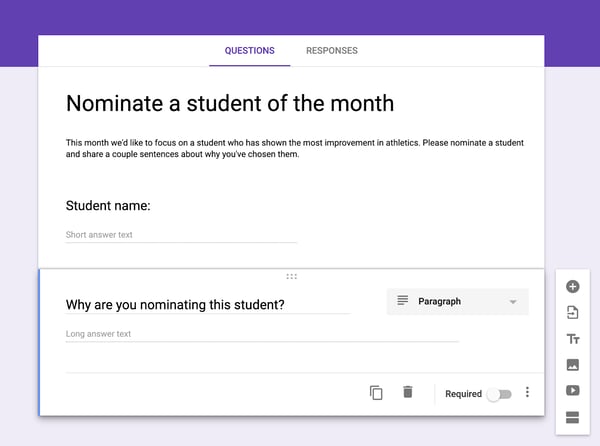 You can customize the questions in your form with drop downs, multiple choice, short answers, and long answers. Once you've decided on your program criteria, you can use the same form every month and just update your text to save time.
Share your criteria somewhere visible
With your diverse and inclusive Student of the Month criteria outlined, you'll want to share these qualities with your student body so they know what they're being evaluated on. Sure, it might mean that they wait until their category rolls around to work extra hard and be recognized, but what's the harm in a little extra extrinsic motivation? Here are some places you can share the criteria so your evaluation process is visible and transparent:
---
Download the entire collection of FREE Social and Emotional Learning posters!
- 8 landscape-oriented posters
- 8 portrait-oriented posters
-available in high-resolution PDF formats
---
School Website
Make a Student of the Month tab on your school website, or simply drop in a blurb on your news updates so students can see the criteria when they visit your homepage. Keep it simple and keep it updated.


School Social Media
Tweet your criteria at the beginning of the month, post a photo of a historical figure from the category of the month with a caption including your criteria, make a 30 second video and post it on the school's YouTube channel… the possibilities are endless! School social media channels are a great way to share a message, and even if your students aren't checking them, their parents probably are.
Digital Signage
Type up a quick message with bullet points or a list of your criteria and share it on your school's digital signage.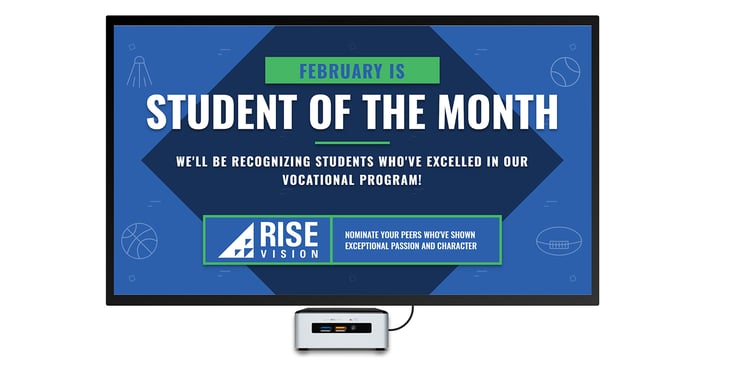 Above is a simple edit on an existing digital signage template. Make sure your digital signage is hung somewhere with lots of foot traffic so your students will see it on a regular basis.
Email Newsletter
Even if your email newsletter is targeted for parents, sharing your Student of the Month criteria in your regular school newsletter can spark a conversation between parents and students. A conversation like this can go a long way and even motivate students to participate and figure out where they might have a chance to shine.
Awards and Recognition
With your criteria outlined, your program in place, and your student body informed and motivated to participate, the next step is to decide how you'll recognize your students, and what they'll be recognized with.
Physical Awards
Certificates, trophies, ribbons, and medals are all great ways to recognize student achievement and boost motivation, but keep in mind you'll need to budget for these items during your planning process. If budgeting for physical awards isn't an option, there are a ton of free editable student achievement award templates out there that can be printed out and customized at no cost.
Stickers are also affordable memorabilia that can be designed and ordered in just a few minutes. Vinyl stickers are great for sticking on water bottles, laptops, and other everyday use items where students can share their pride.
Digital Signage
It may seem small, but a student seeing their name and face on your school's digital signage can be incredibly rewarding and validating! This simple digital signage template below can be personalized with your message: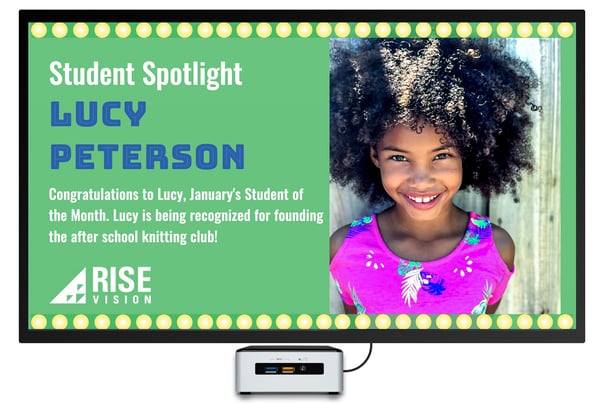 Plus, sharing your message with digital signage is a green alternative to printouts. If your school is environmentally conscious, save the paper and put your students' names in lights instead!
School Social Media
Just like seeing their name on your school's digital signage, posting student achievements on your school social channels is another way to make them feel special and share a bit of spotlight. Keep in mind, sharing photos and student information will need to abide by student privacy and FERPA laws, so do brush up and be sure to have the proper consent before going public.
Awards and spotlight night
It's great to recognize students on an individual level, but why not bring everyone together for a night of celebrating? Organize a "Student Spotlight" night where students are encouraged to share something they're proud of. Inspire them to share their interests by having them write down the answer to the prompt, "I am proud of _______." Your Student Spotlight night can recognize your students of the month, as well as create an opportunity for all of your students to share something that matters to them, big or small.
Conclusion
Despite the controversy behind student recognition, feedback and appreciation will always be a great way to make someone feel valued and motivated. So now that you're ready with your criteria, your physical awards, and your sharing program, go forth and inspire your student body to be all different types of achievers!