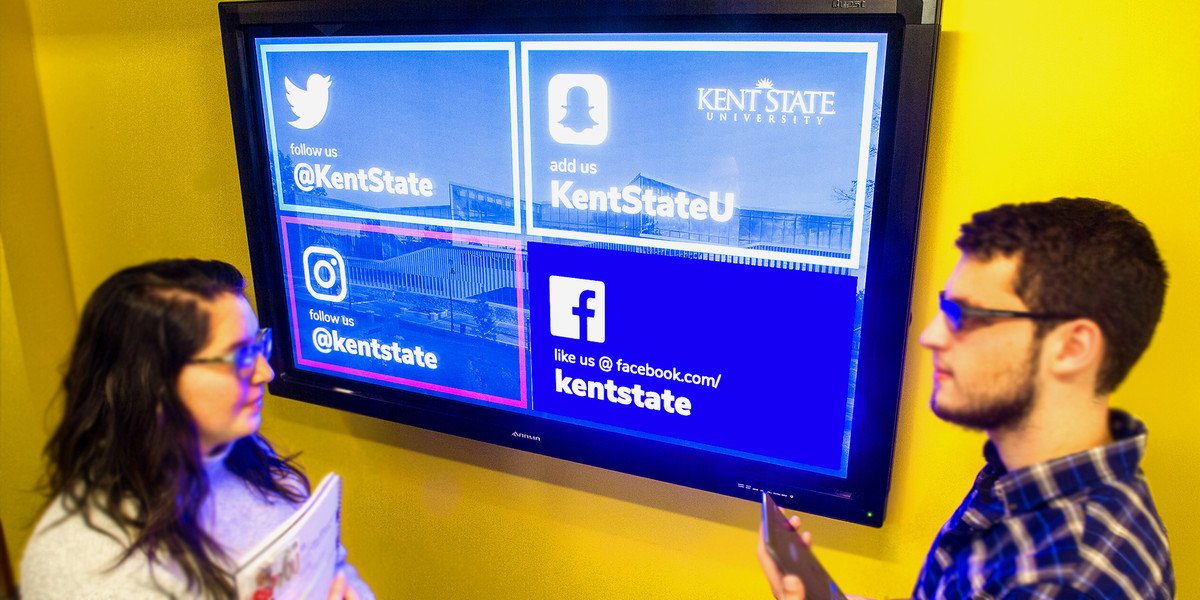 Overview
Developing and nurturing a presence on social media for your school is a great way to engage your student body, and to keep parents, students, and staff informed. But it can be a challenge to build and delight an organic audience (emphasis on organic) and to be a follow-worthy account (kids pay close attention to their followers to following ratio, so you have to really be worth a follow!).
So, what type of content should you share? What social channels are best? How do you find your audience and generate share-worthy and follow-worthy content? We'll share some of the best practices for school social media and management so you and your student body can get the most out of your efforts.
Who is your audience?
The first thing to consider when tending to your school social media channels is who your audience is, or who you'd like to engage with your posts. For the most part, your content should appeal to students and to parents of your students. And while it's also nice to share accolades and accomplishments for your staff on your school social media, staff communications are best saved for internal channels like email, Slack, Google Hangouts, or digital signage in the teacher's lounge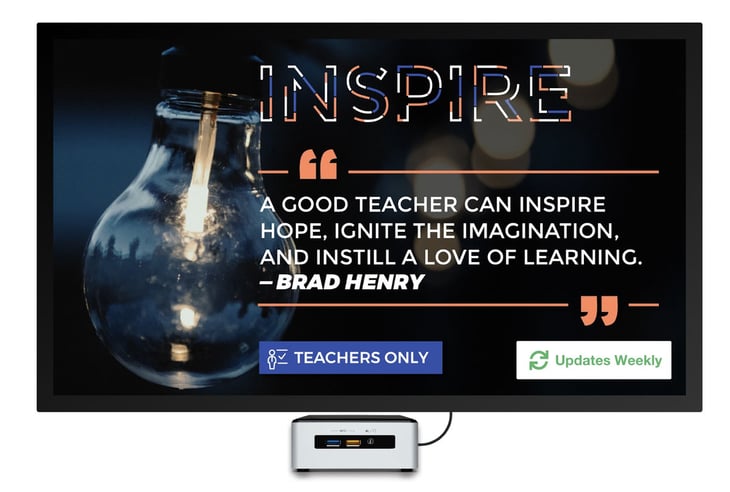 What channels should you use?
In an era where the list of social media outlets is exhausting to even think about (Twitter, Instagram, TikTok, Facebook, LinkedIn, Google+, YouTube, Foursquare, Tumblr, WhatsApp… how are there possibly more!?) it can be overwhelming to decide which channels are worth pursuing for your school. We've narrowed our list down to the top 3 channels that will provide the most benefit to your students and parents:
Twitter
Clocking in at 330 million monthly users, Twitter has incredible reach and is the best channel for sharing events and news in real time. Plus, the nature of the platform makes sharing content and engaging with others really easy, hence Twitter being the birth place of so, so much viral content. While character limitations (280) can be constricting, Twitter allows for videos up to 2:20, so it's a great platform for sharing longer form video. And did you know that tweets with video are 6 times more likely to be retweeted than tweets with photos?
While the majority of Twitter users are 18-35 years in age, that doesn't mean that your students won't take note. Use your Twitter account for sharing events, school cancellations, announcement, sporting event results, and more real-time updates and they'll know to check in. Plus, you're likely to reel in a tribe of loyal parental followers who like to keep up with school happenings.
Bonus tip: check Twitter's "Trending" page to keep up with what's buzzing in the internet world and tweet something related to jump on the bandwagon!
Instagram
At 1 billion (yes, we said billion) monthly users, you're safe to assume that most of your K-12 students have Instagram accounts… and refresh them constantly! But with so much chatter and posting, there's a LOT of noise to compete with in Instagram feeds. So what kind of content can you share to claim your digital real estate in the school social media world? And what content can you share that will be valuable to your audience?
Humans spend 30-40% of conversation talking about themselves, and on social media, it jumps to a startling 80%! The moral of the story: we love to talk about ourselves and see ourselves presented through the revisionist lens that social media allows. But this doesn't have to translate to all evil -- sharing student accomplishment like student of the month, sporting team wins, spelling bee winners, student council (you get the gist), is an amazing motivator! Having students see themselves on school socials is incredibly validating, and it gives students who haven't been recognized something to strive for. This kind of simple reward system gives your account amazing value beyond tangibility.
Bonus tip: Use Instagram's Live feature to broadcast school events like sports, school plays, band concerts, and more.
Facebook
While the evolution of the Facebook algorithm has made visibility for business pages increasingly difficult, it's still one of the most widely used platforms, clocking in at 2.38 billion monthly users. 84% of people between the ages of 30-49 are on Facebook, which means that parents of K-12 students definitely spend time here.
As mentioned before, Facebook's algorithm does not work in favor of Pages, so visibility and driving engagement to regular posts can be tricky. But there's still value that can be derived from maintaining a Facebook page for your school. For example, Facebook's events feature is an accessible way to keep a running events calendar that's highly searchable and easy to maintain. Plus, event pages allow users to send event invites to their friends, which makes things easy for parents who are trying to coordinate attending school events, carpooling, etc.
Bonus tip: You can use the Facebook messenger bot tool to set up auto-responses for anyone who messages you. Include information like the main office phone number, school closings, and more to make communication run smoother.
How do you build your audience?
Starting social channels from the ground up can be daunting -- it takes time to gain followers and requires some elbow grease for the first 3-6 months. There are no shortcuts to building an organic audience (and in fact, taking short cuts can destroy the health of your channel by diluting your following) so here are some suggestions for spreading the word and getting your pages off the ground:
Email
Include a roundup of social media posts in your email newsletters to parents, students, and staff. If they like what they see, they'll follow!
Include a button to follow on your school website
Link to your social channels on the footer of your school website
Link to social channels in email signatures
Send an email simply asking for a follow! You'd be surprised to see how many people will do something just because they're asked to.
Digital Signage
How do you share your school social media with people who aren't already on your mailing list and aren't on your website? And even more puzzling, how do you capture the short-span attention of students who have way more exciting media to devour?
Digital signage is a really simple way to share out your socials and catch the eyes of people who may not otherwise interact with your school online. And it's also a great way to ensure that even if students, parents, and staff don't follow your account directly, they can still be up to speed on updates and school news.
If you hang your digital signage somewhere with lots of foot traffic, students, parents, and staff will see your messages during their daily routine. You can easily promote your social channels with digital signage using pre-designed templates. It's a great way to keep your displays interesting and engaging too!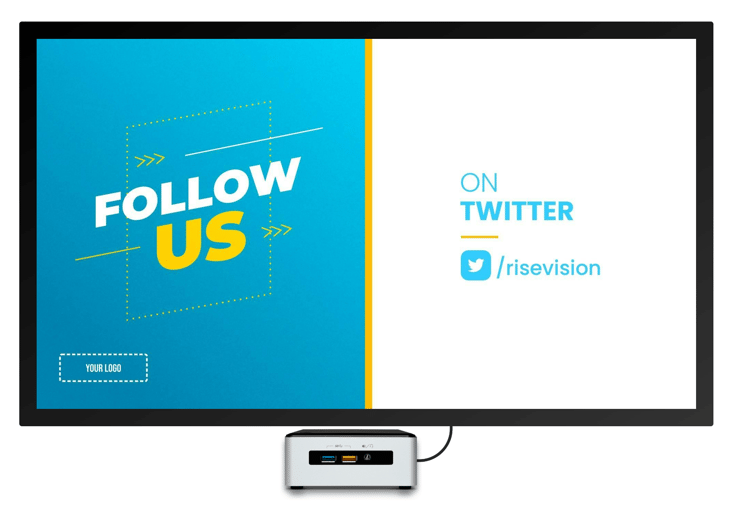 Engagement campaigns
Plan a small handful of posts that are dedicated to boosting audience engagement. For example, run a Twitter poll for a week and encourage students to vote in the poll.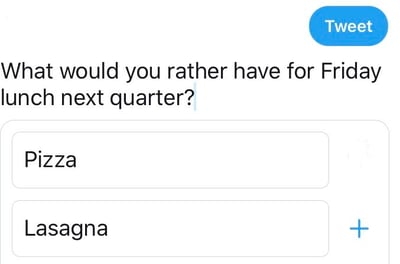 Or, run a contest hosted on your channels. You can use school social media to track the results of a fundraiser, to prompt a video essay contest, and lots more creative and education-based contests. Plus, if you include "follow your school on [social account]" as part of the entry rules, you'll boost your following and ensure that your students always see your message.
How to manage your content
Like most school employees, those in charge of managing school social media accounts are probably busy with a ton of other responsibilities. To make managing your socials easier, here are some time saving tips:
Plan ahead using a social media management tool like Hootsuite, Buffer, or TweetDecks. Block out one day a week to schedule all your content in advance.
Encourage staff to contribute ideas and content and keep it in a centralized folder. A Google Drive is a great way to store future content.
Create an editorial calendar dedicated to social media so you can plan what type of content you'll show in advance and when you'll show it. Know there's a football game coming up on the 10th? Add it to your calendar so you remember to post.
Using a school-focused content management tool like Vidigami is a great way to organize photos of students safely and securely and have them readily available for future access.
Conclusion
All in all, social media for schools can be fun and educational, and managing your channels can bring value to all who follow. Though school social media can take a big chunk of dedicated time to run successfully, with patience and persistence you'll be able to build your audience and keep your students, parents, and staff informed!