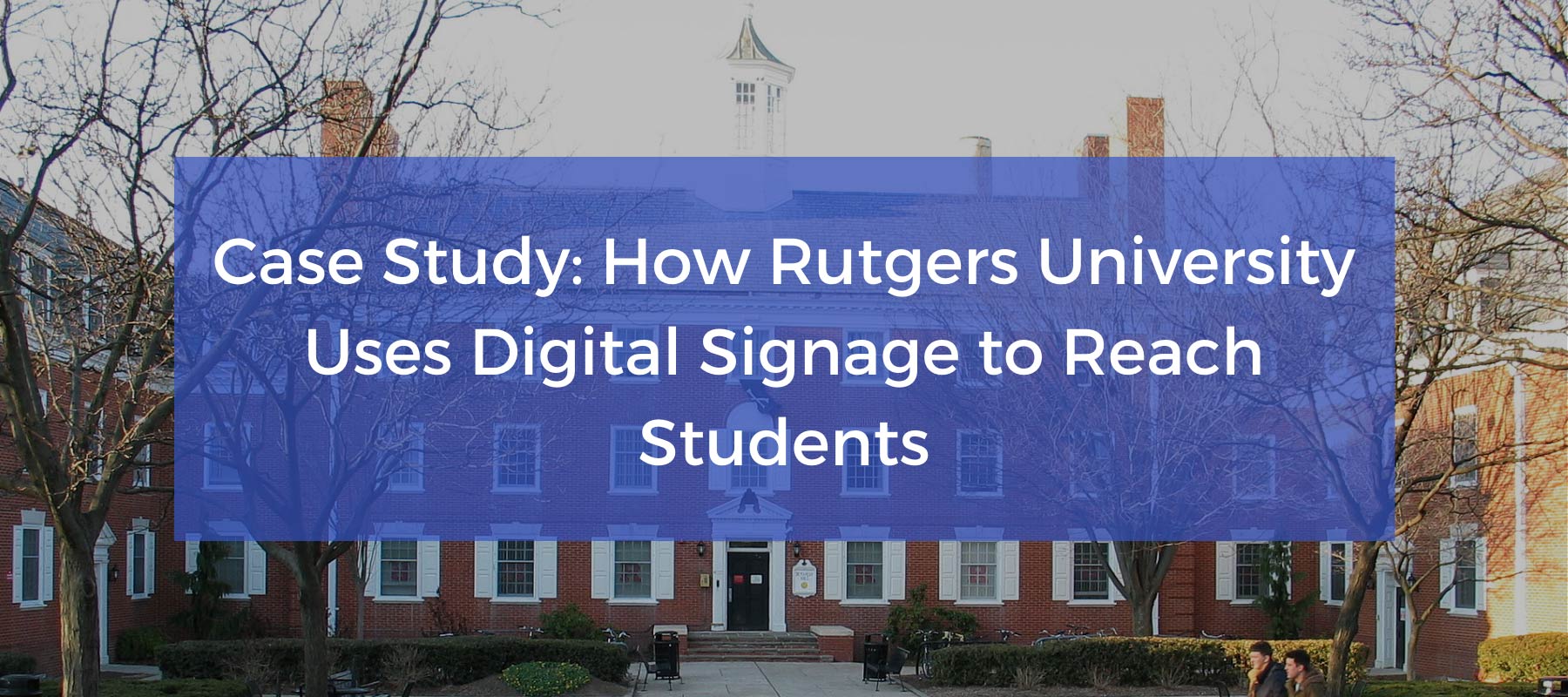 Rutgers University is one of the oldest and largest colleges in the United States. They have several locations across New Jersey that over 50,000 students call home. Their alumni includes Nobel Prize winners, poet laureates, governors, senators, and supreme court justices. Their prestige, however, doesn't mean they don't face the same challenges that hundreds of universities also face: how do you successfully modernize a campus that was founded before electricity was discovered?
The Challenge
Steven DeFeo, one of Rutgers' IT Computing Managers, was tasked with finding the best way to blend history and technology together through digital signage. The university had already been doing digital signage the manual way: sticking a PowerPoint presentation or several images on a USB drive. This method worked when there was only a handful of displays, but as their network of displays grew and their content was always being updated, they needed something that would grow with them.
The Solution
DeFeo looked at many solutions but was attracted to Rise Vision because it was cloud-based with no software to install, and would run on Raspberry Pi. DeFeo was also eager to find a solution that would run off multiple platforms, so it would be future-proofed as their network expanded even more, or their presentations needed to be shown at a higher resolution. He knows eventually their needs might surpass the capabilities of what Raspberry Pi can offer.
Rutgers' began using Rise Vision in early 2017. The software has helped improve their communication on a budget that keeps school administrators happy. Even better, DeFeo didn't have to spend half his day manually updating displays one by one with a USB, which gave him more time to spend with the school's other IT challenges.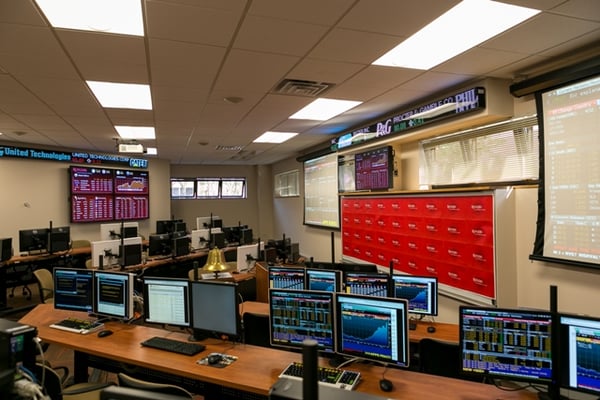 Photo of the finance lab at Rutgers University
Rutgers now manages over 200+ displays with Rise Vision. To make managing their digital signage network easier they have leveraged Rise Vision's account hierarchy and unlimited sub-account features. Each department has it's own account underneath a parent account. The hierarchy allows campus IT to quickly access each department account while department employees can only access their account. Rutgers also takes advantage of Rise Vision's user roles to make sure employees only have access to the features they need within their account.
Rutgers University has been using many of the Rise Vision templates to help them achieve their communication goals. They have been sharing upcoming events to improve attendance, their campus bus schedules, as well as live feeds of campus sporting events and news.
At the Rutgers-Camden School of Business their finance lab has multiple large displays showing real-time financial data using Rise Visions financial templates. The financial displays help create a wall street like atmosphere that attracts new students.
Across campus, to save content creation time many departments use the holiday and special event templates created by Rise Vision such as Martin Luther King Jr. Day, Pride Month, Father's Day, and more. Rutgers also uses content integrations such as weather, Google Slides, news, and social media to help engage their students and capture attention.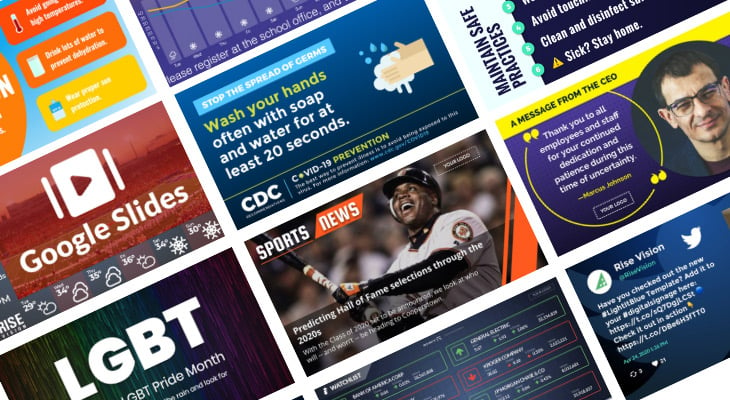 Some of the many digital signage templates in use at Rutgers University
Most recently they've been using the coronavirus templates to help keep their campus community safe, communicate policies, and recognize frontline workers fighting the coronavirus.
Rutgers University is a great example of how a school can use digital signage to its full potential to engage students and keeping their community safe.