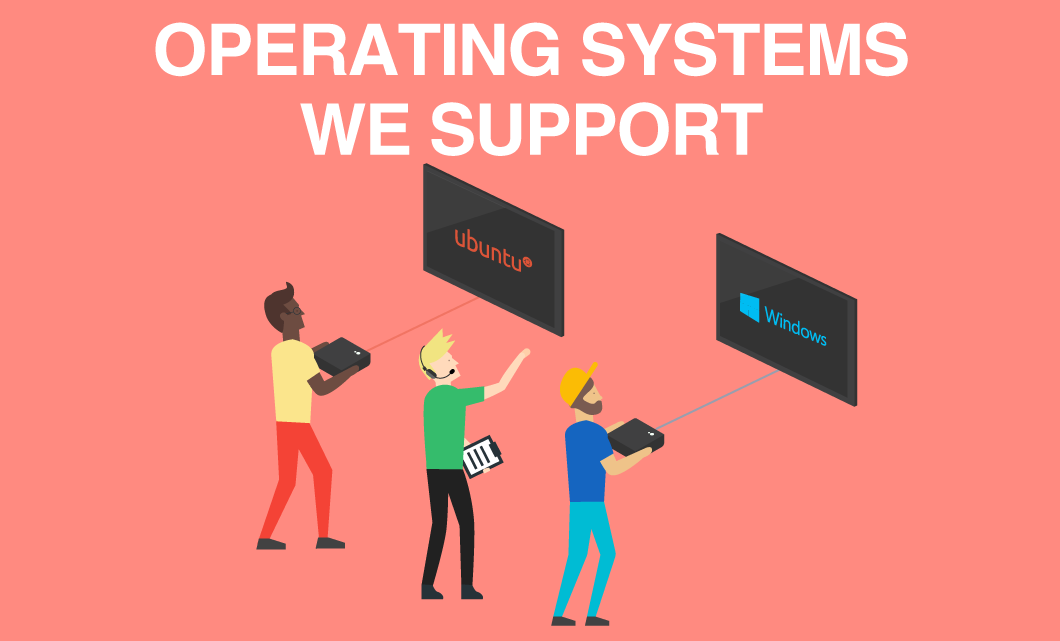 There are lots of different operating systems out there that digital signage can run on and everyone has their preference. We've decided to build our player to run on Windows and Ubuntu (see here for a full list of supported OS versions). We've found these operating systems to be reliable, stable and widely used in the digital signage industry.
However, many of our users prefer other operating systems and the different advantages they bring. That's fine by us and is exactly why we offer our open source API's and code. This is the beauty of being open-source, we can leverage the power of our entire user community to help extend and advance Rise Vision. Anyone can take what we've created and optimize it to run on the operating system of their preference.
Since we often see this question floating around, we thought it would be useful to dedicate a post to the different Operating Systems we support and the reasoning behind it. If you're new to Rise Vision or just browsing, read on to learn more.
You might also like:How to install Rise Player
Rise Vision Supported Operating Systems
Windows
Windows is a tried and true operating system, it's what we typically provide our full service solutions clients. It's reliable, easy to use and great for those getting started with digital signage. There are lots of different hardware options out there as well for Windows, everything from the Intel Celron NUC to i5 NUC's (and lots of other in between). If your digital signage project is going to involve a touchscreen we also highly recommend you use Windows. We've found it is the most secure OS for installations that are running interactive content.
For a complete list of Windows versions we support, see here. You can download the Rise Player software from here for Windows 32-bit and Windows 64-bit.
Read how RPT Motion uses Windows to power their custom digital signage installs.
Ubuntu 14.04
Ubuntu is a very popular operating system to use with digital signage. If you're familiar with other Linux Distros or Mac OS, Ubuntu is a good option to try out. Rise Vision currently supports Ubuntu 14.04. We do not support or actively test on any other Linux Distros. You can download the Rise Player software from here for Ubuntu 32bit and Ubuntu 64bit.
Looking for a new media player?SEE OUR COLLECTION
Community Supported Operating Systems
Raspberry Pi
Raspberry Pi has become a very popular hardware choice and there are a few different operating systems that can run on the Pi. While we don't actively test or support the Pi a very active group in our Community has taken on helping users get started with the Pi. You can find out more about the community-supported initiative dubbed "Riseberry" here.
"After discovering Rise Vision and the Raspberry Pi I upgraded all of our in-store digital displays. The solution is fantastic, and exactly what I've been looking for over a year." - Dane G, Puritan Cleaners
Read about how the University of Laverne uses Raspberry Pi and created a digital signage class.
Android
There's lots of talk around the digital signage industry about Android media players. And although our developers have been tied up supporting Ubuntu and Windows. Two of our entrepreneurial users identified the opportunity and created Android players. They are Cenique and Scott's Digital Signage.
Cenique manufactures Android media players and offers support services, they are available in our store here. Scott's Digital Signage has created three free players for Android devices, Android TV and Amazon Fire devices which are all available from their website.
ChromeOS
Earlier this year Rise Player on Chrome OS was released as an open source project to the community. It is not directly supported or maintained by Rise Vision at this time but members of the Community are more than welcome to take the open source code and customize it or contribute.
If you want to use Rise Vision on Chrome OS we recommend that all Chrome OS devices be registered under Chrome device management as it will allow Rise Player to launch automatically when the device is turned on. We recommend that you restrict your Chrome version to one major release behind the current version to ensure your Displays are not adversely impacted by an update and that you thoroughly test your Displays on the new version prior to upgrading.
How do I create my own Rise Player?
If you want to create your own version of Rise Player, or contribute to ours, you can find our open source repositories on GitHub below:
If you have taken our open-source documentation and created a custom player for any other operating systems please let us know in our User Community so we can help create awareness for your development.
We know that for a beginner, the world of digital signage may seem a little daunting at first. That's why we're here to help clear up any confusion and make digital signage simple. If you're looking for more resources, be sure to check our vibrant Community which is full of tips and tricks from active users. As always, we're here to help with any questions you may have, so don't hesitate to reach out.
Now what are you waiting for? It's time to get started with Rise Vision!