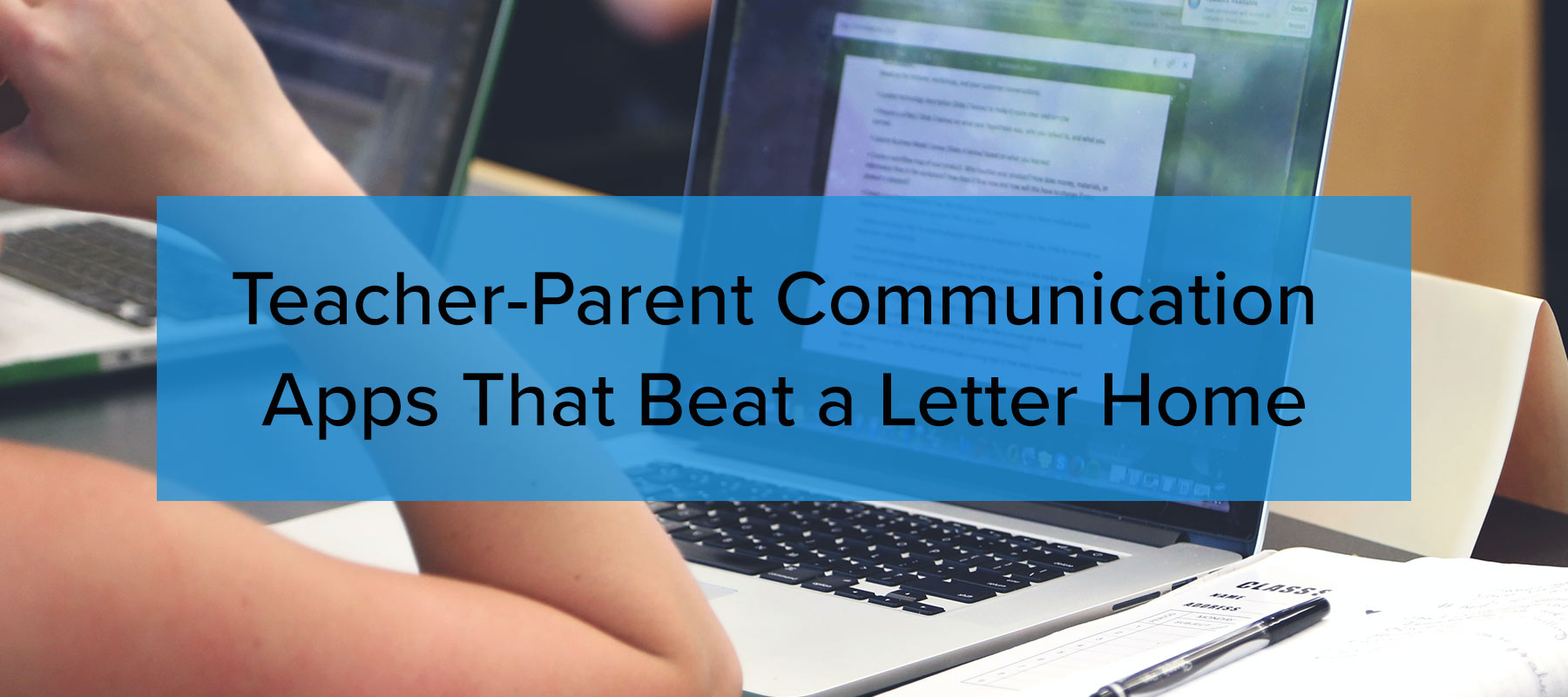 Teacher-parent communication has never been easier, more vital, or more fraught. With a smartphone in every pocket, it's now possible to ensure that class notes, school trips, and event alerts, and permission slips don't get lost en route from class to home and back. At the same time, a world that moves at the speed of instant, constant connectivity means parents expect much more information, faster, than ever before.
The teacher-parent communication app space is racing to keep up with demand, producing apps that offer basic connection and Instant Messaging (IM) right through to tools that provide a full suite of internal communications and document, image, and file handling.
In this post, we'll go through some of the best options for parent-teacher communication and discuss the merits of each so you can choose the best option for your school.
Video call apps
The common video call apps can all be used for parent-teacher calls. Most families are familiar with these now, after a few months of pandemic communication. But you shouldn't still expect families to know only the one or two they're familiar with. You'll likely want to install all the commonly available ones and jump between them depending on what parents use and are comfortable with. They include:
Zoom: difficult to set up, easy to conference on.
Skype: full of security holes and slow, but very user-friendly and common.
Google Hangouts/Meet: Anyone with Gmail has it, but can they use it?
Discord: best for speed and security, but kids are more likely to know how to use it than their parents!
GoToMeeting: Good quality, but you have to download the app.
Text messaging apps
Outside of SMS, there are many text messaging apps for use over the internet. They're free and lots of parents are familiar with using one or more of them. Like video conferencing tools, they're usable for direct communication and you'll probably want to bounce around between them depending on what individual parents prefer to use. If you want to send messages to groups or to parents at large, consider cross-posting to a couple of the most popular services. These include:
Facebook Messenger: Anyone with Facebook has it and it gets a lot of use; it's very insecure.
WhatsApp: Increasingly popular, encrypted, and you can create groups (for school trips, age groups, etc) easily. Usernames are cell phone numbers.
Twitter: Yes, a social network, but a Twitter channel can be used for announcements to parents. Everything on Twitter is public by default, but you can create a private channel using protected Tweets if that makes sense for your cohort.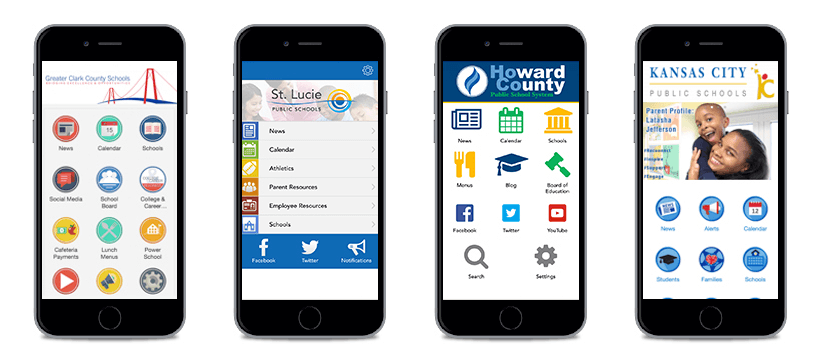 Schoolmessenger combines announcements with direct school-parent communication. Teachers can use it, but the school's head office controls it — unlike non-purpose built solutions that require mass texts or groups, and which leave messaging too much in teachers' control. It can also be used for school- and district-wide internal announcements and messaging.
The app can be customized, giving it school branding and design, and controlling some functionality. However, a lot of this is achieved through templates that can be restrictive and set-up is difficult and complex compared with some alternatives.
Schoolmessenger's school-parent communication app is part of a wider school communication ecosystem that includes email security, attendance management, and document sharing, and pricing is opaque.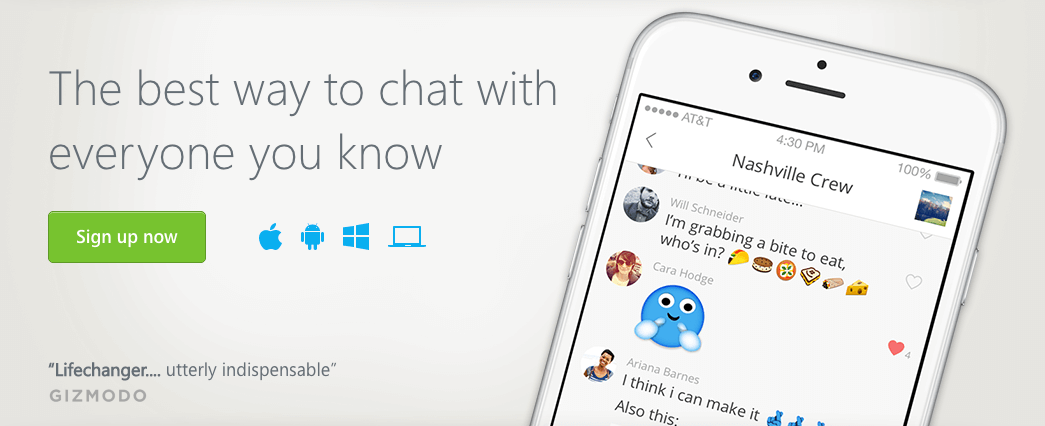 GroupMe is a device-agnostic, free group chat tool that can be used to create private chat groups. That's base-level functionality for a text messaging app, but GroupMe scores over competitors because it works over SMS; users don't need to have the app to access it, meaning it doesn't rely on user uptake to succeed and you can communicate with parents as long as they have a cell phone or home computer. GroupMe can be used to share images and video as well as text messages. It's completely free for any number of users.

Purpose-built with education in mind, Remind is a comprehensive school communication app that includes messaging along with work and event scheduling and content sharing. It's used to share information inside and outside school, and students can use it as well as parents and teachers. Like most of the more comprehensive solutions in this list, Remind takes some setting up, and it's perhaps more suited to older students. It provides auto-translation into six different languages: Spanish, French, German, Portuguese (Brazilian), Chinese (Simplified), and English.
Remind is free for a limited classrooms plan that includes ten classes, each with 150 participants; to upgrade to enhanced functionality, 100 classes, and 5,000 participants per class, you'll have to enter their sales flow — there's no clear pricing on their website. Voice calling, LMS integration and other extra functionality are available as add-ons to the paid plan.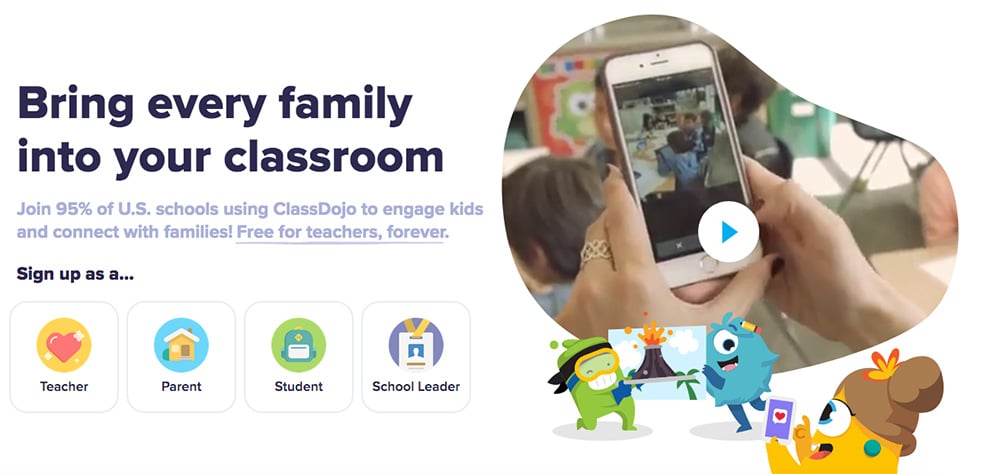 ClassDojo is a management and portfolio tool that includes messaging. It's designed to gamify school with leaderboards and behavior tracking. Users can instantly share photos, videos, and announcements with the app's Class Story feature, or privately message with any parent, making it a great choice for parent-teacher communication. ClassDojo is a solid choice if your chief concern is encouraging continuous improvement and helping students connect school and home.
ClassDojo's pricing is buried in their signup flow, but there's a free version available.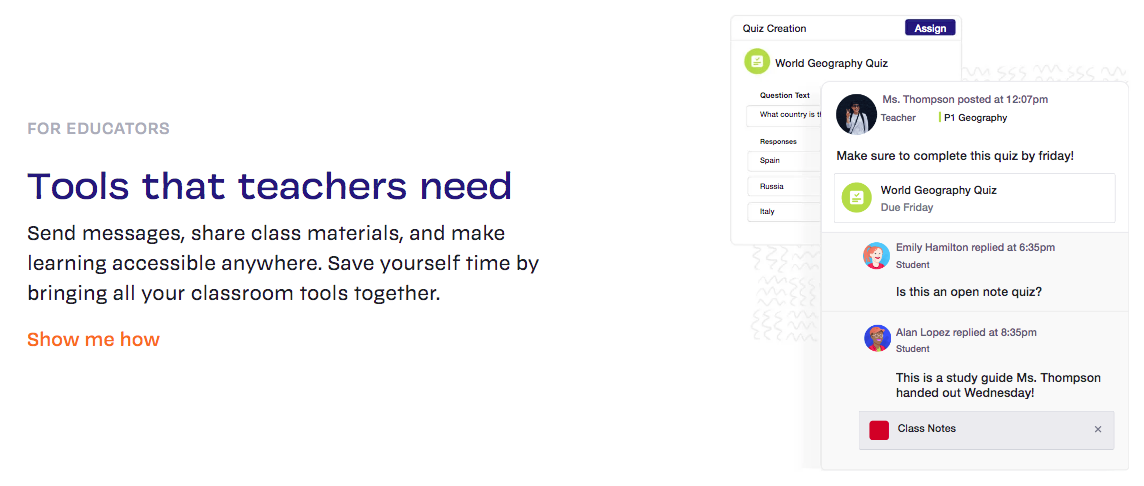 Edmodo is a messaging and project management app that lets you share class materials and improve communication between students and staff as well as between school and home. It comes with a suite of engagement tools aimed at improving dialogue, interaction, and assessment.
It has Google integration and is widely used as a distance learning solution. For regular schools, Edmodo shares students' work and results with parents in real-time and lets parents monitor their child's progress via a mobile app.
Edmodo has a free version and describes its pricing as 'affordable,' but you'll have to contact the company to find out more.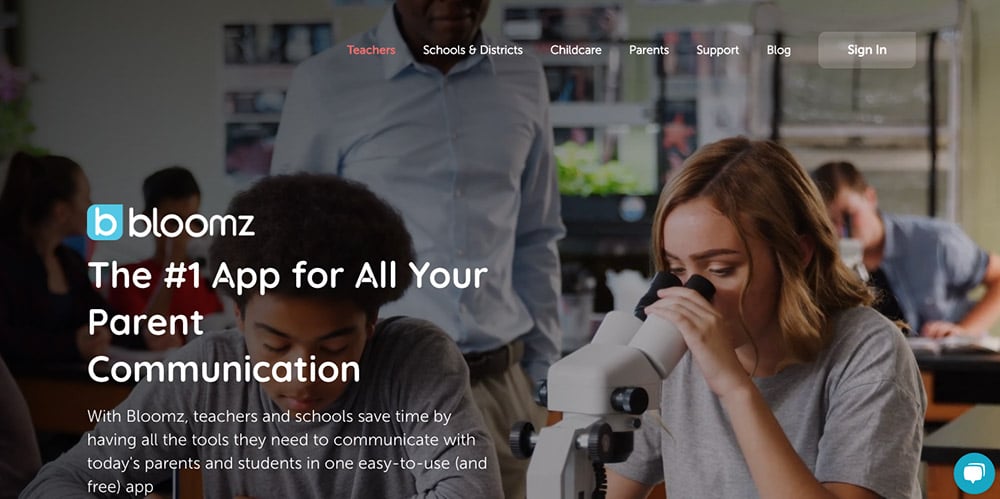 Bloomz offers messaging, class updates, video, and photo sharing. There are calendars, reminders, and there is a parent-teacher conference function, two-way messaging, and behavior tracking.
Bloomz has calendar reminders, event RSVPs and volunteer requests, signup facilities, and there's internal functionality for staff that matches this. Bloomz lets teaching staff and schools build custom groups for all the parents in a class, then have both group and private discussions with them.
Bloomz is free for parents and teachers.
Aimed at school districts and offering to integrate communications district-wide, ParentSquare gives you permission slips, forms, conference sign-ups, and other templates inside the tool. There are calendaring, polls, grade and assignment views, as well as secure document delivery.
Its school-parent messaging is sophisticated; ParentSquare offers text-first alerts with automated failover to voice, messaging direct from Siri, and real-reach reporting that tells you exactly who has received communications — and who hasn't.
ParentSquare pricing is based on a per-student annual fee plus a one-time onboarding fee. You can select feature bundles based on your needs, meaning all pricing is custom, but the app website tells you the minimum package for a single school site is $3,000 per year.
ClassTag is a less comprehensive solution than some on this list, though it has all the core functionality you'd expect from a tool in the space: two-way communication with parents, sharing classwork and comments, and reporting so you know who's received your messages and who hasn't.
One place ClassTag scores is its built-in auto-translation, which lets you communicate in over 60 languages and renders the app language-agnostic. Accessible through email, SMS, and phone, with document and image sharing built-in, ClassTag has a free option and custom pricing inside its signup flow.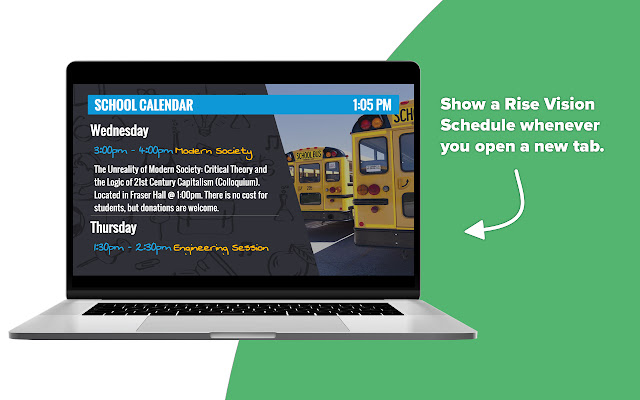 In school, Rise Vision gives its users a simple and effective system to control digital signage from any computer or laptop, complete with customizable templates and the option to show different content on different screens.
Out of school, Rise Vision lets you display updates in the new tab screen of users' Chrome browsers, on your school website, in your LMS, and on social media.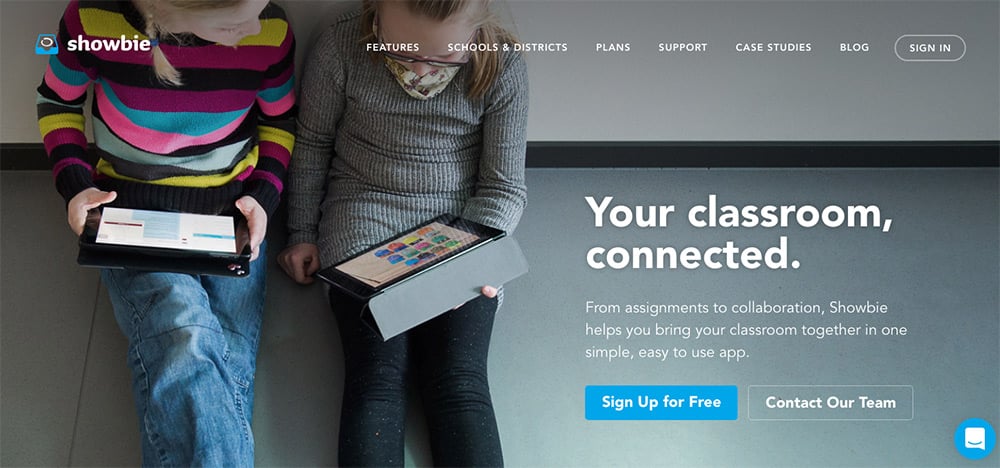 Showbie is more about collaboration, less about management, compared with some other options on this list. Like many, it combines messaging with sharing documents and images and has Google and Dropbox integrations to facilitate that.
Where it's particularly strong is its combination of standard in-school communication with a commenting system that lets you add text and even voice notes. There's a pen tool to let teachers and students hand-write too. If you're looking for an easy-to-use tool that covers communication and sharing across school and home, this is a good option. Showbie is free for individual teachers, with an enhanced pro version for $15.99 per month and custom pricing for schools and districts.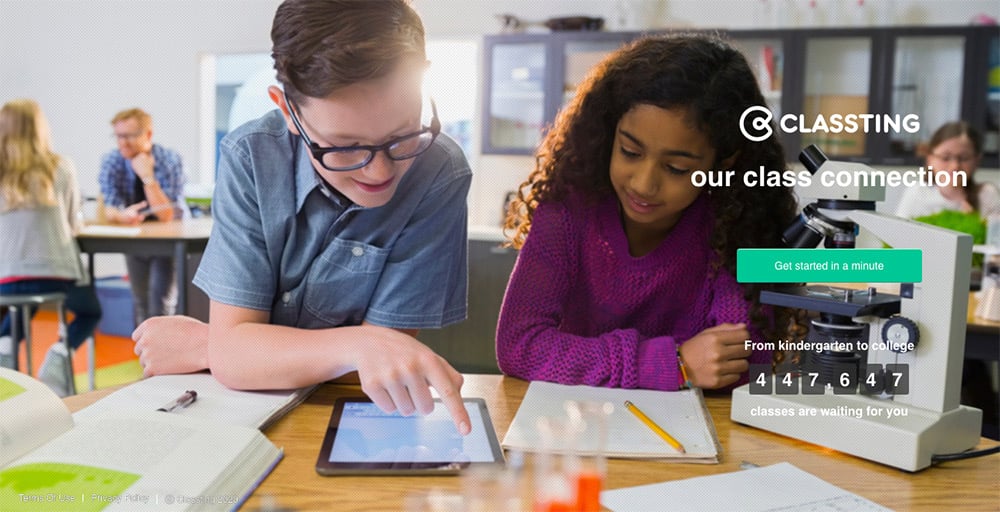 Classting uses a social-media style approach, which makes sense when you consider how familiar most parents are with social these days. It's a super-easy way to communicate with parents and teachers, flexible and practical with homework, updates, and photos, all easy to share. It's not as sophisticated and holistic as some options on this list, but its bulletin board functionality does a lot of what parents and teachers want.
Classting is $1,000 per school per year or $100 per class per year.
Choosing the right app
The right teacher-parent communication app depends on your needs: if you're a school district looking for a comprehensive solution, you're going to choose a different tool than a single school that already has an LMS in place — or an enterprising teacher looking for a way to keep in touch with a few classes' worth of parents.
But education relies on schools and parents being in sync, knowing the same facts, and keeping each other in the loop. Whatever your situation, there's an app on this list that covers your needs!