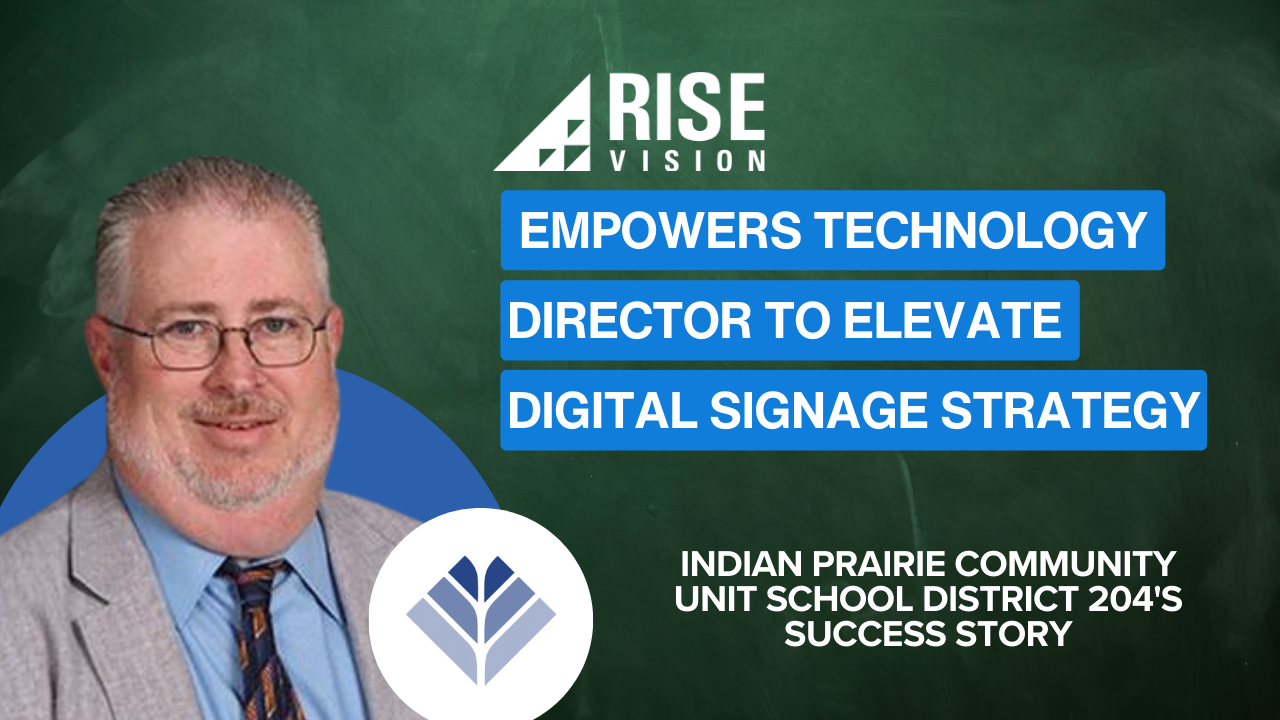 In this case study, we'll delve into the experience of Brian Grinstead, the Director of Technical Support Services at Indian Prairie Community Unit School District 204 (CUSD 204) in Illinois. Brian shares insights into how Rise Vision has positively impacted their district's communication strategy and enhanced engagement within the school community.
Indian Prairie CUSD 204 faced a challenge common to many large school districts: effective communication with a vast and dispersed student population. With 34 sites and over 26,000 students, deploying another technology solution to the entire school community was a considerable challenge for the technology team. The district needed an efficient communication solution to reach students effectively and engage them in critical announcements, events, and activities - plus, it needed to be managed by the individual schools.
Neuqua Valley Dance Team Tryouts are promoted on the high school's digital signage.
Discovering Rise Vision: A Strategic Shift in Communication Strategy
The district, recognizing the need for an improved communication strategy, started exploring digital signage solutions. Brian Grinstead and his team were already using a different digital signage solution. However, they sought a more cost-effective, user-friendly, and feature-rich solution to meet their evolving needs.

Brian came across Rise Vision and was impressed by its capabilities. He believed that Rise Vision could provide a seamless transition from their existing solution and offer enhanced features, all while being cost-effective and straightforward to implement. The decision was made to transition to Rise Vision to improve their communication strategy and enhance student engagement across their four high school campuses.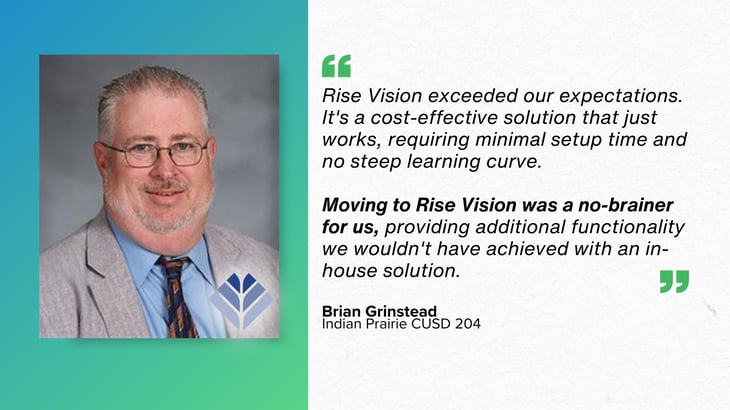 Brian Grinstead needed a robust solution that would work for his large school district.
Understanding Their Unique Use Case
Indian Prairie CUSD 204 is a large, one-to-one school district with a significant number of devices to manage, including Chromebooks, Windows PCs, and iOS devices. Brian needed to ensure that the digital signage solution the district implemented wouldn't be a burden on his team.
Implementing digital signage through Rise Vision was a solution that didn't require extensive management from the technology department and could be handled by the individual schools after the initial deployment was completed.

Furthermore, the district's resource constraints and financial considerations added to the challenge of finding a solution that could effectively cater to their needs within budget limitations. Rise Vision stood out as an ideal solution, offering a balance between functionality, ease of use, and cost-effectiveness.
Rise Vision's Role in Overcoming Communication Challenges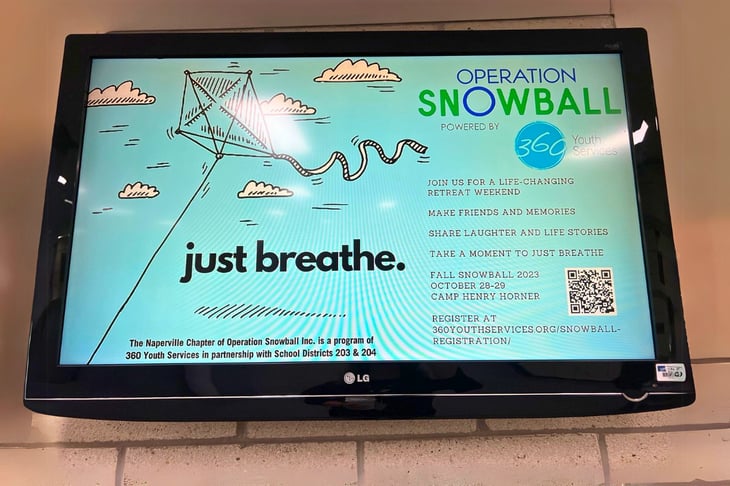 Indian Prairie has digital signage displays in common areas such as entrances, hallways, and by the locker banks.
The district initially deployed Rise Vision across their high school campuses, strategically placing displays in common areas such as entrances, hallways, and locker banks. These locations were chosen to ensure maximum visibility and engagement with the student population.

Rise Vision was integrated with LED TVs and Chromeboxes. The platform allows each school to create tailored announcements for different areas of the school, addressing specific interests and needs related to clubs, athletics, fine arts, and more.
Seamless Transition to Rise Vision
One notable aspect of the implementation was the seamless transition from the previous digital signage solution to Rise Vision. Brian Grinstead said, "The deployment was remarkably smooth, requiring minimal time and effort."

All in all, the switch to Rise Vision took less than 2 hours and within a short period, all the displays were configured and up and running. At one of the sites, Brian remarked that they had all 25 of their TVs configured and up within an hour.

This ease of transition was a testament to Rise Vision's user-friendly interface and efficient onboarding process.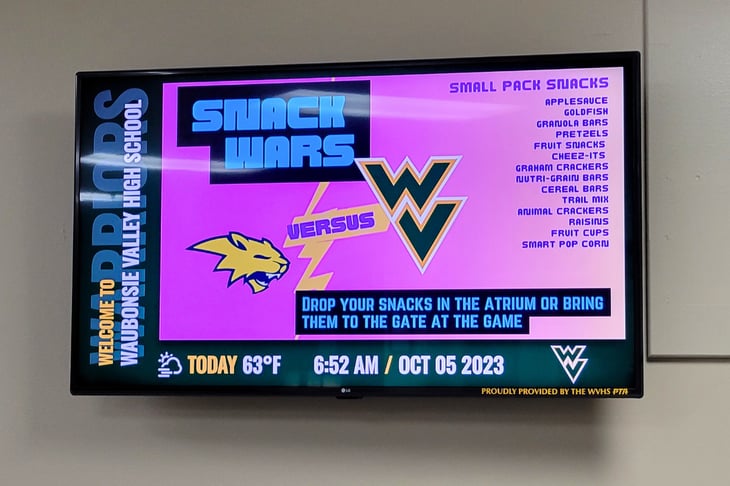 The Rise Vision is the template library filled with 550+ designs like this Zoned template.
A Cost Effective Solution
The adoption of Rise Vision also demonstrated the cost-effectiveness of the solution. Brian Grinstead highlighted the affordability and efficiency of Rise Vision compared to potential in-house solutions. In some schools or districts, IT personnel may try to imitate a digital signage platform through an in-house solution. Brian commented on this strategy, saying, "At this cost level with this ease, why would you even try to go down that road of self-building something out... Rise Vision is so cost-effective, it would be silly, in my opinion, to try to do anything in house when you have something that has additional functionality that you would never get in house."

Another plus of Rise Vision is the template library filled with 550+ designs, reducing the time and effort required to design and create content. Brian said, "The ability to quickly plug in content into existing templates allowed the district to save valuable resources", allowing the schools to focus more on engaging content tailored to their audience.
Indian Prairie Can Inspire Other Schools to Meet Their Potential
The Indian Prairie CUSD 204 case demonstrates the following key takeaways for educational institutions seeking to enhance communication and engagement.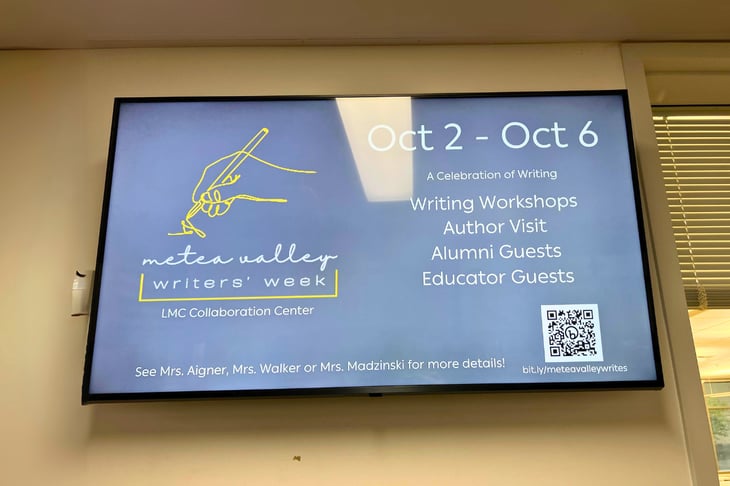 The schools use tailored messages for clubs, athletics, announcements, and more!
1. Efficiency and Ease of Implementation
Rise Vision proved to be a solution that is easy to implement and transition to, even for large school districts. The seamless setup and minimal learning curve allowed for a swift deployment across multiple campuses.
2. Cost-Effectiveness and Value
Rise Vision offered a cost-effective alternative to in-house solutions or other digital signage platforms, providing additional functionality without breaking the budget. Plus, the 550+ templates and intuitive platform reduced the time and costs associated with content creation, making it a valuable investment for schools.
3. Tailored Communication
Utilizing Rise Vision's tailored templates, Indian Prairie CUSD 204 was able to communicate effectively with different segments of their student population. Tailoring messages for clubs, athletics, announcements, and more ensured relevant and engaging communication.
4. Seamless Transition
The successful transition from their previous digital signage solution to Rise Vision highlights the ease of integration and the seamless user experience offered by Rise Vision. This smooth transition allowed the district to quickly realize the benefits of the new platform.
5. Scalability and Future Potential
Indian Prairie CUSD 204 initially deployed Rise Vision in its four high schools, indicating the scalability of the solution. The potential to extend this solution to middle and primary schools as they update their classroom technology showcases the flexibility and adaptability of Rise Vision to evolving needs.
Rise Vision Addresses the Challenges of Large School Districts
The Indian Prairie CUSD 204 case study demonstrates how Rise Vision effectively addressed the communication challenges of a large, one-to-one school district. By providing an efficient, cost-effective, and user-friendly digital signage solution, Rise Vision empowered the district to enhance student engagement and streamline communication within their high school campuses. The seamless transition and positive feedback from users emphasize the potential of Rise Vision to drive similar positive outcomes in various school settings.